An increase in sales is something no business owner says no to! The ultimate goal of any business is to ensure the company makes more and more sales with every passing day.
The popularity of WordPress and WooCommerce is at its peak in today's world. Millions of e-commerce businesses make the competition rather challenging in this business industry. So, the owners must adopt all kinds of techniques and strategies to maintain their sales flow.
WooCommerce plugins can be a great way to help business owners in this regard. There are thousands of plugins for different added functionalities. You have to select the ones which will work the best for your business.
Today, we have singled out the 11 best WooCommerce plugins to help you skyrocket your sales like never before!
Let's get into the article and check out the plugins!
But first, let's learn why you should opt for any WooCommerce plugin for your business.
Why Should You Use a Plugin For Your WooCommerce Business?
Naturally, the WooCommerce business owners are not all software developers. Their knowledge of technology might not be on a professional level. This is where plugins come to the rescue. A WooCommerce business might need hundreds of functionalities to make it fully efficient, and plugins are used just for that.
From 2016 to 2019, 18,262 plugins were introduced into WordPress within just three years, and all these plugins have their perks and benefits.
Let's learn some very apparent benefits that you can get using a plugin for your WooCommerce business.
Extremely convenient to use: Plugins available in WordPress are very convenient to use. Anyone owning a WooCommerce business can easily install, activate, and use any plugin as per their demands.
Adds tons of functionalities: The WooCommerce plugins add such functions to your WooCommerce business, which was hard to attain otherwise. These add-ons help you run your business smoothly, providing any advanced functions you want.
Easy to modify per choice: Almost all the plugins give you the leverage of modifying them according to your needs. Just a few clicks can do these modifications without any hassle.
Very affordable: WordPress WooCommerce plugins are incredibly affordable for anyone to use. You can use the free plugins if you are currently running your business on a shoestring budget. Moreover, almost all the plugins have their pro versions, which you can buy very reasonably.
Trustworthy: Before you use any plugin or extension on your website, you have to be 100% sure about its safety. It's safe to say that the WooCommerce plugins are trustworthy in this regard. You can see all the information you need to know about these plugins to clarify what you are getting yourself into.
11 Best WooCommerce Plugins To Generate More Sales 2022
As we know how convenient your life could be by using the right plugins for your WooCommerce business, let's discuss the 11 best WooCommerce plugins which can help you gain more sales in 2022.
#1 CTX Feed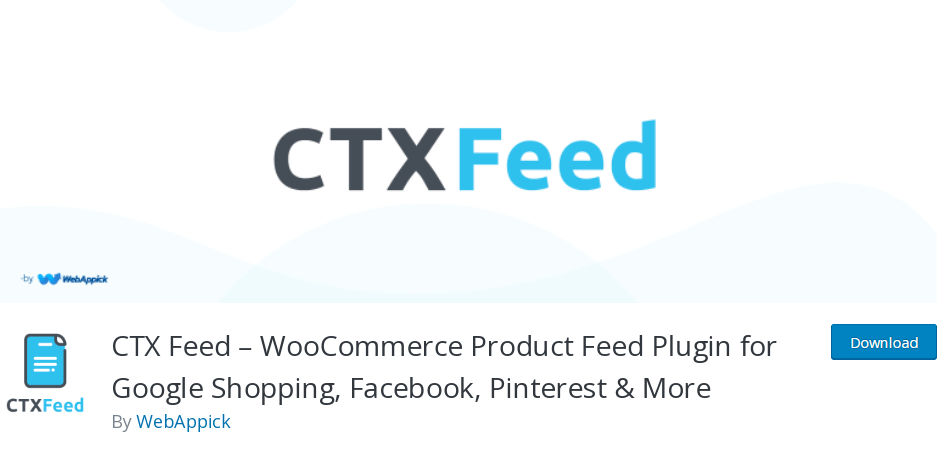 CTX Feed is a popular WooCommerce product feed generator that creates fully optimized product feeds for your business without any error! Creating a product feed for your business becomes more manageable with this plugin as this does not require any advanced coding skills.
A fully optimized product feed is one of the most vital things to skyrocket your sales. It is not easy making an ideal product feed supported by different marketing channels, and it is not easy either getting your product feed approved by Google Merchant Center.
With this plugin, you can add as many products as you want in the product feeds and can change the variations as you need, as many times you want.  CTX Feed comes with 100+ templates for you to choose from and supports any kind of product file type.
One of the fantastic attributes of this WooCommerce product feed plugin is that the update is done automatically without causing you any hassle. You can set that update interval from 5 minutes to 1-week max.
Salient Features
Unlimited product upload, including all kinds of WooCommerce products
Unlimited product feed generation
100+ supported merchant channels
All kinds of file types for product feeds
Uncomplicated and easily-to-use interface
#2 Popup Builder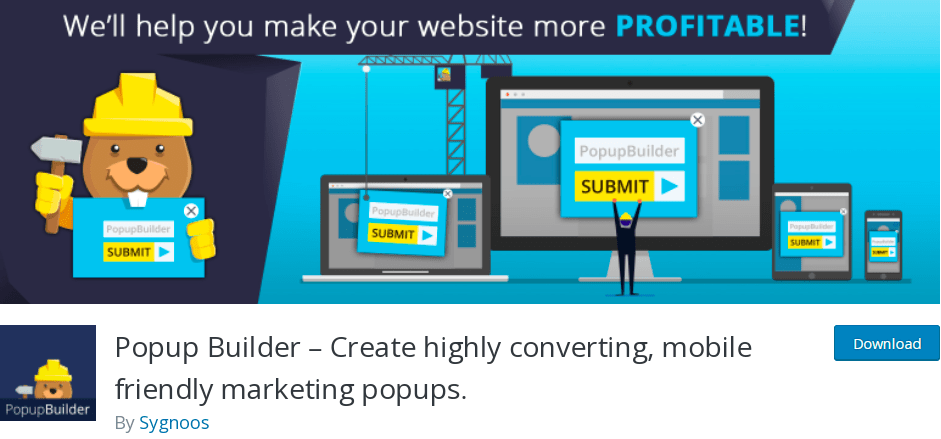 Popup Builder is undoubtedly a popular choice among the crowd to create effective and engaging marketing pop-ups.
A full-fledged working website requires pop-ups now and then to be displayed in front of the website viewers. These pop-ups can include email signups, discount/sale notices, live chat or chatbot notifications, etc.
The pop-ups must be put on view in front of the viewers in a meaningful and pleasant way, not as an annoyance or disturbance.
The WordPress plugin Popup builder comes with a wide range of popup types that are unique and easily customizable. These pop-ups can help your website visitors to turn into customers, and naturally, the more customers, the more sale.
Salient Features
A plethora of pop-up types for all kinds of events or occasions
Super comfortable to use for any
Very easy to customize
Do not affect the effectiveness of the website's UX
Smoothly integrated with other popular WordPress plugins, including WooCommerce.
#3 Challan
Challan is a PDF invoice and packing slip generator for WooCommerce businesses. The PDF invoices are created instantly by this plugin and then sent to the customers. If you have installed this plugin, you do not have to manually create the invoices or packing slips.
Moreover, the plugin has gained much recognition for its customization options and super easy interface. When you offer your customers this ease, comfort, and clarity, it naturally helps you bring in more customers and more sales for your business.
Salient Features
Automatic PDF invoice generation
Reconcilable with the multi-language plugins like WPML, Translatepress, Polylang, Weglot
Comes with customizable invoice formats
Generation of PDF packing slips
Clear tax and VAT calculation and display
#4 MailChimp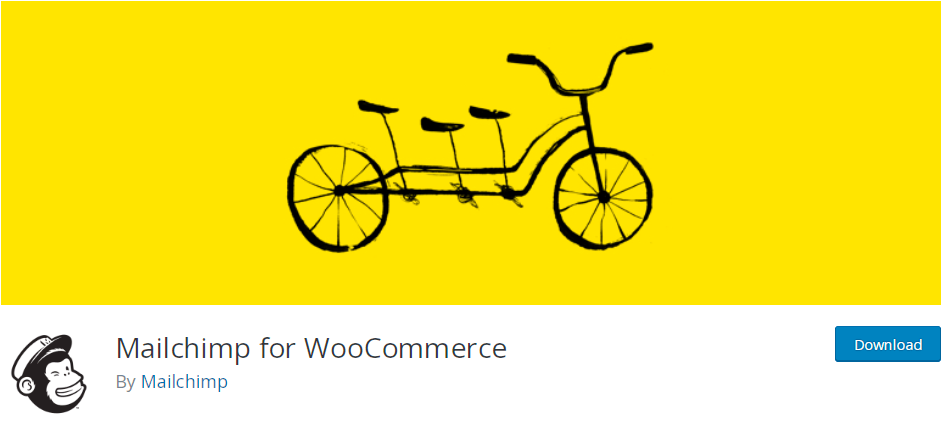 MailChimp is one of the best-known email marketing automation plugins available on WordPress. This plugin has been tailored to provide you with the best email marketing for your business.
When a person buys anything from your store, MailChimp integrates that individual's data to their website, allowing you to send that person upcoming news, emails, sales notices, cart abandonment offers, etc.
You can also craft engaging and beautiful landing pages with this plugin. Attracting customers in this way and notifying them about your business's details will assist you in securing more sales and conversion.
Salient Features
Efficient email-marketing options
Display recommendations of products
Marketing automation options like reminding customers about deals or resolving cart issues along with following up after a purchase
Compatible with WPML
Landing page creation with different features
#5 WPForms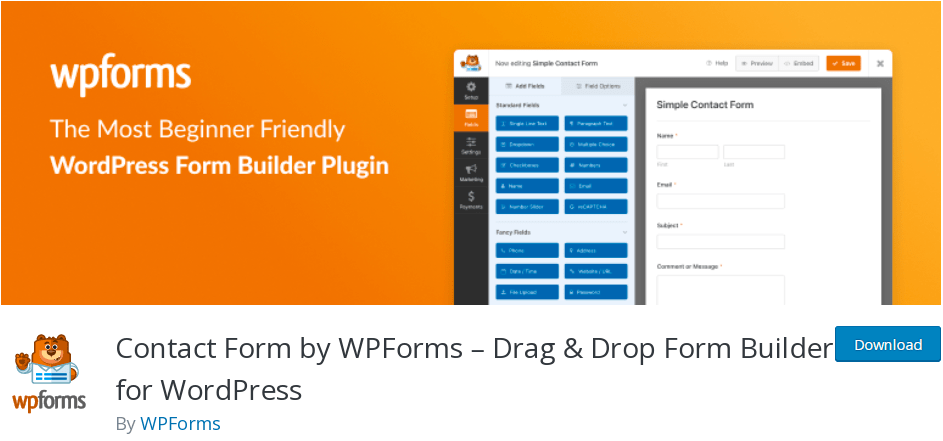 WPForms is a contact form plugin that builds different varieties of forms for your WooCommerce business in the most convenient way. Let it be a general contact form, a payment/subscription form, or a feedback form; WPForms can make it for you with a few clicks in a few minutes!
With this plugin, you do not need to make the forms from scratch; instead, you can use any of the many built-in templates for any type of form you might require for any specific function.
The functionality of this plugin has been specially crafted so that even a beginner can use it without any stumbling. The ease and smoothness that the forms of WPForms offer will undoubtedly help you increase your conversion rate and sales as it directly enhances the website visitors' experiences.
Salient Features
It comes with innumerable built-in templates.
Specially optimized for speed and mobile responsiveness
User-friendly, distinctively for beginners
It comes with surveys, polls, feedback, and petition options, besides contact forms.
Provides spam protection
#6 MonsterInsights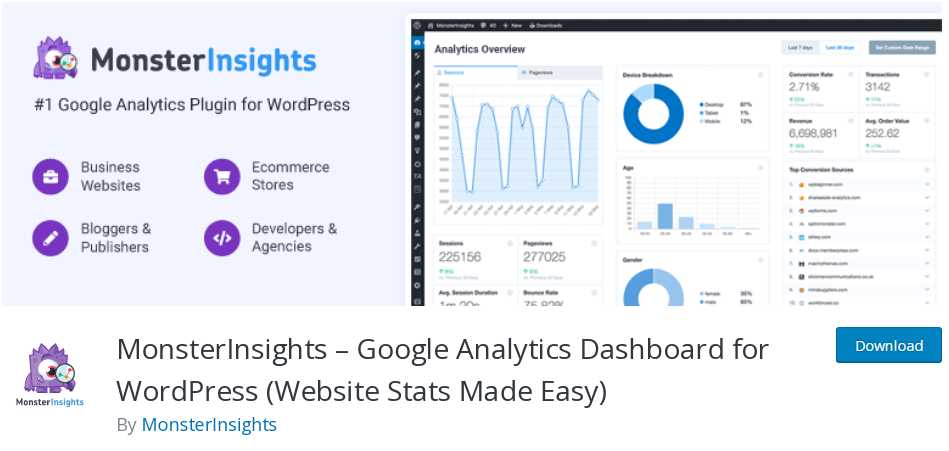 MonsterInsights is a well-recognized WordPress plugin to analyze your business's overall performance.
Understanding the website's overall current performance is a valuable technique to increase sales for any business. When you analyze your website's performance thoroughly, you get to know what aspects are working great for your business and what ones are holding you back from reaching your target.
This plugin helps you understand the experiences your customers are having while on your website, and at the same time, it suggests ways that can help you perform even better with the help of Google Analytics.
The statistics provided by this plugin are real-time, so you can very well understand what's going on on your website as you speak. Understanding your customers' experiences can help you build the best business, and it is needless to say how quickly that can help you increase your sales.
Salient Features
It contains all the advanced features of Google Analytics
Compatible with all the updates
Built-in Google Analytics dashboard for WordPress
Customized reports to understand all the statistics like forms, content, and site speed reports
The WooCommerce dashboard of Google Analytics helps you recognize the performance of your specific products, services, and overall website.
#7 Elementor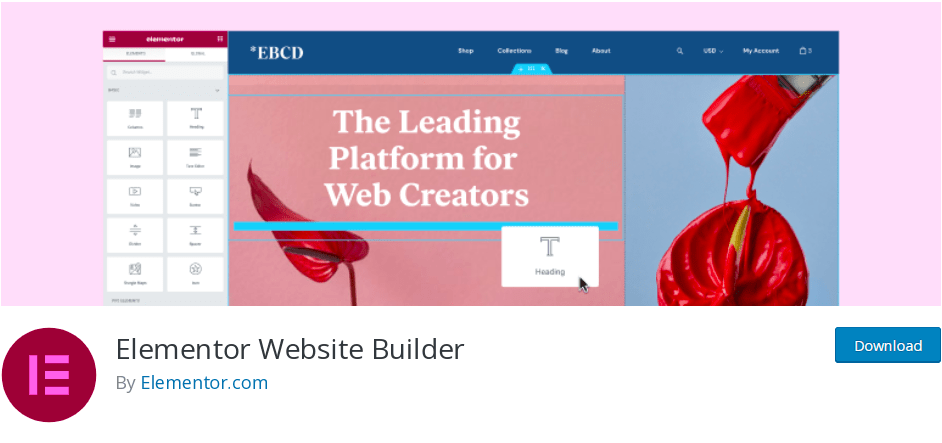 One of the most popular website builders of WordPress, Elementor helps you to make a highly professional and coherent website for your WooCommerce business. The best part of this plugin is that you will need zero coding skills to use all the features that come with it effectively.
Hundreds of built-in templates will make your job so much easier, and you can also customize all those live with utmost convenience.
Salient Features
Creates responsive website designs for all devices
More than 300 built-in templates
Option to edit and customize the templates live
More than a hundred widgets are available for different functions like marketing, design, animations, etc.
#8 All in One SEO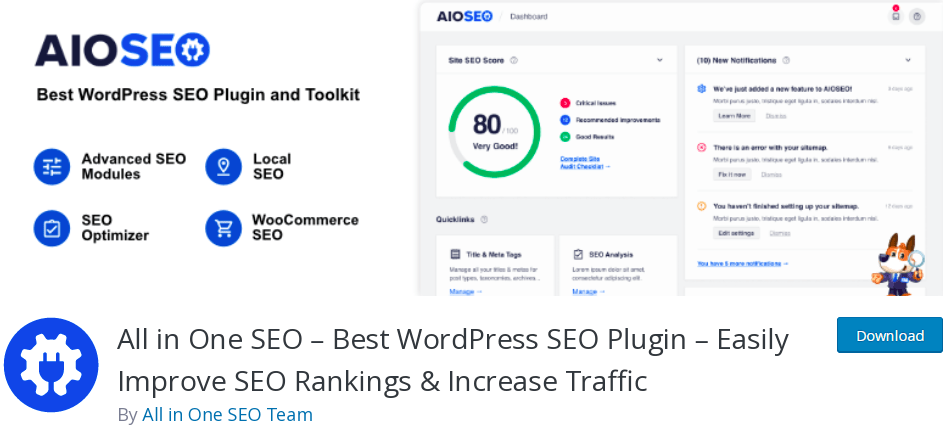 All in One SEO is the plugin that helps you get more traffic on your website. Millions of business owners are trying to make their mark in the industry, and you are one of them.
How do you stand out? How do you ensure that your business page is the one people find when looking for a specific product or service?
The answer is simple. You have to take the help of Search Engine Optimization (SEO). All in One SEO enhances and modifies your WooCommerce business's product pages and categories by making your content fully SEO optimized.
This plugin has earned the place as one of the best plugins for WooCommerce 2022 because of its versatile features and outstanding outcomes.
Salient Features
It offers excellent options to optimize the website for better SEO rankings.
Unlimited SEO keywords are available for the users
Comes with updated XML sitemaps
Provides enhanced User Experience with the help of Breadcrumb Navigation
Easy integration with many other WordPress plugins to modify the user's experience
#9 OneSignal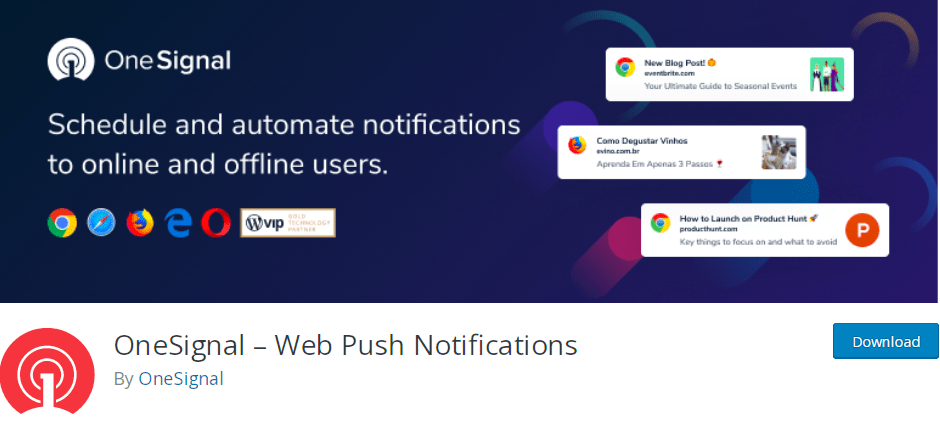 Specializing in enhancing user engagement, OneSignal is one of the best WooCommerce plugins to increase sales by sending push notifications to website visitors. The visitors will continue receiving these notifications even when they are not on your website.
You can notify your customers of anything you like, sales notices, discount offers, upcoming events, etc. This is an excellent technique indeed to convert mere visitors into buyers.
Salient Features
Supports multiple web browsers, including Chrome, Opera, Firefox, Safari, etc.
Sends automatic notifications to viewers
Options for targeting a specific group of customers to notify
The facility of scheduled notifications
Analysis of the viewer's behavior in real-time
#10 Customer Reviews For WooCommerce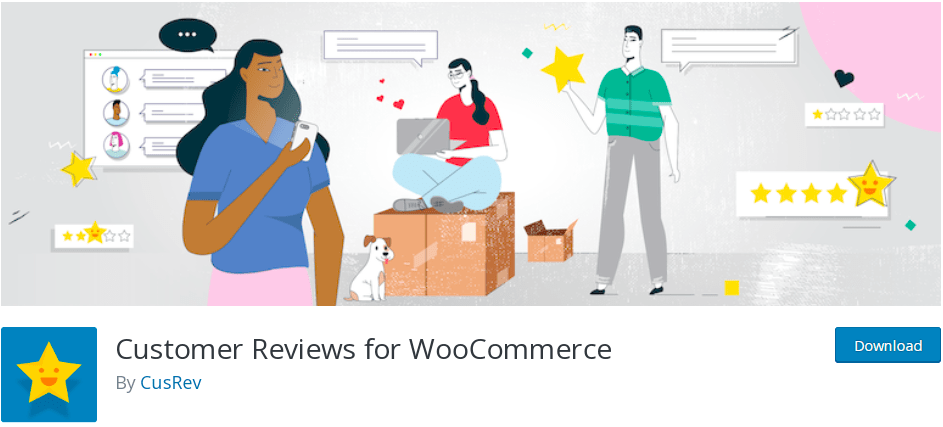 Customer Reviews for WooCommerce is a widely popular plugin to display social proof on your website. The reviews of happy customers can do wonders for your business, and one content customer will drag in another potential one.
This plugin helps you beautifully showcase all the best reviews that your business has got in front of the website viewers. When the potential buyers see this, they feel confident to buy your products which ultimately helps in increasing your sales and conversion.
Salient Features
Discount options for reviewing
Reminder emails for customers
FAQ option to understand the feedback of customers
Advanced options for reviews, including rating, voting, etc.
#11 LiveChat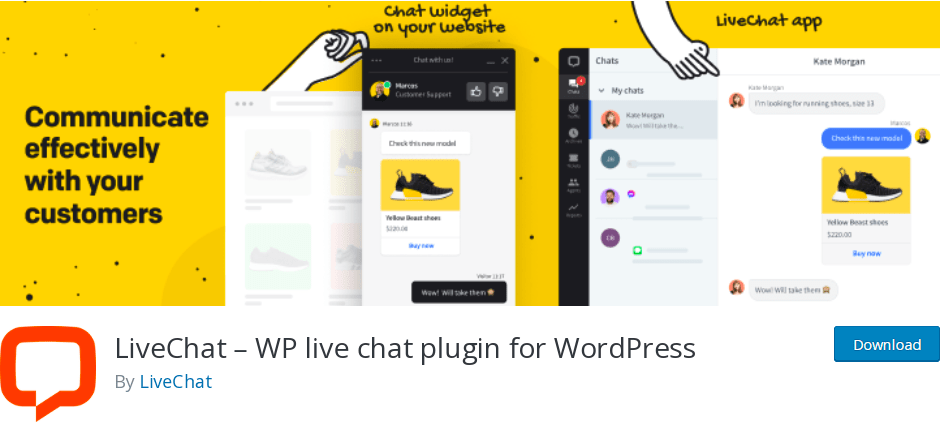 LiveChat is one of the best WooCommerce plugins to enhance customer engagement on your website. You can communicate with your customers instantly and constantly and meet all their queries and confusions through Live Chat.
This is also a very effective way to learn people's suggestions and complaints.  It is a proven fact that using the plugin – Live Chat can help you reduce cart abandonment rates and increase conversion and sales rates for your business quickly.
When you clear the confusion for your customers and motivate them in real-time, the possibility of you making a sale becomes much higher automatically.
Salient Features
Easily customizable and extendable
Multiple languages compatible
Ensures 24/7 customer support
Wrapping up
The sole purpose of any WooCommerce store is to make lots of sales and profits. And to make that happen, they need a little bit of help here and there, and WooCommerce plugins are just for that.
We have discussed some of the best WooCommerce plugins trending in 2022. All these plugins can let you gain a massive number of sales in a very short time!
Let us know which one of these you are using already and which one of these you will try out next!