Today, along with the digital transformation, many educational institutions take online presence more seriously. In fact, to stand out in an increasingly competitive market and catch up with the global e-learning trend, it's necessary to do so.
To build a professional online image, they need to get started by building an official website. But how to begin creating a well-designed and informative website to serve educational purposes? That's where the Education WordPress Themes come in handy.
In this article, we will introduce how to choose the right theme for your institution. Besides, we will also provide you with a list of the best free education WordPress themes and some tips to make your website successful.
Why Educational Institutions Need a Well-designed Website
According to Statista, there're 5 billion internet users worldwide, which takes up 63% of the global population. As people are constantly going online, it's important to reach customers and potential customers on this platform.
In terms of education, learners tend to look for information and reviews on the Internet before deciding to enroll in a course/school/university. For that reason, investing in an online presence becomes essential for educational institutions.
A website will be the face of the institution. It highlights important information, products, courses, achievements, and everything that people need to know about you. A neat, professional, and informative site can reinforce your brand image and help you gain the trust from the public.
Therefore, many institutions are involved in a race to build the most well-designed website possible. And they cannot do that without a great theme.
Considerations When Choosing an Education WordPress Theme
There are millions of themes available on the Internet making it difficult to know which is the right one for you. Here we've put together some factors to consider when choosing an education WordPress theme.
Design: It refers to what your website will look like. You should look at its color palette, layout choices, fonts, images, etc. and make sure they go well with your brand identity. Instead of a fixed-layout and design, try to choose themes with Customize options. In this way, you will have more room for creativity and flexible adjustments if needed.
Plugins: Plugins add more features to your website and improve its functionality. However, not every WordPress theme supports every plugin. You should choose the one that is compatible with most educational plugins.
Responsiveness: People go online using various kinds of devices: PC, laptops, smartphones, tablets, etc. Among these, smartphone users are proved to be the most active ones. Undoubtedly, your theme should be mobile-friendly and display well on different devices' screens.
Complexity: Loading speed is one of the crucial factors to keep visitors on your website. If it takes so long to load a page, they tend to give up and switch to another site. A theme with complicated design and "heavy" animations will slow your site down and make it more likely to crash sometimes. To avoid that, you should choose a lightweight and simple theme to ensure that it runs fast and stably.
SEO Friendliness: An SEO-friendly theme will help your website rank higher on the search engines. If your site appears on the first page of a Google search, your traffic will probably get 10 times higher, compared to other websites. For that reason, SEO is always an important element to consider when it comes to choosing a theme.
Best Free Education WordPress Themes
You have already understood what makes a great education theme. Now we're moving to the next step: choosing a specific theme for your website.
If this is your first time building an education website and your budget is limited, we recommend using a free WordPress education theme. To save your time researching among thousands of choices, we have shortlisted them to these 6 best free education WordPress themes.
#1 Astra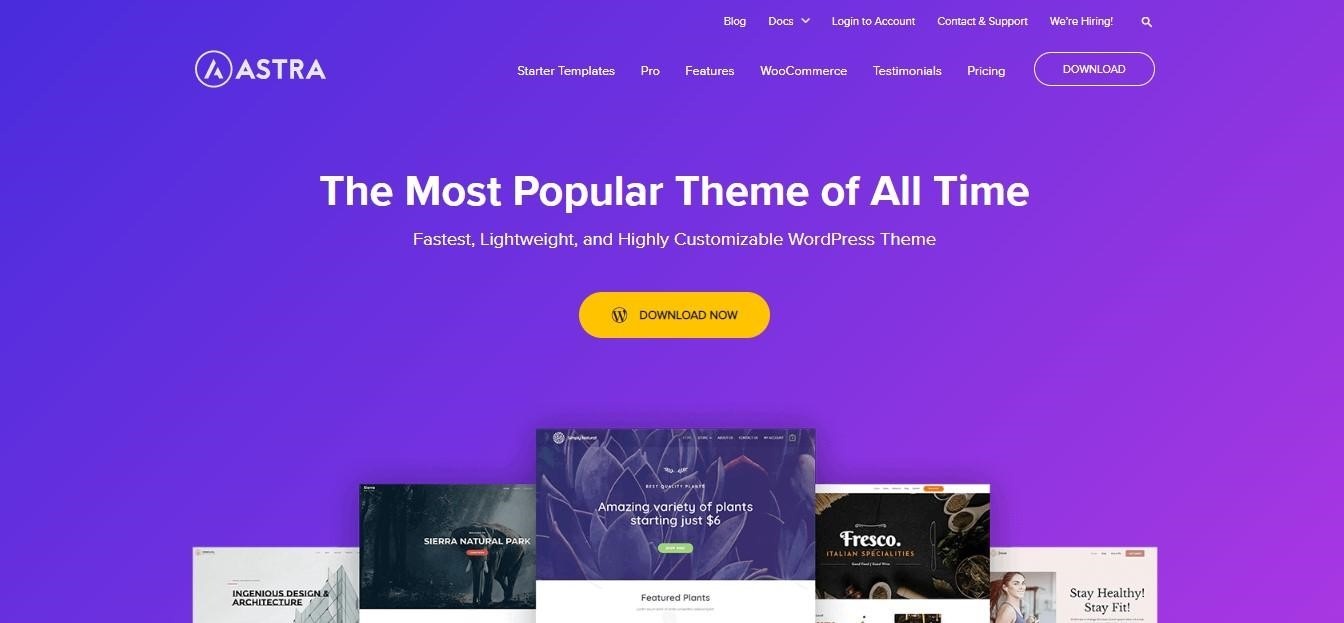 Astra is a popular theme used by many kinds of websites including educational ones. It is fast, lightweight, and highly customizable. That means there are a variety of colors, layouts, fonts, etc. for you to choose from.
Plus, for beginners who don't know about coding and have zero experience in website building, this might be a good choice because everything is clear and easy to use. Astra also supports a lot of plugins that facilitate your site efficiently.
#2 Education Zone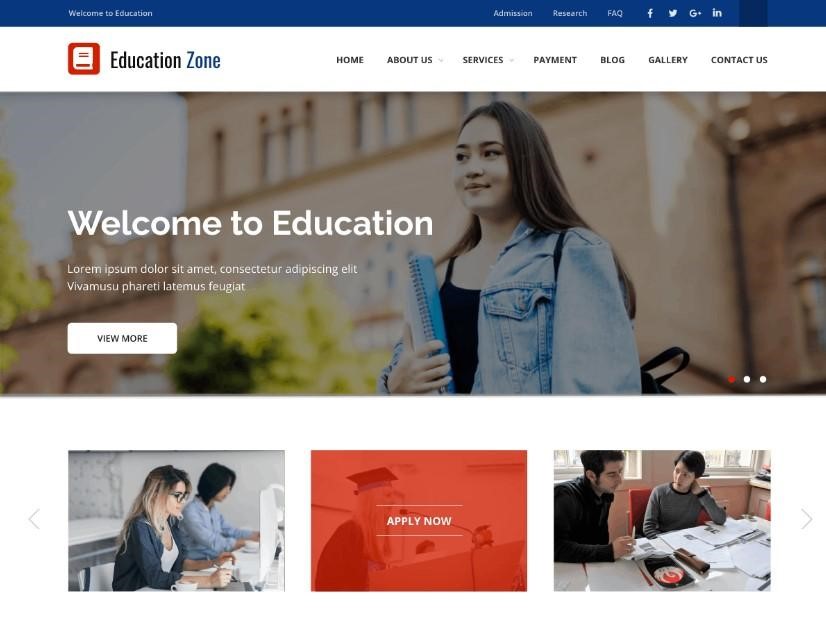 Education Zone is specifically designed for educational purposes. There is no doubt that it's a good choice for schools, universities, colleges, training centers, online courses, and other educational institutions.
It has well-organized layouts and minimal design and provides you with personalization options. You can also find useful features such as translation, retina-ready design, call- to-action buttons, etc. on it.
#3 Education Base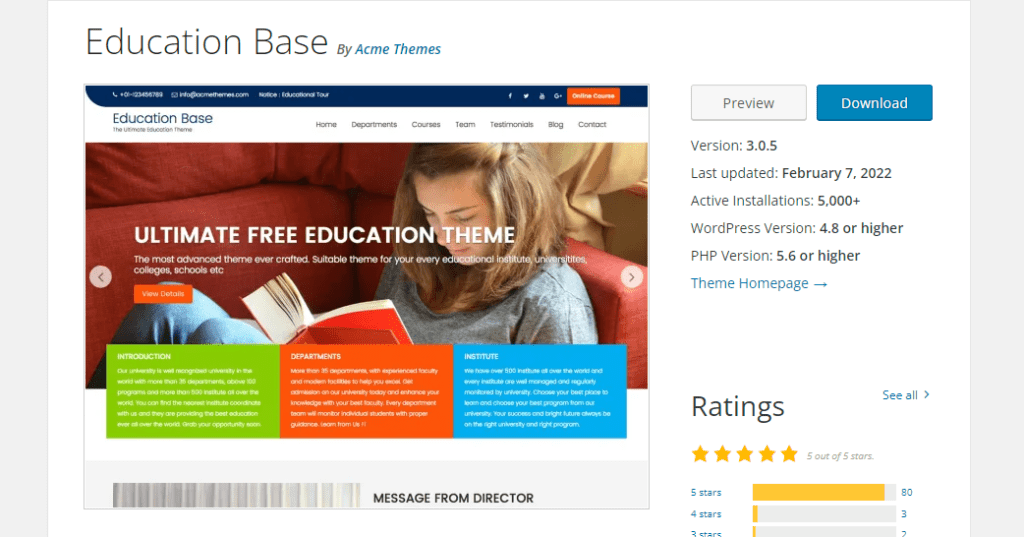 Education Base turns out to be another powerful theme for educational institutions. It comes with a modern and lively design. The theme  greatly supports WooCommerce allowing you to offer products or courses to customers right on your website.
You can easily use the drag and drop feature to customize your site with Education Base. With just a few simple steps, you'll create a unique look for your educational website.
#4 EduMag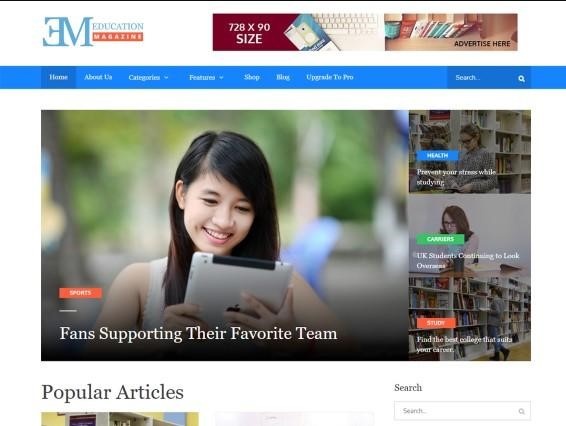 If you're looking for a theme with an educational magazine-style, EduMag will be the one for you. The design and layout allow you to highlight information and news rather than selling courses. Visitors will be invited to see a lot of posts when landing on your website. Therefore, it is preferred by professional educational institutions like universities, colleges, and schools.
Out of the box, the theme can be used for other purposes. It is equipped with several useful features including social media widget, translation tools, pagination, etc.
#5 Acadam Lite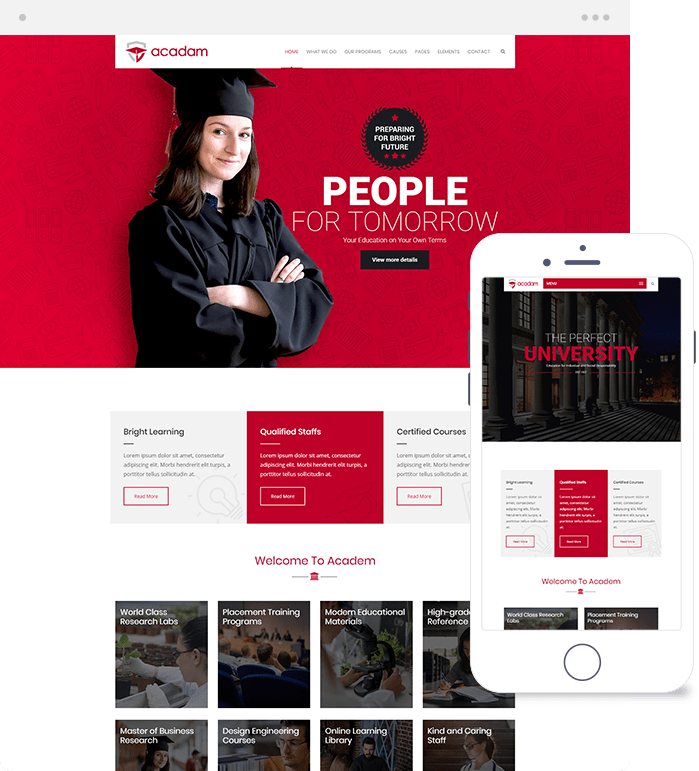 This theme can help you to create an ideal educational website. Using Acadam Lite, you can feature everything you want, from your courses, activities, news, events, human resources, etc. right on your site. This way, visitors can easily capture everything about your institution without much attempt.
You still can control your website design without touching a piece of code thanks to the easy-to-use interface. The theme is also SEO-friendly and highly responsive making it a great free WordPress theme in the education sector.
#6 Enlighten

Enlighten provides a modern and elegant theme for your educational website. It offers plenty of features including homepage sliders, carousel portfolios, video section, CTA section, and more.
Thanks to them, your website will become more engaging to visitors. The theme displays perfectly on PC, mobiles, and any other devices of all types of screen sizes.
#7 Preschool and Kindergarten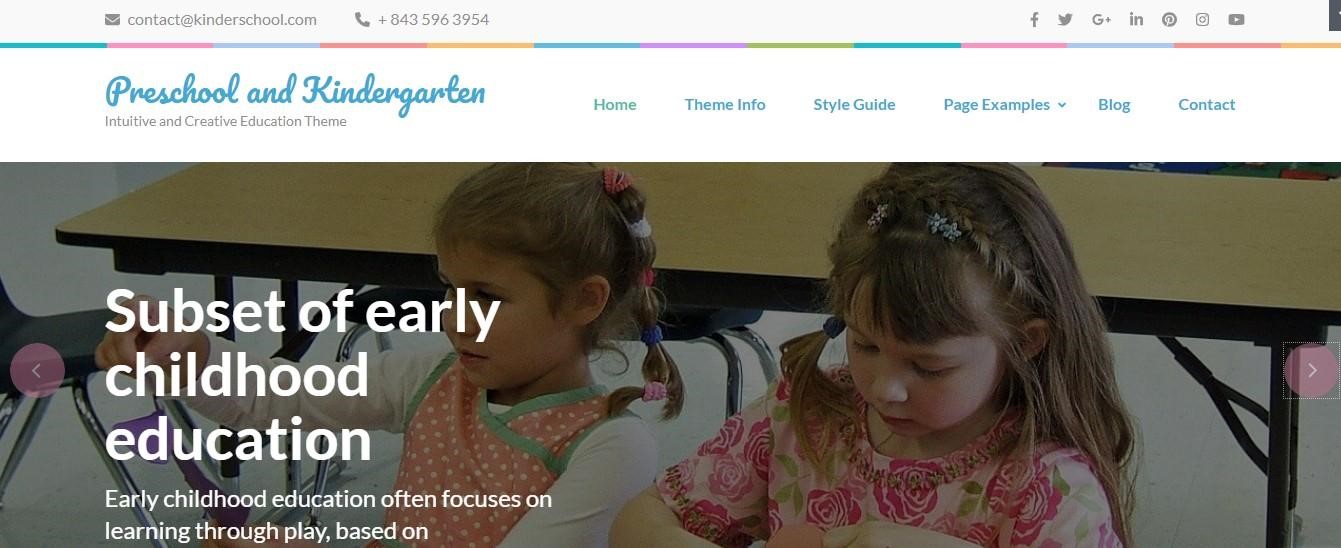 As the name indicates, the Preschool and Kindergarten theme is perfect for early educational institutions. It comes with a simple, elegant, and clean design that does not confuse visitors with too much information. There is an advanced slider where you can showcase your beautiful images and highlight important posts to draw the attention of visitors.
The theme is also optimized for SEO and speed to make sure your website ranks high on the search engine and runs smoothly without facing any crashes. In addition, it is equipped with social media integration, a CTA section, cross-browser compatibility, etc to enhance the performance of your website.
Tips to Make a Successful Education Website
The website is a vital component in your marketing communication. Clearly, it needs to be aligned with your brand image in every perspective. Therefore, don't forget to use the same style (fonts, color, logo, mood, and tone, etc.) on your website as you do on other brand properties. This will create a consistent image of your institution on the customer's impression and benefit your branding/marketing strategy.
Besides, keep your content accurate and up-to-date. An informative, well-organized educational website makes a great impression on visitors so that they will be more likely to trust you.
However, too much information can confuse viewers. People aren't patient enough to look for a piece of information that they need among the wall of texts on your website.
That's when you have to ensure that your site is user-friendly. Make sure every important information such as your contact, address, social media channels, etc. is visible on your website. You may consider breaking down content into smaller categories so that visitors may find it easier to read and research.
Lastly, the power of images is undeniable when it comes to building a website. You might want to invest in creating high-quality photos and videos to capture visitors' attention quickly.
Conclusion
Among thousands of free education WordPress themes out there, choosing the one that works well with your institution is not a simple task. This article will help you understand what to look for in an educational theme, find out the right one for you and know how to promote your website.
In the end, a professional, well-organized, and impressive website will give your educational institution a better edge to stand out in the market.
Have you found your perfect free education WordPress theme yet?
Share your experience with us below!