Spam and its negative effects are no longer strange to any WordPress site owner. It slows down your site performance, takes up bandwidth, and worsens the user experience.
Dealing with spam can be annoying. Thankfully, there are many WordPress anti-spam plugins, both free and paid, that can remove spam in a flash.
In this article, we will introduce the 5 best WordPress anti-spam plugins in 2021 that can lay the smackdown on spam and protect every aspect of your sites. Along with that, we also highlight the ins and outs of how they work.
Without further ado, let's get started!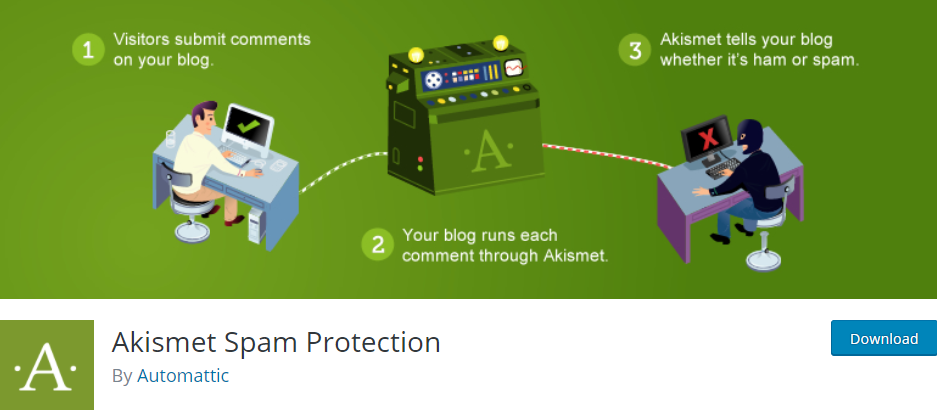 With over 5 million active installations, Akismet is, without a doubt, the most popular anti-spam plugin for WordPress. It's an excellent solution for battling spam comments and spam contact form submissions.
You don't need to install the plugin or worry about its compatibility as it's inbuilt with the WordPress setup. However, you will need an API key to activate the plugin. Once activated, it will scan all the comments and filter out the spammy content right off the bat.
Firstly, the plugin uploads all of the comments into its server. They then go through anti-spam algorithms. Only good comments will be published after the filtering process.
The most common issue that users have bumped into is that occasionally Akismet also blocks good comments. Fortunately, you can check comment status history and change the plugin's settings to get them back.
Plus, Akismet also offers a discard feature that blocks the worst spam completely on the spot. This contributes to saving your disk space and boosting your site performance.
The API key is free if you use it for your blog. In case you wish to use it for commercial purposes, you have to purchase a business license. The price is quite reasonable, around $5 – 50/ month.
Antispam Bee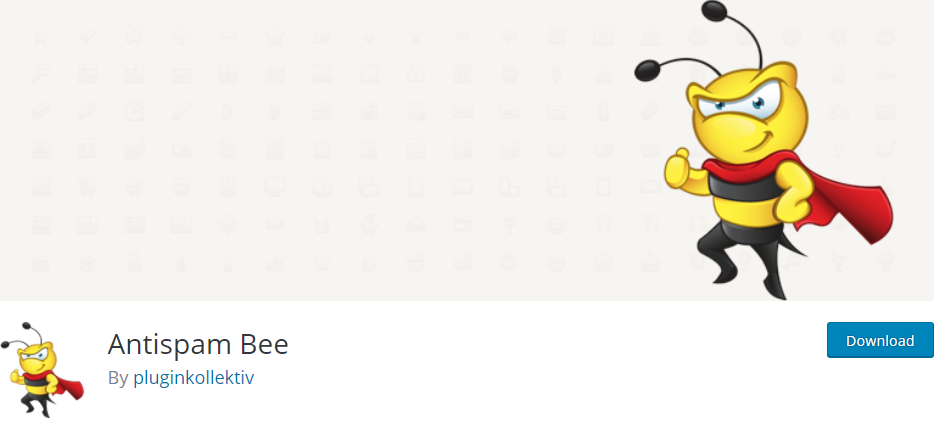 Antispam Bee has gained lots of love from the WordPress community since it boasts as a free and super user-friendly plugin. Unlike Akismet, Antispam Bee doesn't require users to register. Additionally, not only personal purposes but also commercial ones are supported by this plugin.
What sets it apart from other competitors is that it doesn't need the help of Captcha or any third-party plugins to protect your forms, as well as the entire site from spam.
Instead of using the spam detection algorithm method, Antispam Bee applies the server-side techniques, including validating the IP address of commenters, using regular expressions, or marking non-spammers for commenters with a Gravatar, etc.
Along with that, its built-in notification system will keep you in the know every time Antispam Bee detects incoming spam. According to the plugin's settings, the spam folders will be wiped off after specific days. You can view your spam statistics, including spam detection rate and numbers of blocked spam comments in your dashboard.
Antispam by CleanTalk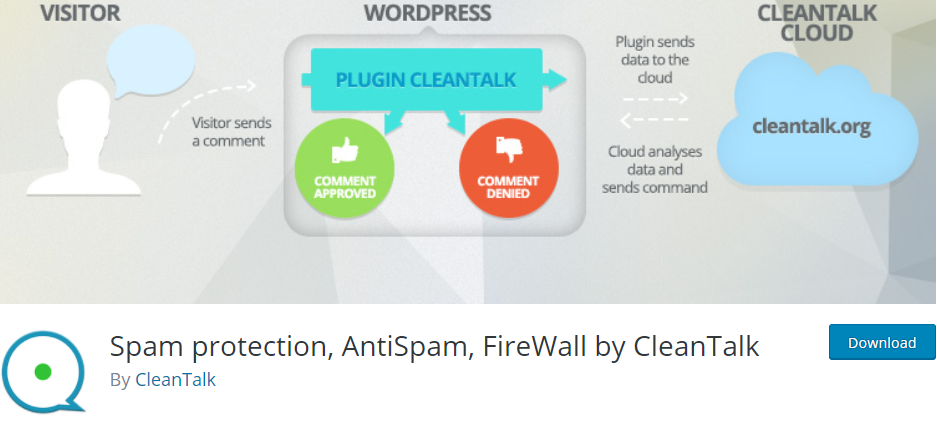 Antispam by CleanTalk is a formidable competitor of Akismet, due to their similarity in the operating principle. The incoming comments will be uploaded to CleanTalk's server and then undergo multiple validation checks. Valid comments are kept public while the rest are thrashed to the spam queue.
This premium cloud-based plugin handles all kinds of spam, from spam registrations, emails, bookings, comments, search forms to spam in widgets, and WooCommerce. It supports a variety of WordPress forms and themes, including some reputable names such as Contact Form 7, WP Forms, Ninja Forms, and Gravity Forms.
One more yay for this plugin is that it doesn't use Captcha. So, no puzzles, no questions, or math required. Besides, the plugin allows you to disable comments for posts, pages, and media without deleting the existing ones.
After a 14-day free trial, you need to buy the CleanTalk service for $8 per year for one site. The plugin comes with top-notch customer support which all emails are answered within 12 hours.
WordPress Zero Spam

Another ideal candidate in this list is WordPress Zero Spam. This free plugin is best-suited for any WordPress site with registration forms. It wards off comments spam, registration spam and automatically deletes them with no extra configurations needed.
It boasts dozens of amazing features, such as honeypot technique, captcha-free, malicious IP auto-block, IP blacklist spam checks, charts and statistics for spam analytics, and more.
The plugin detects spam by using AI combined with proven spam detection practice, and a database of known spiteful IPs from around the world. Moreover, the plugin seamlessly integrates with WordPress caching plugins for the aim of optimizing site performance. It also supports well-known contact form plugins, for example, WP Forms, Contact Form 7, Gravity Forms, and Ninja Forms.
Spam Destroyer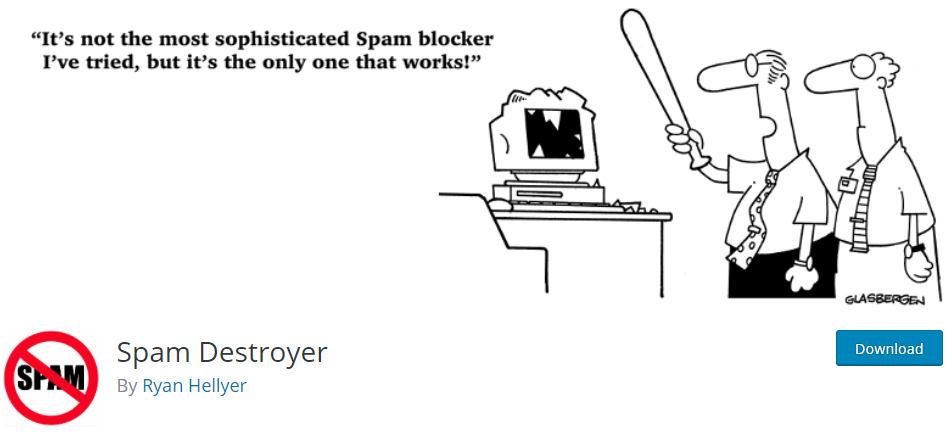 Spam Destroyer marks its name as one of the most simple plug-and-play anti-spam plugins for WordPress. Just install the plugin and it will combat spam right out of the box, without a touch of settings.
Its main goal is to stop automatic spam. Unlike the mentioned plugins, Spam Destroyer blocks unwanted emails or comments based on the 2 anti-spam payloads, a cookie, and a hidden input field verified by Javascript. This means any spam bot trying to bypass it must be able to process cookies and or Javascript.
Interestingly, this free and lightweight plugin is designed to work behind the scene. Even after activation, it doesn't show any sign on the WordPress dashboard.
Though it's great at protecting comments from spam, it still shows some flaws in blocking contact form spam. The developer behind this plugin is still working it out to improve its features.
Please keep in mind that Spam Destroyer is not compatible with JetPack. This means you need to deactivate JetPack before activating Spam Destroyer.
Choosing the Best Anti-spam Plugin for Your Site
We've gone through the top 5 WordPress anti-spam plugins that smartly prevent your site from spam. In general, they are indeed feature-rich and easy to use. The main differences lie in their working principles.
While Akismet uses the API key and spam algorithms, the free Antispam Bee is developed using the server-side technique.
The premium Antispam by CleanTalk, on the other hand, tackles spam by using its cloud-based method.
WordPress Zero Spam battles spam using AI in combination with spam detection techniques and a malicious IP database.
Finally, Spam Destroyer is famous for its unique Javascript solution.
Have we missed your favorite anti-spam WordPress plugins? Feel free to mention them in the comment section below!