It's undeniable that order printer apps prove the great assistants in optimizing the billing process of your Shopify store.
Shopify houses hundreds of apps excelling at printing receipts, invoices, packing slips. Still, which are the most suitable ones for your eCommerce business?
We know that researching is time-consuming, that's why we free you from this legwork by presenting the top 5 Shopify order printer apps.
Before digging into their features, let us show you how to edit the default Shopify packing slip template.
Let's get the ball rolling!
Edit Shopify Packing Slip Template
Shopify itself comes with a packing slip template by default, letting you print packing slips for any order package fulfilled by Shopify Fulfillment Network (SFN). As a Shopify store owner, you can preview it by logging in to the Shopify admin account.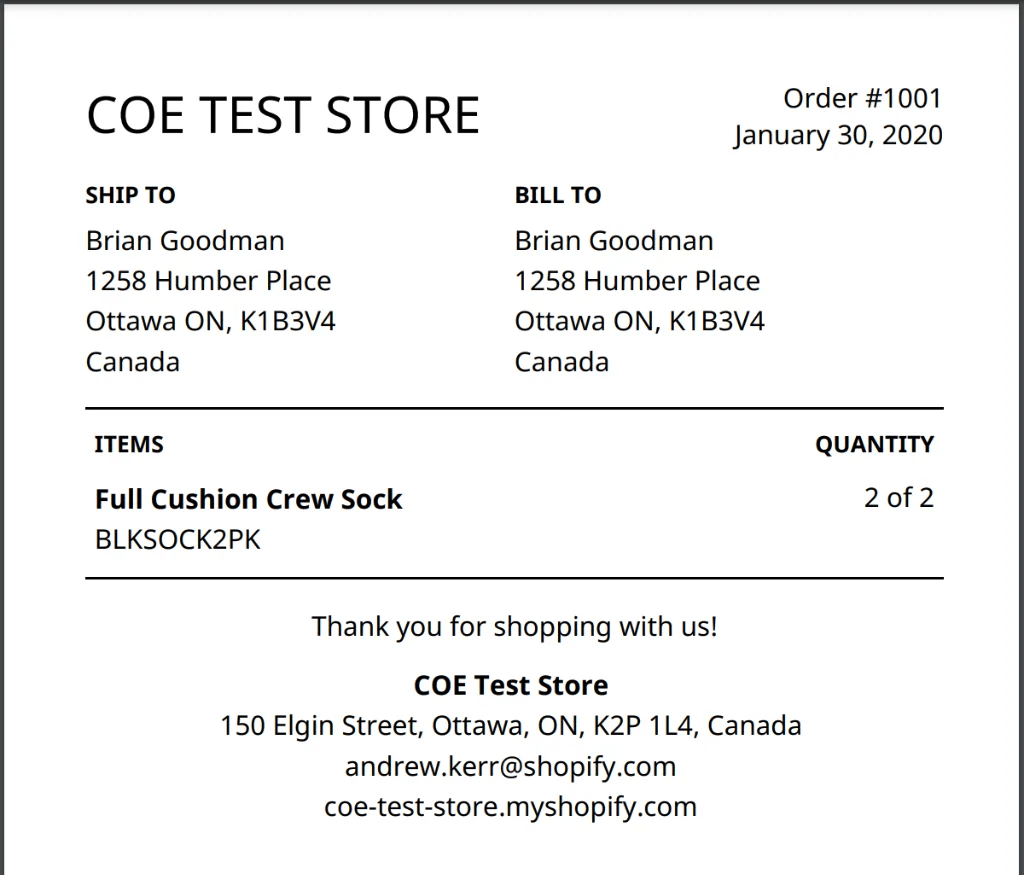 As a matter of fact, any time you edit a Shopify packing slip template for SFN, the packing slips you print using Shopify are also changed accordingly. This is because your packing slips are rendered using the Shopify Liquid template.
Following are 7 steps to edit the built-in Shopify packing slip template.
Log into your Shopify admin, then head to Settings > Shipping and delivery > Packing > Edit.
Highlight and delete all of the code in the editor
Download the SFN packing slip template.
If you want your order notes to be displayed on the packing slip, download the SFN packing slip template text file. If not, download the SFN packing slip template text file without notes.
Copy all the Liquid code in the template file, and then paste it into the editor.
Select Preview template to see your changes and click Save.
Hit Revert to default on the editing page if you want to change your packing slip back to the default.
#1 Order Printer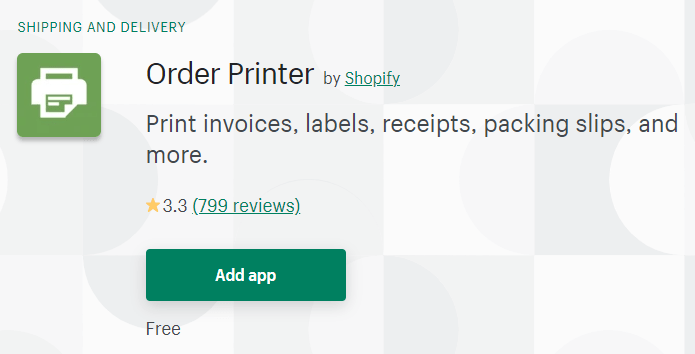 Order Printer by Shopify comes as an ideal pick for anyone looking for a free but robust solution for printing orders. This simple and easy-to-use tool can print invoices, labels, receipts, packing slips, and more.
Order Printer permits you to preview and print orders in bulk, meaning you can print multiple documents related to your orders at once depending on your needs.
In case you'd like to customize your order template to fit your brand, this Shopify order printer app supports modifying HTML and Liquid. If you're not a code maven, you may find customizations strenuous.
Seeking help from Shopify Theme Support helps you deal with minor customizations. For some major ones, you might have to use a third-party app or need assistance from designers or developers.
By and large, this basic order printer app will be your best pick if you don't have high standards of order printing. The invoice and packing slip is clean and well-designed.
Price: Free
Ratings: 3.3/5
#2 Order Printer Pro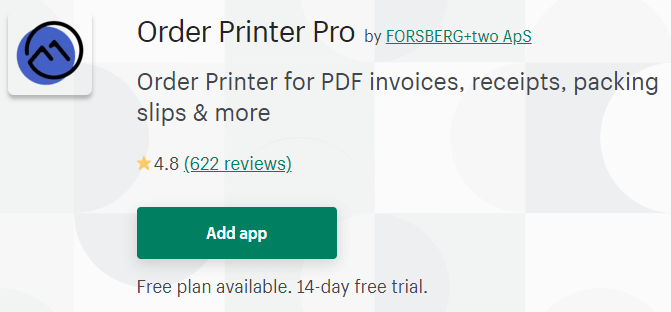 Order Printer Pro proves such a guru in order printing niches with over 500 positive reviews. This app says "yes" to quickly print and email various documents on the spot, including invoices, packing slips, receipts, quotes, return forms, and refunds, etc.
What sets Order Printer Pro apart is that it enables you to print packing slips for partial shipments. It's possible for you to selectively display only fulfilled products in the Packing slip and Returns form. This comes in useful for orders with multiple shipments.
This Shopify order printer app lets you export all the invoice documents from your Shopify store and keeps them electronically for records.
On top of that, the app supports more than 20 languages and multiple currencies. This allows you to print and send orders to customers globally without any fuss. Besides, its easy setup and intuitive user interface also deserve a thumbs up.
Price: Free plan available. Paid plan starts at $10/month with a 14-day free trial.
Ratings: 4.8/5
#3 Order Printer Templates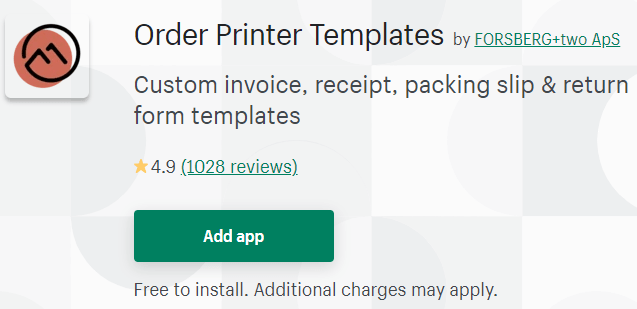 As the name indicates, Order Printer Templates comes with a modern and professional set of customizable order printer templates. This enables you to turn your invoices, packing slip, return forms into a sleek and branded-focus one in just a drop of a hat.
This Shopify order printer app supports 4 types of templates, such as invoice and receipt, packing slip, returns form, and gift receipt.
Using this app and you can add your branding, store logo, and product info, edit tax and country settings with ease. Plus, translating your invoices to other languages has never been easier using a built-in editor.
There are more than 15 languages for you to choose from, empowering you to freely switch template languages with just a click. You can pair this app with Order Printer or Order Printer Pro since they are fully compatible with each other.
What's more, Order Printer Templates has received lots of praise from eco-lifestyle fanciers. This is because each purchase on Order Printer Templates will contribute to the OneTreePlanted project. This helps plant more trees on our Earth, reducing the damage of "printing" on the environment.
Price: Free to install. $29 (one-time fee) per template.
Ratings: 4.9/5 with 977 5-star reviews
#4 Order Printer: PDF Invoice Pro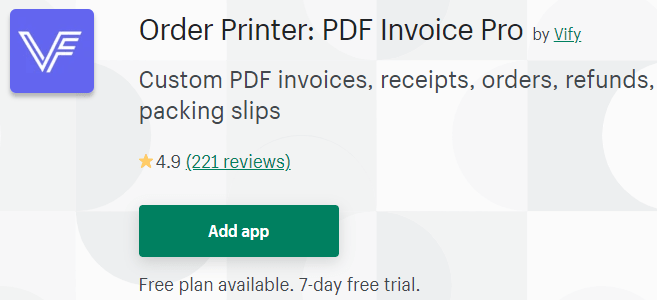 This is one of the most versatile Shopify order printer apps in the market. Not only does it say "yes" to download and print invoices, receipts, packing slips, and refunds in pdf form, but it also gives you a helping hand in tweaking these documents as you'd love to.
All the changes are previewed in real-time, allowing you to customize your order documents instantly. Once done, you can make use of its email automation features to automatically send out PDF documents to your customers.
Come with a POS-like interface, PDF Invoice Pro enables you to create a custom quote and auto-delivery this to customers. You can also convert quotes to orders with just a few clicks.
This plug-and-play app is very easy to use and beginner-friendly.
Price: Free. Paid plan costs $6.99/month.
Ratings: 4.9/ 5 with 210 5-star reviews
#5 AVA PDF Invoice: Order Printer
Anyone who is looking for beautiful and professional invoices can opt for AVA PDF Invoice: Order Printer. This app provides you with tons of sleek ready-made templates. This saves you a lot of time from editing and fixing mistakes.
You can freely choose the suitable templates of PDF billing documents, such as invoices, orders, refunds, and packing slips. All of the templates are highly customizable. You can choose to show specific order information, payment, and shipping details, logo, or set up default company details.
Plus, you can include PDF documents in the order emails and send them out to customers. Most importantly, for customers from different countries, this app can switch to corresponding languages.
AVA PDF Invoice: Order Printer impressively gives the green light to nearly 70 languages worldwide. This makes it easy for purchasers to get the hang of their order info, as well as downloading and printing the orders by themselves.
Price: Free. The Pro version charges you $9/month.
Ratings: 4.9/5 star with 307 5-star reviews.
Which is Your Best Shopify Order Printer App?
This article has walked you through the top 5 robust Shopify order printer apps. They all share the same similarities in helping you simply and automate the order printing process.
Still, what differentiates each of them from others centers on available order templates and pricing plans. Some apps offer pre-made templates but others don't. Plus, most of the Shopify order printer apps mentioned here offer free plans while Order Printer Templates charges you based on templates.
Which is your best Shopify order printer apps? Let us know in the comment section below!
You may be interested in 5 Shopify free shipping tips to boost sales.