WooCommerce SMS notification refers to text messages sent in response to events or transactions which happen in your online store. Used as a marketing tool to increase the number of returning visitors, SMS notification is beneficial for organization safety purposes as well.
By default, your WooCommerce site doesn't support sending automated text messages. You have to work with code in order to add this functionality to your site. However, tiny false changes can put your site at risk. So please opt-in to this method only if you're confident with your coding skills.
Otherwise, there is an easier route, using a plugin. In this article, we're going to explore the 5 best WooCommerce SMS notification plugins.
#1 Texty

Texty is a lightweight SMS notification plugin built for WordPress, WooCommerce, and Dokan. As this plugin doesn't have the capability to send text messages by itself, it integrates with third-party SMS providers to do so. At present, third-party SMS gateways that Texty supports include Twilio, Vonage (Nexmo), Plivo, and Clickatell.
A great thing is that Texty respects user privacy. The tool applies the Appsero software development kit (SDK) to gather telemetry data upon a user's confirmation. In other words, the SDK only starts collecting data once users accept it via an admin notice.
Key Features:
WordPress
WooCommerce
Dokan
Notify admin when

New user registers
Someone leaves a comment

A new order is received
An order is complete

Notify customer when

An order is waiting for acceptance
An order is received
An order is complete
Active Installations: 10,000+
Price: Texty doesn't cost you a penny. You can donate to support its advancement.
#2 WP SMS – Messaging & SMS Notification

This plugin adds the ability to send SMS automatically to WordPress, WooCommerce, Gravity Forms, Easy Digital Downloads, etc. It supports more than 250 SMS gateways, such as Twilio, Plivo, Clickatell, BulkSMS, Infobip, Vonage (Nexmo), and many more.
Plus, the plugin has been translated into many languages, making it available and convenient for people around the world.
Key Features:
Send automated SMS/MMS to either users' numbers or specific numbers.
Collect users' mobile numbers when they subscribe to your newsletters.
Ensure site security by two-step verification.
Allow login with a mobile number if you forget your password.
Send Activation Codes to subscribers when they are completing the subscription process.
Send SMS notification to the administrators:

To inform them of new WordPress releases.
When a new user registers to your site or subscribes in forms.
When someone posts a comment.
When users log into your site.

Support Widget/Gutenberg to display SMS Newsletter Form, WordPress Hooks, and WP-REST API.
Import/export subscribers.
Shorten URLs by Bitly.
Active Installations: 8,000+
Price: This plugin is free. You just need an account from one of the services in the list of gateways it supports.
In case you wish to integrate with multiple plugins and sites, consider the Pro pack ranging from $30 – $125/year.
#3 WP SMS – Texting – SMS Notification

Another excellent option, which enables you to send SMS automatically from your WordPress or WooCommerce website. It works well with Twilio, one of the best third-party SMS gateways on the market. Also, the plugin authorizes you to extend its settings and functionalities or integrate with any site type.
Key Features:
Send SMS messages directly to any phone number.
Send bulk SMS to all the site users or a specific user role.
Support SMS newsletter.
Send SMS notifications to the admin or users about any activity on the website, such as new posts, new comments, etc.
Shorten URLs using Bitly or Google URL Shortener API.
Active Installations: 6000+
Price: It offers a free version with limited features. Plan to set and manage WooCommerce SMS notifications? You must install the Pro add-ons ranging from $49 – $249/year.
#4 SMS Alert Order Notifications – WooCommerce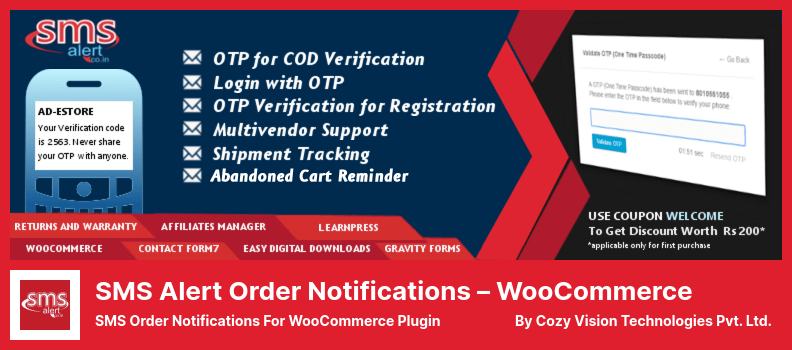 SMS Alert Order Notifications is a WooCommerce add-on that encourages admins and buyers to get notifications about their orders via SMS.
It comes in handy when you wish to get notified after any events and transactions that occurred on your e-commerce site. Also, you can customize the notification options in the admin panel as per your requirement with ease.
What sets it apart is the SMS analytics feature, which helps you segment your customer base and personalize SMS marketing campaigns.
Key Features:
Notify both users and admins of order status and transactions.
Ensure security by user verification via OTP SMS.
Personalize SMS campaigns based on specific user behaviors.
Offer SMS analytics and real-time data to segment customer base and broadcast retargeted SMS.
Deliver data on-demand with a simple SMS to a specific number for stock prices, account balance, inventory, office locations, status updates, abandoned cart, etc.
Engage customers with SMS-based quizzes, contests, and gamification.
Run surveys or polls to receive feedback from customers in the form of an SMS response, a simple click, or a missed call.
Send messages to customers across the globe in their preferred language through Unicode messages.
Ensure all messages are delivered via an automated retry mechanism.
Block multiple user registration with the same mobile number.
Provide different SMS templates for specific purposes.
Support WordPress multisite.
Active Installations: 6000+
Price: You can install the plugin's free version available at the WordPress repository with a limited number of messages. The price will rise in proportion to the number of messages you want to send.
#5 BulkGate SMS Plugin for WooCommerce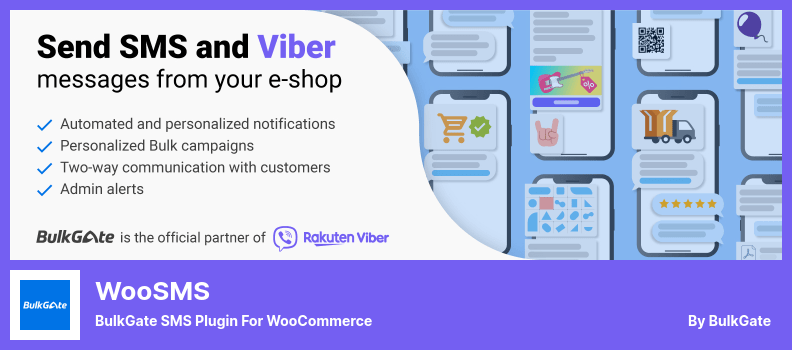 BulkGate comes as a useful tool that supports SMS and VIBER message notifications for your WooCommerce shop.
Running a store on another popular e-commerce platform? BulkGate can support them. It is currently available on PrestaShop, Opencart, Magento, and Thirty Bees.
Thanks to the outstanding features this plugin provides, you can have an instant conversation with your customers by two-way SMS.
Key Features:
Send automated and personalized SMS notifications directly to the customers through an all-in-one Web Portal.
Connect the application to BulkGate via APIs.
Extend the functionality by adding the SMS channel.
Send bulk SMS messages at once.
Validate users' phone numbers via SMS OTP.
Design Business Page on the Web Portal.
Send an SMS with a link leading to the BulkGate Business page.
Send and optimize SMS marketing campaigns.
Support sending SMS to over 200 countries and regions all over the world.
Make sure customers see the messages.
Create surveys, polls & contests.
Connect Android phone to BulkGate.
Import contacts to an SMS campaign via CSV/Excel and vCard by entering numbers manually or selecting them from your address book.
Support two-way SMS communication.
Access the history of sent SMS messages.
Active Installations: 6000+
Price: The tool's free on WordPress.org. To reach for all advanced features with unlimited number of messages and campaigns, consider its premium version from a minimum price of €0.0231/SMS. The price of an SMS message will vary based on your operators and country.
What Is Your Favorite WooCommerce SMS Notification Plugin?
Real-time SMS notification about each stage of an order not only keeps you informed but also reduces your customers' queries. That way, you'll be able to build long-term relationships with them.
What's more, SMS notification also allows you to detect any suspicious events on your website for better security.
So, why don't you install a plugin bringing that great functionality?
We've suggested 5 awesome WooCommerce SMS notification plugins. Now it's high time to pick your favorite one!
Besides SMS notification, we recommend another way to enhance your customer experience: live chat support.