"Teamwork makes dream work." John Maxwell
No one can deny the significance of teamwork in every organization, from giant technology corporations like Apple or Microsoft to SMB companies.
It's no exaggeration to say that teamwork and collaboration are the foundation that can make or break your business. This is known as one of the 4 most vital skills for employees' success. Recent research proves that collaboration is considered important by 75% of employees.
To build a team that cooperates properly and productively, besides the collective spirit, you also need help from the right tools so that all members can work together effectively. Thus, document collaboration software is something you shouldn't miss out on.
In this article, we'll briefly define what document collaboration software is and why it's beneficial to your business. Then we'll provide you with a hand-pick list of the 5 best document collaboration tools. Their features, pros, and cons will be carefully covered in this post.
What is Documentation Collaboration Software?
A document collaboration tool gives your team an ideal opportunity to work with each other on the same doc. It can be a text file, a spreadsheet, or even a PDF document.
Team members can edit, make updates, and leave comments on this doc while seeing what others are doing. Not only does this free them from having to save multiple files at a time but it also prevents version conflicts.
Benefits of Documentation Collaboration Software
A documentation collaboration platform is advantageous for your business in various ways. It helps enhance team productivity, especially remote teams and at the same time makes your business more well-organized.
Improve Employee Productivity
It's estimated that collaboration tools rocket team productivity up to 30%.
Having all members work on the same doc enables you to track the team's workflow. Misunderstanding assigned tasks or others' work would never happen.
Plus, each person can handle a certain section and know the progress of the team. They are able to jump in when necessary to ensure the outcome.
Without an online collaboration tool, your inbox will be a mess of back-and-forth emails. Both employers and employees can't help sending and receiving tons of emails per day which results in multiple versions of the doc.
Thankfully, most collaboration software gives users the power to add comments. This enables the team lead or employers to provide feedback quickly. Since then, the team can make modifications in the document quickly as well.
Remote working has been increasingly popular these days, especially during this pandemic time. The right collaboration option allows the team to visit physical locations or to stay home to conduct projects flexibly. An Internet-connected device to access the team files is the sine qua non.
This working model still encourages the team to share their thoughts and ideas. Everyone can have open conversations in the same way as being in the office.
Key Features of Documentation Collaboration Software
Each tool comes with a set of useful features to meet specific purposes. It's difficult to find an all-in-one solution for every person's needs. Before picking a tailor-made platform, let's look at the must-have functionalities of a document collaboration tool.
Real-time editor – Of course, your document is "live" so users' edits and comments are updated in real-time.
Auto-saving files – Save the progress of the team automatically when there are any updates on the document.
Document's versions – Enable you to keep different versions of a file, giving you a chance to restore an old version.
Comments – Let you provide feedback and ask questions in the comments. This doesn't affect the team's current work, and at the same time makes the editing process more insightful.
Cloud storage – Grant large storage making it easy for all your team members to access and save their work.
Notifications – Track all the changes on the document. Update team members on any adjustments there.
5 Best Document Collaboration Tools
Here are the top 5 tools you can consider for online file storage and management.
#1 Google Docs
The first option on this list is Google Docs.
It's worth mentioning that Google Docs doesn't cost a fortune to get started. It only requires you to own a Google ID or a Gmail account to utilize the app.
It's like the cloud-based version of Microsoft Word but allows people to access your files via any Internet-connected devices, from computers to mobiles and tablets. You can edit the file in a similar way as Word with the top bar options.
Sharing a Google file has never been simpler thanks to its link-sharing capability. You're able to invite specific people to access the document or leave the door open for anyone. To restrict permissions, you can either let them edit, comment or just view the file.
Google offers 15GB of cloud storage for free. Still, you can upgrade to a premium account for more storage, especially for huge teams. The monthly price is $10 for 100 GB for each user.
Pros
Eliminate the signing-up process.
Send email notifications when you've shared a doc or when someone comments on your file.
View document versions and revert previous ones.
Come with an easy-to-use interface.
Cons
Force Internet connectivity to edit files.
Limit styles and themes.
Lack of Word's advanced features.
#2 Monday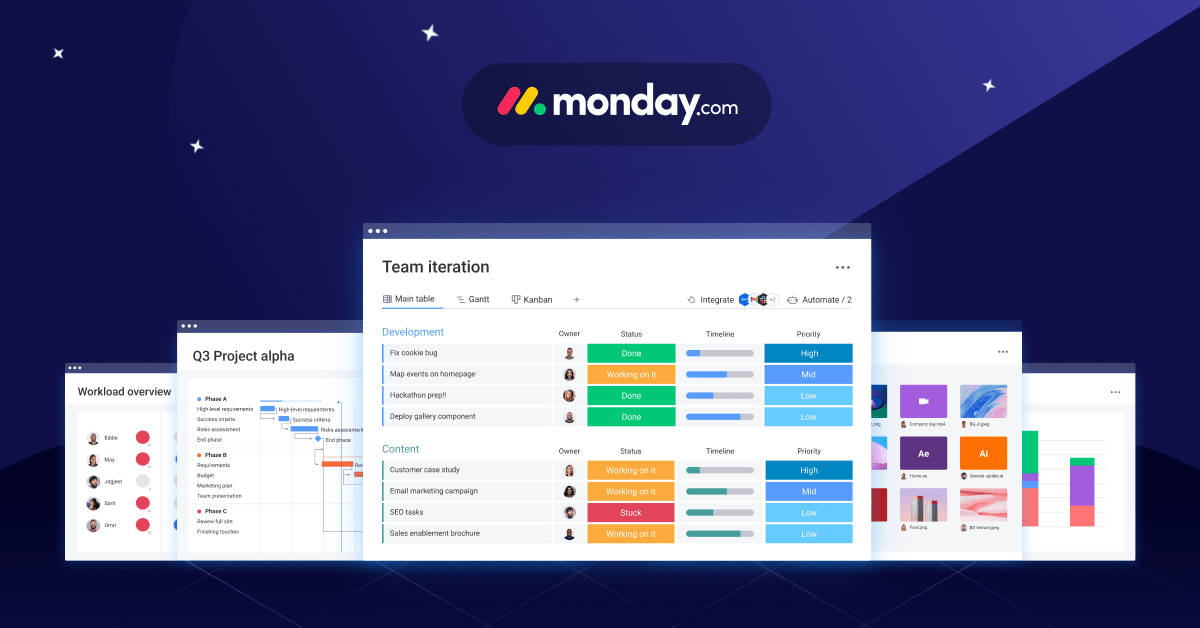 Monday.com is in-charge of project management to suit any team size. It gives all the necessary features a document collaboration platform should have.
You can assign tasks, follow members' progress, and tag a member by @. On top of that, you can edit files in real-time, auto-save, share comments, and drag and drop text without affecting other teammates.
Noticeably, Monday.com integrates seamlessly with many applications so you can bring files from those apps to the platform, for example, Google Drive and Dropbox.
Pros
Cool, clean, and intuitive UI.
Available on Web, Android, iPhones, and iPads.
Offer a free version.
#3 Documents360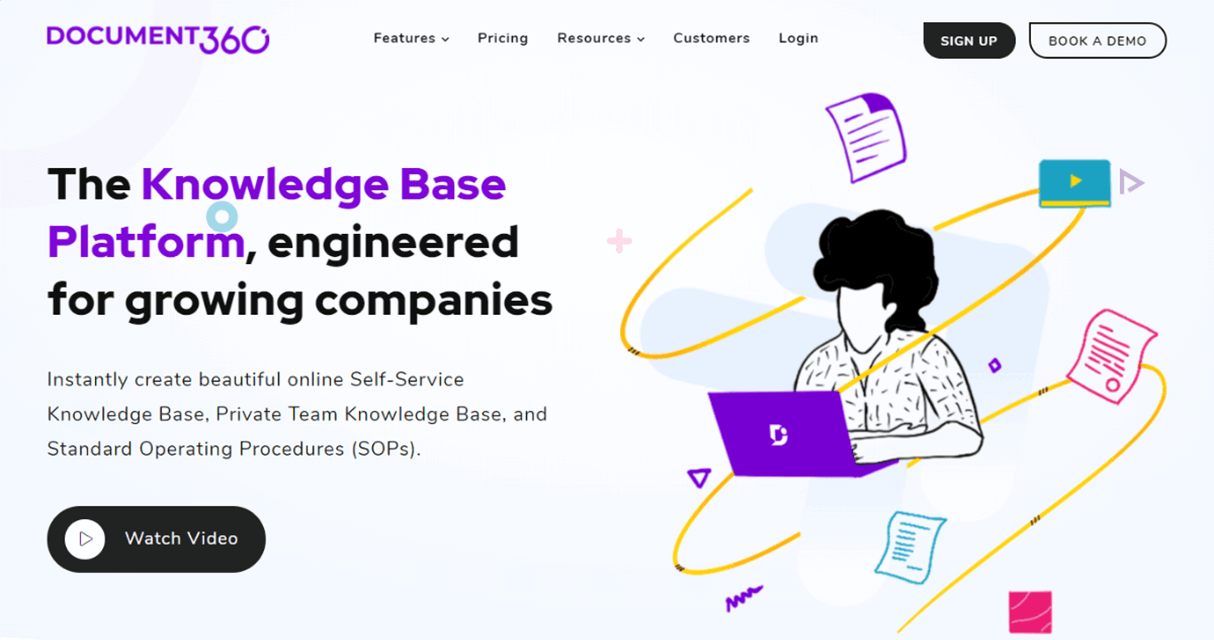 Document360 lends your team a helping hand in capturing and storing important information in a location. All members can work on the same document at a time and their updates will be saved automatically. It's possible for you to restore versions too.
Some other key features of Document360 include version history, commenting, tagging, and review reminders.
On top of that, the software supports user role access, enabling you to control who can view or edit which document.
Pros
Have a clean user interface.
Integrate with popular apps such as Slack, Microsoft Teams, and Chrome.
Enable automatic and manual backups.
Cons
Difficult to put in gear due to limitations in documentation and learning materials.
#4 ReSkript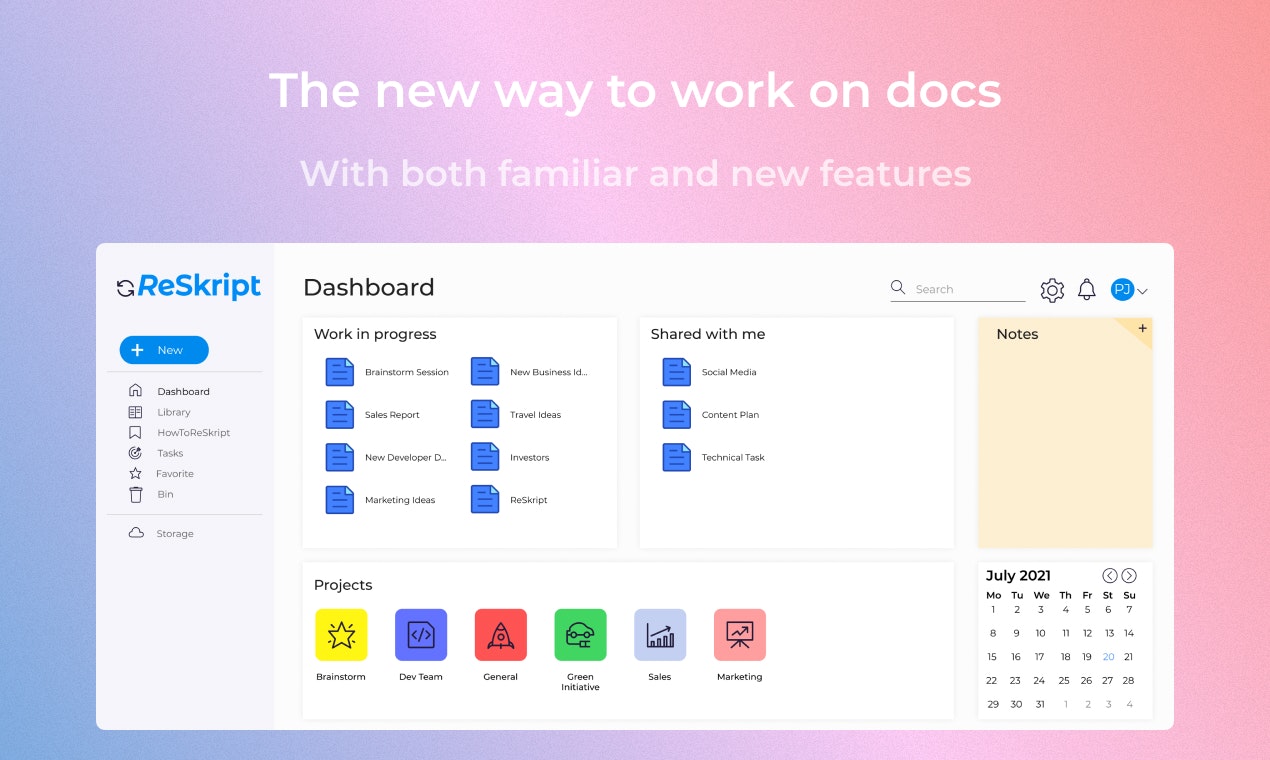 ReSkript turns out to be one of the most common online file management and document collaboration software thanks to its wide range of useful functionalities. The platform is designed to manage the team's workflow more efficiently.
The tool gives you the big picture of who accesses your file, their frequency, how long they've spent on it, and even which section they scrolled down to. Apart from those, you can arrange files, tag, and comment on documents.
Pros
Have an aesthetic design and easy-to-use UI.
Allow video calls and chat.
Work on any team size.
#5 Zoho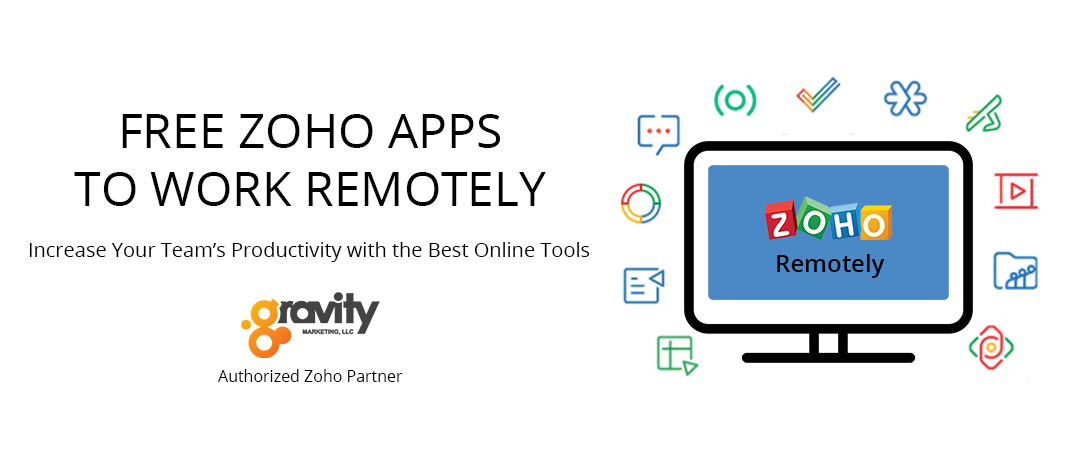 Similar to Google Docs, Zoho takes care of document, spreadsheet, and presentation creation. You can collaborate with others to add, store, edit, and share files in the breeze.
It strengthens the bonds between teams and maintains close connections by classifying files according to teams, projects, file types, and authors. Collaborators can also chat with others in real-time to speed up the review or discussion.
What impresses users the most is its ability to set permissions, password protect, and expire files to block unauthorized access.
Pros
Upload music, movies, and other file types to Zoho.
Create folders for better document organization.
Synchronize with desktops.
Have strict security.
Cons
No free version. The Starter plan starts at $2.00 per user monthly.
Which Is Your Ideal Document Collaboration Software?
An online file management tool empowers your team to process work on the same doc. It helps ease the team collaboration project and hit the deadlines.
We've introduced the 5 best document collaboration software to you. If you look for a simple solution with basic file management and sharing features, Google Docs is just the ticket. In case you seek a powerful platform with strong security options, go for Zoho.
While Google Doc and Zoho don't cost you anything to get started and grant up to 5GB, others require you to sign up for a premium plan.
What is your favorite solution? Share with us your thoughts in the comment section below!