Talking about e-commerce platforms, Magento or Shopify are undoubtedly big shots in the market. However, in terms of a solution to monetizing your blog or creating an e-commerce store with WordPress, WooCommerce always stands out to be a smart choice.
According to WordPress search trends by Alex Denning, searches for WooCommerce keywords increased up to 44.30% last year. It even outstrips the numbers of WordPress keyword searches by over 3 times.
These figures are living proof that WooCommerce grows and evolves daily to support all sizes of businesses.
Are you wondering how many websites are using WooCommerce?
What percentage of online stores are using WooCommerce in 2021? And what is the future of WooCommerce beyond 2021?
In this article, we'll help you answer all those questions. We'll also analyze key components of WooCommerce's outstanding achievements along with the latest WooCommerce statistics 2021.
But first, let us walk you through its golden days with impressive milestones.
It's time to get the ball rolling!
What is WooCommerce and How does It Work?
WooCommerce is an open-source WordPress plugin that helps you transform your site into a fully-functional e-commerce store in a flash.
This free and simple-to-use plugin allows you to effortlessly customize and manage your store. You can sell any products and services as you desire, from physical to digital products, accept payments and manage inventory. On top of that, you can get the most use of WooCommerce for your affiliate marketing model.
So how does WooCommerce work?
Considering the plugin is developed by Automattic –  the same company which owns wordpress.com, WooCommerce integrates seamlessly with WordPress operating system. Once installed and activated, the plugin will add these capabilities to your websites:
Create online stores selling physical products
Sell digital products
Manage and accept different forms of payments
Create a subscription-based store
Set up service-based stores
Manage stock of your products
Make daily sale report
Create discounts or coupons
Brief History of WooCommerce
Though now owned by Automattic, WooCommerce first started its life with a company called WooThemes. To create WooCommerce, WooThemes had hired 2 developers at Jigowatt – Mike Jolley and James Koster. They worked together on the replication of a plugin called Jigoshop, which became WooCommerce nowadays.
The first WooCommerce version was released on September 27, 2011, and out of the blue, took the WordPress world by storm. It achieved 1 million downloads just within 2 years. More amazingly, the number of downloads quadrupled and hit 4 million in only a year later.
In 2015, WooCommerce reached 7 million downloads, powering 30% of all online stores. Impressed by the explosive growth of this plugin, Automattic purchased WooCommerce from WooThemes in the same year. Since then, Automattic has become the leading developer behind WooCommerce.
Let's take a look at some WooCommerce milestones and you'll raise your eyebrows for sure!
WooCommerce was released on September 17, 2011.
WooCommerce was hacked in April 2012.
WooSlider was released in August 2012.
 WooCommerce 2.0 was brought to life in March 2013.
WooCommerce hit 1 million downloads in Jun 2013.
Its 200,000th order was placed on August 15, 2013.
Sensei, its learning management system for WordPress was launched in Jan 2013.
The WooCommerce Helper was introduced to the world in Nov 2013.
WooCommerce 2.1 Peppy Penguin and All Theme Package were released in Feb 2014.
WooCommerce Booking was launched in May 2014.
WooCommerce reached 4 million downloads in August 2014.
WooCommerce 2.2 Prowling Pangolin first started its life in Sep 2014.
Storefront, a free WooCommerce theme was launched in Nov 2014.
WooCommerce 2.3 Handsome Hippo was released in Feb 2015.
WooCommerce achieved 7 million downloads in April 2015.
From the timeline above, you can see that WooCommerce did establish its strong foothold in the e-commerce field in the very first days. The following section will provide you with the latest WooCommerce statistics 2021, which gives you a clear picture of how far the plugin has come.
WooCommerce Statistics 2021
#1 WooCommerce Usage
According to BuiltWith, there are currently at least 4,414,537 live websites using WooCommerce.
When it comes to e-commerce WordPress plugins, WooCommerece is without a doubt, unbeatable. WooCommerce has been installed on 5 million+ websites with over 128 million downloads (and counting) so far.
WooCommerce powers over 27.78% of all online stores.
As to the 2021 WooCommerce statistics from Datanyze, WooCommerce comes as the clear-cut winner in powering 27.78% of the market share. The first runner-up goes to Squarespace Online Stores with 22.35%, followed by Shopify with 9.90%.
Datanyze also pointed out that WooCommerce takes the lead in the number of websites it supports, which is currently 629,227. Squarespace supports 453,474 websites, while Shopify falls far behind with 272,146.
WooCommerce is used by 7.8% of all the websites.
W3Tech updated the percentage of websites using WooCommerce in March 2021. While 40.5% of all the websites opt for WordPress, the percentage of websites using WooCommerce is 7.8%.
WooCommerce powers 30% of the top 1 million e-commerce sites.
WooCommerce leads as the most favored choice among the top million e-commerce sites, which outpaces Magento and Shopify. In detail, the latest WooCommerce statistics update of BuiltWith revealed that there are over 271 thousand sites, which equals 30% using WooCommerce. Shopify and Magento come behind with 18% and 9% respectively.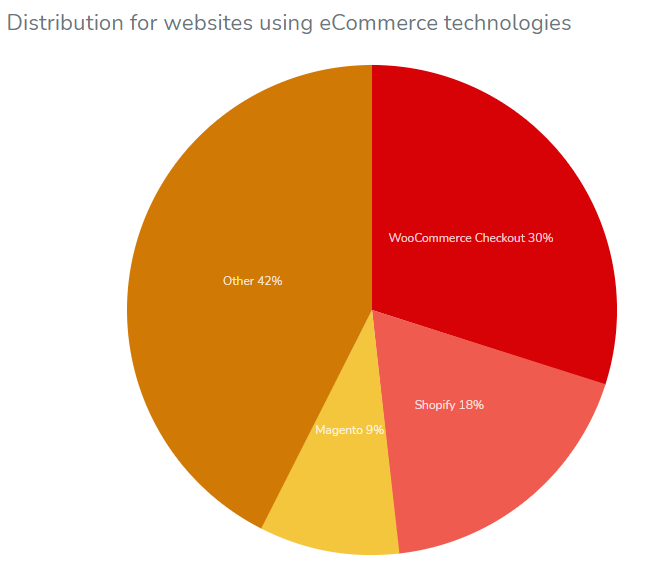 However, when it comes to the top 100,000 sites, WooCommerce lost its global dominance. It drops to second place with 15% while Shopify is the winner with 18%.
Same as the top 10,000 sites, WooCommerce finishes in 3rd place, behind Shopify and Magento. It's clear that WooCommerce is dominating the general web, but large enterprise shops are still using competing software.
Barn2 pointed out more than 93.7% of WordPress online stores opt for the WooCommerce plugin.
419,458 is the all-time record for WooCommerce downloads in a single day.
WooCommerce used to reach the maximum downloads of 419.458 times in a single day. This was reported on the WordPress' WooCommerce reports page on April 17, 2019. Until now, no such record has been broken. The second closet was 405,082 on a single day.
#2 WooCommerce Themes and Plugins
How many WooCommerce themes and plugins are there? This question is quite challenging to answer. This is because many of them are sold on independent websites and smaller marketplaces.
Since the day it was brought to life, WooCommerce has built a huge collection of themes and plugins.
While WordPress houses more than 1,131 WooCommerce themes on the WordPress theme directory, the actual numbers of WooCommerce themes on ThemeForest hit over 1,287.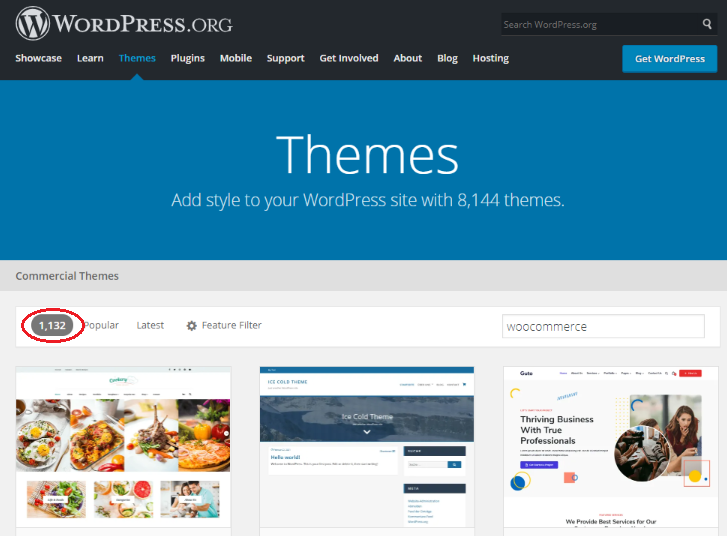 Among them, the Avada theme by ThemeFusion has won the title of the best-selling theme on ThemeForest, with 656,300 purchases in January 2021. It has gained over 24,000 five-star reviews thanks to its design quality, flexibility, and customizability.
In terms of plugins, 980+ plugins are showing up with the word "WooCommerce" in their titles if you search "WooCommerce" on the WordPress plugin directory.
Plus, CodeCanyon currently accommodates around 1,878 WooCommerce plugins. Among them, the WooCommerce Amazon Affiliates extension appears as the most popular one with over 31,000 sales and counting.
There are 520 official WooCommerce plugin extensions available on woocommerce.com, of which 31 of them are free. The top popular free plugins include WooCommerce Google Ads, WooCommerce Bookings, and WooCommerce Membership.
With more than 3,000 installations, Metorik is the most popular WooCommerce analytics and reporting plugin on WordPress.
#3 WooCommerce Revenue and Growth
Apart from leading in the percentage of market share, WooCommerce also beats other eCommerce platforms when it comes to revenue generation.
According to Matt Mullenweg, the co-founder of WordPress, the WooCommerce revenue in 2020 surpassed $20 billion.
What's more, WooCommerce grows faster than other eCommerce platforms at the rate of 13-15% every 4 months. This is because WooCommerce market share is much larger, resulting in WooCommerce being way ahead of the competition.
#4 WooCommerce Community
As mentioned above, WooCommerce is an open-source plugin. This means everyone all over the world has permission to contribute to the projects. This also leads us to interesting WooCommerce statistics and facts like below:
WooCommerce FAQs
What are the other eCommerce plugins?
Apart from WooCommerce, there are a lot more other big cheeses out there, namely Easy Digital Downloads, WP eCommerce, Ecwid Ecommerce Shopping Cart, BigCommerce WordPress Plugin, etc.
The thing is, despite their solid reputations, none of them made it to the top 10 e-commerce platforms dominating the market share.
2. Where are most WooCommerce.com visitors based? (source: similarweb)
The top 3 countries that bring a great amount of traffic to woocommerce.com are:
United States: 15.13%
United Kingdom: 5.97%
Indian: 5.37%
3. Name some big brands using WooCommerce?
WooCommerce is trusted and used by amazing brands, including Cosmos Magazine, Good Dye Young, Men's Health, Greene King, and tons more.
4. Are you curious about how much the salaries at WooCommerce are?
The salary of WooCommerce ranges from $69,000 – $125,000 in 2017.
The Future of WooCommerce Beyond 2021
WooCommerce was introduced to the world in 2011. Since then, we have constantly seen a sharp rise in its popularity thanks to its flexibility, ease of use, and customization.
WooCommerce statistics above have confirmed the position of WooCommerce in the eCommerce market. The widespread use of WooCommerce along with the plenty of extensions, templates, and integrations available emphasize its strong presence in this field and prosperous future. However, this doesn't mean that the plugin is an absolute 100% perfect solution.
In 2021 and beyond, we're looking forward to WooCommerce UI optimization, as well as striking records in the percentage of eCommerce contributions and revenues. On top of that, as WordPress users, we hope to have more amazing WooCommerce plugins and themes to come.
Hope you enjoy our WooCommerce statistics in 2021. If you have any other interesting WooCommerce statistics to add, don't forget to let us know by leaving a comment below.