Are you looking for a way to streamline your online booking and reservation?
No matter what your service-based business niches are, whether they are hospitality or consulting firms, hair salons, or dental clinics, your sites must provide a convenient tool for customers to view, reserve, and book appointments at any time.
This is when WordPress booking plugins come in handy.
In this article, we'll shed light on the top 7 WordPress booking plugins that help smartly automate your bookings and deliver a top-notch booking experience.
But first, let us walk you through some essential criteria for choosing a booking plugin.
What to Look for When Choosing WordPress Booking Plugins
A good WordPress booking plugin must ensure a smooth user experience, beautifully integrate with your WordPress site, and streamline the process of accepting and organizing appointments.
Below are some essential features that an excellent WordPress booking plugin must possess:
A customizable calendar that can be placed on any page, post, or custom post type without hassle.
A capability to allow multiple schedules, revise, and re-schedule appointments.
Automated appointment reminders triggered upon booking.
A capability to accept online payment without the need for a third-party payment gateway.
A calendar view for both you and customers
A mobile-friendly interface to easily capture appointments from a mobile device
A module to filter and search bookings on the backend of your WordPress website
A reminder and notification system
Support for multiple "agents" or "service providers."
Now you know what to look for when choosing a booking plugin. It's time to dig deep into the 7 best WordPress booking plugins 2021. Please note that the order of plugins doesn't indicate their ranking in quality or features.
#1 BookingPress

BookingPress WordPress Plugin is a feature-rich FREE WordPress booking plugin that is suitable for a wide range of businesses, including beauty, medical, fitness, law, education, and many more.
Configuring and managing the plugin is simple and quick. Its current features and easy-to-use back-end and front-end are a lifesaver for businesses that can't afford high-tier software. Several connectivity channels (PayPal, Elementor, Gutenberg, and others) allow you to fully automate your appointment bookings and establish a smooth process.
It's the only free WordPress appointment scheduling plugin that takes PayPal payments from your customers. With BookingPress, you can directly manage and create appointments from the admin dashboard without the use of a third-party plugin.
Key features of BookingPress:
Excellent admin dashboard
Options for Quick and Easy Setup
24/7 Appointment scheduling
Unlimited services & bookings
Online payment processing with solid PayPal payment
Excellent Responsive design with great UI/UX
In-built spam protection
Page builder' support (Gutenberg, Elementor, WPBakery, Classic Editor)
Translation Ready (In-built translations for French, German, Russian, Dutch, and Arabic languages.)
Customized email notifications
BookingPress offers world-class customer support that is known for its accuracy and quick response. It is a FREE WordPress appointment booking plugin that is available on the WordPress repository.
#2 Amelia

With over 30,000 active installations, Amelia has proved its popularity in this niche. This WordPress booking plugin is a specialist in automatic booking, working around the clock to ensure customers can book and pay both online and offline.
Though Amelia is developed for enterprise-scale in mind, this plugin is really simple to use. Everything, from pairing appointments, sending out emails and SMS, to setting up working schedules or collecting payment, can be done within the WordPress dashboard with ease. You don't need to wait for the page to reload when switching tabs.
Plus, Amelia allows your employees to keep track of appointments via Google calendar thanks to its Google Calendar Synchronization. Its neat and modern design on both front-end and back-end deserve a thumb up as well.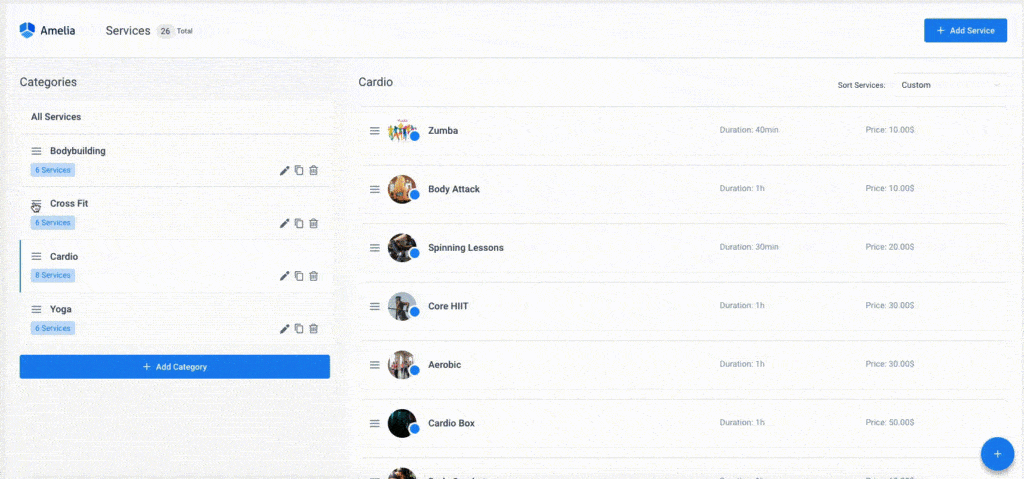 The plugin comes with a free and pro version. If you upgrade to the paid version, you can unlock more advanced features, like booking search view, coupon, export, PayPal, or WooCommerce integration,… just to name a few.
Key Features of Amelia:
Notify customers and employees of their appointments in real-time
Provide insightful dashboard and reports
Offer graphs and diagrams for business performance KPIs
Come with a customizable design
Well sync with Google Calendar
Seamlessly integrate with WooCommerce, PayPal, Stripe, Zoom, etc.
Manage multiple locations
Price:
Amelia Lite: free.
Amelia Pro: $59 with one single license with a whole year of regular updates, full customer support, and especially no additional costs.
#3 Bookly

Bookly is another feature-rich WordPress booking plugin that you definitely don't want to leave on the table. Built with simplicity and robustness in mind, Bookly allows you to simplify the booking process and boost sales without touching a bit of code.
You'll be amazed at how the plugin provides a win-win deal for both customers and business owners.
Customers can freely schedule and book appointments, set dates and times, fill in contact details and get email and SMS notifications for online reservations or upcoming appointments.
In the meantime, Bookly lets business owners set up, manage and tailor-make the booking as easy as pie from the admin panel. The plugin possesses a module creating an unlimited number of staff members while each of them can come up with unique pricing and availability.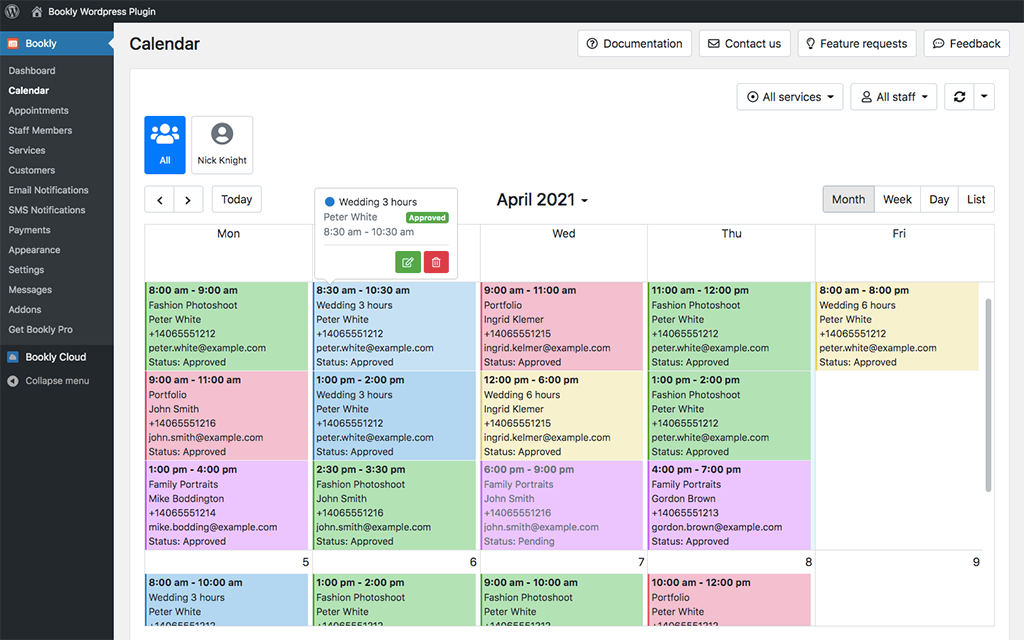 Key features of Bookly:
Come with responsive and sleek booking forms
Add unlimited booking forms to your website
Supports multiple calendars from all workers with Google Calendar integration
Build with automated email notifications and an SMS system
Allow customizing the booking forms, including editable headings, texts, and buttons
Provide a comprehensive admin area with an intuitive interface
Allow filtering, sorting, and searching booking list
Integrate with WPML plugin for multilingual support
With all these power-packed features, Bookly is trusted by more than 50,000 businesses across the world which segment from healthcare, beauty, and education to medicine, consulting, etc.
Price: Bookly's free version offers basic features with no support for online payments. The pro version costs $89.
#4 Booking Calendar

Looking for a free yet robust booking plugin for your WordPress site? Booking Calendar is just the ticket! This dynamic plugin caters to your booking needs right in the WordPress dashboard.
This WordPress booking plugin appears to be a perfect match for service-based businesses, e.g hotels, equipment, car rental, event schedule, and many more.
Booking Calendar provides a calendar view for both admin and site visitors. You can easily add your booking/appointment form to any WordPress post or page.
Along with that, you own the right to mark specific dates as unavailable and show a specific calendar view at the front end. You can even define your calendar legend to ensure your customers catch on to the current booking and availability of each date.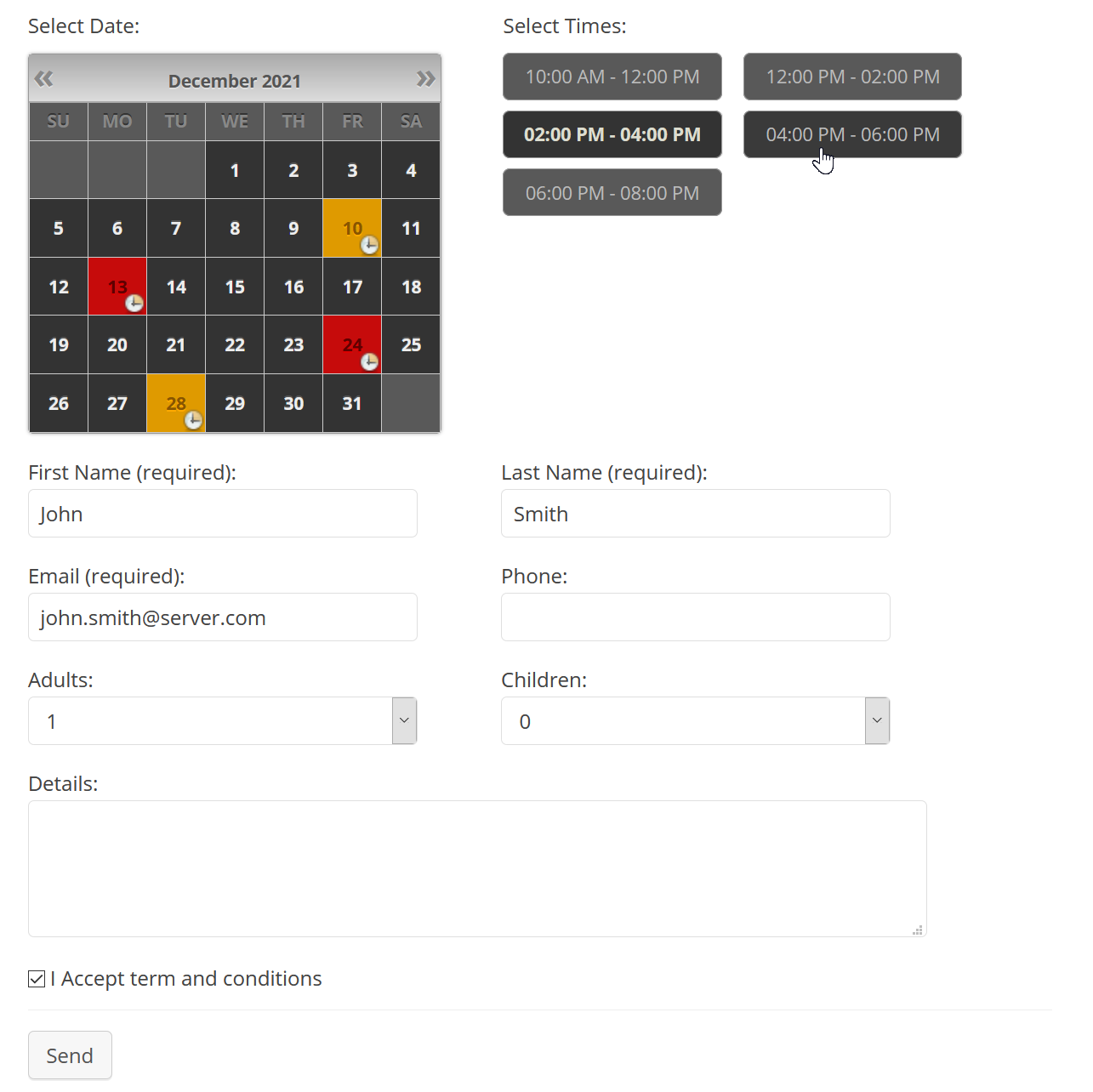 What sets the WordPress booking plugin apart from other competitors is its built-in captcha to prevent spam. More than that, Booking Calendar enables you to import feeds that use the .ics feeds, i.e Airbnb, HomeAway, TripAdvisor, or Booking.com,… in a blink of an eye. You can even customize the booking form with your own custom fields.
Key features of Booking Calendar
Store bookings and settings in your dashboard
Offer a good time picker for time slots bookings
Provide a Booking Admin Panel that displays bookings in the calendar or list view and lets you manage bookings.
Enable importing Google Calendar dates and events
Send out email notifications to you and your customers to approve or change bookings
Add booking forms to any pages and posts with Gutenberg Block editor
Price: Booking Calendar has been downloaded over 1,830,000 times for FREE since 2009.
All in all, Booking Calendar is a great pick if you don't want to fork out extra cash for booking features.
#5 WooCommerce Appointments

An ideal option for booking plugins that seamlessly integrate with WooCommerce is WooCommerce Appointments.  This plug-and-play WordPress booking plugin is really simple to use and jam-packed with many cool features.
With 2 way Google Calendar Synchronization, events on your sites will automatically sync with Google Calendar and vice versa. While customers can make appointments and bookings free of charge, you can also define settings to charge money.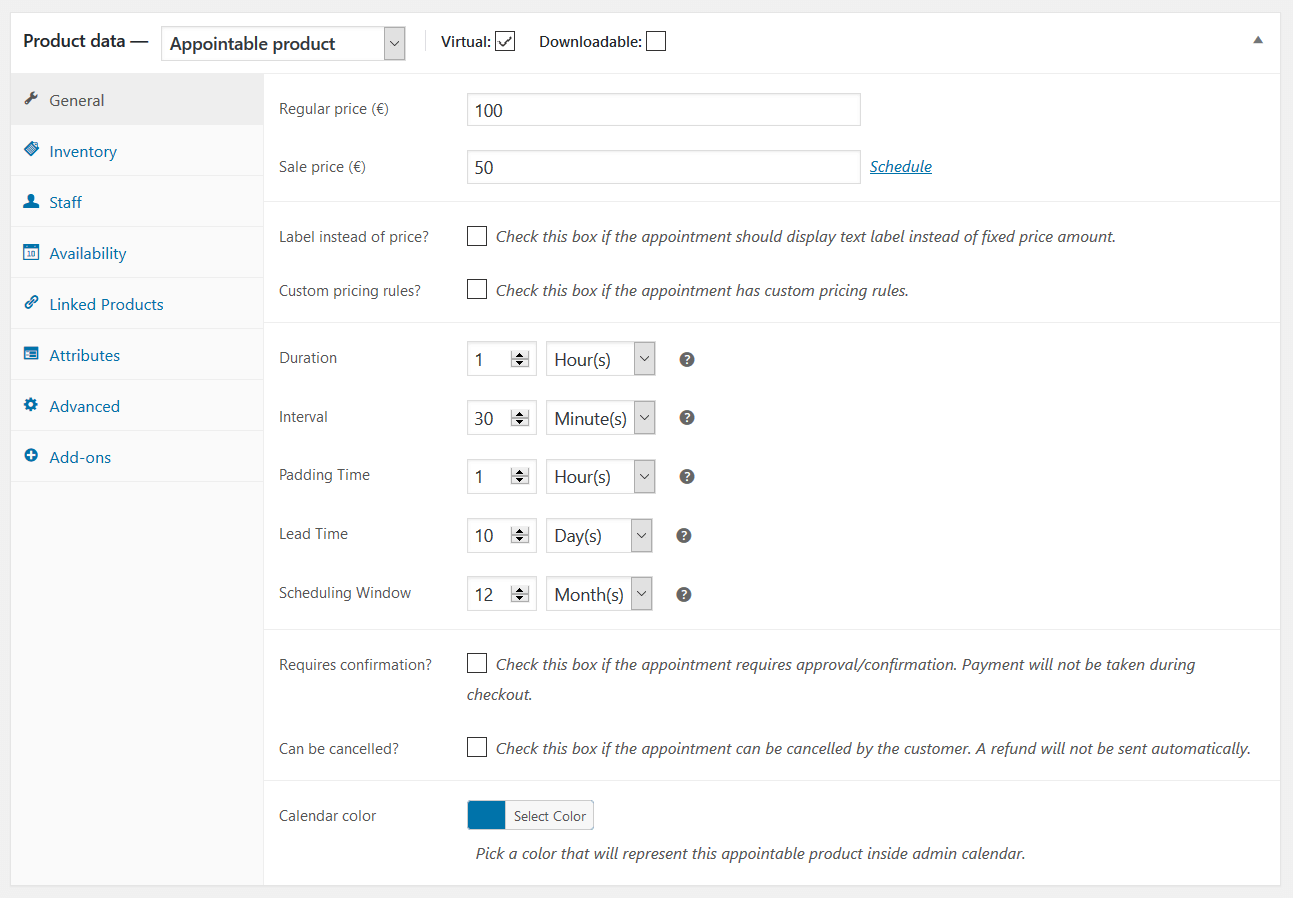 WooCommerce Appointments is endorsed by both beginners and developers. Its user interface is basic enough to save tech novices from learning curves. On the flip side, hooks are also provided for developers to easily make customizations.
Key features of WooCommerce Appointments:
Have a two-way syncing system with Google Calendars
Automatically send out notifications and reminders to customers who've booked appointments.
Insert booking forms anywhere on your website using available shortcodes.
Set rules for pricing, capacity, and availability
Allow control over your schedule with padding time between appointments, scheduling windows, lead times, and multi-day scheduling
Give the go-ahead to multilingual and multi-currency
Automatically convert timezone to fit customer's available time slots
Price: $89.00 for a single site with free updates and support for a year.
#6 Team Bookings
Receiving over 5 thousand sales on CodeCanyon, Team Bookings appears to be one of the most favored premium WordPress booking plugins in this niche.
Team Bookings delivers a straightforward and streamlined booking process. First, you choose availability plans through Google Calendar. Second, calendar events turn to free slots. And once booked, you receive updates on your Google Calendar events.
Plus, its flexible form builder enables you to add multiple fields. This is convenient for collecting your customer data. You can even incorporate maps that pop up whenever your clients want to reserve a time slot.
Last but not least, Team Booking permits admins or service providers to approve bookings as well as customers to cancel their appointments. This WordPress booking plugin also excels in timezone conversion, data export, and language support.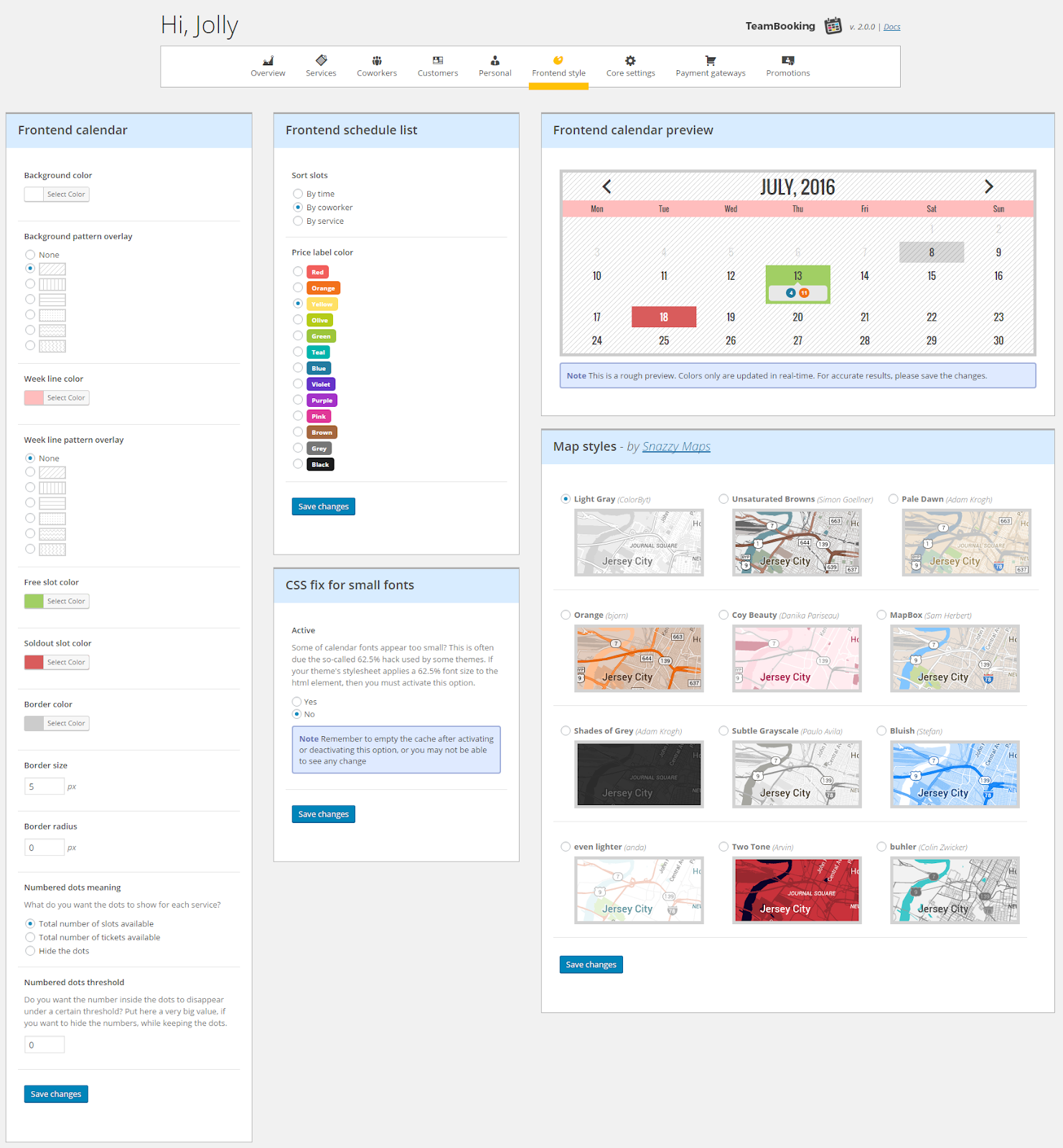 Key features of Team Bookings:
Provide a complete booking solution, including services, events, appointments, rooms, and many others…
Turn certain user roles into service providers. They can collaborate on the same service while their Google Calendars stay remained for availability planning.
Fully allow customizing general and personal reservation behavior, frontend calendar style, maps, etc.
Accept payment through PayPal and Stripe
Come with a complete notification e-mail system
Integrate map with forms to inform locations
Own a full reservation database, which is downloadable under .CSV and .XLSX files
Price: $28. With this affordable price, Team Booking is such a steal for small business owners.
#7. MWB Bookings for WooCommerce

Bookings for WooCommerce is an outstanding approach to turn your ordinary WooCommerce store into an effective booking solution provider.
Making use of bookings plugin features, you can create an online booking system that caters to all your customer's requirements with ease.
Utilizing the MWB Bookings for WooCommerce plugin, you can effectively create, sell and manage sustainable booking solutions for your customers.
Its alluring features comprised of early-bird discounts, flexible booking slots, easy refunds/cancellations, automated status updates, booking rescheduling, smart pre-booking service email/SMS reminders, effective product share on Facebook, and many more.
Key Features of Bookings for WooCommerce Plugin:
Manage Booking Orders for Customers

Include Email/SMS Reminder for Bookings

Specify people types for bookings

Offer booking confirmations & cancellation

Come with booking listing and sorting by tag

Offer services & additional costs

Give the green light to reschedulable bookings
Price:
MWB Bookings for WooCommerce lite: Free
Bookings For WooCommerce Pro: $79 for a Single site, $189 for 5 Sites, and $259 for 10 Sites.
Give Your Booking a Boost!
We've reviewed a list of the top 7 WordPress booking plugins that go beyond the basics and take your booking process to the next level.
Choosing the up-to-scratch booking plugin for your WordPress site is never a cakewalk. You need to look at each feature, whether they provide a calendar view, online payments, or mobile-responsive interface, etc. Plus, you also take your business scale and budget into serious consideration.
This article might have been a ton of information to digest in one go. If you have other WordPress booking plugins to recommend, don't hesitate to leave a comment below!