Wish to reach international user bases but don't know how? This is our advice: make your site multilingual first.
A multilingual website allows visitors to easily consume your content in their local languages. This significantly contributes to streamlined browsing or shopping experience for your visitors.
To help you remove the language barrier, recover form abandonment, and reach out to a larger audience, we'll bring the top 6 WordPress translation plugins to the table.
Their key features, prices, and ratings will be put forward as well.
#1. ConveyThis

If there is one truly convenient way to translate your website, it must be through ConveyThis!
It is the most translated language plugin in the WordPress directory (over 38 language contrubutions) and is growing fast. ConveyThis makes it very simple to integrate into WP website and activate as many as 100+ languages.
ConveyThis uses automatic machine translation to translate your entire site, and adds a language switcher button. So within the first couple of minutes, you'll already have a working, SEO-friendly multilingual site.
It comes with both free and paid plan. Free plan that lets you translate up to 2,500 words into one language, the paid plans use SaaS-style billing, which means you'll need to continue to pay for as long as you want to use the service.
Paid plans start at €4 a month for one language and up to 10,000 words.
#2. Polylang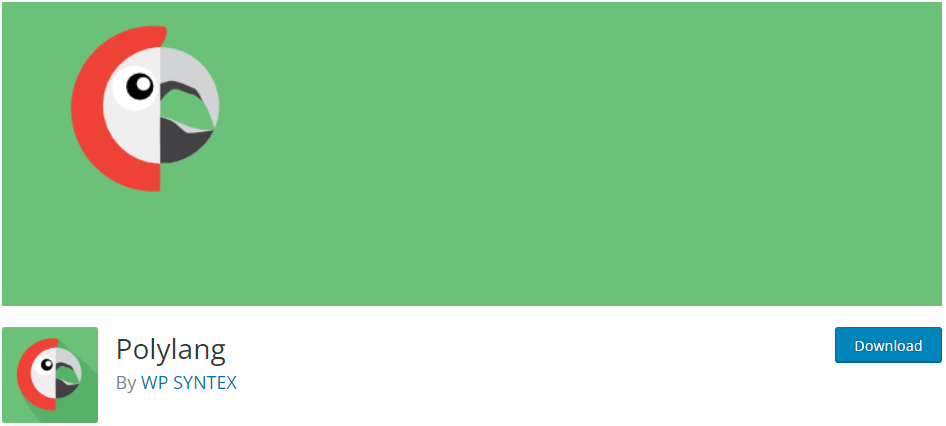 With over 600,000+ active installations, Polylang by far has been leading the multilingual niche. One of the reasons that this WordPress translation plugin has received huge love from the WordPress community is that it's free and so generous in its offers.
Polylang lets you create a bilingual or multilingual WordPress site with just a few clicks. The plugin support translating posts, pages, media, categories, post tags, menus, widgets, and tons more.
Another plus for this plugin is you can use as many languages as you'd love to. Do I have to manually update the new language? Of course not, Polylang will automatically update all of its language packs.
Upon activation, the plugin will add a customizable language switcher on your navigation menu or display it as a widget. Your users will easily choose their preferred languages and consume your content without any fuss.
Rating: 4.8/5 with 1,864 5-star reviews
Price: free.
#3. WPML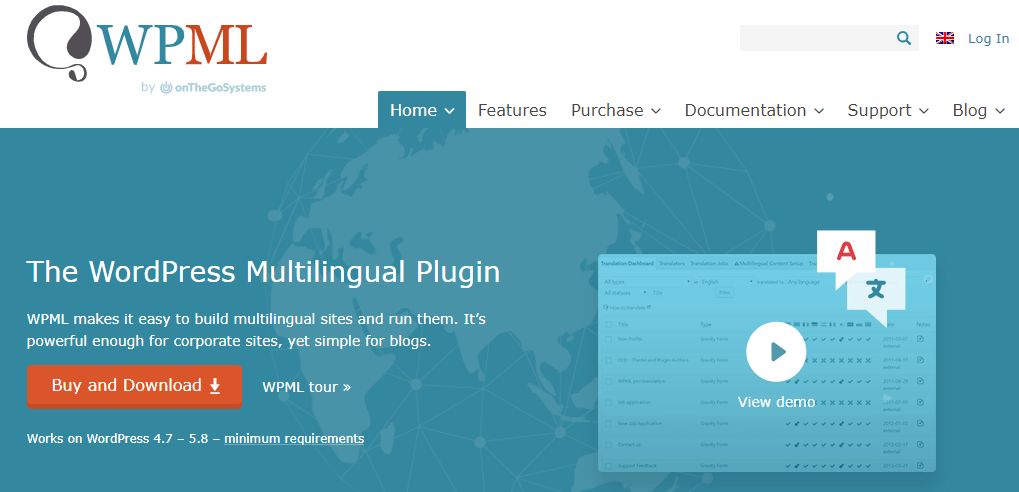 Another robust and feature-rich WordPress translation plugin that is widely endorsed goes to WPML. What this plugin offers will surely go beyond your expectation.
The plugin gives you the power to build a multilingual WordPress site with ease, supporting translation on pages, posts, custom types, taxonomies, menus, and even the theme's texts. So basically, it completely translates everything.
But that's not the sweetest part. You'll be amazed at how the plugin allows you to completely optimize your site for SEO in multiple languages. You have full control over your URL, meta description, and sitemap.
WPML is jam-packed with over 40 languages. It's possible for you to add your own language variants, i.e. Canadian French or Mexican Spanish via its languages editor.
Using WPML and you're free from worrying about the compatible issue. WPML is seamlessly compatible with all themes and plugins running API, such as WooCommerce, Contact Form 7, YoastSEO, PPWP Pro, Elementor, and more.
Price: starts at $39.
#4. Weglot Translate
Weglot Translate is no longer a strange name to the WordPress community. The plugin has got an impressive number of 60,000+ active installations. Opt for Weglot and your website can go multilingual on the flash with 110+ available languages.
The setup process doesn't break a sweat, as it's pretty quick and easy. While the actual translations are housed on Weglot's servers, as an admin, you can manage translation right in the WordPress dashboard.
Translations List displays a side-by-side list of the original text and the translated version.
Visual Editor presents a live preview of your site. To translate any text on your site, you just click on it.
As soon as you activate the plugin, Weglot automatically translates your entire site and adds a language switcher button. Its smart translation machine ensures you have an SEO-friendly multilingual site.
More than that, the plugin even comes with a Yoast SEO integration that supports translating your SEO titles and descriptions.
Rating: 5/5 with 1,240 5-star reviews
Price: The free plan enables you to translate 2,000 words into one language. Paid plans start at €8.25/ month, with up to 10,000 words translated for one language.
#5. Multilingual Press

Have you heard of Multilingual Press?
We bet that many of you at least have heard of it once, but haven't got the hang of how it works so well. It's understandable as its Pro version was out just recently. Yet it's wowed us with unique and powerful features.
Multilingual Press is developed based on the basis of a multisite network. Simply put, the plugin allows you to show up each language in a separate site of your WordPress multisite.
All content in a multisite system is connected with a lightweight and intuitive user interface. This significantly simplifies the management workload for WordPress multisite owners.
Let's have a look at its key features:
Language Manager: include over 800 languages by default. You can freely add more languages or edit existing ones.
Default WordPress Content Translation: translate all default WordPress content, such as posts, pages, categories, tags, and taxonomies.
WooCommerce Optimization: convert WooCommerce post types to other languages with ease.
MultilingualPress Yoast SEO Sync: sync the post metadata of the Yoast SEO plugin between translated posts.
Automatic Language Redirection: Automatically lead your users to their preferred languages based on their browser settings.
Duplicate Sites: create a new site in your network as a copy of an existing site, including all posts, pages, widgets, and settings.
SEO-friendliness: remain SEO-friendly URL and permalinks like setup.
Price: With these striking features, it doesn't throw you for a loop that the plugin is a bit pricey compared to other WordPress translation plugins in this list. The Standard plan costs $99 including 1 year of premium support.
#6. Translate WordPress with GTranslate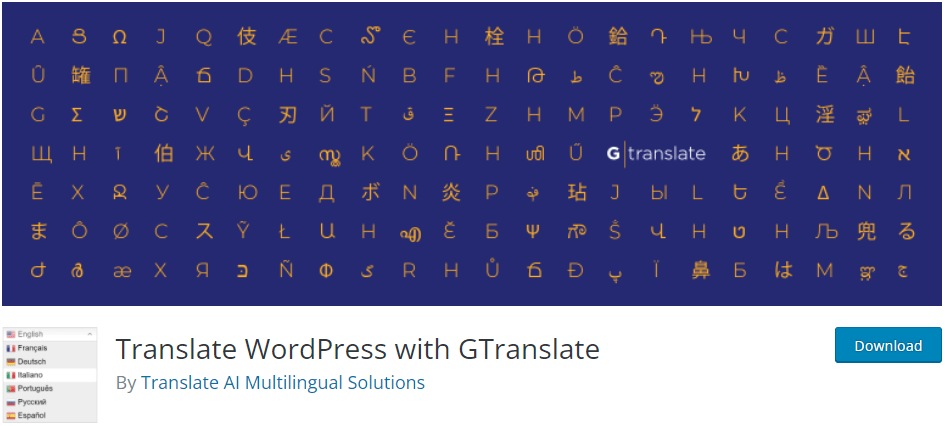 Translate WordPress with GTranslate is a Google translate plugin for WordPress. It makes use of Google Translate's automatic translation service to translate WordPress sites, making them multilingual.
The plugin removes the language barrier by providing 103 available languages, making your site accessible to more than 99% of internet users.
With its mouse over effect, your visitors just hover the mouse over the text they want to translate, then the translated version shows up. This is great as users can read your content in their preferred languages in real-time.
GTranslate gives the green light to pages, posts, categories, tags, menus, widgets, even themes, and plugins translation.
In case you run a WooCommerce store, you can also utilize this WordPress translation plugin to translate your WooCommerce shop.
Rating: 5/5 with 2,452 5-star reviews
Price: free.
Which is the WordPress Translation Plugin of Your Choice?
We have walked you through the 6 best WordPress Translation plugins in 2022.
If you're on a tight budget but really want a robust option, ConveyThis, Polylang, Weglot Translate, or GTranslate should be a perfect candidate. They won't break your bank.
In terms of WordPress translation plugins for multisite, you should take Multilingual Press into serious consideration.
Last but not least, WPML comes as a renowned and trustworthy pick with striking feature packs that you could ask for.
Ready to go multilingual? Share with us your multilingual plugin to go in the comment section below!