Shoppers always want to know exactly when they will receive their parcels or orders. That's why most popular e-commerce websites have a proper WooCommerce shipping date calendar integration.
There are two popular methods to display an estimated delivery date on the order page. First, you can write a broad range like you will receive your order in 3-7 days. It is a functional method, and many customers will be satisfied.
It's also recommended to use a proper WooCommerce plugin to offer a more modern and better estimate of your shipping dates. It allows you to add holidays, block a delivery slot, view upcoming deliveries, and much more.
What's more, customers can choose the desired delivery date. Adding a proper WooCommerce plugin greatly benefits the website, making it more responsive and enhancing the customer experience.
Why Should You Display Delivery Dates?
According to a UPS survey, more than 20% of buyers abandon their cart if they don't find an estimated delivery date on the shipping or checkout page. It describes how important the delivery date is for the credibility of your WooCommerce shop.
Showing up-to-date delivery dates and delivering the orders on time build trust and make your customers happy. And a happy customer is what you need after every order. This will encourage them to come back to your store in the future.
Using a WooCommerce shipping date plugin benefits your store in many ways. it helps display all the available dates so customers can choose the best available option to receive their items. This feature is even more helpful in the holiday season. Moreover, it also satisfies the customers and drives sales.
Delivering earlier or later than the expected date will result in returning goods. Take a customer who sets the receiving address at the office and wants to receive their products on business days as an example. What if you ship them on the weekend? This poorly affects their shopping experience and they will reject the products in some cases.
How to Calculate Delivery Dates
As mentioned above, a delivery date is crucial, and many shoppers can abandon the cart if the date is not available. So, how do you calculate delivery time?
Here are a couple of factors that should be considered to figure out the delivery days.
Keep Holidays in Your Mind
Holidays can badly affect the delivery schedule. It is usually the busiest time of the year when the orders are skyrocketing. And you may get stressed to send the orders out quickly.
Similarly, shoppers are anxious to know if they are going to get their orders on time or not. They thoroughly check the delivery dates before checking out.
Shipping companies are under immense pressure. They have to deliver on time to maintain their own and brand's credibility. Most shipping companies publicly display their shipping dates to ensure transparency.
Before calculating the shipping days, consider if you can take the orders out quickly during the holidays. If you think you'll spend more time than usual, add some cushion days to stay safer.
Offer Different Available Shipping Methods
Shipping methods are an important consideration. Shipping companies offer multiple options depending on the cost and number of days to deliver. A good method is a balance between affordable prices and compatible days.
Moreover, also consider if the company only delivers on weekdays or their service is available on weekends as well and do they offer next day delivery if required.
How to Display WooCommerce Shipping Date
There are numerous plugins to display shipping dates for WooCommerce stores. The Order Delivery Date for WooCommerce comes as one of the best solutions.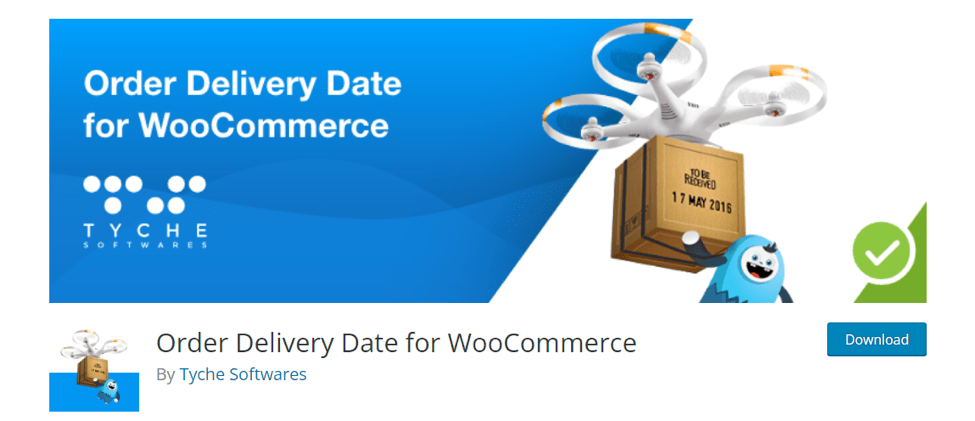 Actively installed on over 10 thousand sites, the plugin significantly enhances the customer experience and reduces cart abandon rate. This powerful plugin offers all the basic features like minimum time for delivery in hours, calendar to show holidays, and disable delivery for virtual products.
It also allows the customers to choose the "As Soon as Possible" option and show estimated delivery and pick-up time for shopper convenience.
The efficient plugin also has a pro version with all the pro features you can think of.
Steps to Easily Display Delivery Date on WooCommerce
Firstly, install and activate Order Delivery Date for WooCommerce. You can log in to your WordPress admin dashboard, open Plugins → Add New, search for the plugin, and install it.
Open the admin panel and follow Delivery Date → Settings by shipping methods.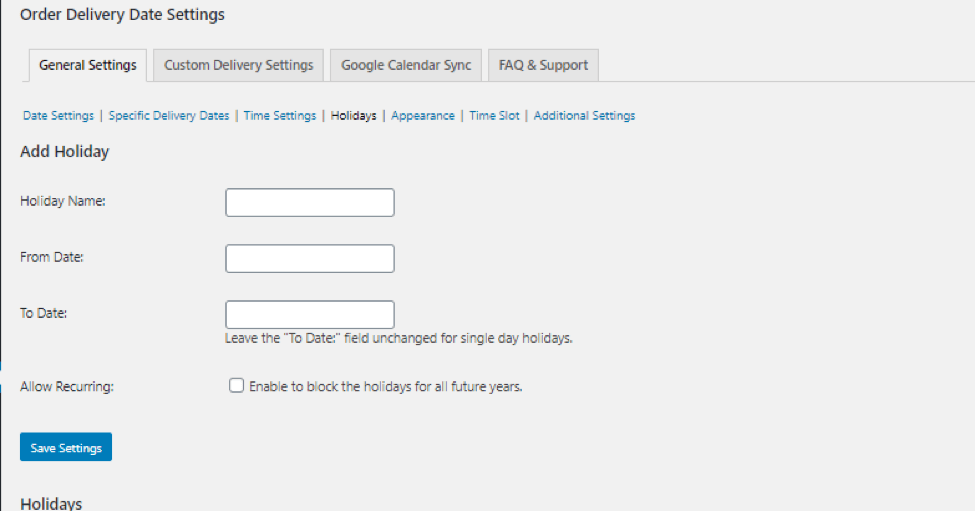 Check the "Enable delivery date capture on the checkout page." It will help identify if the shipping method's delivery date and time settings are enabled or disabled.
After checking the box, click on the save settings button to enable delivery by shipping methods.
Then head to the delivery settings. Press the save settings button and it will appear a line with an embedded link. Click on the link to open delivery settings or you can open them from the plugins list. Upon opening, many options will appear like Delivery Days, Minimum Delivery Time, Number of Dates to Choose, and much more.
Set delivery charges and give a label to the checkout page. Plus you can select the delivery days (weekdays) and non-delivery days (i.e., weekends).
Put the minimum delivery time in hours and specify the number of dates available for delivery.
Select the shipping method from the drop-down menu. You can specify multiple options.
Choose a shipping method then adjust the settings according to your requirement and click save settings.

If everything is saved properly, you will be able to check them in the "Settings by Shipping Methods" Tab.
In the tab, you will see the edit and delete options. Click on the edit icon to edit the settings, and the other one will delete the added settings.

In the Order Delivery menu on the left, there are many tabs enabling you to find all the mandatory options. For example, you can specify holidays on the calendar in the holiday tab. Similarly, edit the plugin appearance in the appearance tab.
Ready to Display WooCommerce Shipping Date?
Delivering products to customers on time will help you greatly boost sales and significantly reduce the cart abandonment rate. You need to pay attention to holidays and shipping methods when calculating the shipping dates.
We've shown you how to add the shipping dates to WooCommerce stores in WordPress using the Order Delivery Date for the WooCommerce plugin. The process is not complicated, but you have to take care of minor options to ensure proper integration.
Still have a question about the WooCommerce shipping date? Share with us in the comment section below.