WordPress has offered consistent releases each year to build new features, fix vulnerability holes, and more importantly provide a new theme. It traditionally names its new theme after the year it's launched, for example, Twenty Seventeen, Twenty Eighteen, and Twenty Nineteen.
The same thing happens to Twenty Twenty-Two, coming with the WordPress 5.9 release. Appearing as the first default block theme, the WordPress Twenty Twenty Two Theme truly brings a fresh experience for users to create unique websites.
But how powerful WordPress Twenty Twenty Two Theme is that makes it outstanding from other WordPress default themes? Let's check it out together!
First Look at the Latest WordPress Default Theme
Kjell Reigstad and Jeff Ong take the responsibility to develop Twenty Twenty-Two. While Kjell handles the design and UX of the theme, Jeff is in charge of the development side.
Nature, in general, and birds, in particular, are the original inspiration for Kjell to come up with the new theme. He loves the birds' behavior which is both unpredictable and reliable at the same time.
The WordPress Twenty Twenty Two theme suits multiple types of sites due to its minimal design and lightweight. As you can see from the screenshot below, the concept is quite simple and captivating.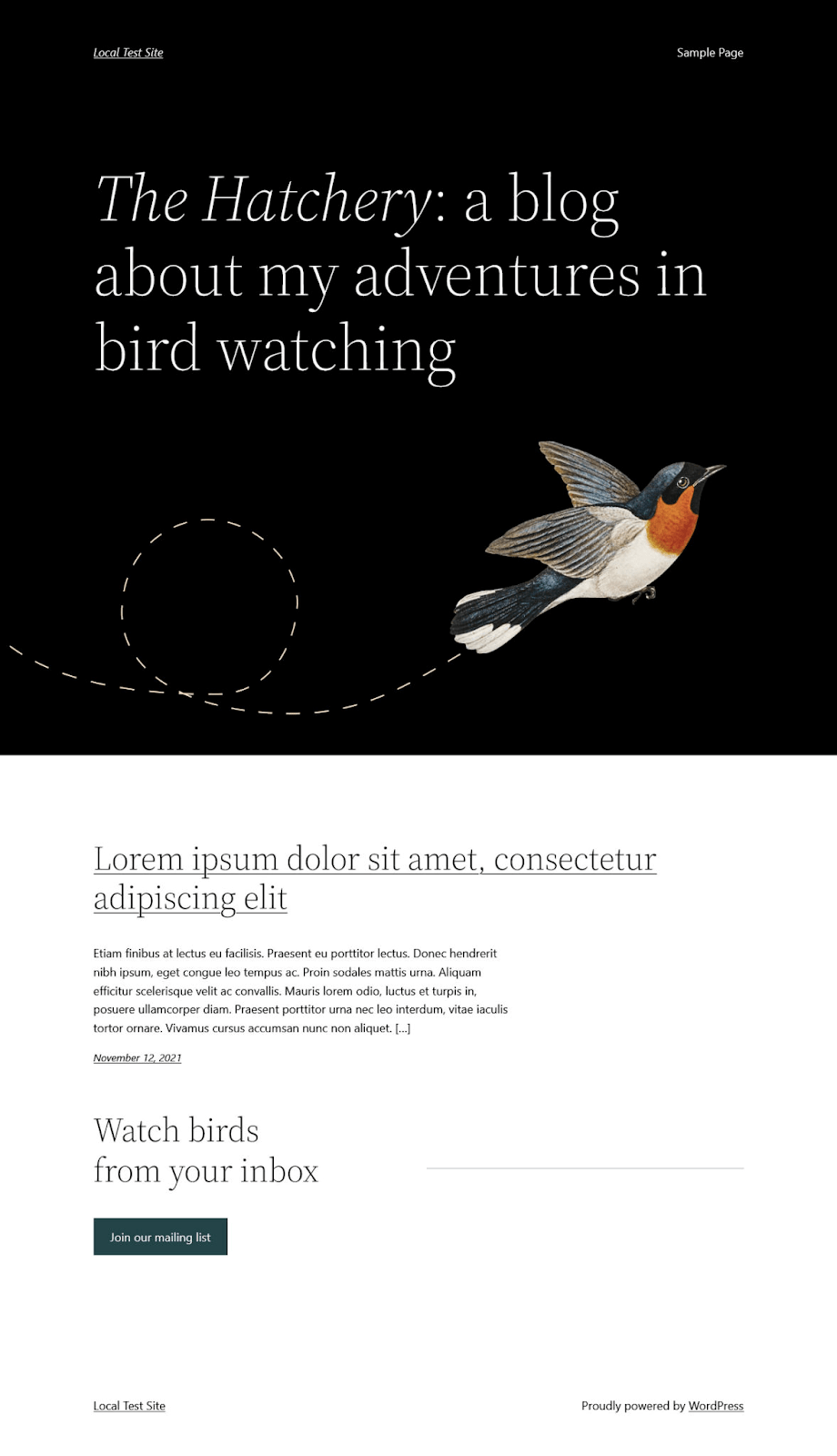 WordPress Twenty Twenty-Two Theme Features
Inspired by playful and charming birds, Twenty Twenty-Two is bold and balanced. The theme gives you tons of useful features to streamline your site building experience.
Wide range of patterns
First, you have a wide collection of patterns (over 65). These ready-to-use blocks enable you to build and customize complex layouts with just a few clicks. You can easily structure anything, from a promotional landing page to an appealing portfolio, or even a lead capturing page.
Made for the full site editing flow, there is no coding needed when customizing the theme. Simply navigate to the editor option of the theme layout. You can check the preview when making any changes to the theme.
Its Pattern Explorer tool hands you the power to browse patterns with ease. You're also able to import block patterns from the WordPress Patterns Directory.
Ready Templates
You're not required to have any PHP/CSS/coding skills to build a web page thanks to templates. Unlike previous themes, you have lots of prebuilt templates, from home page, header or footer, 404 page, search page to single page.
It's possible for you to adjust these templates too. This means that you can personalize your site, making it different from any other on this world.
Variety of Colors
Since the Twenty Twenty-One theme is backward, you have no chance to apply a new color pattern for header, footer, and other sections. This drawback is improved in Twenty Twenty-Two.
The theme encourages you to personalize the color, picking any colors that fit your brand image. You can choose between the dark layout or the regular one for your header and footer templates as well.
Modern Blog Layout
Are you running WordPress for blogging? Happily, Twenty Twenty-Two is what you're looking for. The layout seems to serve a blog website at the first glance. There are numerous sections for a blog, including previous page, next page, and pagination.
How to Install WordPress Twenty Twenty-Two Theme
Similar to any other themes, you can get the Twenty Twenty-Two theme for your site. Just follow the guide below:
Logging into your WordPress admin dashboard
Head over to Themes under Appearance
Scroll down and find Twenty Twenty-Two in the theme list
Hover it and hit the Activate button
You can tailor your website with the new theme now by going to Appearance → Editor. It permits you to make any changes on the website using the Gutenberg editor. Bear in mind that you must install the Gutenberg editor to start using the front-site editing feature.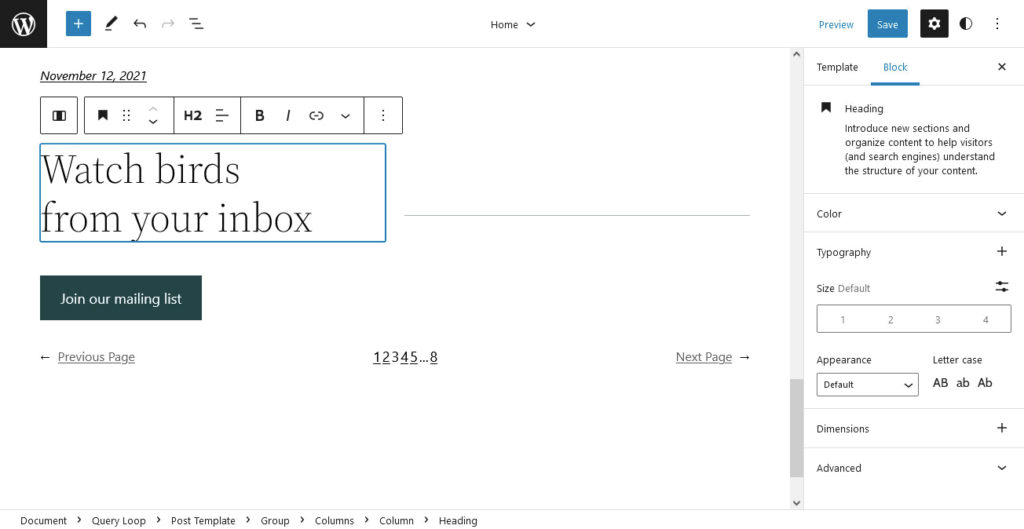 To customize the page template, click on the WordPress logo in the upper left corner under Templates. It gives you various templates for any page types, from single pages, posts, archives to the 404 page, and even custom page templates.
Select one page and style it in the same way as what you've done with the homepage.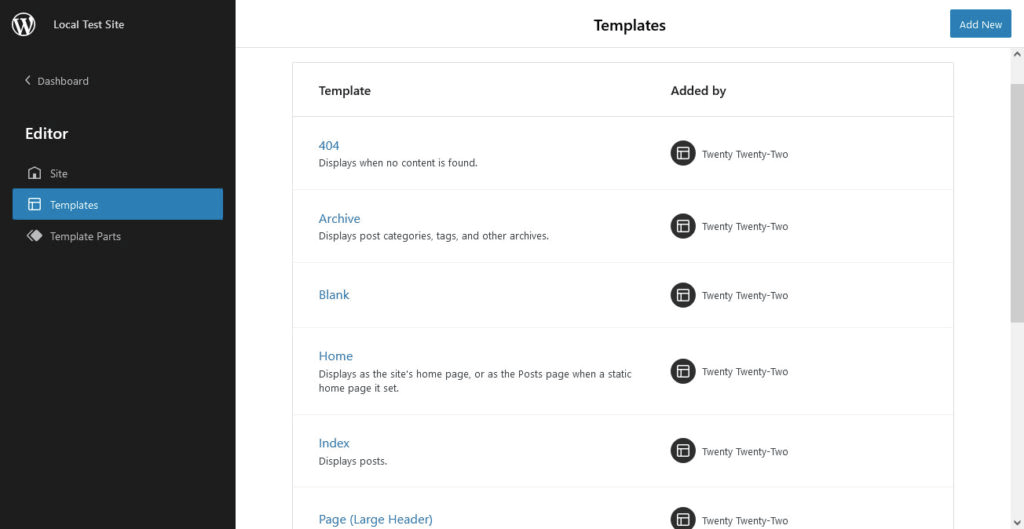 To effectively take advantage of block patterns, you can browse Patterns → Explore after pressing the plus icon. Besides, you're also able to import patterns from the WordPress pattern directory.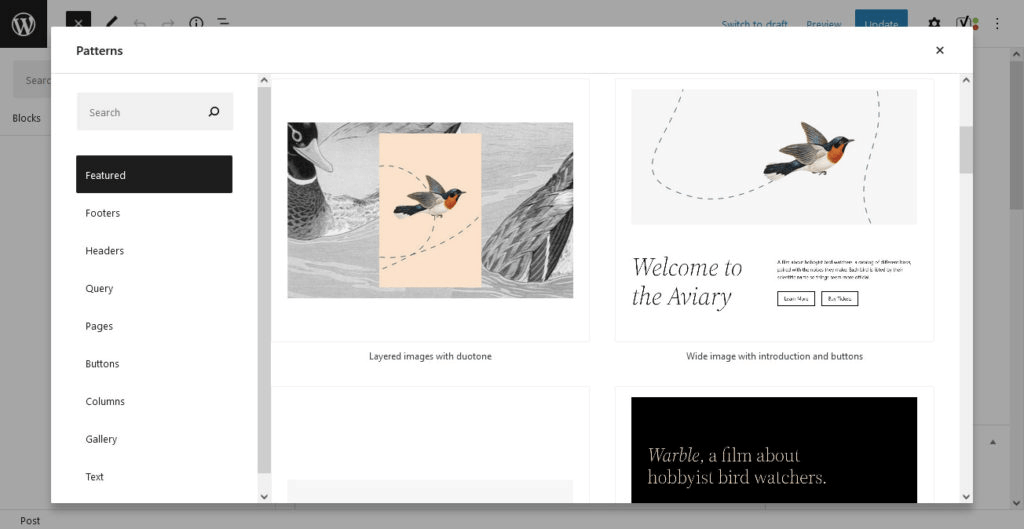 Make Use of WordPress Twenty Twenty Two Theme Like a Pro!
While Twenty Twenty-One is the most popular theme of WordPress, Twenty Twenty-Two, without a doubt, proves the most flexible and modern default theme ever. It never puts a limitation on customization. It's lightweight and never impacts your site loading speed.
It brings plenty of new powerful features that we haven't experienced with the previous themes. You now have full-site editing, have a wide range of patterns, receive a variety of gorgeous and professional templates.
It's no wonder the WordPress community is getting excited with the release of WordPress Twenty Twenty Two theme and its possibilities.
Apart from WordPress default themes, there are countless options available for free on the WordPress repository. They're especially designed for your business. You may also find interest in these 5 WordPress themes for digital product stores.