Adding live chat to WordPress websites comes as a great tool for your business to communicate with site visitors. It helps you get more personal with all of your customers and build more meaningful relationships with them.
A live chat allows potential and existing customers to get quick responses. You can monitor their conversations from your computer or mobile device.
When it comes to keeping your customers happy and improving conversions, live chat support is one of the most relevant tools you can use. It provides real-time assistance for customers and helps you attract new users by making your website more engaging and interactive.
There are two different paths you can take to add live chat to WordPress, either using a chat widget or installing a chat plugin. Our post today will center on the differences between chat widgets and chat plugins. Then, we'll go through the detailed guide on how to add live chat to WordPress sites using a plugin.
Let's get started!
What's the Difference between a Chat Widget and a Chat Plugin?
In the world of online chat services, there are two basic types to consider, plugins and widgets. Both allow you to have a conversation with visitors on your website. Each of with a set of benefits and drawbacks that encourage you to choose one over the other.
A chat widget is an instant messaging software enabling you to quickly and easily add chat on a website. A chat plugin, on the other hand, is a type of chat integration where you can add live chat features to your website without having to modify any existing code on your WordPress site.
How to Choose a WordPress Live Chat Plugin
Most people use a WordPress live chat plugin to make it easier for their site visitors to get in touch with them. So naturally, the first factor to look at when choosing a live chat plugin is its usability. It should be easy for both you and your visitors to use the chat function.
Apart from that, there are a few other things that you should look for in any live chat plugin:
Can it handle multiple chats?
One of the most important features to look for is whether or not the live chat plugin can handle multiple chats. It's almost impossible to have only one visitor who wants to talk at any given time. So you need a solution that can handle more than one chat at a time.
A lot of site owners do not have much technical knowledge and they would generally prefer plugins that are easy to set up and start using rather than ones that require a lot of configurations. Make sure you choose a plugin without any coding knowledge or advanced technical skills required.
8 Excellent WordPress Chat Plugins
If you're looking for a chat plugin for your WordPress site, there are many different options to choose from. You can find plugins that let you integrate with social media platforms like Facebook, as well as apps that give your customers more control over their experience.
Here are our top picks for the best live chat plugins for WordPress:
Facebook Messenger – This plugin will allow your customers to connect with you using Facebook Messenger, one of the most popular social platforms these days. It's simple to install and lets you customize what information your customers can see during their chats.
LiveChat – This plugin gives you access to LiveChat, which is one of the biggest live chat platforms. It offers a lot of interesting features, including the ability to connect multiple sites at once and support for various languages.
Proxy Chat – This plugin will let you integrate your site with Proxy Chat.
Zendesk Chat – Free Live Chat Software & Online Visitor Tracking.
Olark Live Chat – Integrate with CRM, Email Marketing, E-commerce, and Analytic tools.
LiveAgent – Help Desk software with LiveChat & Ticketing system
How to Add Live Chat to WordPress
The following instruction shows you how to insert the live chat function to your WordPress site. You first need to install a plugin, then customize the live chat popup. It's necessary to notify your support team once users start a conversation as well.
Step 1: Install a Live Chat Plugin
You can install your favorite WordPress live chat plugin by logging into your WordPress admin dashboard.
Then, select Plugins on the left sidebar and choose Add New.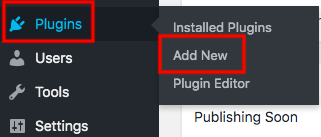 Search for the name of the plugin you want to install in the keyword box. Once you find it, click the 'Install Now' and 'Activate' buttons.
Step 2: Customize Your Live Chat Popup
The default look and feel of the live chat popup can be changed using custom CSS. To do this, you need to copy your own custom CSS into the 'Last Call – Real-Time Chat' window. Go to the Appearance tab on the admin menu, and then choose 'Edit' to the right of Custom CSS.
The Custom CSS box opens and you will see some existing styles. Do not edit these, as they are required for the correct operation of the chat window. Instead, copy and paste your custom style rules into this box after these styles.
Step 3: Send Email Notifications to When Users Connect on Live Chat
First, connect your LiveChat account, click 'Continue,' and choose 'New Chat Event'. Test the trigger by clicking 'Fetch & Continue'.
After that, Choose Gmail as the action app and then 'Send Email' for the action event. Connect your Gmail account, press 'Continue' and then fill out the template with information from the LiveChat trigger step (for example, customer's name and email from LiveChat). Test this step by hitting 'Fetch & Continue.'
Finally, turn on your live chat plugin
Add Live Chat to WordPress and Bring More Sales to Your Business
If you don't have a live chat service on your website, you may be missing out on more sales and leads. Live chat can help you build trust with your customers and keep them coming back for more!
We've shown you how to add live chat to WordPress sites as well as how to customize the live chat popup.
Still have a question about live chat plugins or how to add live chat to WordPress? Just drop a line in the comment section below to let us know.