According to Google Trends, the search for "affiliate marketing" has drastically increased in 2020.
The growth and importance of affiliate marketing are becoming undeniable. Many Shopify merchants leverage the power of affiliate marketing to capture customers' attention and generate revenue.
The good news is Shopify already has a directory full of affiliate marketing program apps. They help you expand your client base by making use of referral programs and affiliate marketing.
In this article, we'll give you a list of 5 top apps to help you streamline your Shopify affiliate program and keep track of your affiliates' performance.
But first, let's discuss what an affiliate marketing program is!
5 Best Shopify Affiliate Program Apps
What is an Affiliate Marketing Program?
Affiliate marketing means that a business will promote certain brands and products through third-party individuals or publishers. Then, they receive a commission based on sales that they refer to.
Affiliate marketing is also known as a marketing model to help businesses generate traffic or leads for the company's products and services.
Affiliates will utilize many methods to spread the word about products to the right audience via emails, blogging, or social media platforms.
Statista reported that affiliate marketing spending in the U.S alone is expected to reach $8.2 billion by 2022. That's why affiliate marketing is ideal for all Shopify store owners.
Keep reading to discover our top 5 Shopify affiliate program apps!
5 Best Shopify Affiliate Program Apps
Now, we've taken 5 outstanding Shopify affiliate program apps, namely Refersion, Leaddyno, Affiliatly, UpPromote, and Tapfiliate. Also, we'll see what they offer their users.
#1 Refersion

Refersion stays a top-notch Shopify affiliate marketing program app in the market. This lets you easily recruit, manage, and pay your affiliates within a personalized dashboard.
With a network of more than 500,000 affiliates, it's easy to grow your affiliate marketing campaigns. Thanks to a free affiliate list on the Refersion Marketplace, recruiting new affiliates to your network is simpler than ever.
Key features:
Set product-level commissions and your affiliate marketing offer for individual products
Customize registration pages to match your branding
Give free listing on the Refersion Marketplace
Pros:
Run end-to-end Shopify affiliate marketing
Easily launch affiliate marketing campaigns
Customize affiliate commissions at product-level
Cons:
Give the lowest tier for many small businesses
Only tracks up to 130 affiliate orders monthly for the free version
Support the US market only
Price: The pro version costs you $89/month
Rating: 4.7 stars/761 reviews
#2 Leaddyno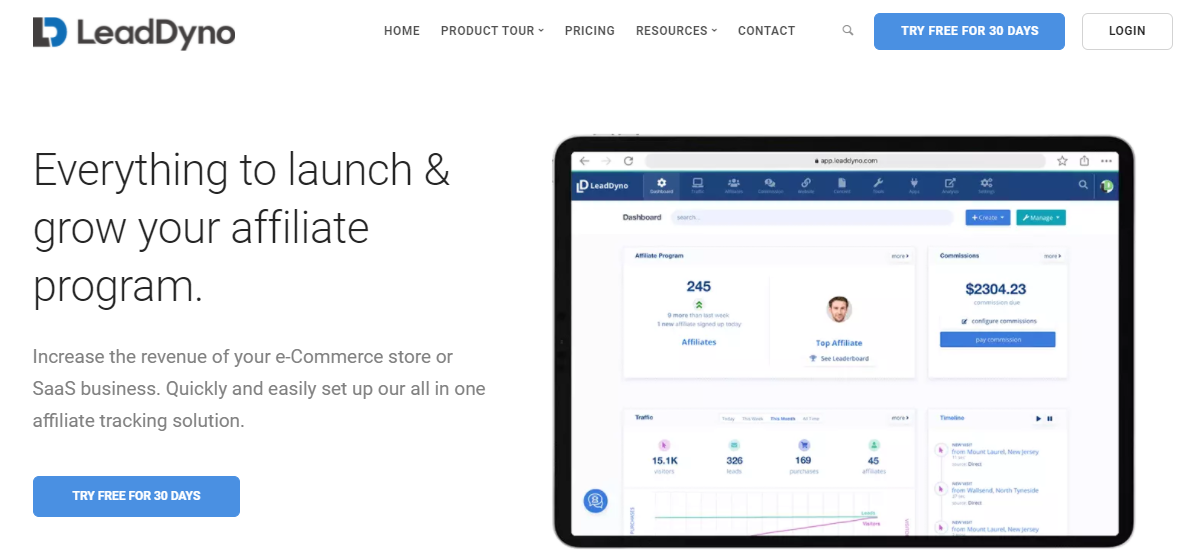 The next candidate to turn existing customers into affiliates refers to Leaddyno. Once signed up, you can use it to invite your customers to your program automatically via emails.
LeadDyno offers a simple affiliate and influencer marketing approach for your online store. More than that, it can help you launch an affiliate marketing campaign in a flash.
Key features:
Provide affiliates with exclusive dashboards
Support 24/7
Easily recruit affiliates
Connect to their partner networks at no cost
Pros:
Offer unique affiliate dashboards
Available on mobile devices
Freely access to their affiliate network
Cons:
Support the US market only
Delay in responses
Require some level of technical-savviness to set up
Price: The premium version starts from $29/month.
Rating: 4.5 stars/569 reviews
#3 Affiliatly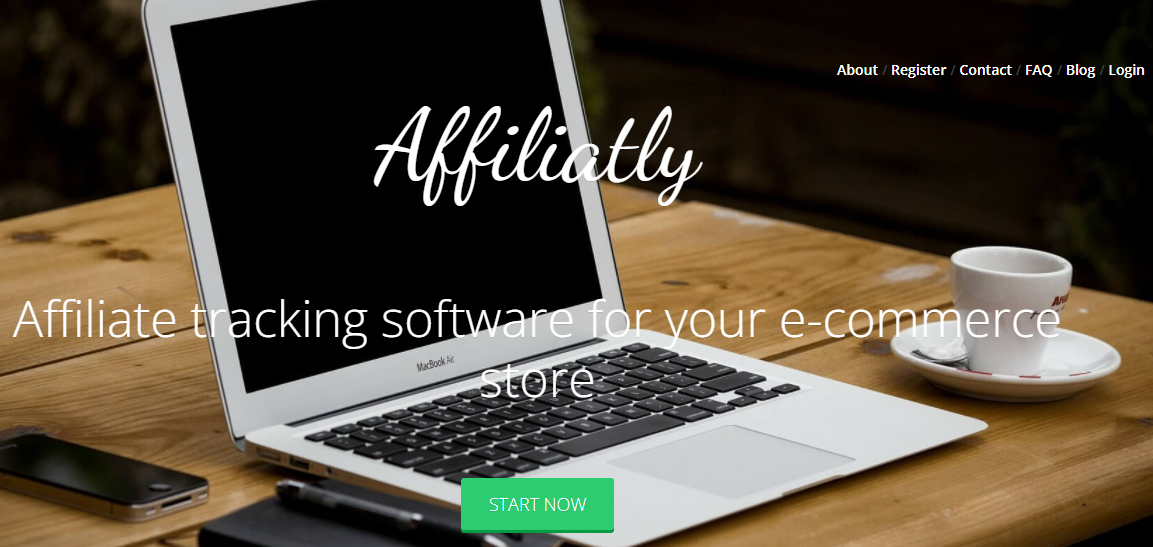 Affiliatly proves one of the best Shopify apps to monitor your affiliate marketing program. It provides all affiliates with all of the promo materials to promote the goods. They hence advertise your store with an associate network and thereby boost your profits.
Thanks to this app, you can track your visitors based on different factors, such as URL, QR code, product SKU, customers' email addresses, and more.
Key features:
Create different incentives
Customize pop-up window to fit your branding
Personalize email customization
Run two-tiered marketing
Pros:
Set up an affiliate program with ease
Offer unlimited transactions
Allow affiliates to pay through PayPal or store credits
Cons:
No extra marketing support
Only two-level payouts
Price: A free 90-day trial. The pro version starts at $16 per month.
Rating: 4.4 stars/105 reviews
#4 UpPromote

Like its name, UpPromote comes in handy to create several affiliate programs. You can manually tier commissions and set product-specific prices.
UpPromote makes it easy to approach more affiliates. With a quick post-sale popup,  you can invite anyone to join your affiliate network, including influencers, competent affiliates, and even existing clients.
Key features:
Find your affiliates from UpPromote Marketplace
Put commissions depending on sales, groupings, or products
Auto-generate referral affiliate links and coupons
Communicate directly with your ambassadors via an in-app chat feature
Keep track of how well the affiliates are doing
Control referral orders
Auto-pay by PayPal
Support multi-language
Pros:
Easily set up with no coding required
Access to UpPromote marketplace to reach even more potential affiliates
Offer multiple commission programs, lifetime commission, auto-tier commission
Pay your affiliates automatically via PayPal integration, or pay store coupons using store credits
Cons:
Limit approve/deny the number of referral orders for the free version
Price: Free. The premium plan costs you from $19.99/month.
Rating: 4.8 stars/1057 reviews
#5 Tapfiliate

The last one in this list calls the name of Tapfiliate. It allows you to create, track and optimize your affiliate or referral programs. This app gives you numerous ways to recruit more new affiliates. You can add them via an invite URL, a single sign-on, the API, or manually.
This software supports multiple languages and currencies, so you can carry out a global marketing campaign. Plus, you can customize your affiliate pages, referral links, and emails.
Key features:
Report real-time statistic
Offer multi-level marketing plans
Set commissions based on category
Pros:
Integrate with many apps
Offer 2 choices of fixed and recurring commissions
Credit affiliate partners by groups or by default
Set triggers based on affiliate actions and performance bonuses for affiliates to reach
Cons:
Available only on Shopify online stores (not other Shopify sales channels)
Price: A free 14-day trial. The pro plan starts at $69 per month.
Rating: 4.57 stars/819 reviews
Boost Your Revenue with Shopify Affiliate Program Apps
There's no 'correct answer' when it comes to the best Shopify affiliate program apps. All of them offer unique features that every store needs. As a store owner, you need to follow your preference and identify which app suits your business.
You can then make your decision in the most informed possible way, maximizing your chances of standing out from the crowd.
Do you have any questions regarding Shopify affiliate program apps? Do we miss out on your favorite Shopify affiliate program? Feel free to share with us in the comments section below.
To boost your sales on your store, you need to check out our 12 best free Shopify apps!