Social media plays a vital part in raising brand awareness and engaging with your potential customers. When it comes to reaching more new customers, social media marketing is a must for Shopify merchants.
More than that, you can try to leverage social media for your Shopify store and see how much traffic and revenue it brings to your business. That said, it's worth adding social media to your Shopify store.
This post will show you the importance of social media for your store, then guide you through 8 steps to add social media to Shopify.
The Importance of Social Media for Your Shopify Stores
Social media with over 3.9 billion users proves an ideal place to connect with more customers.
Increase Customer Engagement
Social media refers to the best way to make people interact with your content online. By boosting social media engagement to your online store, you can build a strong relationship with your customers. This later drives more conversions and increases revenues.
Social media engagement has a positive and significant impact on consumer buying behavior. Apart from building relationships between you and customers, you can learn from your customers and community about how you can enhance your service.
Interacting with customers on social media platforms makes them feel like always being heard and cared for while shopping in your store.
Once you respond to a complaint in a flash, it leads to customer satisfaction. As reported, answering questions and dealing with customers' complaints on social media can raise customer advocacy to 25%.
Drive Traffic to Your Website
Due to the massive number of users worldwide, social media stands out as one of the biggest branding and marketing game-changers. It promotes your content and drives more traffic to your store sites.
You can create online promotions to encourage visitors to share your content with their friends and family. It potentially brings you hundreds of extra click-throughs and comments.
Thanks to social media, you can connect to your target audience directly. Plus, it brings numerous opportunities to gain visitors and convert them into leads. The more visitors a Shopify website gets, the more sales that site is likely to make.
Market Research
As a store owner, you're probably already aware of how important it is to understand your customers.
The demographics of your customers stay the primary factor in identifying your target market. It's essential to conceptualize the ideal or typical customer, factoring in age, gender, interests, location, and other demographic details.
A recent survey delving into social media usage statistics shows that there are over 521 million social media users worldwide today.
More than that, social media can be a great way to catch up with consumer's interests.
Take Facebook as an example. You can easily look for a dozen groups and communities of like-minded people with similar purchasing habits on this platform. This hence allows you to create and sell products that are perfectly tailored for a very specific audience.
Raise Brand Awareness
If your consumers have no idea of what your brand stands for, there is no way to reach more buyers. Social media marketing comes in handy to establish your brand presence online.
With social media, you can not only reach out to a wide segment of the unexplored consumer base but also find ways to establish your personal brand.
A reliable brand now should build a significant online presence, thereby attesting to the brand's credibility in providing quality products or services.
Social media development nowadays opens up a new level of dialogue between a business and its consumers. It affects the way customers recognize a business's brand.
More than that, you can choose to build different social media groups depending on your audience's needs.
For example, cosmetic brands have caught a huge number of customers through online beauty groups or communities. They don't just stop at creating a support group for their existing buyers. They build a whole beauty community to reach more potential customers instead.
However, with this type of engagement, you always need a strong moderator team to update new posts on groups. Plus, they have to always maintain your community to stay active and useful. This will make your marketing strategy work smoothly.
So, let's take a look at how to easily add social media to Shopify!
Shopify allows you to integrate social media platforms with your store. However, since you're not using apps, you have to configure all of the settings manually.
Following are our 8 easy steps to add social media to Shopify.
Login to Shopify admin and head to "Online Store"
Click "Themes"

Scroll down to "Edit codes" in the menu labeled "Actions"

Go to the Assets folder
Click on the "Add a new asset" option

Upload a social media icon from your device (Facebook icon, for example)

Once uploaded, click on this file to access the theme.liquid layout


Add this code snippet to the editor
<!-- AddToAny BEGIN →→

<div class="a2a_kit a2a_kit_size_32 a2a_default_style">

<a class="a2a_dd" href="https://www.addtoany.com/share"></a>

<a class="a2a_button_facebook"></a>

<a class="a2a_button_twitter"></a>

<a class="a2a_button_email"></a>

</div>

<script async src="https://static.addtoany.com/menu/page.js"></script>

<!-- AddToAny END →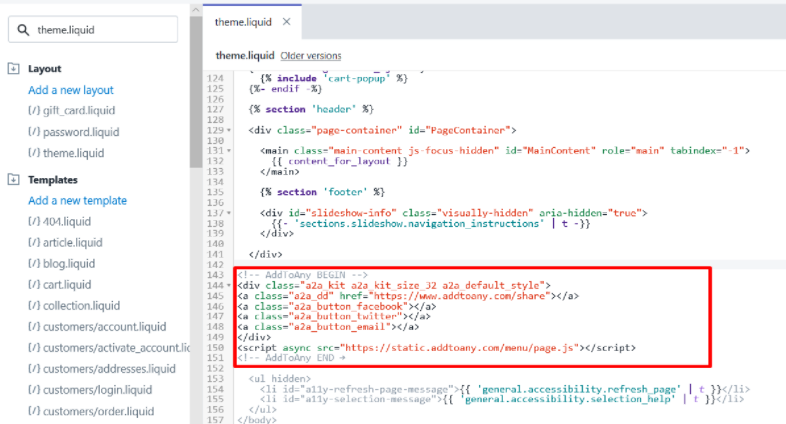 After you successfully add social media to Shopify, their icons will show up in the left corner of your homepage footer.


Integrate Social Media with Your Shopify Store Right Now!
Thanks to social media platforms, online store owners can easily interact with customers in no time. It provided an ideal world for any online brand wanting to drive more sales in a short period of time.
Also, we've walked you through 8 simple steps to add social media to Shopify. If you have any queries on how to add social media to Shopify stores, do not hesitate to leave a comment below.
For WordPress eCommerce enthusiasts, you can check out our 2 simple steps to add social login to WordPress.