Shopify apps play a critical role to empower store owners to meet their unique challenges and business goals. It's estimated that 80% of 1.7 million merchants use third-party apps to generate more sales for their online stores.
There are over 6,000 Shopify free and paid apps available on Shopify App Store. To help you save time, money, and effort, we've researched and narrowed down the 12 best free Shopify apps for your stores.
Each of these Shopify apps has its own functionality to help you quickly sell more products on this cloud-hosted eCommerce platform.
Now, let's see the following table of contents to find the exact Shopify apps you're looking for!
Essential Apps for Shopify Store Management
#1 Form Builder with File Upload

Form Builder proves the most powerful app to help you create personalized registration and contact us forms on your Shopify store.
The app gives you the ability to build unlimited forms at no cost. Whenever someone submits the form, it automatically sends you a notification.
Thanks to its Google Analytics integration, Form Builder makes it easy to track page views and measure the conversion rate.
Key features:
Build unlimited forms
Export form submission data to CSV files
Fully customize fields and layout
Apply conditional logic
Send respondent & admin notifications via emails
Support multi-language forms
Customize thank you messages
#2 Oberlo – Dropshipping App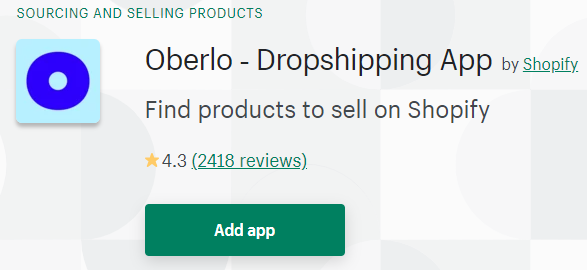 If you are searching for the best free Shopify apps to create a dropshipping store, you should opt for Oberlo.
There is no need to manually find products to sell on your online shop. Oberlo offers a variety of suppliers for you to decide which one you want to cooperate with. Then, the selected suppliers will deliver the products when your customers make orders.
With just a small amount of investment, Oberlo comes in handy to process your whole orders in no time.
Key features:
Deliver products directly from suppliers to customers without any interference
Track all orders quickly
Don't need to buy bulk inventory and manually manufacture products
Import dropshipping products from worldwide suppliers
Automate the entire process of selling products
Test new products without splashing cash upfront
Support multi-languages
Personalize your store
Add multiple users to your online store
#3 Easyship – All-in-one Shipping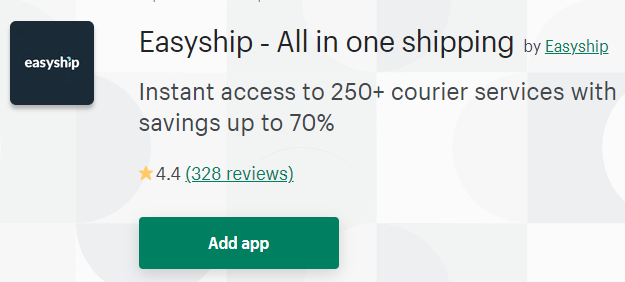 Easyship calls itself the "all-in-one" shipping app to drive down delivery costs across the globe. This best free Shopify app allows you to reach more customers worldwide and increase conversion rates.
Easyship gives you instant access to over 250+ shipping solutions with pre-negotiated rates from every corner of the world. Additionally, you can print shipping labels, download invoices, and receipts, and generate return orders right from the main dashboard.
Key features:
Support 24/7 from all logistics and shipping experts
Display the cheapest, fastest, and most affordable rates at checkout
Easily sync orders and print all your labels
Automatically update "fulfilled" orders
Download past invoices, receipts, and transactions statements
Generate domestic return labels
Show all import tax, VAT, GST, and other fees
Automatically calculate taxes, shipping costs
Announce the exact delivery times
Show customers the delivery status of their packages
Integrate with UPS, FedEx, DHL eCommerce, SF Express, USPS, and 250+ Courier Services
Best Free Shopify Apps To Grow Your Email List
#4 Seguno: Email Marketing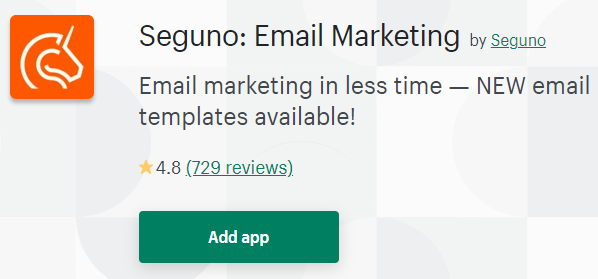 Seguno is an excellent option for business owners who want to use email marketing to increase their profits.
Using its automatic welcome and thank-you emails, you can raise your brand awareness and stay in contact with your target buyers after their purchase. Plus, Seguno seamlessly integrates with Mailchimp, making your email list grow day by day.
Not only does Seguno offer perfect email automation, but it also synchronizes all of the leads from your social media channels.
Key features:
Automatically send quick welcome and thank-you emails
Turn new buyers into loyal customers
Generate unique discount codes
Insert images from your Instagram feed
Sync Facebook leads in real-time
Design email templates with Canva
Customize newsletter email templates
Set up multi-email automation
Automate product review request emails
Live countdown GIF to boost conversions
Create an email in a multi-channel campaign
Grant access to a huge library of email templates
#5 Shopify Email
Shopify Email stays one of the best free Shopify apps to run your email marketing campaign effortlessly. This is such an ideal solution for any merchant that aims to build long-life customer relationships.
With a user-friendly and intuitive interface, you can manage your contacts with automatic data synced from your Shopify store easily.
Key features:
Send branded emails to your subscribers directly from the Shopify admin
Offer various ready-made templates
Automatically pull your logo, product images, descriptions, prices, and URLs
Easily personalize your email
Import customer lists into Shopify
Keep tabs on the performance metrics including click-through-rates, products added to carts, and purchases
Send emails from your domain with little setup if you purchase your domain on Shopify
Top Shopify Apps for Increasing Your Sales
#6 Growave

Trusted by 13000+ merchants all over the world, Growave makes it a must-have marketing platform to increase your conversions for all Shopify stores. It also provides you with tons of ideas for loyalty and reward programs. You can drive high-value purchasing behaviors among customers at your disposal.
More than that, Growave leverages the power of user-generated content to boost credibility and increase customer engagement. This hence makes selling products a breeze.
Key features:
Reward customers with convertible points
Create your own custom actions outside of our app through API
Set up a variety of discounts
Easily customize the design of your loyalty and rewards program
Keep your loyal customers engaged with VIP ranks and perks
Accelerate points earning for VIP customers and add points multiplier
Automatically send personalized emails to your subscribers
Keep the track of your loyalty and rewarding program metrics
Change the design of the sidebar, buttons, product reviews widget
Integrate with Google Shopping
Display ratings and photo reviews on Product Listing Ads
Show customer reviews metadata on Google search results
Showcase product insights and characteristics
Convert your Instagram content into shoppable galleries
#7 Jebbit: Product Quiz Builder

One of the most efficient ways to guide shoppers to the right product is through a shoppable quiz. The best free Shopify app to create expertly curated quizzes in the market is Jebbit.
A quiz form designed by Jebbit makes shoppers satisfied with their final purchase. Once your customers complete the form, it gives them the best suitable products based on their favorite color or pattern.
In other words, you can meet customers' shopping demands and give them the most suitable products thanks to the collected answers. It results in a higher conversion rate for your Shopify stores.
Key features:
Build product match quizzes, personality quizzes, simple surveys, and lead gen forms
Add a quiz on-site
Share your quiz across your favorite channels, like email, and Instagram
Create amazing consumer quizzes and experiences in hours
Track performance metrics for your overall brand including engagement & completion rates, captured leads, and website redirects
Integrate with Klaviyo, Facebook, Google Tag Manager, Hubspot, Salesforce, and Mailchimp
Offer consumers personalized and real-time recommendations
#8 PushOwl Web Push Notifications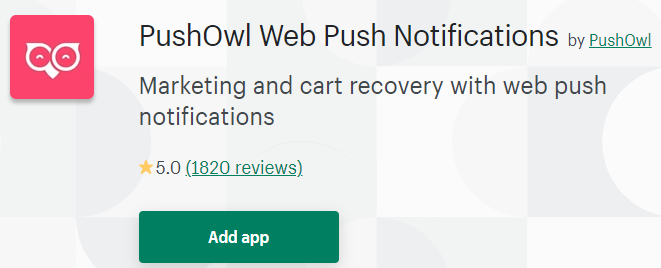 The next candidate to boost sales on the Shopify market you shouldn't miss is PushOwl. With this app, you can drive users back to your website by sending personalized messages right to their desktop or mobile browsers.
Driving more sales to your stores becomes much easier than ever using PushOwl. It helps you turn anonymous shoppers into potential customers instantly.
Key features:
Automatically remind your customers of abandoned carts
Update you with back-in-stock notifications for boosting sales
Send review notifications to your customers once the product is shipped
Integrate with 18+ other Shopify apps like Judge.me, Stamped, Loox, PageFly, and Growave
Collect subscribers instantly
Craft a web push campaign in minutes
Switch on the automated notification sequence
Track and send the performance of your web push marketing efforts to your email
Add an expiry time for your sales promotions
#9 Sales Countdown Timer Bar 2.0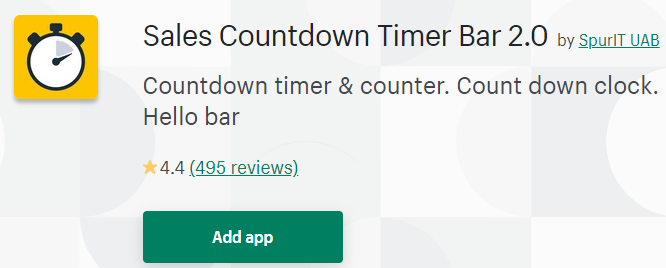 With a 4.4 star rating, Sales Countdown Timer Bar 2.0 proves one of the best free Shopify app to create countdown timers associated with your sales and special offers.
Thanks to a customizable countdown timer, it helps to create a sense of urgency for visitors to make a purchase. It creates a feeling that the customers must act immediately or they would miss out on something important. It's possible for you to raise up shoppers' purchasing decisions.
Key features:
Create a fully customizable countdown timer for any case
Come with 17 design templates
Fully customize background patterns of countdown timers
Auto-restart for countdown timer clocks after the end date
Build up your unique visual style
Support 24/7
#10 Sales Notification | Sales Pop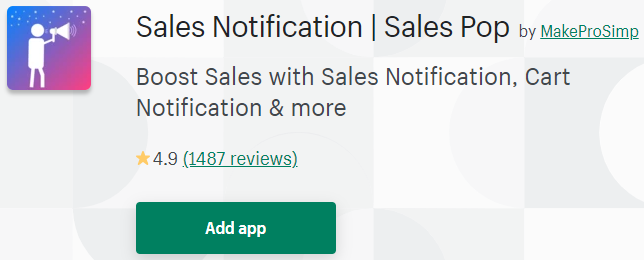 Like its name, Sales Notification comes in handy to increase sales of your online store by setting cart notifications. It motivates your customers to buy more items along with social proof of how popular those products are.
What's more, this Sales Pop app also displays live and dynamically updating notifications, making your site look busy and professional.
The notifications tell your customers what products others have recently purchased. It helps to create credibility, motivates purchasing behaviors, and converts more sales rates for your Shopify store.
Key features:
Automatically display recent sales & cart popups
Give your website a busy vibe
Display the number of recent visitors to your site
Customize messages, positions, display time, and delay time
Hide sales notifications on specific pages
Adjust your sales notification popups
Integrate with Google Analytics to monitor conversions including UTM parameters and sales notification
#11 Plug In SEO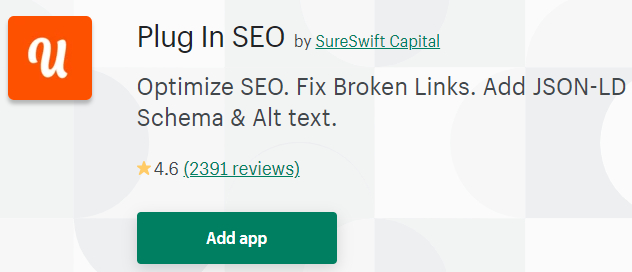 Plug In SEO will wow you with tons of striking features to help you manage SEO without a lot of extra work.
With 4.6-star reviews from over 2,392 users, Plug In SEO remains the best free Shopify app for increasing your ranking on Google search. Then, it brings you more organic traffic and sales revenue.
There is no need to check your product pages individually. The Plug In SEO app automatically identifies all the SEO aspects of your Shopify store. When it detects any SEO problem, it immediately sends you an email alert.
Also, this app shows you some suggestions on how to rank your store site higher on search engines. All these robust features helps it gain the title of the best free Shopify app for SEO.
Key features:
Show you notice if there is an SEO problem
Guide you on how to  fix the SEO
Improve SEO to gain organic traffic
Check your website speed
Automatically generate meta tags and alt tags
Keep your pages Google-friendly
#12 Smile: Rewards & Loyalty

The last one in this list calls the name of Smile. It's considered one of the best free Shopify apps for generating more sales through referral marketing and loyalty programs.
This user-friendly Smile encourages your visitors to become loyal customers by rewarding them with special offers. As such, they're likely to return your site and make more purchases. It leads to a dramatic sales increase for your online stores as well.
Key features:
Create and personalize a point, referral, or VIP-based loyalty program quickly
Keep track of the results through Smile analytics easily
Integrate with other marketing tools
Redeem special offers at checkout
Save abandoned carts & invite customers back with points reminders
Personalize popup reward panels by adding logos, banner images, and advanced color options
Skyrocket Your Revenue with the Best Free Shopify Apps!
This post has provided you with a list of powerful tools to grow your business. All mentioned best free Shopify apps serve a specific purpose useful to boost your sales and manage your stores efficiently.
Do we miss out on your favorite Shopify apps? Let us know in the comment section below!
To communicate with your customers most effectively, you should check out our 5 best Shopify live chat apps right now!