Shopify, without a doubt, knocks other eCommerce platforms out of the park when it comes to eCommerce security. The "Green Bag" offers numerous outstanding features letting you build a great online store without minding maintaining and updating the software.
Still, cybercrime is brutal and unpredictable. And we all know that "precautious is always better than cure." Strengthening your Shopify security is never redundant.
In this article, we'll bring forward some actionable tips to enhance your Shopify security.
But first, let us spell out the top eCommerce security concerns.
Top eCommerce Security Concerns
Data breaches are set as the major concern of any company, and eCommerce business is no exception.
That issue has caused a huge amount of customer data to be stolen over the past decades. In particular, Varonis pointed out that there were over 3,950 confirmed data breaches in 2020.
When an eCommerce business spots a data breach, customers tend to be more cautious when sharing their info online, especially their payment data, such as credit cards and bank accounts.
Of course, no one wants to buy products or services from a business that has cybersecurity flaws. That's why data breach always leads to these direct consequences: hurting your brand, lowing down your revenue, and losing customer's trust.
Macy's case should be an alert for you to look at. In 2019, the American chain's website suffered a data breach, costing them $192,000 to settle the data breach lawsuit.
They figured out that their site Macys.com was linked to a website that hacked customer payment details on the "Checkout" and "My Wallet" pages.
We're pretty sure that none of you want to be a second Macy. To get in the way of that scenario happenings in your Shopify store, you must pay extra attention to your Shopify security.
Tips to Enhance Shopify Security
When it comes to Shopify security, there are numerous practices involved.
Put aside all the technical solutions, we've narrowed down some free and easy techniques that every store owner can utilize without any fuss. And of course, our "easy" means you don't have to touch any bit of code at all.
#1 Double-check SSL Certificates
Technically, you will receive an SSL certificate for free whenever you add your domain to Shopify within 24 hours. This tool serves as a hack-proof to strengthen your site security and protect your customer's data.
Whenever your Shopify store is fully encrypted, a padlock icon, standing for the SSL certificate, will appear in front of your site URL. This helps indicate to your customers that your store is safe to shop at!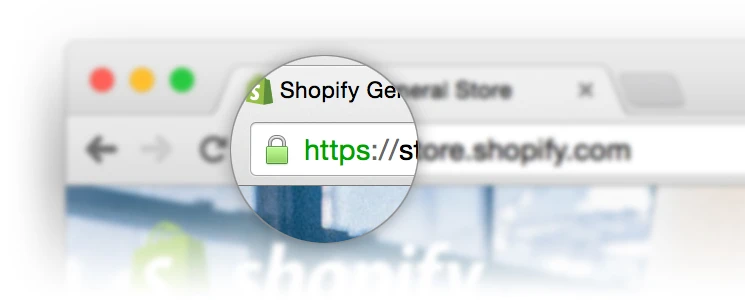 Though the SSL certificate is enabled by default, you should double-check to make sure your store is actively enforcing SSL.
In case SSL is unavailable on Shopify, you can fix it right off the bat to ensure the connection between the web server and visitor's browsers is secured.
#2 Use Strong Passwords
While Shopify experts are in charge of all the technical sides of backing up and securing your store, the only thing you can do to tighten your Shopify security is creating a strong password and not sharing it with others.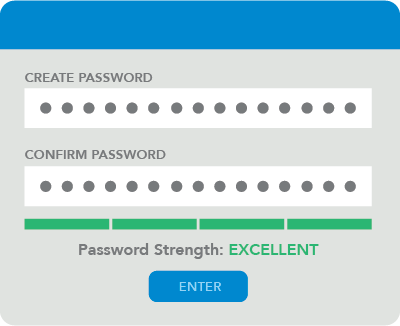 Weak or easy-to-guest passwords are the appealing bait for hackers to brute force attack and gain access to your sites. They just need only less than a second to crack these common passwords.
It's highly recommended to use a random password with at least 8 characters long and mixed with numbers, special characters, and upper cases, etc.
Don't ever include your personal details such as your birthday, name, or driving license in your password. More importantly, don't set the same password across multiple stores.
#3 Regularly Back up Your Store
If you host your store on a Cloud-based platform, will it be safe if anything in your store is deleted? The answer is No, definitely No.
Lots of Shopify store owners believe that they can get back a removed item on their stores as they are in the Cloud. In fact, if you delete a product on your Shopify store, it's gone forever.
On top of that, even though you can export product data backup to CSV files, it's impossible for you to generate a CSV file of product images when an item is removed. This is because all images are deleted along with products as well.
As such, to prevent any "oops" situations happens when you accidentally delete your products, you should back up your store regularly.
If you're too busy to manually create a backup, you can put your trust in Shopify data backup apps. They allow you to schedule automatic backup or send alerts to keep you in the know if anything goes wrong.
Data Export Reports, EZ Exporter, or Rewind are some bigshots in this niche.
#4 Activate 2 Factor Authentication
2-factor authentication, aka 2FA, comes as a common and affordable practice to enhance your Shopify security. In fact, 2FA is made use of not only in Shopify but also in all eCommerce platforms in general.
2FA aims to provide a more secure login process, paving the way for authorized access only. Whenever your users log into your store, they're required to:
Enter their usernames and passwords
Confirm their credentials and authentication via SMS, emails, and security key, etc.
Shopify gives you the power to activate 2FA on your store, for all accounts as a store owner without installing a third-party app. However, you can't set up 2FA for staff. This means they have to turn it on for their own accounts by themselves.
Plus, Shopify includes multiple options for you to set up 2-factor authentication on your store. You can choose to enable two-step authentication for SMS text messages, with an authenticator app, or with security keys.
#5 Limit Access to Admin Area
Shopify offers a staff permission system, enabling you to control access to the admin area.
It's advisable to set an account for each person or staff who can get access to the Shopify admin. This proves handy in tightening Shopify security in many ways.
First, by limiting access to these accounts, you can prevent data breaches as they won't be able to touch any sensitive information. Second, it's easier for you to manage these accounts using the Shopify timeline.
Timeline allows you to view all changing histories in detail, including orders, draft orders, customers, or transfers to keep your Shopify store on track.
Other than that, the Shopify timeline also lets you have internal communication with your staff, such as mentioning a staff, commenting, or writing notes on orders or products.
You can check out the guide on managing Shopify staff to get started.
#6 Install Shopify Security Apps
While Shopify has already been renowned for its top-notch security, you can take Shopify security to the next level with security apps. They will add one more protection layer to your store, guarding off attackers and unauthorized access.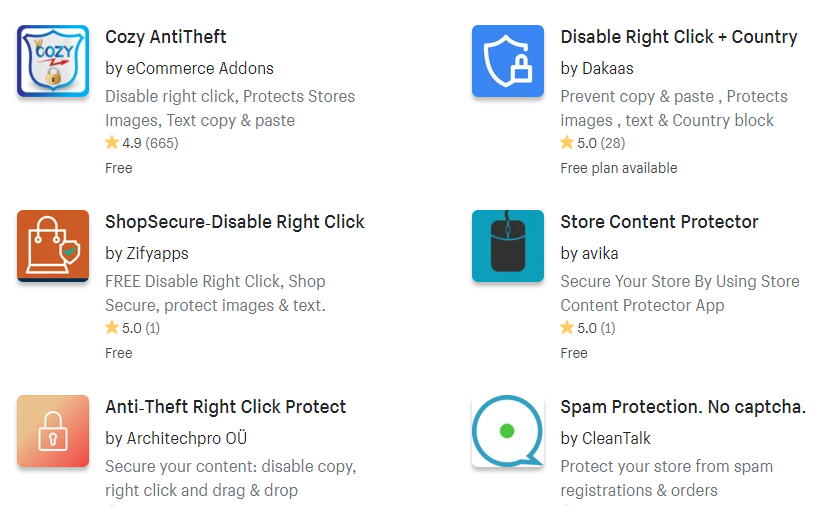 Below are our recommendations for Shopify security apps. They are veteran wizards in ensuring secure checkout, payments, blocking fraud orders, controlling access, and protecting content.
Tighten Your Shopify Security Now!
Data breach opens up the worst fears to any eCommerce business. As a Shopify owner, you should take actions to prevent that problem and strengthen your site security.
We've showcased 6 actionable tips to significantly enhance your Shopify security. When you register a Shopify domain, make sure to double-check your SSL certificates.
It's essential to set up 2FA, limit access to the Shopify admin area, and install Shopify security apps in your store. And remember that using robust passwords is a must!
Don't let security flaws bother your sales and revenue. Take our tips to protect your Shopify store now!