"Shopify vs WordPress – Which is better for eCommerce?" This is the question that not only you but millions of online business owners out there are also pondering.
Both platforms, without a doubt, are the veteran wizards in building websites. They both have large user bases, stretching from pole to pole.
Yeah, choosing one out of another is hard. That's why we write this in-depth article to help you out.
The topic under the spotlight today goes to "Shopify vs WordPress comparison."
Of course, there is a lot to cover when it comes to Shopify vs WordPress. But we decided to narrow this topic down to eCommerce focuses.
Let's get the ball rolling!
An Overview of Shopify and WordPress
In terms of eCommerce platforms, Shopify has marked its name as one of the top-notch solutions. According to Builtwith, this fully self-hosted e-commerce app has been endorsed by over 3 million stores from all over the world/.
Users with no coding and design skills can use Shopify to build their own online stores with ease. Plus, using Shopify frees them from an extra upfront investment.
In general, Shopify is an ideal pick for anyone having limited technical skills, creating online stores conveniently, and not spending budgets for web developers.
WordPress, on the other hand, is an open-source platform. This means you have to host your own site and install an eCommerce tool like WooCommerce if choosing WordPress.
Regarding userbases, WordPress has immense popularity, empowering 75-90 million websites on the internet.
In addition, WordPress users more or less have some coding skills and would love to control site customization. Plus, they prepare a budget for hiring developers and site maintenance tasks.
Since you have a glimpse of what Shopify and WordPress are as well as their user bases, let's move to the main part of Shopify vs WordPress eCommerce comparisons.
Shopify vs WordPress: Ecommerce Comparisons
In this article, we mainly focus on comparing Shopify vs WordPress based on the eCommerce function requirements. Each platform's strengths and weaknesses will be broken down and dug into details below.

What WordPress Wins over Shopify
Fully Customization
A key benefit of opting for open-source software like WordPress is that it's 100% customizable. This means you have full control over how your WordPress site looks, from choosing suitable store themes to customizing the WooCommerce checkout page or products.
More than that, you can edit the site header and footer according to your needs. And if you know some coding skills i.e CSS, PHP, or HTML, styling every corner of your site, even make it mobile-responsive is not rocket science.
A Huge Collection of Plugins and Extensions
According to the latest WordPress plugin statistics, the WordPress plugin directory currently houses over 58,000 free plugins. In terms of premium plugins, CodeCayon is well stocked with over 7,200 plugins. So what do these numbers tell you?
If you choose WordPress to host your eCommerce business, you'll have thousands of plugins from all niches to simplify the process of setting up and customizing your online store.
You have WooCommerce to transform a normal WordPress site into a fully functional online store with just a click. Of course, WooCommerce is not just a WordPress eCommerce plugin. It's the most popular one.
Then you have YoastSEO or Rank Math to take care of your shop SEO. In case you want to track your store performance, you can use WooCommerce Google Analytics.
If you plan to build a marketing funnel, these top WordPress newsletter plugins like MailChimp, OptinMonster will give you a hand.
Besides, WordPress also comes with a huge collection of extensions. They give you the power to enhance the user experience by completely extending your store's functions.
Take WooCommerce extensions as an example. The plugin alone has over 980+ extensions, free and paid. They boast different amazing features to export orders, handle multiple payments, build membership sites, and tons more.

And you know what? All WordPress plugins and extensions are highly customizable too.
On the other side, though Shopify has thousands of in-house apps, the numbers and diversities can't compare with WordPress. So in the Shopify vs WordPress plugins and apps comparison, WordPress is the clear-cut winner.
Flexible Stock Management
WordPress allows you to easily keep track of your available items within a to-the-point dashboard. It's possible to update products regularly, set different product types, or create grouped products. You can use WordPress to sell both physical and digital products as well.
Multiple Payment Gateways
WordPress doesn't come with its own payment options. Each WordPress plugin provides different payment methods.
eCommerce plugins like WooCommerce, Ecwid, and WP eCommerce all cover most major gateways, i.e. PayPal, Stripe, and Square. They won't charge you any extra fee except for their own transaction.
SEO
SEO plays the backbone to keep any online business running smoothly. Your stores will struggle with sales and traffic unless they have great visibility on search results.
Since WordPress is a CMS, optimize SEO has never been easier. Plus, with thousand of excellent SEO plugins available, including some bigshots namely YoastSEO, All in one SEO, and Rank Math, you can easily optimize your shop and improve your ranking on SERPs.
So what can these plugins do?
They analyze your content in every single SEO aspect, then bring forward ways to improve SEO scores. Besides, these plugins also come up with sitemaps to enhance SEO or create canonical URLs to avoid duplicate content.
WordPress Drawbacks
Everything has a trade-off and so does WordPress. We put forward 2 main drawbacks of WordPress that make online store owners always get their goats.
Site Performance Problems
Plugins support extending store functionalities and turbocharging your online store. Yes, it's true. However, the more plugins you install on your site, the slower the site performance becomes.
First, plugins will take up website memory, for sure. Second, installing too many plugins will drag your site down, not to mention they can cause conflict or compatible issues between themes and plugins themselves.
Regular Updates for Maintainance
Using WordPress requires you to keep an eye on updating your site frequently. In particular, you must make sure that:
Your store is hosted on the latest versions of WordPress
All of the plugins and themes on your site are up to date
Your server must be in the correct configuration
Forgetting to update some of them will increase the risk of your site getting hacked.
Though some of the processes listed above can be done automatically, you have to spend time on data backup and testing.
What Shopify Wins over WordPress
Sleek and Mobile-Optimized Themes
While not all of the WordPress themes are mobile-focused, Shopify notably boasts tons of professionally designed and mobile-friendly themes. This means your shop will auto-transform to fit different screen sizes, e.g. on tablets or mobiles.
In addition, all Shopify themes are showcased in various styles to best suit your brand.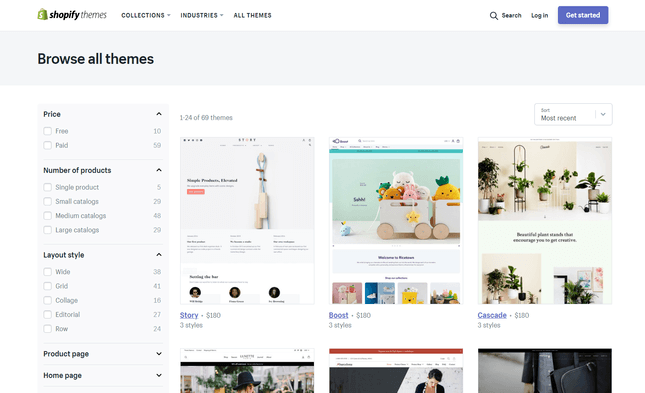 Fast Uptime
An eCommerce store hosted on WordPress is at the mercy of hosting services, and numerous plugins for speed or image optimization. This may result in adversely slow site loading.
On the contrary, that scenario never happens to Shopify. The Green Bag seems to outshine WordPress regarding speed as it doesn't rely on any third-party service to deliver blazing-fast speed.
On top of that, Shopify pays extra care to release less resource-intensive apps. This ensures that they won't place any burden on the Shopify server.
Mind-free Updates and Security
WordPress requires you to pay attention to the pre, mid, and post-update process. With Shopify, it's a whole different story.
Shopify updates happen automatically without the slightest interruption of site performance. There is absolutely no data backup needed.
Plus, Shopify offers 100% SSL for free to keep your store hack-proof and secure customer's data. What you have to do is set strong passwords and not share them with others. Shopify experts will handle the technical side.
That's the reason why 74% of WordPress websites get infected while very few or none of them, are spotted on Shopify.
Insightful Analytics
Shopify integrates excellent analytics features in its core to let you keep track of your store performance. You'll have a clear insight into inventory status, customer interaction, and conversion tracking.
What's more, all figures about total orders and sales, online store sessions, returning customer rate, etc. are presented clearly in one dashboard. This allows you to figure out which parts of your online store need more improvements and optimizations.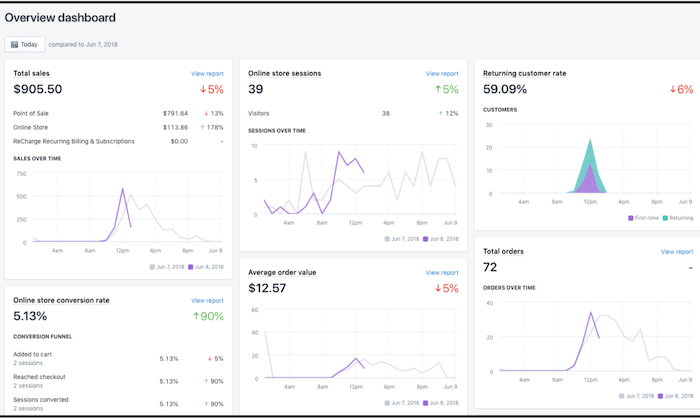 Top-notch Customer Support
When it comes to customer support, Shopify can beat WordPress fairly hard. Shopify comes with efficient customer service for every plan you opt for. It includes email, live chat, and phone support.
Just a quick note, if you're with the "Lite" plan, you can only get the live chat and email support, but that's all customer services around the world offer, isn't it?
Along with that, you own the right to access an exclusive database of FAQs and various community forums to look for solutions to your problems. By and large, it's really easy to get the hang of all the Shopify support solutions.
Shopify Trade-offs
Payment Gateway
Shopify has its own payment options. Also, it does support 100+ payment gateways, including some hotshots such as Paypal, Stripe, Square, Amazon Pay, and Apple Pay.
However, if you want to use other payment gateways with Shopify, you'll get charged an extra transaction fee (0.5% to 2% depending on the plan).


Shopify vs WordPress: Pricing
Cost carries a lot of weight on any plan, and building an online store is no exception.
At the first sight, we all see that WordPress is free but Shopify is not. Shopify comes with 14-day free trial and 5 different plans:
Lite: $9/month
Basic: $29/month + 2.9% and 30¢ per transaction
Shopify: $79/month + 2.6% and 30¢ per transaction
Advanced: $299/month + 2.4% and 30¢ per transaction
Plus: around $2000/month + 2.15% per transaction
So WordPress may win over Shopify in this battle? Hang on, in terms of pricing, Shopify and WordPress have a lot more to consider than just a core source.
Let's go over the Shopify pricing plans first. Which key features does it offer in each plan?
The Lite plan allows you to embed products via a Shopify "buy button" and sell on your existing site or via Facebook. No standalone, fully functional store offer on this plan.
The Basic plan offers you multiple major eCommerce features, e.g. unlimited products, an online store with a blog and sales channels, discount codes, and abandoned cart recovery, etc. Plus, you can access all themes, get a free SSL certificate, 2 staff accounts, and 24/7 support.
The Shopify plan includes everything of the Basic one, plus 5 staff accounts, gift cards, and professional reports.
The Advanced Shopify plan is filled with all the offers you get from the Shopify package, plus 15 staff accounts. It also lets you access an advanced report builder and extra shipping rates.
About WordPress, aside from the free core, to get your site up and running, you must invest in other elements, such as hosting, plugins, integrations, etc.
Below are some figures which give you some ideas of how much it might cost if you were building your store yourself. Don't panic, as "free" can quickly spike up to thousand dollars.
WordPress hosting: around $5 – $300 per month
Premium themes: $80 – $200 per month
WordPress plugins:

Payment Gateways: $30 – $80 (monthly cost) or $100 – $500 (one-time cost)
Membership Integration: $50-$150 (monthly cost) or $100 – $300 (one-time cost)
Email Marketing Services: $5 – $99 (monthly cost)

WordPress maintenance service:  $50 per month on average
Just do simple math, you might expect to spend around $350-$1000 every month to run a professional WordPress site.
So in the Shopify vs WordPress pricing race, Shopify comprehensively outstrips WordPress.
Shopify vs WordPress: What Should You Choose?
We've walked you through different elements to compare Shopify to WordPress, such as pricing, themes, eCommerce tools, analytics, SEO, security, and customer support.
We've also provided a detailed insight into each platform's pros and cons. All in all, both Shopify and WordPress boast different advantages. You need to take every criterion that we've analyzed above into serious consideration.
Shopify vs WordPress: which one do you choose? Are you using Shopify or WordPress to run your online business? Share with us your experience below!