Online shopping has been on the rise over the past decade. According to alphr statistics, over 85% of people worldwide prefer online shopping over visiting brick and mortar stores.
That's definitely a positive sign for any WooCommerce store owners out there.
Today, in this article, we'll reveal a simple trick to help you easily triple your store sales by combining WooCommerce with the biggest search engine – Google.
If you're thinking about WooCommerce Google Shopping ads, yes, you're on the right track!
Keep reading to know the advantages of Google Shopping ads, as well as how to integrate WooCommerce Google Shopping ads.
Let's dive in!
An Overview of Google Shopping Ads
Google Shopping ads (also known as Google Product Listing ads) are marketing channels to drive sales and revenue for online stores. They are product-based ads that show up for product searches on SERPs.
Google Shopping ads are available in more than 40 countries. Unlike text ads, which use keywords, shopping ads are displayed using your product data.
Thanks to Google Shopping ads, you can reach buyers with real needs, based on their search queries.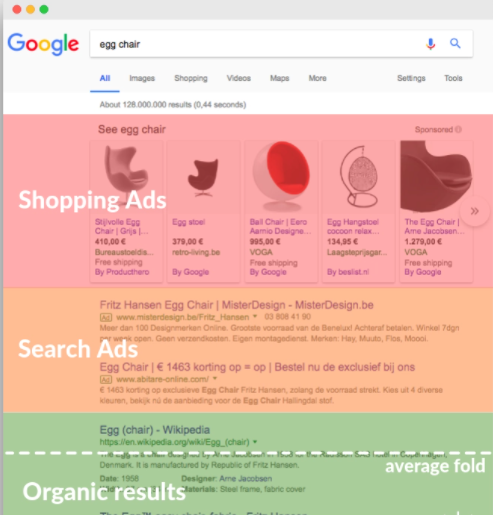 Source: Store Growers
Google Product Listing ads show you a list of product information including:
Product Image
Price
Brand
Ratings
Shipping Information
Promotions
Advantages of Integrating WooCommerce with Google Shopping Ads
Google Shopping ads gain more and more popularity nowadays.
Consumers usually search for product information before making a purchase. Using Google Shopping ads proves an ideal way to target more precise audiences. It hence brings the chance of driving more sales to your stores.
Integrating WooCommerce with Google Shopping ads helps both site owners and consumers get the results they want.
Customers see the specific products they are really interested in and reduce browsing time when ads appear. In parallel, WooCommerce site owners can rely on the needs of consumers to sell more items.
Plus, as the world's largest data collection and analysis machine, Google Shopping promises to deliver the best shopping experience but optimize the advertising cost on Google.
There are numerous benefits from WooCommerce Google Shopping ads for sellers:
Increase Click-through Rate on Ads
As a matter of fact, there are millions of people looking for products on Google every day. Consumers also intend to click on the top results.
If you run Google Shopping ads, your products will appear on the top of SERPs. This catches consumers' attention after they enter a keyword related to products.
More than that, Google Shopping ads let customers see full product information: images, prices, store websites, etc. It attracts buyers to click on your website due to clear and detailed product information.
Also, visual content makes customers more sympathetic to your product, then they will decide to buy your items faster.
For the same amount of money spent on advertising, you will skyrocket your sales from Google Shopping ads than other campaigns.
Save Money on Ads Campaigns
You can conduct Google Shopping ads campaigns with lower average CPCs. In particular, you only pay when someone clicks on your ads. This helps you save money and change the ads budget based on your demands.
Google Shopping also offers new competitive metrics including Benchmark Max CPC, impression share, and Benchmark CTR. So, you can get a fresh idea of your ad position by bid, making your campaign cost-effective.
Automatically Update Latest Product Information
Google Shopping ads automatically update your latest data on Google Merchant once a day.
In other words, if you add new products to your site, they will automatically be added to your "feed" for the next day. You're free from updating your campaign manually and constantly.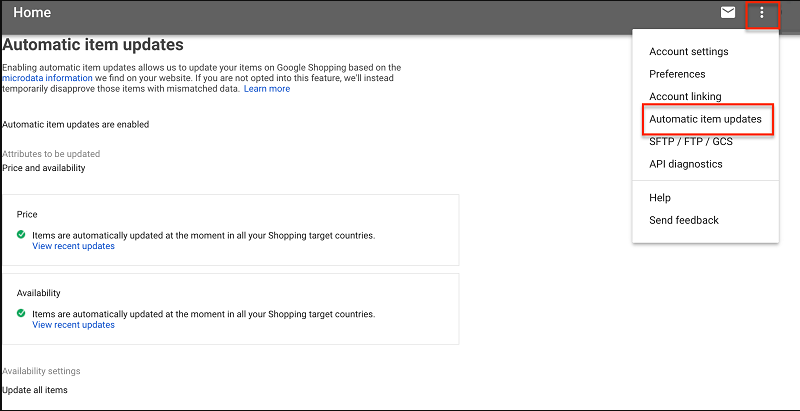 With those mentioned advantages, it's a pity if you don't try using WooCommerce Google Shopping Ads for your store.
Keep reading to discover how to integrate Google Shopping ads into your WooCommerce business.
How to Set up WooCommerce Google Shopping
Create a Google Merchant Center Account
Before setting up your Google Merchant Center account for your business, you must have your own Google account to sign up for Merchant Center.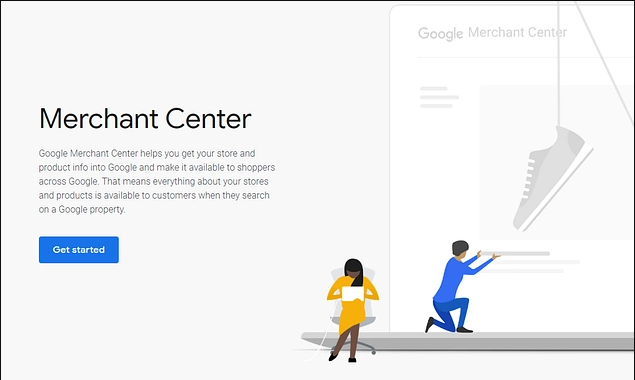 After hitting the Get started button, you have to enter your business information, along with the timezone of your store.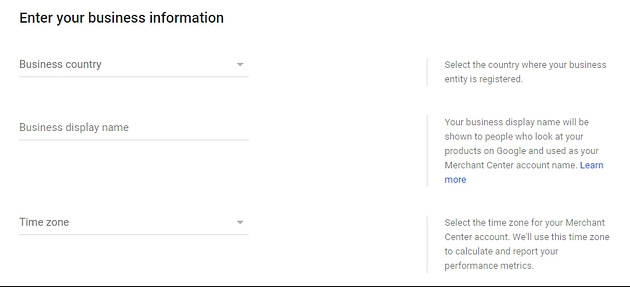 Google Merchant Center comes with various programs for you to choose from for your business strategy. For the WooCommerce Google Shopping campaign, you need to check on the box of Shopping ads.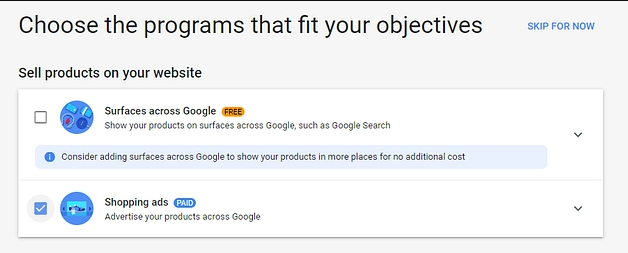 Once that's done, you have to import your WooCommerce products into this platform. Then, it updates your product data and displays product ads on the search results page.
Transfer WooCommerce Shop Data to Google Merchant Center
The next step is to add your products to Google Merchant Center using WooCommerce Google Listings & Ads extension.
The extension helps you to connect your store with Merchant Center. This extension will automatically sync your WooCommerce product data to Google Merchant Center.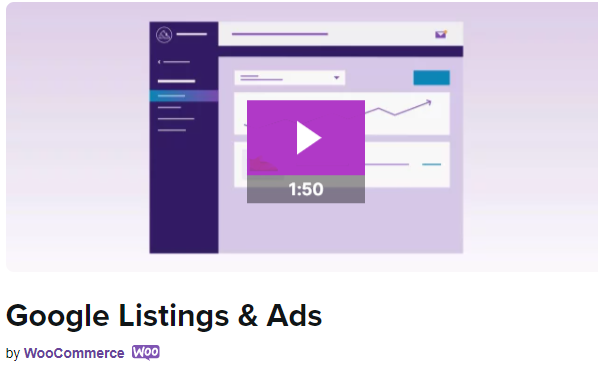 Following are our detailed instructions to add your products to Google Merchant Center.
Install WooCommerce Google Listings & Ads extension to your site
Connect your WordPress, Google, and Google Merchant Center accounts

Choose your audience and which countries you want your WooCommerce Google Shopping ads to display

Define settings for tax and shipping
Enter your contact phone numbers and store addresses

Review the checklist to make sure you don't miss any Google Merchant Center guidelines

Once you've done, all store data will be synced to the Google Shopping ads. It's time to create paid ads to promote your products across Google Search.
Manage Your Google Shopping Campaigns
In the Google Merchant Center dashboard, you need to click the Continue button on the Pending tasks pop-up.


Next, you'll choose which products you want to display, set up tax and shipping details as well as provide your store website.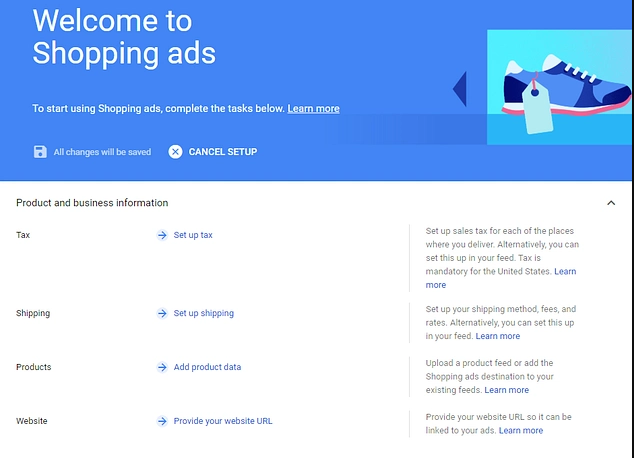 After that, you need to choose a budget and launch your campaign right from your WooCommerce dashboard.
Optimize Your Stores with WooCommerce Google Shopping Ads
This article has given you an insight into WooCommerce Google Shopping ads. It isn't a new form of advertising in the world. If you use this type of marketing well, you will greatly increase your sales.
We've also walked you through 3 steps to integrate WooCommerce with Google Shopping.
If you have any queries on how to set up WooCommerce Google Shopping ads, feel free to leave a comment below.
In case you're looking for ways to boost your sales conversion, check out our 7 best WordPress lead generation plugins in 2021
Let's go ahead and start your journey towards success!