No one can deny how versatile online forms are. They considerably help gather user information and customer feedback, collect payments, and capture leads. They serve as a gateway between users and web owners.
Though creating an online form is a cakewalk, choosing the suitable web form builder that meets your needs requires serious consideration.
What matters here is to the naked eye, most web form builders look very similar. So how can you select the right one?
To save you time, we've researched and narrowed the list down to the top 5 free web form builders. This article will begin with a brief comparison table about the top 5 free web form builders, then continue unpacking their features in detail.
Top 5 Free Web Form Builders at a Glance
JotForms
Google Forms
Typeform
123Formbuilder
Cognito Forms
UI
User-friendly

drag-and-drop editor

Super simple and easy to use
Modern and beautiful
Intuitive drag-and-drop interface
Straightforward

A flexible drag-and-drop editor

Templates
10,000 free templates
17 pre-made templates
80+ pre-design templates
2000 ready-to-use templates
100 free templates
What free plan offers
5 forms

100 monthly submissions

500 total submission storage

10 payment submissions

Check the feature part
3 typeform

10 questions/ typeform

80 pre-built templates

Basic report and templates

5 forms

100 submissions

Email notifications on form entries

Collected data management

Unlimited forms

20 form fields 100 templates

Mobile apps
Web, iOS, Android
Web
Web
Web, Android
Web, Windows
JotForm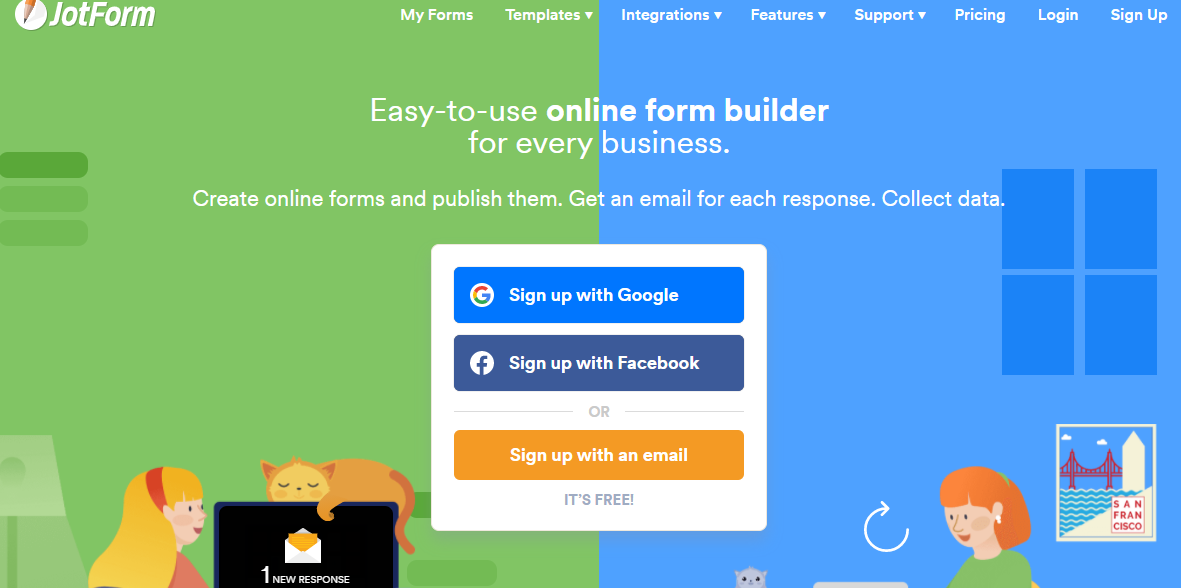 JotForm is a simple yet powerful form builder that enables you to create sleek forms without hassle. You can easily customize your forms to match your branding with the help of a hundred provided advanced styling options.
Ease of use and flexibility are its top priorities. One of the unique JotForm's features is that the app allows multiple users to edit the form at the same time by using a share link instead of a Jotform account.
This free web form builder possesses an incredible collection of over 10,000 free templates. You will have dozens of options to choose from, such as registration forms, signup forms, evaluation forms, and contact forms. The app seamlessly integrates with a wide range of other business apps, including Slack, Google, Zoom, Dropbox, Paypal, etc.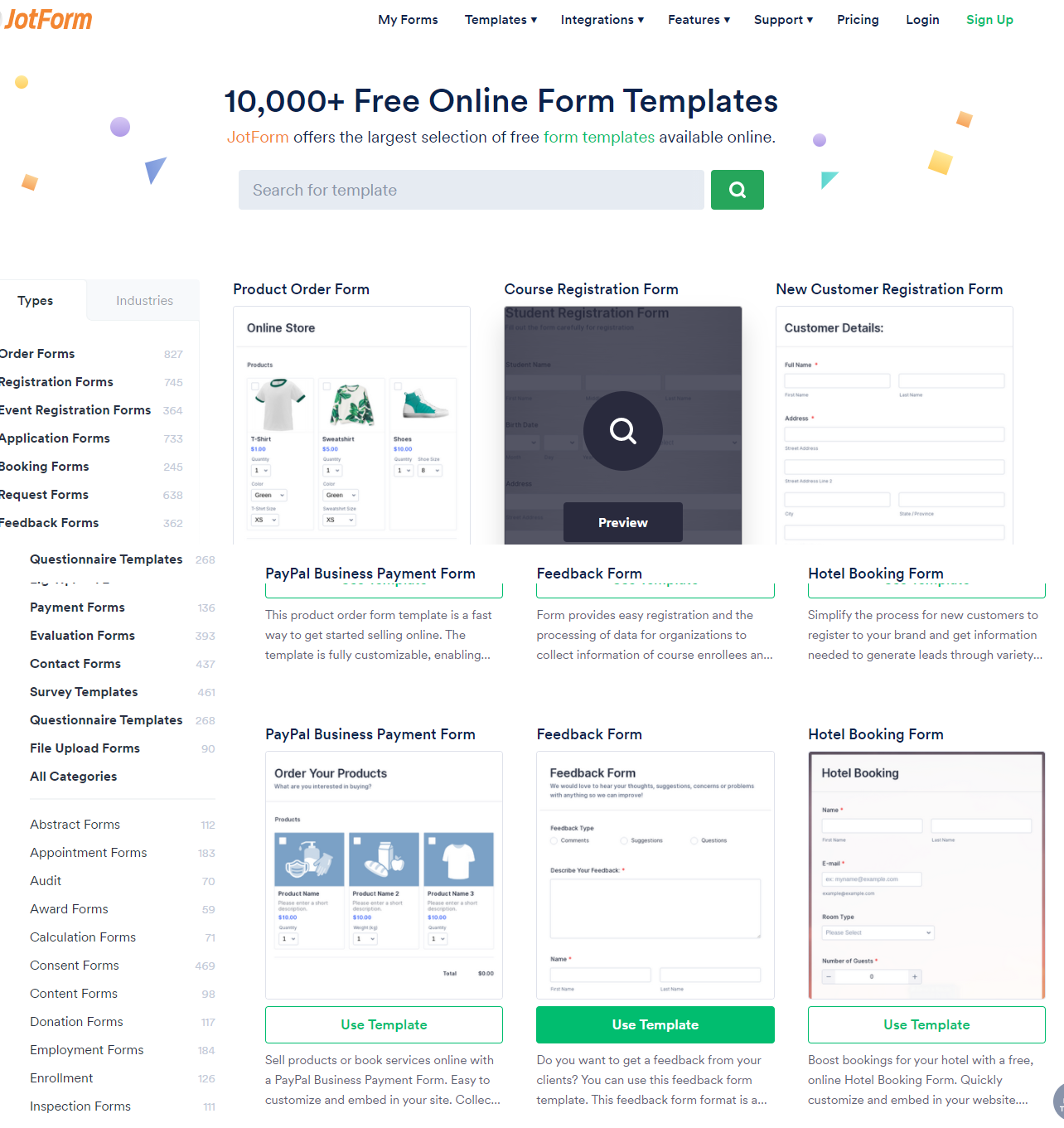 Tons of unique widgets are also available to add more functionality to your forms. Respondents can e-sign forms, take photos via webcam or embed media files.
Jotform's intuitive drag-and-drop builder also deserves a thumbs up. Overall, the process of creating a form from scratch just takes a few minutes.
However, since it offers a great number of templates, you may need time to find the right one and adjust it to your needs. Blog, forums, and tutorials are provided, yet its poor organization and limited search function make it hard for users to filter out the answers.
Price: Jotform offers a generous free plan, including 5 forms, 100 monthly submissions, unlimited reports, fields per form, and 10 payment submissions. The premium plans start at $24/ month.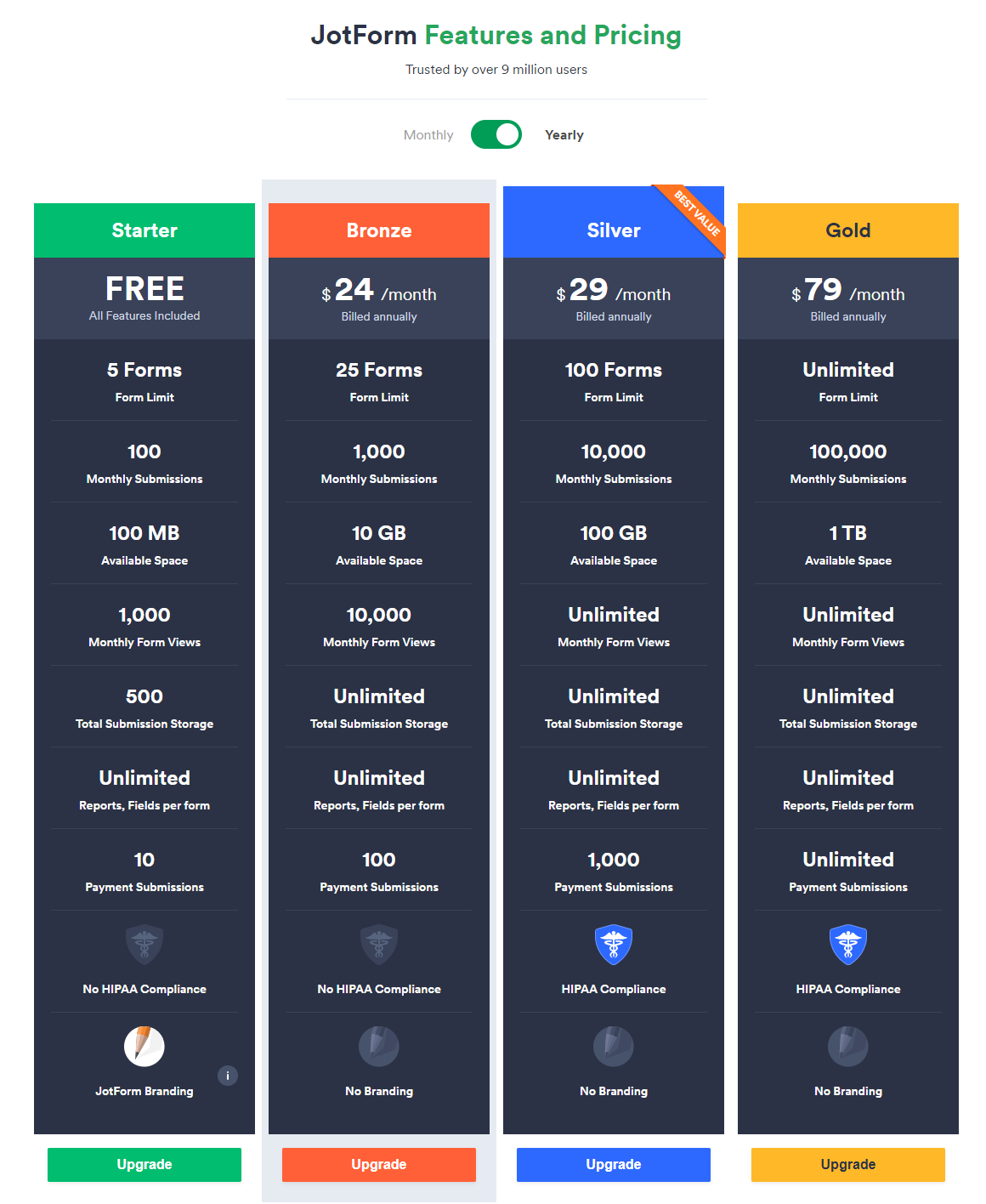 Google Forms
Google Forms is 100% free and surely, the most popular free web form builder. For a completely free form builder, it owns a great feature set.
It offers a rich assortment of form templates, including feedback forms, order forms, contact forms, event registration forms, and more. Form fields range from multiple-choice questions, short answers, checkboxes, file upload, to dropdown, and date. There are no limits on the number of form fields and you can group them into sections. Interestingly, Google Forms allows you to convert your forms into quizzes with an auto-grading feature.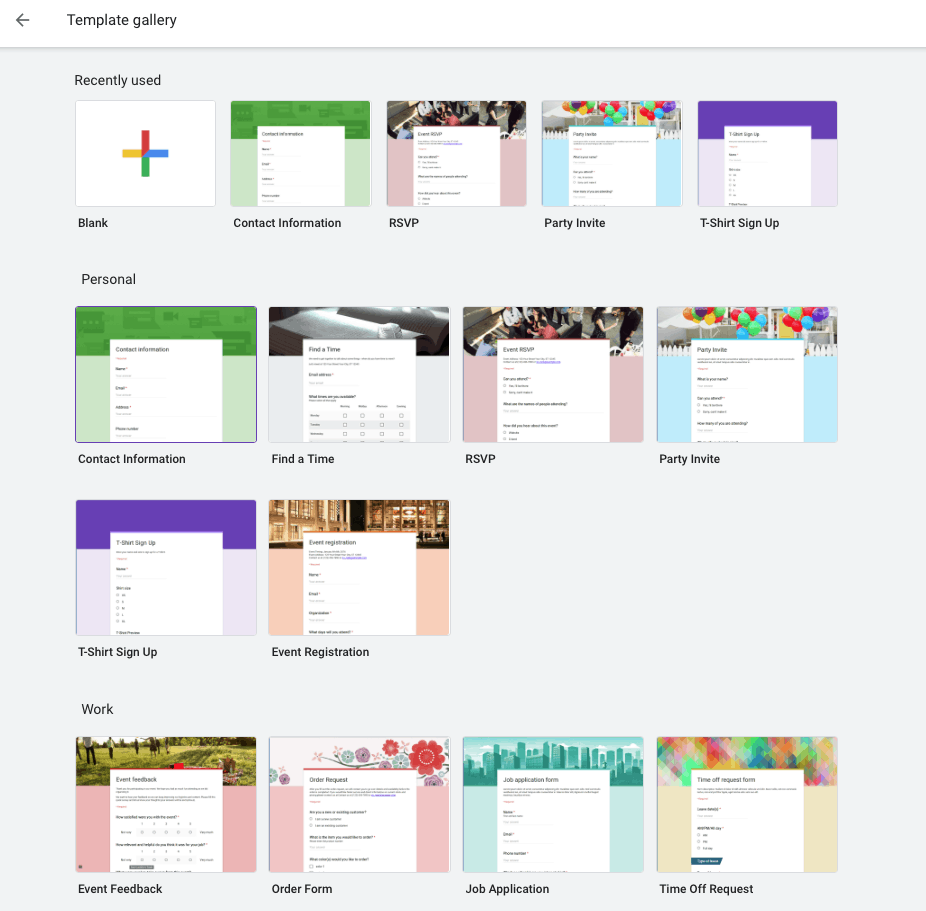 Along with that, Google Forms supports collaboration. Users can edit, comment, or give a suggestion in the forms in real-time.
If you use Google Forms, you will have a direct connection to the full G Suite ecosystem. You don't need to remember new credentials or navigate between different tools. Forms submissions are automatically saved in Google Sheets which makes it easier for you to keep track of and share data with others.
In terms of ease of use, Google Forms offers a super simple and user-friendly interface. Users who haven't touched any Google forms before can totally get familiar with them in a minute. Even the settings are simple too. You want to activate/ deactivate a setting? Simply check in a box!
Like other products, Google Forms also has some downsides. Though it offers conditional logic for free, this logic isn't robust enough as they work for some question types only. Support is quite limited for personal users. It comes with documentation but not so extensive.
Price: Free. If you use the G Suite, the price starts from $6/ month.
Typeform

If you're looking for a tool that allows you to quickly create an appealing form, as well as adjusting color and theme, Typeform is such a perfect choice. This cloud-based free web form builder offers an extensive library of 80+ pre-design, eye-pleasing, and trendy templates.
Although you can use Typeform to create unlimited form types, it excels at building conversational forms, such as surveys, quizzes, and feedback forms.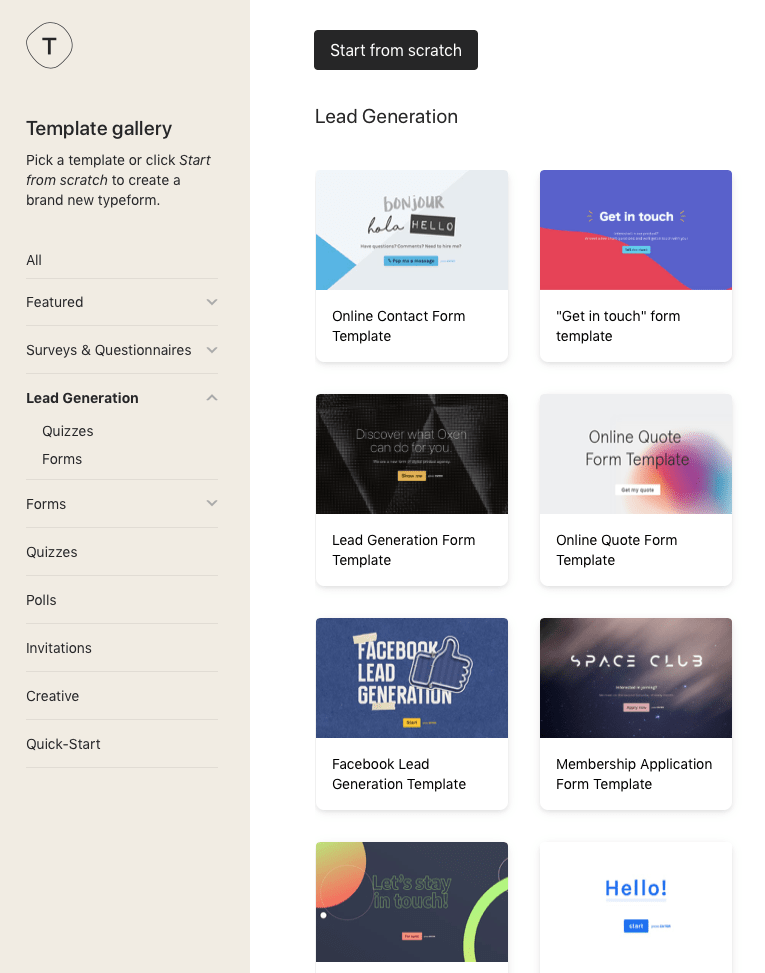 Its beautiful interface does bring a great user experience, which helps it win the title of the best web form builder for increasing conversion rate.
Some other great features of Typeform are:
Responsiveness: It's optimized to fit all devices, from desktop, tablets to mobiles.
Smart Jump shows the next questions based on the answers of the previous ones.
Integrations: it's wonderfully integrated with Google Sheets, Slack, and well-known WordPress plugins like MailChimp, Drip, HubSpot, etc.
Although the tool comes with many powerful features, beginners may find it intimidating due to its compulsory use of code. To build the forms, users must copy and paste the form's shortcode to every post and page. Additionally, you have to upgrade to the most expensive plan to eliminate the Typeform logo.
Price: Typeform does offer a free plan for users. However, if you upgrade to a paid plan, which starts from $35/ month, you can unlock lots of striking features.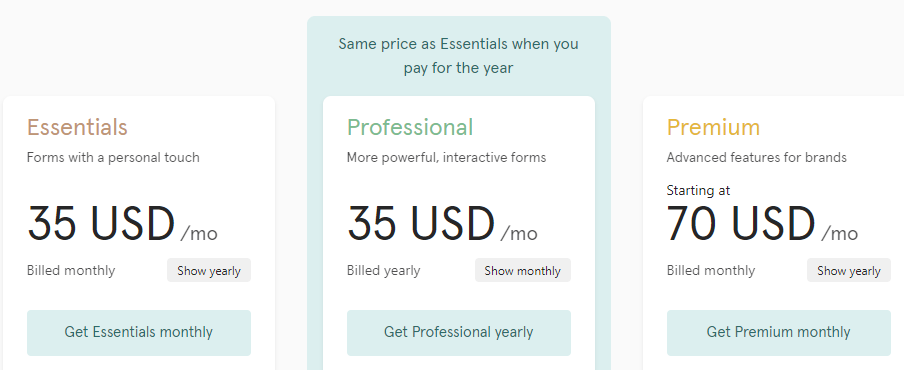 123Formbuilder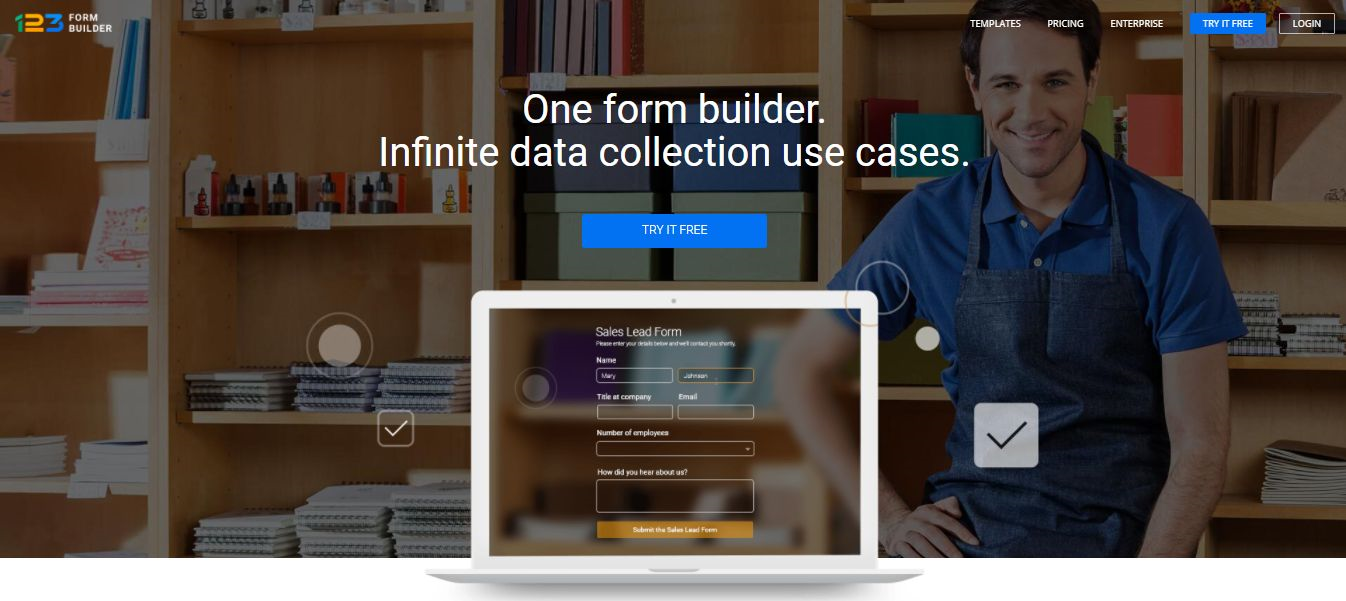 123Formbuilder marks its name as one of the most simple yet feature-rich web form builders in this field. As the name implies, the tool makes the process of creating forms as easy as counting by providing around 2000 ready-to-use templates and an intuitive drag-and-drop interface.
You can create as many forms as you want, from surveys, polls, contact forms to quizzes and registration forms without touching a line of code. For online payment forms, the tool allows you to create custom calculations, add coupons, discounts and customize payment summaries.
With the cross-team collaboration feature, you and your teammates can freely share templates and form themes via an account. The tool is well-integrated with different platforms, such as Wix or WordPress, Mailchimp, Slack.
On top of that, 123Formbuilder allows sending email notifications to three different email addresses, instead of 1 email address like most form builders do. No need to worry about form submission analysis as 123Formbuilder lets you check, edit, customize submission reports. It also supports many analytics tools like Google Sheet, Google Analytics, and more.
This free web form builder secures its forms by offering various Captcha options, password protection, submission, and user IP restriction. Moreover, the tool offers top-notch customer support, with quick and detailed responses through emails, live chat, and a knowledge base.
123Formbuilder concentrates on supporting marketing and admin features for businesses, so it may not be suitable for personal use. The free plan is quite limited because you can only create 5 forms, and each form has only 10 question types.
Price: The basic plan is free. If you upgrade to the paid versions, the price starts from $20.80/ month.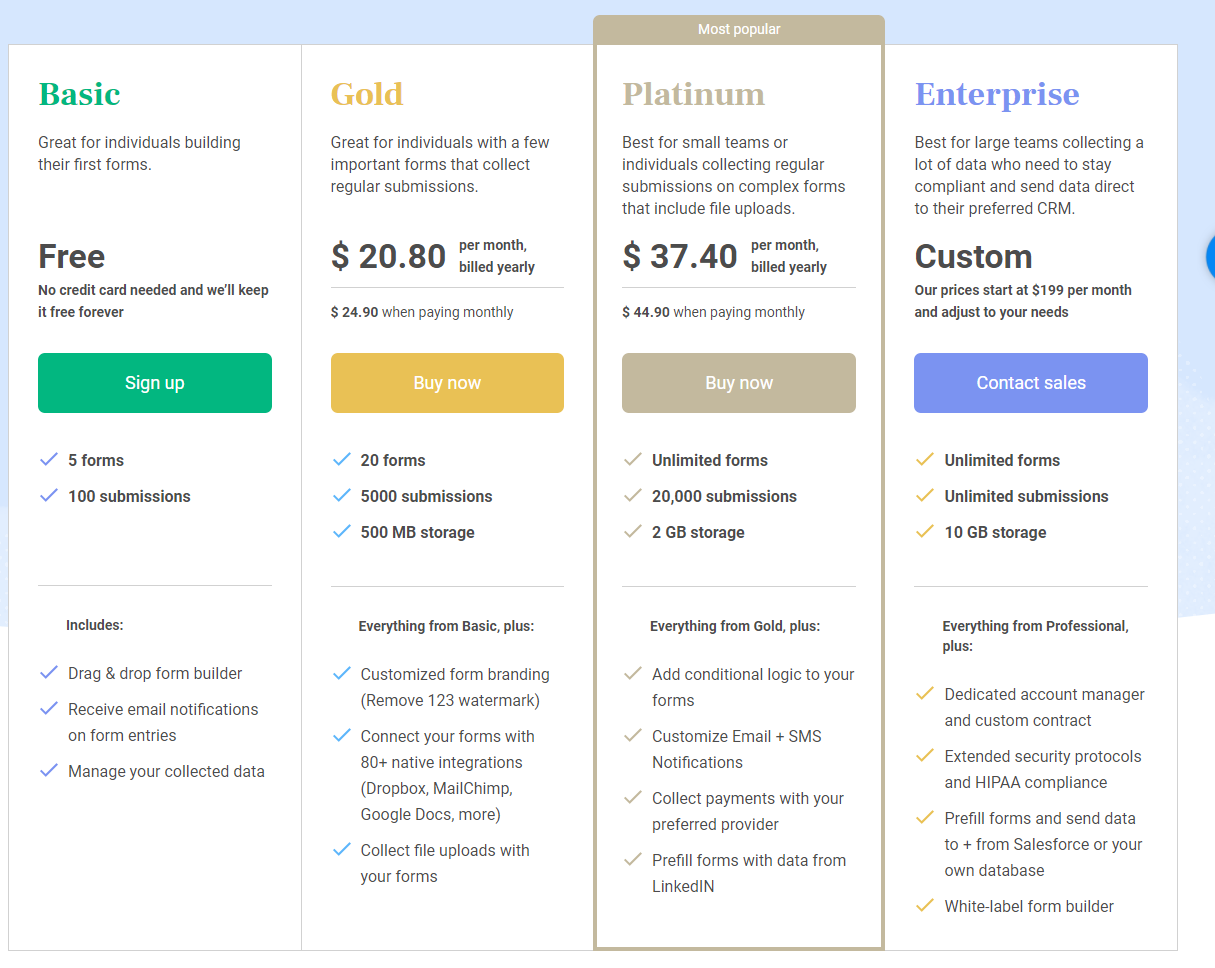 Cognito Forms

Cognito Forms is such an awesome form builder meeting all user requirements: simple, feature-rich, and free. Compared to 123Formbuilder, Cognito Forms offers such a generous free plan to create unlimited forms, 20 form fields per form, and 100 templates.
The template categories vary from customer service, human resources, hospitalities to surveys and marketing, technology, sales, and reporting. The good news is that Cognito's templates are mobile-friendly and easy to custom to match your branding.
Besides, its simplicity has gained lots of praise from users. The tool owns a straightforward interface with a flexible drag-and-drop editor and simple form field settings.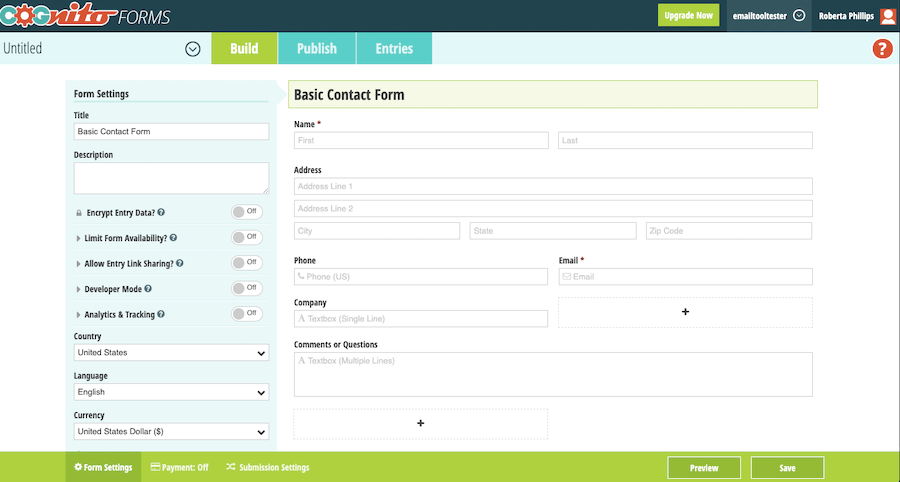 This free web form builder provides multiple publishing options, including embedding codes, and sharing a link via emails or social media. Plus, it comes with a comprehensive feature guide. Support requests can be submitted via email forms and answered during business hours.
Though Cognito Forms boasts tons of advanced features, it still has some drawbacks. Templates are stored and categorized in a big archive, however, there's no way to search or filter templates. This takes you lots of time to seek the template that suits your tastes. Also, configuring the form style may require a slight learning curve because the setting is only available after you publish your forms.
Price: Free for the individual plan. The paid plan starts from $15/month.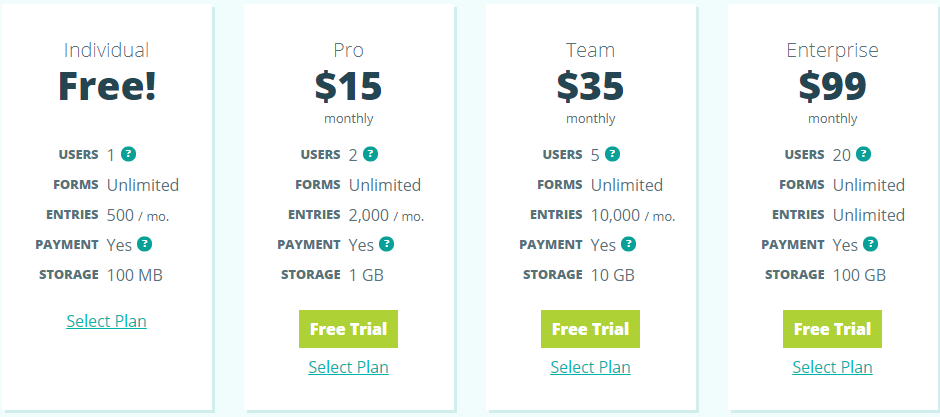 Choose Your Best Web Form Builders
We have provided you with an overview of the 5 best free web form builders in 2021, namely JotForm, Google Forms, Typeform, 123Formbuilder, and Cognito Forms.
Choosing your best form builder is quite challenging because each tool has its own attractive features that allow you to create forms with ease. To make up your mind, question yourself on your budget and particular needs, whether you create forms for personal or business purposes.
From this list, we've found out that:
While 123Formbuilder is good at form creating for business scale, Cognito Forms handles both personal and business projects.
If you're on a tight budget and wish to swiftly create a powerful form, Google Forms is worth considering.
Want to improve your form conversion rate? The uniquely designed Typeform will give you a hand.
And lastly, in case you're looking for a free, flexible, powerful, and customizable web builder, opt for JotForm.
Among the top 5 free web form builders, which is your favorite? Are there any other free web form builders you want to recommend? Let us know in the comment box.