When customers visit your WordPress sites and are interested in the products, they might want to contact you. Then a call service will be a great chance for you to clarify customers' concerns and doubts about the products. As a result, they are more likely to make a purchase. Of course, your sales will also increase.
However, WordPress does not offer that feature by default. You need help from request call back plugins WordPress. It will allow your website visitors to leave their contact information along with a convenient time for you to call them back.
In this article, we will recommend a handpicked list of 5 leading WordPress callback request plugins. Their core features, prices, and differences will also be put on the table.
But first, let's get started with the reasons why we need to add a request callback form to the WordPress sites.
5 Outstanding Request Call back Plugins WordPress
Why Do You Need Callback Request Forms?
Customer service is a key factor determining the triumph or fiasco of a business, especially in today's fierce competition. It helps you build good relationships with customers. Thus, fast and quality customer service will set you apart from your rivals.
If customers receive good service, they tend to come back to you and recommend your products to their relatives and people around them. Hence, you should focus on developing customer service strategies.
When it comes to communication, many customers prefer a phone call to talk directly to you rather than via emails or live chats. Because they find it more reliable and personal.
But the thing is that you might not always be available to take a call. And some customers can be afraid to take the initiative to call. Failing to meet customers' needs in this stage means failing to retain them.
To deal with that, you need a request callback form on your WordPress sites. This will bring convenience to both you and web visitors. They can leave their phone number and preferred time for you to call them back. For example: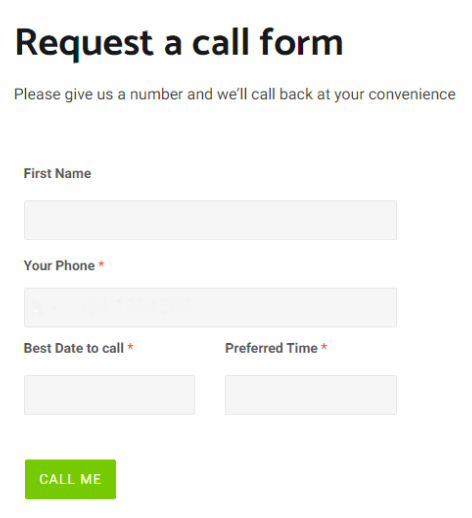 In this way, you are able to have control of your communications. Take the initiative to contact your customers and collect their information without bothering them. In other words, using a callback request form can enhance the efficiency of your customer service, thereby boosting conversion rates.
Below will show the top 5 most recommended WordPress plugins that help you add a callback request form to your sites.
5 Outstanding WordPress Callback Request Plugins
#1 WPForms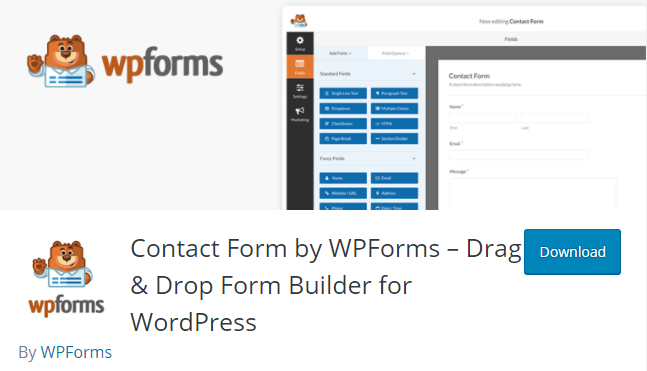 It goes without saying that WPForms is the fastest and simplest WordPress form builder plugin in the world for now. It has received over 5 million active installations thanks to the ability to establish callback request forms, contact forms, feedback forms, payment forms, booking forms, surveys, and other custom forms.
It helps you create a professional good-looking callback request form with a few clicks. What's even better is that you don't need to be tech-savvy to use it. You can simply drag and drop fields to arrange them according to your requirements in a matter of minutes.
Another advantage of utilizing WPForms is that it's mobile-friendly, and optimized for search engine and speed. It not only works fast but also looks great, whether you use a desktop, laptop, tablet, or smartphone.
Rating: 4.9/5 with more than 10K 5-star reviews
Key Features:
Offer pre-built form templates to save your time
Block spam by integrating with hCaptcha and Google reCAPTCHA
Provide form notification to quickly respond to customers
Redirect customers to a custom thank you page once finishing the form
Allow customers to upload media files
Show, hide, and edit fields
Save and restore customers' entered data
Price: WPForms offers a free version. If you want to use more advanced features, upgrade to its premium version whose pricing is ranging from 39.50 – 299.50 $/year.
#2 Everest Forms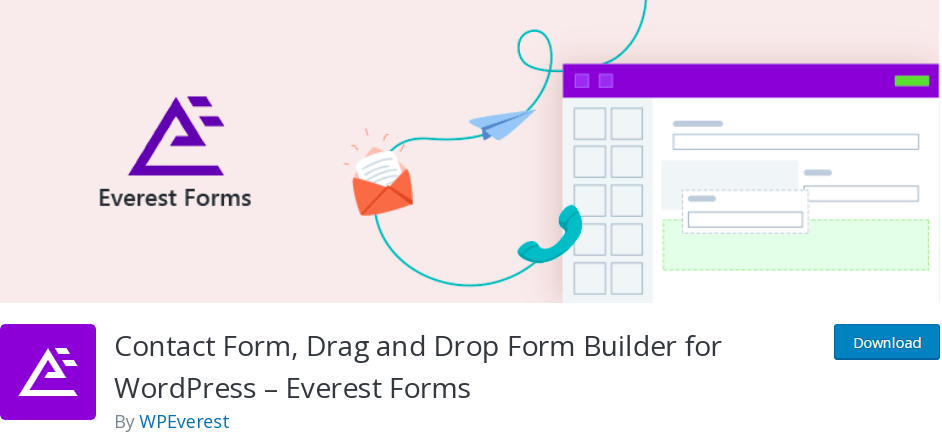 Everest Forms is one of the top WordPress form builder plugins with over 100,000 active installations. It supports you in setting professional forms for your sites to minimize customers' wait times, thereby boosting conversion rates.
Similar to WPForms, it enables you to drag and drop fields to easily create various types of forms for any purpose, without touching any code. It is also compatible with different devices, such as mobiles, tablets, laptops, and more.
However, this plugin emphasizes more on design. If you want to build a user-friendly yet beautiful callback request form, Everest Forms will be your best choice. It's a lightweight and extensible plugin that is suitable for all, from beginners to advanced users.
Rating: 4.9/5 with 274 5-star reviews
Key Features:
Provide pre-built form templates
Add, remove, and rearrange form fields
Create an unlimited number of fields
Allow CSV data export with a click
Offer email notification in real-time and autoresponders
Use Ajax submission form
Avoid spam by Google reCAPTCHA, HoneyPot, and Math Captcha
Price: You can download the Everest Forms free version from the WordPress repository or its premium versions with more features at 48.3 – 199 $/year.
#3 Bazz Callback Widget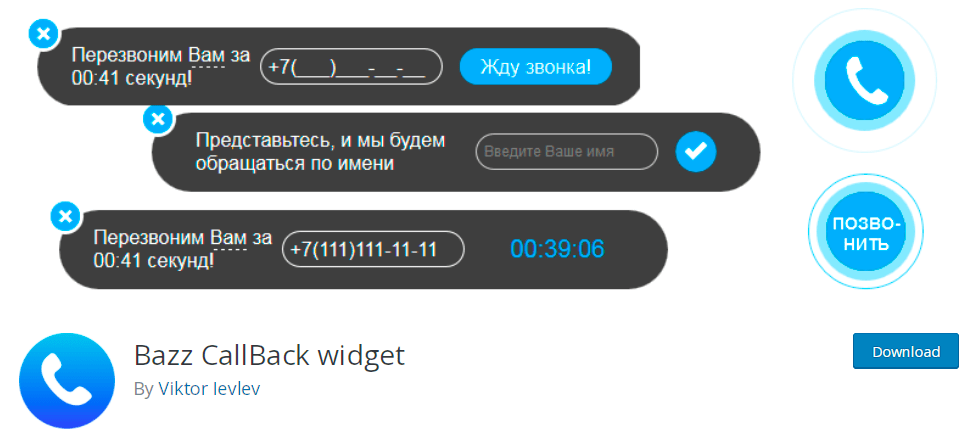 Unlike the two plugins mentioned above, Bazz Callback Widget is specifically designed for callback requests. Users love this request call back plugin WordPress because of its ease of use. And the number of 8K active installations has proved that.
Once you successfully activate this plugin, it will display a small button with a phone icon in the corner of your website.
If customers want to request a callback, they simply need to press the button. A dialog box will appear asking them to enter their phone number and name. Then their information will be sent to your email address so that you can call them back.
Rating: 4.4/5 with 24 5-star reviews
Key Features:
Receive customers' phone numbers via email
Support 15 different languages
Change buttons' color
Show working hours when web visitors can request a callback
Price: Bazz Callback Widget is available for free on WordPress.org. You can also upgrade to its pro version at 23$ for a Regular License.
#4 CallPage
CallPage is another amazing request call back plugin WordPress, receiving trust from businesses around the world. It supports unique features that you can't find in other plugins. That's why its price is much higher than others.
But it's worth the money because of top-notch services and quality. It takes less than 5 minutes to set up, but you can earn an additional 30-125% more leads.
When you install this plugin on your WordPress sites, it will generate a pop-up callback request form. It allows you to call back your customers for free within 28 seconds no matter where they are in the world.
Another special thing is that it has an extremely attentive customer care team. Respond to any of your questions or problems quickly, which sets it apart from competitors.
Rating: 4.7/5 with 24 5-star reviews
Key Features:
Send notifications across emails and SMS
Save lead history
Support performance reports, statistics, and CSV data exports
Allow to schedule calls
Create custom forms
Support call recording and tracking
Restrict calls by blocking countries, IP addresses, and blacklisted members
Integrate with multiple applications and tools
Price: You can try it for free for 7 days, then it will charge from 29 – 379 $/month.
#5 LiveCall
Despite not being as popular as the rest, LiveCall is still worth using. Besides the callback request feature, it enables you to track callbacks and manage your call to customers.
After your customer adds a phone number to the widget, the plugin will automatically call your representative and the customer. It connects them in a single line within a few seconds. That is to say, it helps you respond to customers quickly, and therefore, close deals faster.
If you are unavailable to talk to the customer right away, you can also schedule a callback later.
What makes it stand out is the capability to turn the leaving visitors into your customers. To be more specific, it tracks visitors' mouse movements. When it detects that your visitors intend to leave the website, it will open a pop-up window where they can enter their phone number for a callback.
Rating: 4.7/5 with 6 5-star reviews
Key Features:
Offer free international callbacks
Allow call scheduling and tracking
Integrate with landing pages and Facebook ads
Support multiple languages
Price: Free
Reach More Customers by Request Call Back Plugins WordPress!
A request callback plugin WordPress will help you generate more inbound calls. It also brings convenience to both you and your customers by reducing the waiting time. Hence, you can improve your customer services and boost conversion rates.
This article has recommended 5 incredible callback request plugins for your WordPress sites. Have you made your choice yet? Let's consider carefully and make an informed choice based on the characteristics, price, and features discussed.