Contact form is a reliable means of letting you stay in touch with users. It also contributes to increasing the professionalism of your website.
Creating WordPress contact forms only takes a few minutes. However, choosing the right plugin out of thousand products that lets you freely customize your forms can be tiring.
Aware of that concern, we will take the weight off your mind by bringing the top 7 promising WordPress contact form plugins for 2021 to light.
Today, we will showcase these plugins, as well as highlighting their outstanding features.
Hopefully, by the end of this article, you're able to find out your up-to-scratch contact form plugin.
How to Choose the Right WordPress Contact Form Plugins
There are 5 vital aspects you should look into before weighing up the pros and cons of each plugin.
Ease of use: An intuitive user interface is a major concern since it does help to lower your learning curve and create contact forms more easily.
Features: An excellent plugin will allow you to create multiple types of forms, including contact forms, order and payment forms, registration forms, and so on.
Documentation: The plugin documentation should be extensive and straightforward enough to guide you through its diverse features and settings.
Prices: Will it be worth investing in the long run? You need to carefully weigh the features and value you'll get for the price.
Support: You should consider choosing a plugin that is developed and supported by a reputable team. We recommend you search for their forum and customer services before making up your mind.
Besides these indicated aspects, you need to take into account your form goals, whether you need basic simple forms or fancy forms with file attachments and email subscriptions.
Since you've known what to look for to choose contact form plugins, it's time to figure out prime features, prices, and pros and cons of the top 7 WordPress contact form plugins in 2021.
Quick Summary: Top 7 WordPress Contact Form Plugins 2021
| | | | | |
| --- | --- | --- | --- | --- |
| Plugins | UI | Prices | Active Installations | Documentation and Support |
| WP Forms | Intuitive | From $39 per year | 4+ million | Yes |
| Contact Form 7 | Not intuitive enough | Free | 5+ million | Yes |
| Gravity Forms | Clear | From $59 per site | | Yes |
| Ninja Forms | Beginner-friendly | From $49.50 per site | 1+ million | Yes |
| JetPack Forms | Simple | Free | 5+ million | Yes |
| Kali Forms | User-friendly | From $29 per site | 30,000+ | Yes |
| Caldera Forms | Clean | Free | 200,000+ | Yes |
WP Forms

With over 4 million active installations, WP Forms is, without a doubt, the most favored WordPress contact form plugins in the market.
Its drag-drop online form builder and pre-built form templates help to minimize the hassle related to building and customizing web forms. The plugin allows you to create not only contact forms but any other forms you may think of, such as registration forms, payment forms, feedback forms, and so on in a minute.
WP Forms offers two versions: WP Form Lite (free) and WP Forms Pro (paid). The free version comes with basic features such as basic form fields, captcha for blocking spam, email notifications, and a thank-you page for form confirmations.
If you want to experience its premium features, including conditional logic, file upload, form abandonment, user-submitted content, you need to upgrade to WP From Pro. This also enables you to create various form types and access hundreds of pre-made form templates.
Pros:
There is a free version.
It offers an intuitive user interface.
It's integrated with email marketing services and multiple payment gateways, including Paypal and Stripe.
Documentation, guides, and email support are available.
Cons:
You need to unlock the premium version to use most of the powerful features.
No recurring payment.
Price:
Lite version: Free
Premium version: $39-$299/ year.

Contact Form 7

A chief competitor of WP Form in this field is Contact Form 7. The plugin has confirmed its prominent position by the impressive 5 million active installations in the official WordPress plugin directory.
When it comes to adding the contact form to your site, this WordPress contact form plugin wins points for providing ready-made and pre-configured contact form lists. A major plus for this plugin is that all features are packed in its free version, meaning no paid upgrade is needed.
Captcha and Akismet support are available for spam prevention. A number of free and paid third-party add-ons have been created to enhance this plugin as well.
Pros:
It's completely free.
The plugin comes with extensive documentation and a quick-responded forum.
It works well with all modern WordPress themes.
Cons:
The interface isn't intuitive enough.
Using Contact Form 7 to create or edit forms appears to be a hard task since it requires some basic HTML tag knowledge.
Price: Free
Gravity Forms

Gravity Forms is well-known for its dozens of advanced functionalities and features. It's an excellent solution for creating complex forms with ease, by offering amazing features that all users desire:
Responsive design allows your WordPress contact forms to stay great on any device (mobile, tablet, desktop).
Conditional logic lets you tailor the forms and control user information per your need by showing, hiding fields or sections or pages.
+30 ready-to-use form fields make the process of creating custom contact forms easier.
Gravity Forms says no to spam by enabling Google reCaptcha, Really Simple Captcha, and Akismet options.
Email notifications every time the form is submitted.
File upload enables users to easily submit documents.
This WordPress contact form plugin also lets you perform calculations based on submitted field values.
Pros:
A drag and drop form creator makes it easy to create forms.
The plugin offers a demo and a 30-day-refund guarantee.
It's well integrated with MailChimp, Paypal, Stripe, and Dropbox.
Reliable support: general problems get solved in the forum and email support provided for technical issues.
Cons:
There's no free version.
Its expensive cost does throw a wrinkle.
No monthly or quarterly payment.
Price: $59-$259


Ninja Forms

Ninja Forms stands out as one of the most beginner-friendly premium WordPress contact form plugins. Creating a contact form using Ninja Forms is a piece of cake with a drag-drop user interface.
The plugin is available in two versions: free and paid. While the free version is already filled with basic features that allow you to effortlessly configure your forms such as +27 field types, unlimited forms, customizable email notifications, etc, the premium one will amaze you with tons of striking features.
By becoming a member, you can access a list of add-ons, conditional logic, multi-part forms, file uploads, user analytics, and more.
Pros:
The free version provides a beautiful user interface.
There is detailed documentation, guidance, and email support.
It connects with multiple email services and payment platforms, such as Paypal, MailChimp, Stripe.
Cons:
The extensions going with the plugin are quite costly.
It lacks pre-built contact form templates.
Price: The core plugin is free. However, if you want to make the most use of it, you need to upgrade to the premium version. The price starts from $49.50/ site.


JetPack Forms

If you're looking for a free yet versatile plugin, Jetpack Forms is undoubtedly a great choice. The plugin has received lots of appreciation from the WordPress community thanks to its all-in-one feature package. It includes everything, from caching and anti-spam support, to sites stats, reports, and social media tools.
Once you're done installing and activating the plugin, the "Add contact form" button will appear on the top of every page and post editor right off the bat. This makes the process of creating a contact form more convenient compared to other plugins, for example, Contact Form 7, in which you need to use the HTML tag.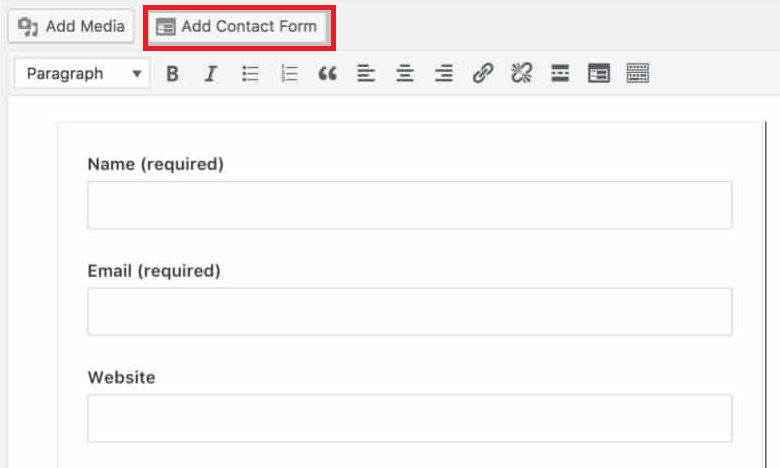 Moreover, with JetPack Forms, you can create as many contact forms as you wish. You also customize the email addresses to which the email notification will be sent. Because of being built by Automatic, it's seamlessly integrated with WooCommerce stores. There is no surprise that this WordPress contact form plugin has gained over 5 million active installations.
Pros:
It's free and has a quick setup.
The user interface is clean and simple.
It's integrated perfectly with Stripe, Paypal, MailChimp, Google Analytics, and Cloudflare.
The plugin is well-known for an incredible support team.
Cons:
The only downside is that its features are pretty simple and bundled in one plugin, which sometimes slows down the site.
Price: Free
Kali Forms

The list won't be complete without mentioning the powerful and user-friendly Kali Forms.
A key benefit of choosing this plugin is that its drag-drop form builder and built-in form templates help us create any forms in a minute without touching any code. All the form types are mobile-responsive, which means they always look awesome across all devices.
There is no chance for spam if you use Kali Forms, as the plugin is combined with Google reCaptcha and honeypot system.
The user interface is quite straightforward. (see the attached image below)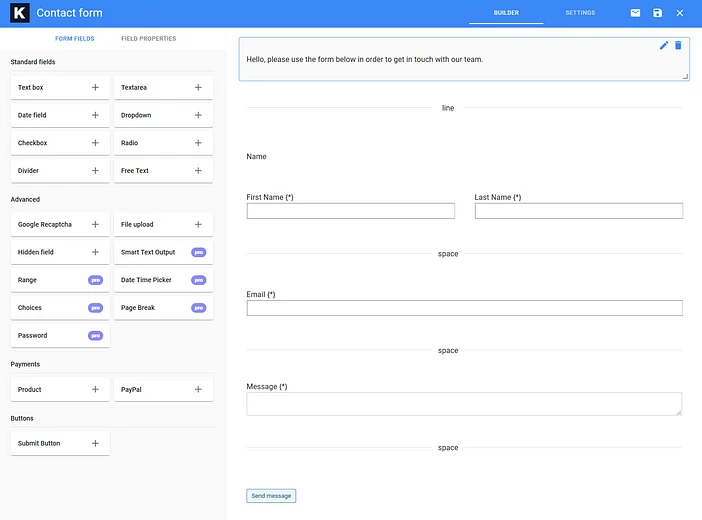 On top of this, the conditional logic functionality is built right in the core plugin with no additional extension install requirement, which makes creating advanced forms easier. The outdated core isn't a big deal to Kali Forms as it's built on React.
Pros:
It supports a wide range of form fields.
It has an intuitive user interface.
The plugin provides extensive documentation.
The price is reasonable.
Cons:
There are no free versions or trials.
Price: start from $29 per site.


Caldera Forms

Another free WordPress contact form plugin that has earned widespread praise is Caldera Forms.
While the premium version is expensive, most users find its free version powerful enough to create a perfect contact form. It includes conditional logic, unlimited and fancy fields, file uploads at the drop of a hat. This is quite generous compared to WPForms or Gravity Forms, as they often lock these features behind premium versions. Honeypot and Captcha systems are also added to ward off spam.
With the paid extension, you can unlock these significant features: email service and payment integration, SMS notifications for form submissions, etc.
Pros:
All Caldera forms are responsive.
There's a powerful free version.
The plugin provides comprehensive documentation.
Cons:
Novice users may take time to get familiar with the plugin as the user interface is a little bit complicated to perceive.

While the plugin offers excellent support for the paid users, the forum support for free users isn't so active.
The add-ons to extend its functionalities are quite expensive.
No recurring payment for the paid version.
Price: start from $49.50 per year for the paid version.


Which is the Best WordPress Contact Form Plugins for Your Site?
We've guided you through the list of the top 7 WordPress contact form plugins in 2021.
Among these plugins, WP Forms sticks out to be a feature-rich, easy-to-use solution that allows you to go the extra mile in building custom contact forms.
In case you'd love to build a simple form without spending a dime, let's consider Contact Form 7, Caldera Forms, and JetPack Forms.
While Ninja Forms is an ideal pick for advanced web form functionality, Kali Forms is a wise investment as it enables you to handle all form types, from simple to complicated with ease.
And lastly, opt for Gravity Form if you're in the money and would like to create complex forms with beautiful templates.
Which of the plugins above would you prefer? Are there any plugins you would like to add to this list?
Drop a line in the comment section below if you have any questions about our top 7 plugins or any favorite contact form plugins to recommend.