If you're searching for a solution to accept files on your eCommerce stores, this article hits your spot!
As a matter of fact, WordPress doesn't include any built-in file upload function. Therefore, you need to seek help from plugins to handle this task.
In this article, we'll highlight the top 5 must-have WooCommerce file upload plugins for 2021. Before diving into the main part, let us spell out why your stores need a WooCommerce file upload plugin.
By the end of this article, you'll know:
Benefits of Using WooCommerce File Upload Plugins
File upload plugins allow customers to upload files during the purchase process. This comes in handy in getting customer information and understanding their behavior.
Firstly, the plugins contribute to improving customer support, which increases their satisfaction. By enabling file upload, including images, screenshots, you'll have a clear picture of the user's problem and bring forward timely fixes.
Besides, you can make use of WooCommerce file upload plugins to serve site management purposes.
Whenever clients have any suggestion in custom stuff, the file upload option encourages them to reach out to the shop admin directly.
All the received file attachments will be easily found in the dashboard, which saves you time and effort from collecting and organizing.
If clients send their files to your email addresses, you may spend a huge amount of time summarizing and rearranging orders, as well as storing related attachments in a tidy way.
Now you know the benefits of using WooCommerce file upload plugins. The next question is which plugins should you choose for your store? Keep on reading to find out the top 5 WooCommerce file upload plugins for 2021.
#1 Customer Upload Files for WooCommerce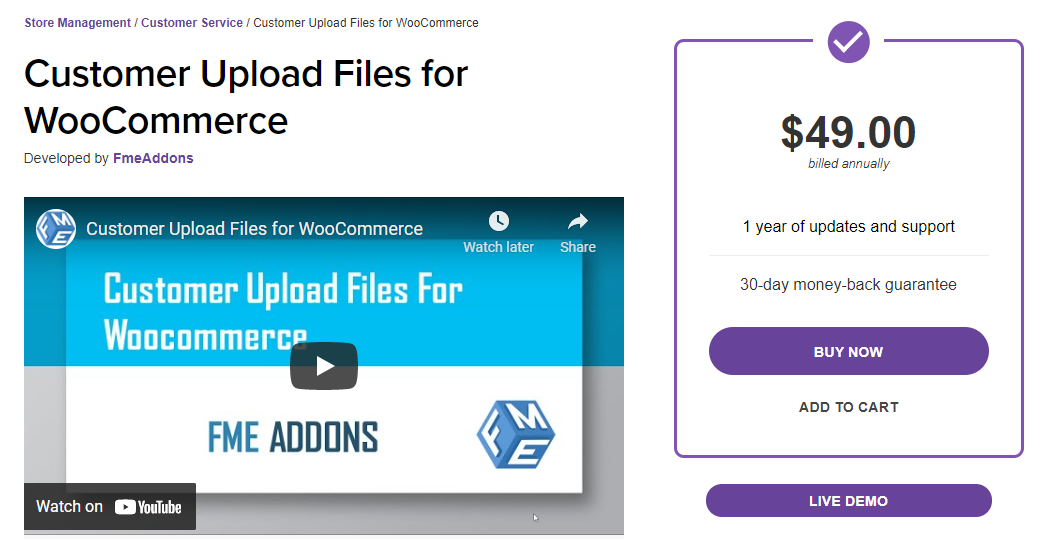 Customer Upload Files for WooCommrece is a premium plugin that helps remove the significant communication gap between you and your customers. It lets you quickly upload your files to your orders if you want to describe any product suggestion or requirement.
You can enable the upload field on product, cart, and checkout pages. Plus, you're free from setting up permission on a single file upload or multiple ones. Customers can preview or delete files at any time.
In case customers successfully submit their files, you'll see them at the bottom of your order screen. In terms of security reasons, the plugin allows you to restrict the file types and sizes.
Another advanced feature is to limit the upload fields based on specific products, categories, and user roles.
You can also set the price range or discounts on each file upload to boost your store revenues. Customers with any custom requests on the product have to pay an extra fee.
Major features:
Enable the upload field by adding an upload button on a product, cart, and checkout page.
Set multiple rules to configure the file upload options.
Preview or delete the uploaded files.
Manage specific file types and sizes.
Limit upload fields on products, categories, and user roles.
Charge extra fees or offer discounts for additional file uploads.
Price: $49. The plugin comes with a live demo and a 30-day money-back guarantee.
#2 WooCommerce Upload Files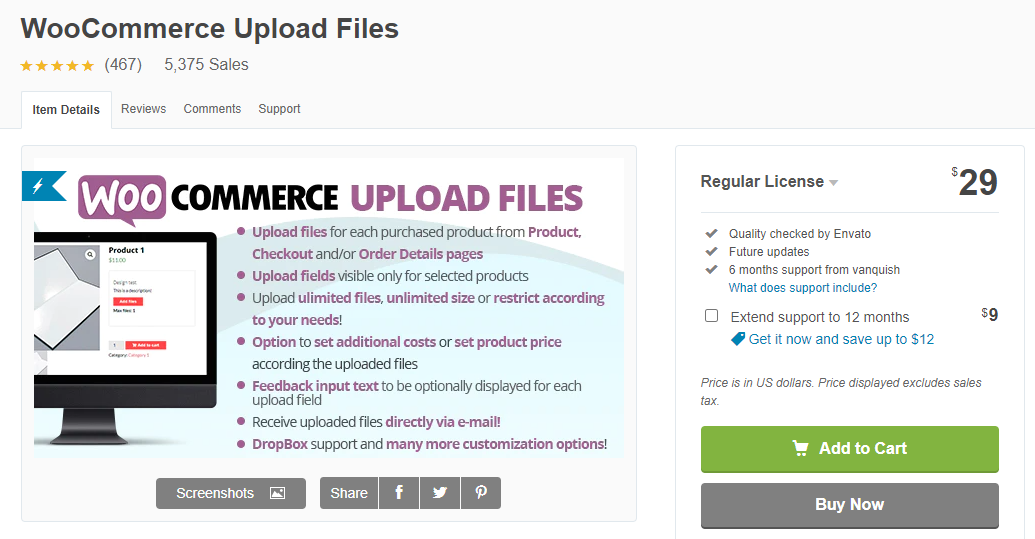 Developed by vanquish, WooCommerce Upload Files is such a feature-rich and straightforward plugin. It's received hundreds of 5-star reviews and more than 5 thousand sales on CodeCanyon, thanks to its features, flexibility, and customizability.
With this plugin, your customers are allowed to upload unlimited files from your product, cart, order, and check out thank you page, with your absolute control on file types and sizes.
Uploaded files will show up directly from the Order page's backend. Alternatively, you will be notified via email address whenever users complete uploading files.
Similar to Customer Upload Files for WooCommerce, the plugin also enables you to charge extra fees or provide discounts per upload for special media files.
On top of that, you can save these files on Dropbox or Amazon S3. Once this option is enabled, all the temporary files will be transferred from your server to the Dropbox or S3 account, as long as your customers save their files on the Order page.
Major features:
Upload unlimited files with no restriction on file sizes.
Allow multiple files for a single upload.
Integrate with Dropbox and Amazon S3.
Crop images before uploading.
Charge extra fees or offer discounts for additional file types.
Set field visibility based on user roles and selected payment options.
Price: $29
#3 WooCommerce AJAXs File Uploads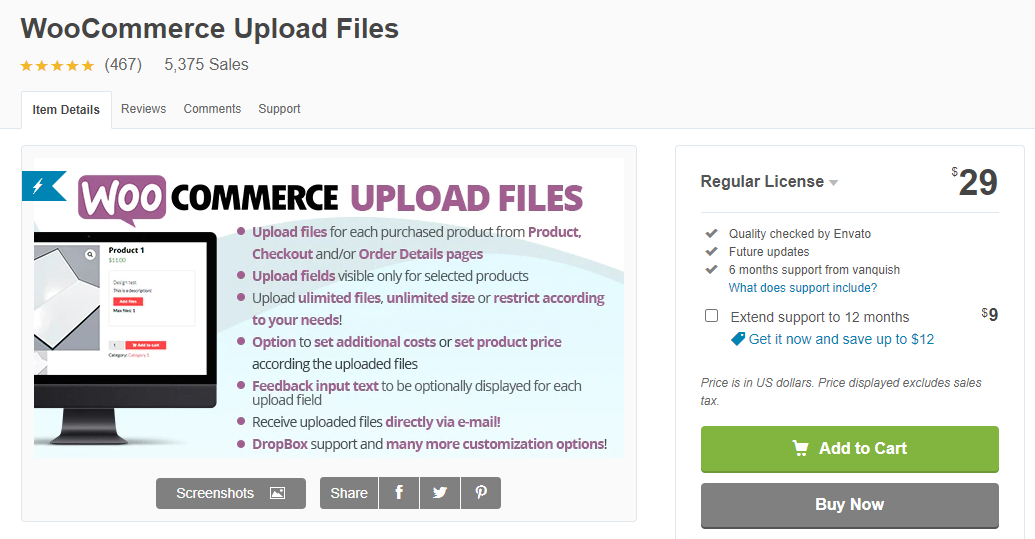 This simple yet powerful plugin will wow you with the ability to accept 600 types of file uploads of any size at the product level, including variable products.
Instead of clicking on a button to select files, the plugin provides an eye-catching box on the page. Customers/Buyers can drag and drop their files into that box to upload them.
To avoid over upload and spam, you can set the default minimum and maximum uploaded files.
Similar to other plugins above, WooCommerce AJAXs File Uploads possesses all the required features of a file upload plugin, such as:
Limit file types and sizes.
Allow price increment on particular numbers of uploads.
Remove unneeded files before submitting.
View file count and order level.
Download files from the admin order page.
Have AJAX added in the basket, which prevents your online stores from reload and security issues.
What's more, its intuitive drag-and-drop interface deserves a thumb up since it helps users easily navigate through the pages. It works well on all devices and viewports.
Price: $49
#4 WooCommerce Checkout Drag and Drop File Uploads

Another premium we'd love to include in this list is WooCommerce Checkout Drag and Drop File Uploads. This plugin supports uploading files, such as images, patterns before making an order. Customers can freely upload one or multiple files from the product page and shop page.
As the name indicates, the plugin owns a straightforward drag-and-drop interface, which makes using it a breeze.
The setup process can be done in a flash since all you need to do is activate it on your site and configure file upload settings.
What sets this plugin apart is rather than allowing selective display of uploaders and multiple page options, you can ask customers to upload all the products only on the checkout page.
Also, the plugin gains lots of 5-star reviews thanks to customer support and design quality.
Major features:
Allow customers to upload multiple files.
Admin can find the uploaded files directly on the backend order detail page.
Enable validating file types and file sizes.
Set up the minimum or maximum file uploads.
Price: $18
#5 Easy Upload Files During Checkout

This free yet feature-rich plugin is one of the most favored WooCommerce file upload plugins with more than 2,000 active installations in the WordPress plugin directory.
Easy Upload Files During Checkout enables clients to easily attach files with orders during the checkout process. You can insert the uploading button on the cart page, checkout page, and checkout page after notes.
If you want to display the upload button on the product pages, you have to switch to the premium versions.
On its setting pages, you can choose to attach or detach shipping or billing details, protect file links and enable uploading files after login. The plugin also lets you send attachments via email.
Major features:
Specify the file types.
Specify maximum upload sizes.
Limit the image dimension.
Edit caption, error, or success message.
If you upgrade to the premium version, you're able to:
Upload multiple files.
Insert the upload button on the product pages.
Adjust loading animation.
Upload selective products or all products.
Price: Free.
Choose the Best WooCommerce File Upload Plugin for Your Site
This post has mentioned the top 5 WooCommerce file upload plugins for 2021. It's obvious that although they're all well-rounded, there is no one-size-fits-all best plugin.
Among them, we've found that Customer Upload Files for WooCommerce is such a well-designed premium plugin packed with all the striking features that you need.
In case you're on a budget and looking for simplicity, the WooCommerce Drag and Drop File Uploads and Easy Upload Files During Checkout are worth considering.
If you look for a cost-effective and powerful plugin with top-notch customer support, WooCommerce Upload Files won't break the bank.
Lastly, WooCommerce AJAX File Uploads proves such an ideal option for the best combination of price, features, and flexibility.
Install WooCommerce file upload plugins and see how it boosts your traffic and venues. Among these plugins, which one do you prefer?
Do you have any favorite WooCommerce file upload plugins to recommend to others? Feel free to share with us in the comments below!