Call to action (CTA) is the backbone of your websites. Whether you run an e-commerce site or a personal blog, a well-placed and appealing CTA significantly contributes to driving users to take the plunge and improving conversion rate, as well as boosting revenues.
While adding a CTA button to your site is just a snap with the help of various WordPress call-to-action plugins, it's always difficult to consider the best plugin that helps you create eye-catching and effective CTAs for your site.
To save your time from sorting out the wheat from the chaff, in this article, we'll be sharing the 5 best WordPress call-to-action plugins that will take your conversion to the next level.
Types of Call-to-action Plugins
A CTA is a must-have element on your page that encourages or urges users to take the next actions on your site. They can be making a purchase, downloading an ebook, going through your content, signing up for an online course, or simply sharing your masterpieces on social media.
Thereby, call-to-action plugins play a key role in aiding conversions. CTAs can be appeared in various forms, i.e banners, sliders, countdowns, which leads to different types of CTA plugins. Following are some types of WordPress call-to-actions plugins that you may bump into when searching for this term.
Urgency or countdown plugins
Landing page plugins
Popup plugins
Notification bar plugins
Any plugins creating attention-drawing buttons and layouts
Since you know several types of call-to-action plugins, it's time to discover the 5 best WordPress call-to-action plugins for your site.
#1 WP Notification Bar Pro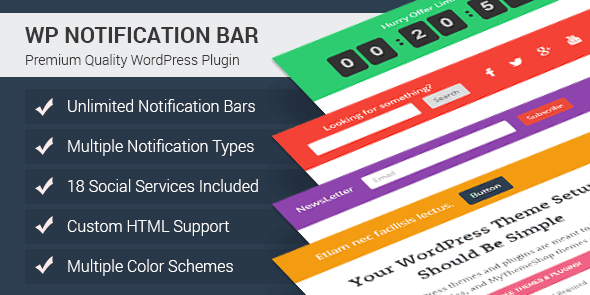 As the name indicates, WP Notification Bar Pro mainly assists you in creating flexible custom notification bars for your WordPress sites.
You'll be amazed at how featured-rich this WordPress call-to-action plugin is by looking at its diverse content options. The plugin allows you to build notification bars with opt-in forms, search forms, post content, social media profiles, and a countdown timer. Along with that, the choices for notification bars and colors are unlimited. You can set high priority status for the most important ones.
With WP Notification Bar Pro, you can target displaying notification bars on certain pages and freely hide them based on specific content, devices, and referrers. It also includes A/B testing and analytics to help you optimize your CTA messages and styles.
The plugin offers a free but quite feature-limited version on the WordPress plugin directory. You can give it a try to get to know how it works before opting for the premium version.
Price: starts at $19 per year for a single site.
#2 Thrive Leads

Thrive Leads is a power-packed WordPress call-to-action plugin that helps you grow your email lists and customer base. This plugin allows you to create a wide range of CTA types, such as popup lightbox, notification bars, inline forms, opt-in forms, content lockers, slides-in, and so on.
The plugin comes with a huge collection of pre-designed templates and an excellent visual drag-drop interface. This enables you to create a sleek CTA form in a heartbeat.
To control who and when to see the forms, the plugin offers a set of targeting and trigger rules. For example, you can target your forms to specific content, users, and devices.
For form optimization, Thrive Leads provides you with built-in A/B testing and analytics functionalities. This comes in handy as you can take the guesswork out of generating leads and understand customers better.
Price: The pricing plans are based on the number of sites.
Single site: $67
5 sites: $97
15 sites: $147
Besides, the membership plan which starts from $19 a month (billed annually) gives you full access to all of Thrive Themes' products on up to 25 sites.
#3 Simple Side Tab

Receiving over 10,000 active installations, Simple Site Tab deserves one of the most popular WordPress call-to-action plugins.
True to its name, this free plugin excels in adding a vertical side tab widget to any WordPress pages and posts. The side tab serves as a global CTA. It's sticky and always ready for action since it remains visible no matter how far users scroll down. You can also hide the tab on certain pages.
The plugin lets you:
Edit the CTA messages
Select which pages to link your tab to
Change colors – No limitation on color choices.
Choose fonts – There are more than 7 standard available fonts.
Place your vertical tabs
On top of that, it won't slow down your site as it doesn't include any graphics. All in all, if you're looking for a basic yet effective WordPress call-to-action plugin, Simple Site Tab is indeed a great selection.
The only downside of this plugin is that you can't set multiple site tabs.
Price: 100% free
#4 Shortcode Ultimate

More than 5,5 thousands of 5-star ratings and 800,000+ active installations are enough to prove how popular Shortcode Ultimate is. The WordPress call-to-action plugin is the bee's knees in creating buttons, tabs, spoiler, videos, animations, sliders, and much more for your sites.
It's jam-packed with pre-defined shortcodes and styles that make multimedia, typography as well as the process of formatting and styling much easier. By copying and pasting these available shortcodes in your posts and pages, you can freely build dozens of outstanding CTA types that greatly draw user attention.
Plus, an in-depth knowledge base containing 170 articles and tutorials for troubleshooting purposes are also provided.
Price: 100% free. For extra shortcodes and styles, you can purchase its premium add-ons.
#5 Ultimate Blocks

Another preferred candidate in this list is Ultimate Blocks. This WordPress call-to-action plugin lets you create engaging pages and posts for marketers and bloggers without spending a dime.
The plugin offers numerous awesome options for Gutenberg blocks, including a CTA, social share, countdown, click-to-tweet block, and tons more. All of them are mobile-friendly and customizable in colors, sizes, and fonts.
Unlimited color options are at your fingertips to style your CTA as per your need. What's more, you can change the background of your call to action box as well as the heading and text size.
Regarding ease of use, the plugin owns a to-the-point user interface and simple setup. With these advantages, there is no wonder that it gains over 20,000 active installations on the WordPress plugin directory.
Price: 100% free
Take Action with WordPress Call-to-action Plugins
Attractive CTAs serve as a determining factor in increasing user engagement on your site, as well as boosting conversion and revenues.
This article has shown you the 5 best WordPress call-to-action plugins in 2021. Among them, we find that:
WP Notification Bars – a simple, cost-effective yet powerful in creating notification bars CTAs.
Thrive Leads – a top-notch plugin that's packed with CTA options, design flexibility, solid targeting and triggering rules, A/B testing, and more.
Simple Site Tab – a simple free plugin that allows you to create basic side tab CTAs.
Shortcode Ultimate – a unique plugin that helps you create and optimize the CTAs by using shortcodes.
Ultimate Blocks – a perfect pick for Gutenberg block editors.
Are you currently using any of the WordPress call-to-action plugins listed above? Don't hesitate to share with us in the comment below!