Besides pages and posts, custom post types play a critical component in serving content. They turn your standard WordPress site into a fully-functional system, which can sell products, offer courses, show off testimonials, or collect feedback.
As a matter of fact, WordPress doesn't have any built-in features to create custom post types. You have to create them using codes or plugins.
In this post, we will provide the 5 best WordPress custom post type plugins that greatly help you create, manage, and sort out custom post types and taxonomies.
#1. Custom Post Type UI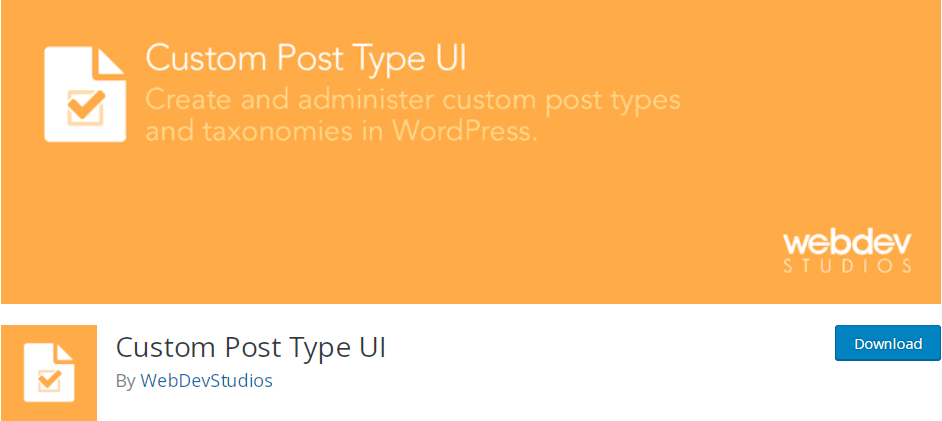 Active installations: 1+ million
Custom Post Type UI is proudly the most favored WordPress custom post type plugin. WordPress users love it since the plugin is bursting with great options and features for free. Plus, its ease of use saves you from steep learning curves. From installation to functions just takes a few minutes.
The plugin supports creating new post types, new corresponding taxonomies, and then editing the existing post types on your site. Besides, you can export your custom posts and import ones on other sites as well.
Pros
Possess a simple-to-use and thorough user interface.
Offer built-in or custom taxonomies.
Support for a wide range of post editor options.
Cons
Lack of numerous available types. You must create them manually.
Not have "adding custom fields" as a built-in feature.
Fail to display registered post types or taxonomies in your current theme
Price: Free. The extended version costs $29 for a single site
#2. Custom Post Type Maker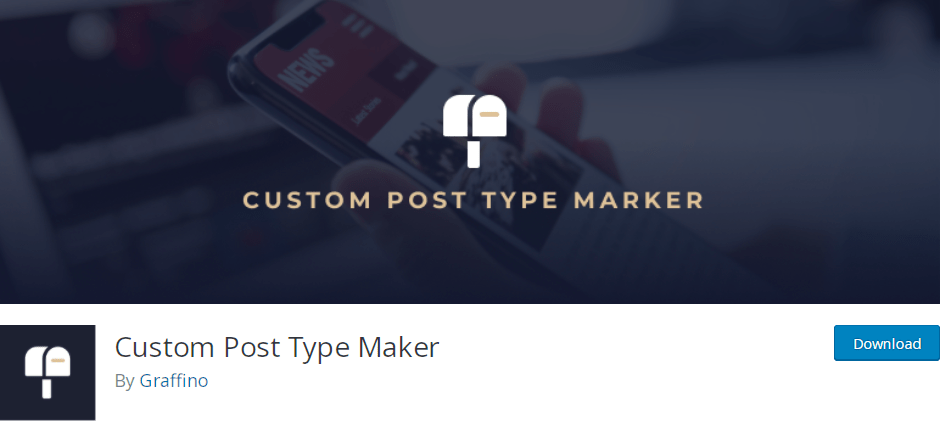 Active installations: 9,000+
Looking for methods to create custom post types in a user-friendly way? Then you should try Custom Post Type Maker.
This simple WordPress custom post type plugin is developed to fulfill its one and only duty – build custom post types, and actually, it's doing an awesome job. It offers 2 main sections: Post Types and Taxonomies.
You can show all the custom post types you've already registered on your site, hide the post type from the menu or search results. Along with that, the plugin gives you control over custom post-type editing options and creates custom taxonomies. You don't need to touch any bit of code but make use of a handy interface.
Pros
Have separate sections for "Post Types" and "Taxonomies" in the user interface.
Allow handling ordinary posts and pages via an interface.
Support setting CPT API's parameters.
Cons
Not frequently updated
Not display custom post types and taxonomies
Price: Free
#3. Custom Post Types and Custom Fields creator – WCK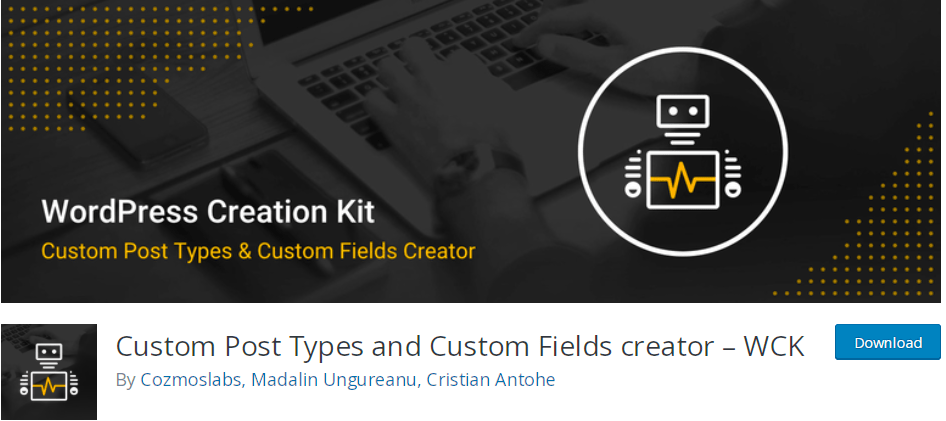 Active installations: 20,000+
Custom Post Types by WCK is another free, easy-to-use, and robust WordPress custom post type plugin that you can consider. WordPress Creation Kit provides 3 toolsets to help you create and manage custom post types, taxonomies, custom fields, and meta boxes for your posts, pages, or custom post types. They include
WCK Custom Fields Creator – Help set up custom meta boxes with custom fields for your posts, pages, or custom post types. Display custom fields using code or Swift Templates module.
WCK Custom Post Type Creator – Come with a user interface for most of the arguments of the register_post_type() function, helping create CPTs easier.
WCK Taxonomy Creator – Build and edit custom WordPress taxonomies using an intuitive UI.
Pros:
Provide all the necessary features that a WordPress custom post type plugin should have.
Come with a Quick Startup Guide on the "General Settings" page.
Enable set up the admin with different post types and themes
Cons:
#4. Pods – Custom Content Types and Fields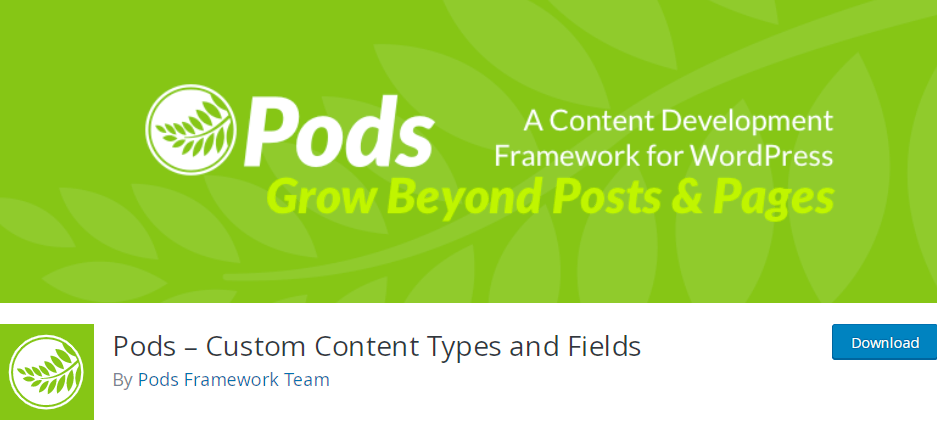 Active installations: 100,000+
Pods – Custom Content Types and Fields claims to control all custom content needs in one place. This plugin excels in quite many tasks, including creating custom post types, custom taxonomies, and custom settings pages.
Along with that, this plugin can extend and customize your Posts, Pages, Categories, Tags, Users, and Media without any fuss. By and large, it gives you the power to go beyond the basic WordPress pages and posts and facilitate forming content types evolving with your needs.
Pros
Offer a straightforward user interface.
Include custom fields in custom taxonomies.
Allow creating Advanced Content Types with their own database tables.
Seamlessly integrate with Polylang, WPML, Gravity Forms, etc.
Cons
Need a while to figure out how to enable all the essential features
Price: 100% free
#5. Post Types Order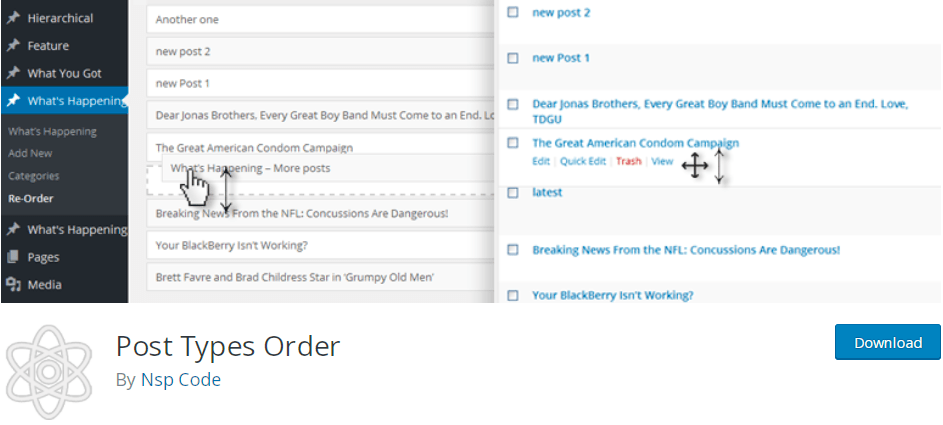 Active installations: 600,000+
True to its name, Post Types Order doesn't create any custom post types but specializes in arranging post types. Using it, you can reorder or sort posts out for any posts, including the WordPress default ones, and custom post types.
Post Types Order makes everything look easy thanks to its drag and drop user interface. You can re-order your taxonomies also.
Pros:
Simple to use
Offer a drag and drop UI
Reorder taxonomies and posts in custom post types and default posts
Cons:
Price: Free
PPWP Pro – Password Protect Custom Post Type
Apart from safeguarding unlimited WordPress pages and posts, PPWP Pro is also known as a trustworthy pick for password-protecting custom post types. You can make use of PPWP Pro to secure your WooCommerce product pages, testimonials pages, events, forums, courses, and many more.
To protect your custom post type with PPWP Pro, all you need to do is
Install and activate PPWP Lite and PPWP Pro plugins
In your WordPress dashboard, go to Password Protect WordPress > General tab.

Select the custom post type you want to lock from the Post Type Protection dropdown list.

Save your changes.
Head to the section with the content type you want to secure. In the example above, we'll open the Products section in the admin menu.
Hove the product you plan to lock and click 'Protect.' You can also hit 'Password protect' in the Password Protection column

Generate new random passwords or customize your own ones
That's it!
Which is Your Best WordPress Custom Post Type Plugins?
This post has shown you the top 5 WordPress custom post type plugins 2022. All of them are free and feature-rich, greatly assisting you in creating, managing, and re-ordering custom post types and taxonomies.
Along with custom post types, it's recommended to add custom fields to your site content too. Check out our guide on how to add custom fields to WooCommerce product pages here.
In terms of hiding custom post types from the public, PPWP Pro proves a simple yet effective solution. You don't need to deal with codes but just select the desired custom post types then assign passwords for your design custom posts.
Let's PPWP Pro secure your custom post types now!