"How to become unique?"
"Is there a way to take the checkout process to the next level and notch up sales?"
Whether you run an eCommerce store or monetize your blog as a side hustle, those questions always prove the top concerns. We all understand that standing out from thousands of stores targeting the same niche and audience is no joke.
Fortunately, nothing is impossible. Avoiding the pitfall of becoming a copycat, embracing your stores with your unique personal style as well as smoothening your checkout process, these targets can be solved easily with the assistance of WooCommerce custom checkout field plugins.
Aim to optimize the look and feel of the checkout page and simplify the checkout process, WooCommerce custom checkout field plugins play a crucial element in helping your online stores gaining ground.
In this article, we'll bring the top 6 WooCommerce custom checkout field plugins to the table. Their features, pros and cons, and pricing are also put forward as well.
#1 WooCommerce Checkout Manager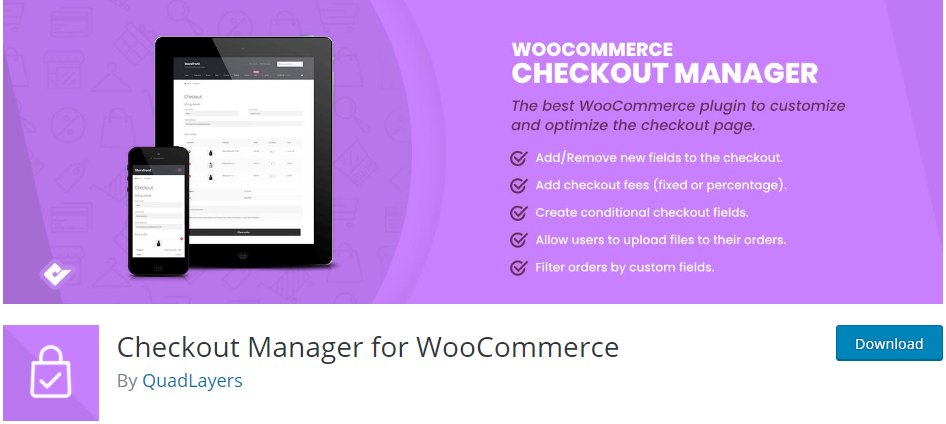 Designed with non-techies in mind, WooCommerce Checkout Manager guarantees to simplify the checkout process, which helps reduce cart abandonment.
This WooCommerce custom checkout field plugin allows you to freely optimize your checkout page per your needs. Adding/removing, reordering fields, and making fields required or optional can be done without any hassle. Along with that, you're able to personalize 15 different types of checkout fields, or even extend the billing data with ease.
Besides, WooCommerce Checkout Manager also lets you upload unlimited files during the checkout process. While customers can manage those files on their account page, shop owners also get the right to view and work with them on the WordPress dashboard.
Some other advanced features are:
Show or hide fields according to parent fields with the Conditional field feature
Provide new values for type, name, placeholder, class, default to edit fields
Add new fields in Billing, Shipping, and Additional fields sections
Integrate with email notification to notify admins anytime buyers complete the purchase
Insert new fees into the checkout page
Support multilingual
Cons: Regardless of its ease of use, the plugin has been spotted with some bugs. Though they were all fixed, users may hesitate to give it a try.
Price: WooCommerce Checkout Manager has a free version with basic features and 3 premium plans with more striking functionalities:
1 Site: $19
5 Sites: $39
Unlimited Sites: $79

#2 Checkout Field Editor by WooCommerce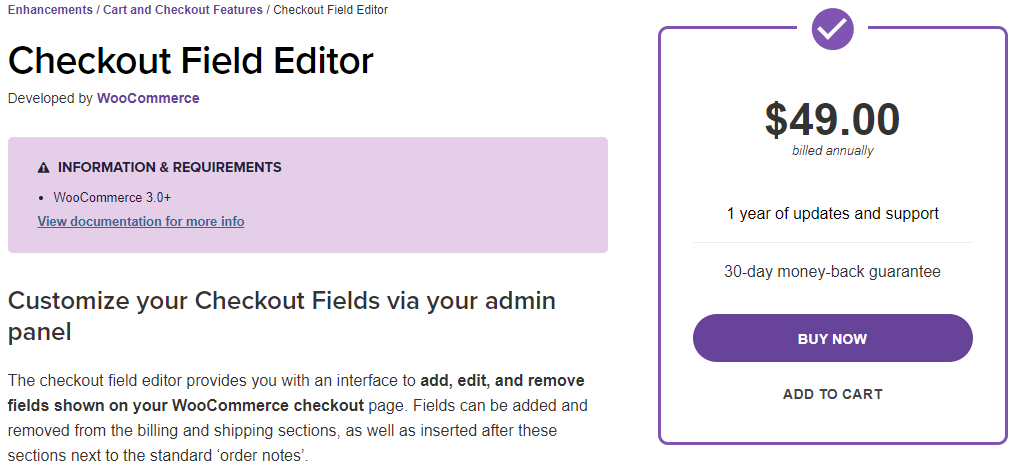 As the name indicates, Checkout Field Editor is created to fulfill the duty of editing checkout fields.
This premium WooCommerce checkout field plugin enables you to include, exclude, or modify any fields on your checkout page. You can add or remove fields to anywhere you like, such as the billing or shipping section.
Apart from that, the plugin supports 4 types of custom fields, namely text, drop-down menus, checkboxes, and date pickers, and so on. Thanks to its to-the-point interface, the process of optimizing WooCommerce checkout fields takes place like clockwork.
Cons: The plugin comes with super-comprehensive documentations which saves you from learning curves. However, it doesn't include any options for file uploads or email notification integration.
Price: Checkout Field Editor costs $49.00 (billed annually) with a 30-day money-back guarantee.
#3 Cashier by StoreApps

Cashier is an all-in-one WooCommerce checkout optimization plugin. The power of 10+ plugins in one plugin at an unbelievable cost. You can purchase it from the WooCommerce marketplace.
One of the major features of Cashier is the Checkout field editor. You can enable, disable, edit or remove the default checkout fields, rearrange them, change labels, reset to defaults and also add custom CSS classes.
Cashier also provides One-page checkout, Direct checkout and One-click checkout using Buy Now buttons.
There are cart enhancements as well like Side cart, Cart notices and Add to cart redirect.
It does not stop here. You also get automatic related product recommendations for upsells, cross-sells, Cost of Goods sold feature and the option to print PDF invoices for orders.
Price: $49
#4 YITH WooCommerce Checkout Manager

Another WooCommerce custom checkout field plugin we would love to include in this list is YITH WooCommerce Checkout Manager. Possessed with many amazing features, this premium plugin is definitely the one you don't want to leave on the table.
Besides the ability to create and add unlimited fields to your checkout page, this plugin also lets you personalize the appearance of every field using its drag and drop user interface. There are 4 different types of fields for you to choose from, including text fields, radio buttons, checkboxes, multiple selects.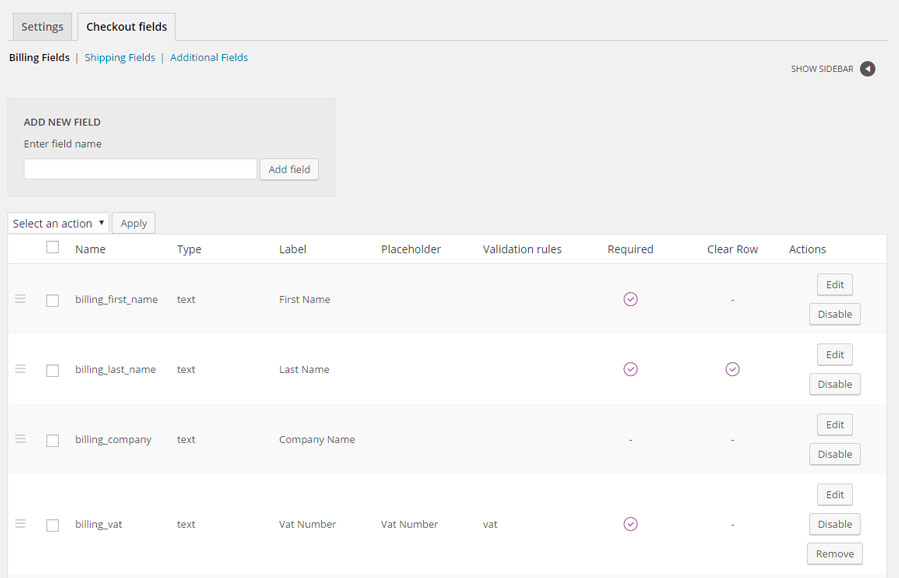 More than that, the Javascript Field Validation feature enables you to check the real-time input in required fields as well as notify users to correct any errors that occur prior to payment.
Cons: It seems like a heavy price breaks the user's bank. Plus, customer support needs to be improved.
Price:
Single site: € 59,99/ year
6 sites: € 179,99/ year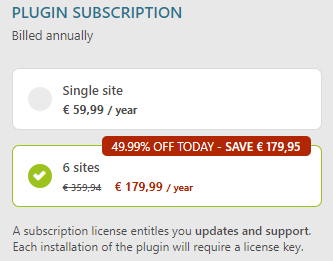 #5 Checkout Field Editor for WooCommerce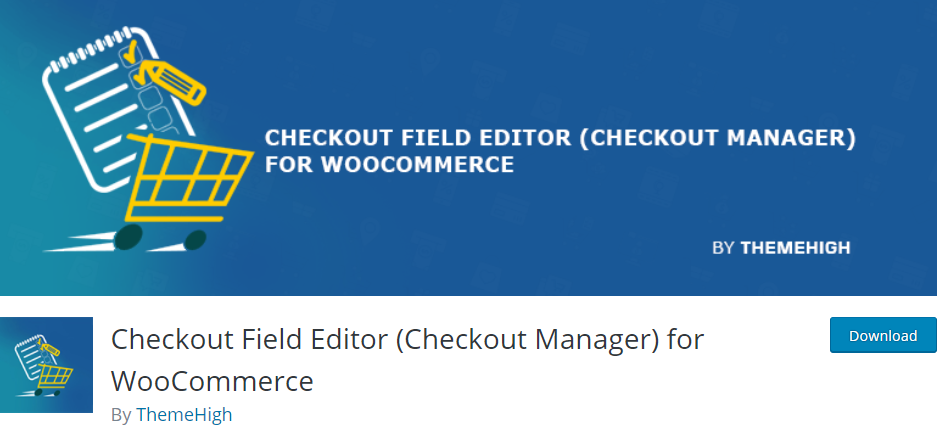 Gaining over 300,000 active installations in the WordPress plugin directory, Checkout Field Editor for WooCommerce emerges as one of the most effective solutions for checkout page customization.
This WooCommerce custom checkout field plugin seems to outshine the same one developed by YITH as it offers similar, or even more features for free. It lets you add, edit, delete, enable, or disable checkout fields without hassle. Additionally, you take over control of which field can be displayed in order detail page or emails.
Other than that, by upgrading to the premium version, you can unlock many more striking features, such as 17 custom field types, custom validations, conditional fields, Zapier support, WPML compatibility, etc.
Cons: Support can be slow and the plugin is a little bit complicated to use.
Price: Checkout Field Editor is a freemium tool. The premium plans start at $49 per year for a single site. All plans come with a 30-day money-back guarantee.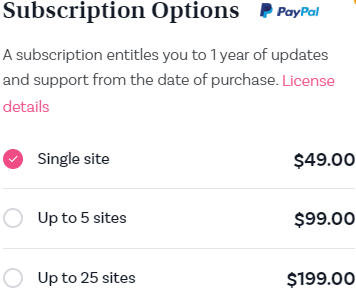 #6 Advanced Custom Field for WooCommerce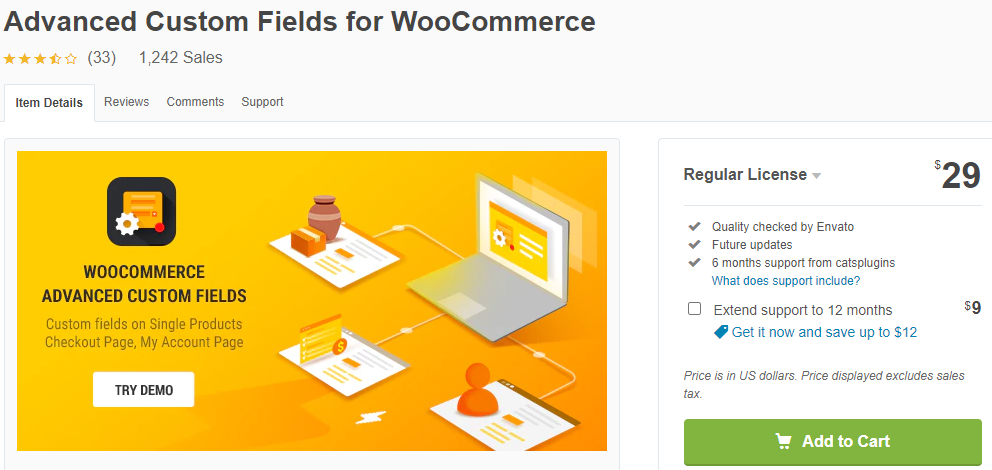 Advanced Custom Field for WooCommerce proves the most feature-rich checkout editor for e-commerce stores. Owned lots of useful features that help tailor your checkout page and improve purchase experiences, this WooCommerce custom checkout field plugin will definitely float your boat.
Not only can online shoppers add some tweaks to the checkout form appearance but also manage multiple custom fields without touching a bit of code. With its drag-and-drop builder, adding/deleting fields or making fields optional is just a breeze.
On top of that, the plugin wins a lot of praise thanks to the ability to customize even products and product pages. As such, you can please customers with a wide range of product options, including gift wrap, custom logo, short music intro, and more.
Cons: Many users bump into problems with this plugin after they update WordPress.
Price: $29
#7 Checkout Field Editor and Checkout Manager for WooCommerce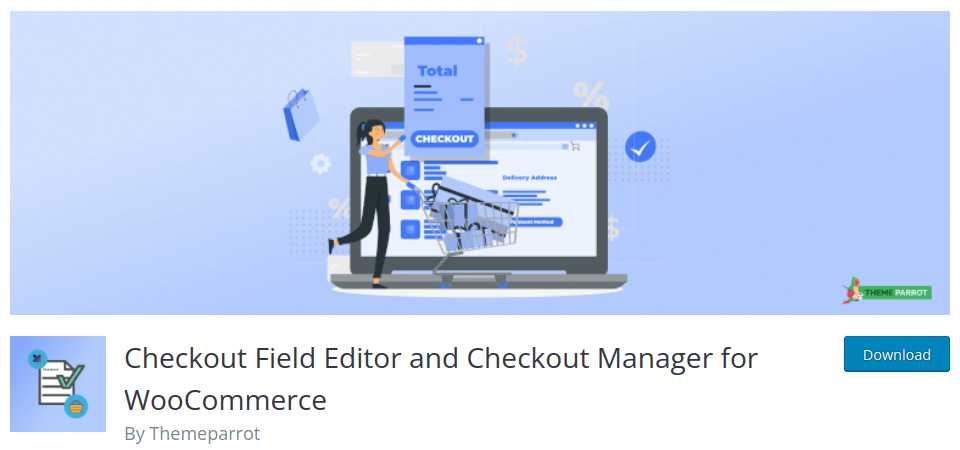 Customize your WooCommerce checkout pages with the best checkout field editor and manager plugin by ThemeParrot. It provides 17+ different custom checkout fields that serve a powerful usage and better functionalities.
You can add, edit, remove and rearrange the custom as well as the default fields. It facilitates automatic field validation. The simple-to-use drag and drop builder eases the work process. Create and place the custom price fields also. You can add radio group, checkbox group, file uploading options, header, text area, date time picker, color picker, and some others on the billing, shipping, and custom sections.
In the settings, you could find so many options that help to optimize your checkout page based on your needs. You can decide the position of the section on the checkout page. So many customizable options are there to explore your WooCommerce products.
Checkout field editor and manager provide a lot of features that are enough for some users in the free version itself. If you want to upgrade and experience more, then you'll go with the pro. You can get a year of support and upgrades with a license.
Price:
● Single Site – $49.00
● 3 Sites – $79.00
● 10 Sites – $129.00
Install and Take Advantage of Their Features Now!
In the vast ocean of million stores out there, making yours stand out to attract customers appears to be a must.
High-quality and exclusive products are important. It's necessary to exude your brand voice and personality and ensure a seamless shopping experience for purchasers too. Fortunately, the right WooCommerce custom checkout field plugins assist you in killing two birds with one stone in a snap.
This article has showcased the top 5 WooCommerce custom checkout field plugins to help you build highly tailor-made e-commerce sites and crank-up conversion rates.
Each of the WooCommerce custom checkout field plugins in our list has its advantages and shortcomings, which meet different needs.
Take their features, your site scale, and budget into serious consideration before making any decision.
Do you know any other checkout field tools for WooCommerce? Let us know in the comments section below!
If you want to dig deeper into the checkout page customization, we recommend you check out this helpful tutorial.