If you are looking for the best WordPress email log plugin, here is where you can find your answer.
There are now countless email log plugins available in the market, either free or paid. So it may take time to research and select the most suitable one for your site.
To help you separate the wheat from the chaff, we've summarized and compared the 7 most popular email log plugins. Their features, distinctive points, and prices will also be laid on the table.
But first, let's find out the reasons why you should log all WordPress emails.
The Significance of Email Logs
Email logs refer to a tool used to display the emails' status on your website whether they are delivered or not. Email logs are beneficial when it comes to troubleshooting email delivery issues or audit order confirmations if you own an e-commerce store.
When emails are sent successfully, all data related to time, subject, email content, recipient name, attachments, etc. will be saved to the email logs.
If emails are not delivered successfully, the email logs will report errors and show failed delivery status. After getting the failed status, you can resend your emails or check the email information whether it is correct or not.
With a complete record, you will stay informed of the overall status of your outgoing emails at all times. Email logs are also important for future analysis and references.
It may take a lot of effort to log all your emails manually. But don't worry. There are several excellent email log plugins to help.
What to Consider When Choosing an Email Log Plugin
Before diving into the plugin analysis, here is a quick comparison of the 7 most famous WordPress email log plugins:
| | | | | | | | |
| --- | --- | --- | --- | --- | --- | --- | --- |
| | WP Mail SMTP | MailPoet | Post SMTP Mailer/Email Log | WP Mail Logging | Check & Log Email | Email Log | Mail Logging – WP Mail Catcher |
| Active Users | 2M+ | 500K+ | 300K+ | 100K+ | 100K+ | 70K+ | 10K+ |
| Sent Status | Yes | Yes | Yes | Yes | Yes | Yes | Yes |
| Email Tracking | Yes | Yes | No | No | No | No | No |
| Attachment Storage | Yes | No | No | No | No | No | No |
| Log Export | Yes | Yes | Yes | No | No | Yes | Yes |
| Email Testing | Yes | Yes | Yes | No | Yes | No | No |
| Multisite Email Logs | Yes | Yes | Yes | No | No | Yes | No |
Let's think about each of these plugins in more detail.
7 Best WordPress Email Log Plugins
In this section, we will review the 7 best WordPress email log plugins, along with their detailed functions.
#1 WP Mail SMTP by WPForms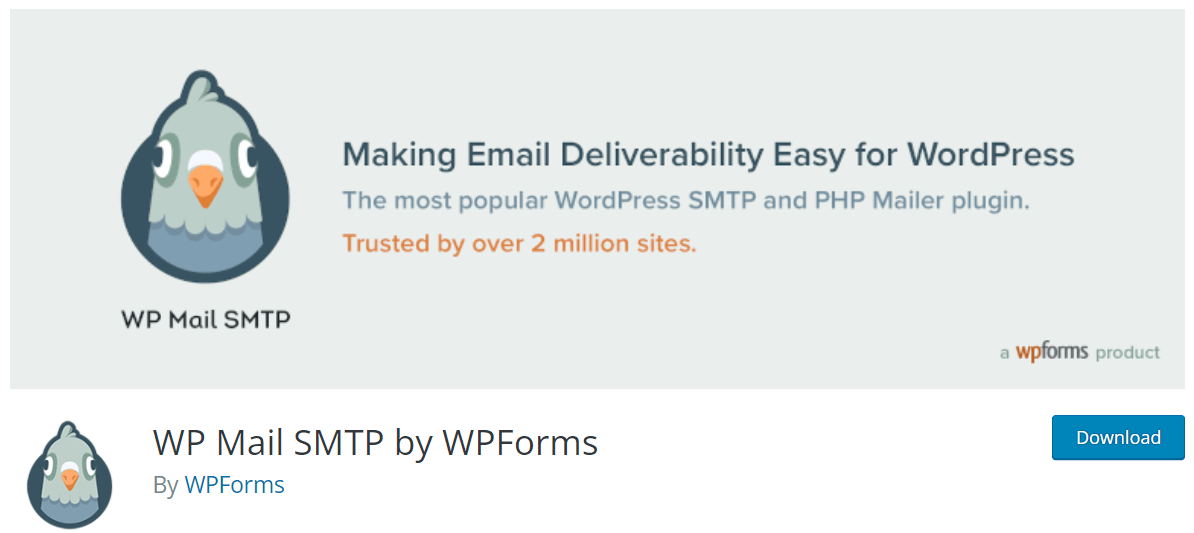 WP Mail SMTP is the most commonly-used WordPress mailer plugin, trusted by over 2 million websites because of its rich features. It helps you not just easily resolve all email delivery problems but also leverage the built-in SMTP mail provider.
The coolest thing is that this plugin enables you to send emails using the mail provider's direct API. So even if your web host blocks the SMTP ports, your emails will still be sent successfully.
Key Features:
Record details about every email sent from your WordPress site.
Create charts of email tracking and deliverability statistics.
Summarize emails' open and click-through rates.
Inform you of the deliverability status weekly.
Integrate with SMTP providers such as SendLayer, SMTP, Sendinblue, Mailgun, SendGrid, Postmark, SparkPost, Gmail, Microsoft, Amazon SES, etc.
Migrate from other email log plugins to WP Mail SMTP with 1 click.
Resend failed emails or forward them to one or more email addresses.
Store email attachments.
Export email logs to CSV, EML, or Excel.
Save and print email logs as PDF files.
View and manage multisite email logs.
Control email notifications.
Price: With the free version, you can only see your emails' status and debug email sending issues if any. We highly recommend using the Pro version at $49/year for most of the advanced functions.
If you find it too technically difficult to configure settings, you should install the Elite version with expert support at $99/year.
In case you create and maintain a large number of websites, there are other premium versions ranging from $99 to $399/year.
#2 MailPoet – Emails and Newsletters in WordPress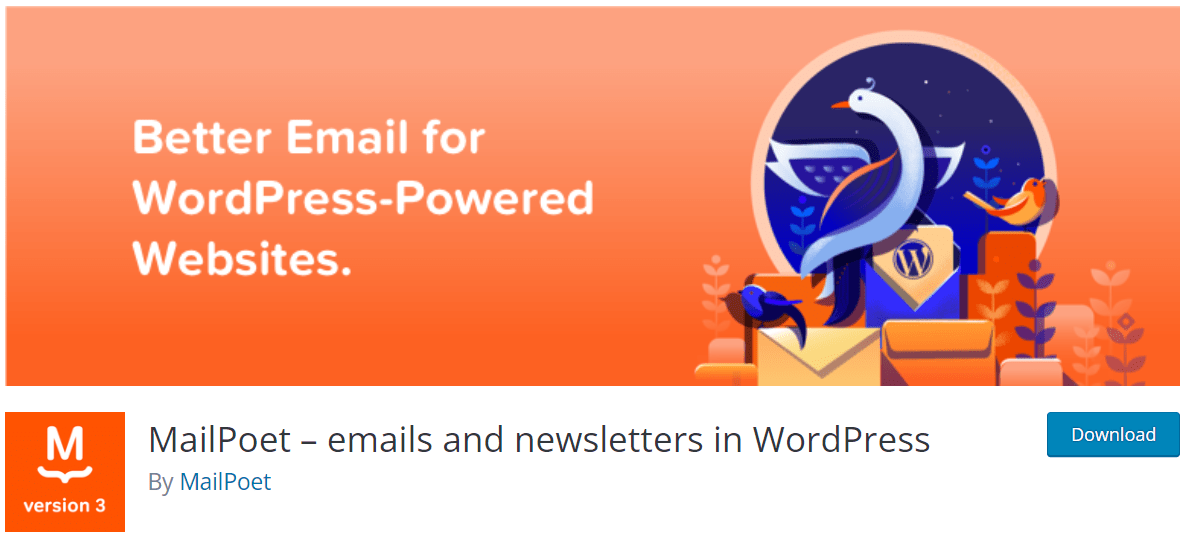 MailPoet plugin is an email solution suitable for both beginners and proficient marketers. It ensures that your emails reach the customers' inboxes every time with its own SMTP mail service. So you don't need to integrate with any third-party mail providers.
What's more, it supports formulating, managing, and growing your email marketing campaigns, all without leaving the WordPress admin dashboard. You can either create beautiful emails from scratch or use the provided responsive templates.
Key Features:
Make sure your emails reach the subscribers' inboxes, not spam boxes.
Report the deliverability of every email.
Track open and click-through rates.
Automatically delete email addresses that are no longer in use.
Allow importing subscribers from a CSV file.
Set up, schedule, and send emails, newsletters, and blog post notifications.
Provide over 50 pre-designed email templates.
Create mailing lists with customizable signup forms.
Segment the mailing lists and deliver tailored content to subscribers.
Price: The Starter plan doesn't cost a penny if you have 1,000 subscribers or fewer. In case you have a larger list or require advanced functionality and statistics, consider using premium plans ranging from €8 to €30/month.
#3 Post SMTP Mailer/Email Log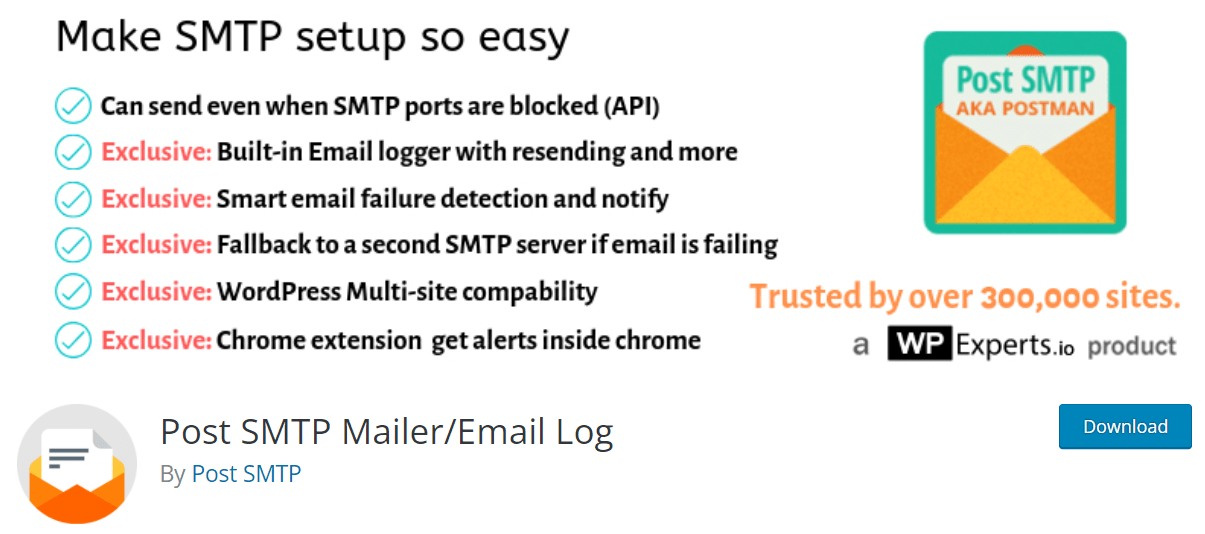 Post SMTP Mailer is a next-generation WP Mail SMTP plugin that assists in email deliverability. It is the first and only plugin supporting the latest security standards, OAuth 2.0. You don't need to store your email password in the WordPress database where it might be found.
Post SMTP replaces the default WordPress SMTP library, PHPMailer, with the heavy-duty Zend_Mail. So you will never lose an email to PHP mail again.
Key Features:
Log, read, filter, and check the status of delivery.
Diagnose server issues with commercial-grade Connectivity Tester.
Detect the exact cause of failed emails and resend them.
Get notified about the problems inside your Chrome.
Support international alphabets, HTML Mail, and MultiPart/Alternative.
Enable forced recipients (cc, bcc, to) and custom email headers.
Support Plain/Login/CRAM-MD5/XOAUTH2 authentication.
Integrate with SMTPS and STARTTLS (SSL/TLS).
Work well with all plugins that use the WordPress API wp_mail to send mail.
Price: Free.
#4 WP Mail Logging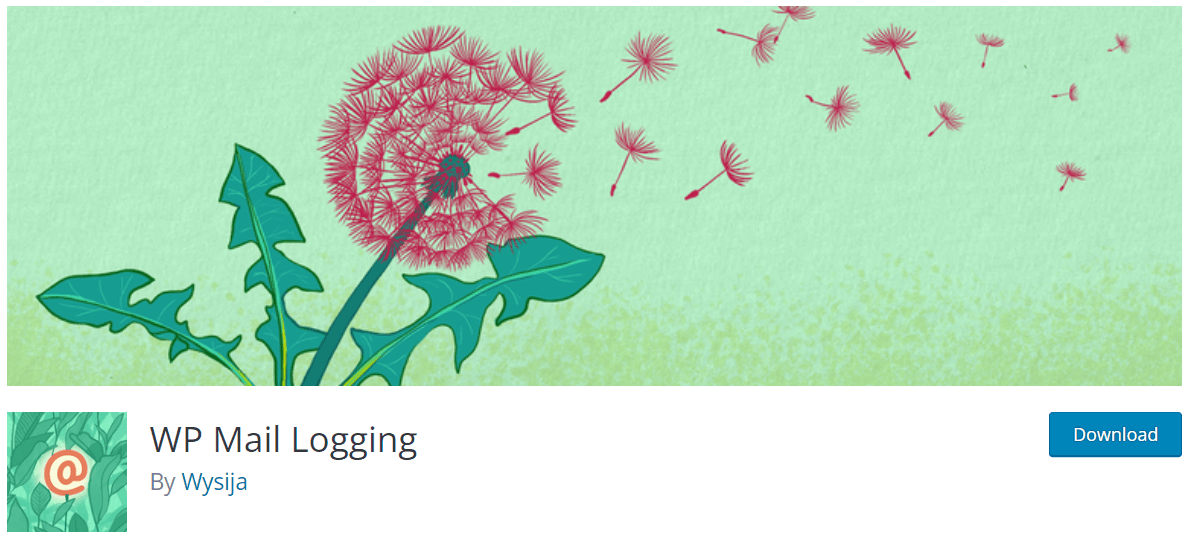 WP Mail Logging comes as the simplest and most lightweight WordPress email log plugin. It's built only for email logging so it won't take much space in the PHP memory limit.
All you need is to simply activate the plugin and it will work immediately, no configuration is necessary.
Key Features:
Log emails sent from your website.
Report error statuses.
Show the attachment count within each email.
Work perfectly with WooCommerce, The Event Calendar, Gravity Forms, Ninja Forms, Contact Form 7, Wordfence, and many more plugins.
Price: Free.
#5 Check & Log Email

Check & Log Email plugin helps you store sent emails for auditing purposes and debug email errors in your WordPress site. It works best on e-commerce websites that have been integrated with WooCommerce or Easy Digital Downloads.
Unlike most free email log plugins, Check & Log Email enables email testing so you can make sure that your emails are actually being received.
Key Features:
Allow test email sending.
View and filter logged emails based on subject, email, date, etc.
Delete logged emails by date, email, or subject.
Change the "mail from" email address, "mail from name", and override default email WordPress addresses.
Price: Free of cost.
#6 Email Log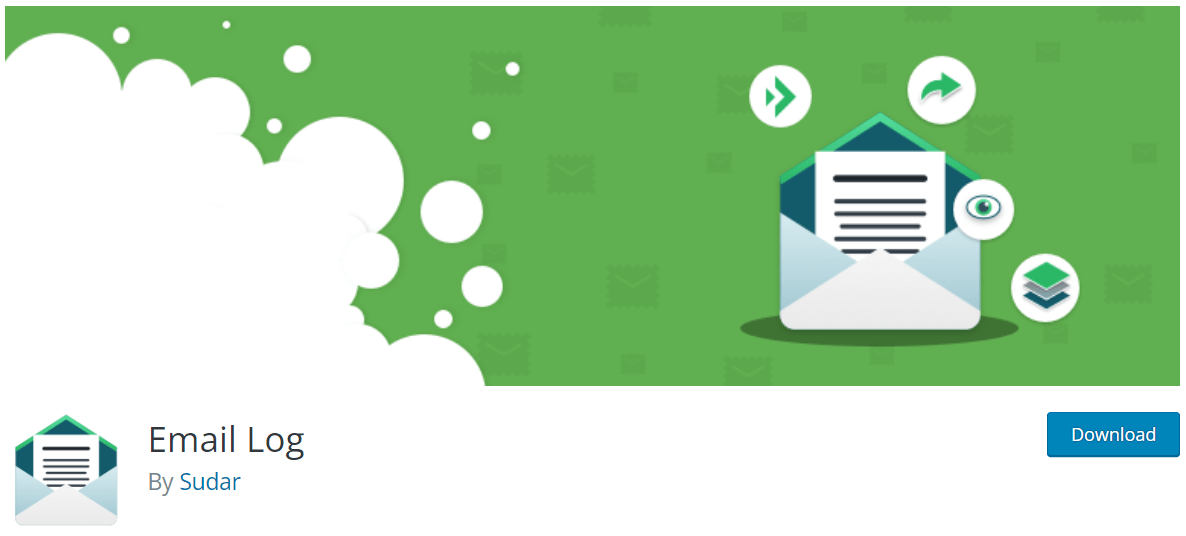 Another simple-to-use plugin calls the name of Email Log.  It allows you to easily log and view all emails sent from your WordPress site.
This plugin would be beneficial for debugging email sending problems and storing delivered emails for auditing purposes. It integrates perfectly with e-commerce sites, especially those which are set up with either WooCommerce or Easy Digital Downloads.
Key Features:
Store and filter email data based on the date, email, subject, etc.
Automatically delete the email logs after some days.
Resend the email directly from the email log.
Modify different email fields.
Display additional fields in the email log page such as From, CC, BCC, Reply To, Attachment, etc.
Forward emails.
Export email logs as CSV files.
Clean up the database and options after being uninstalled.
Price: Email Log is free, coming with the basic email log function. You can upgrade to premium packages varying from $49 to $199/month to experience more advanced features.
#7 Mail logging – WP Mail Catcher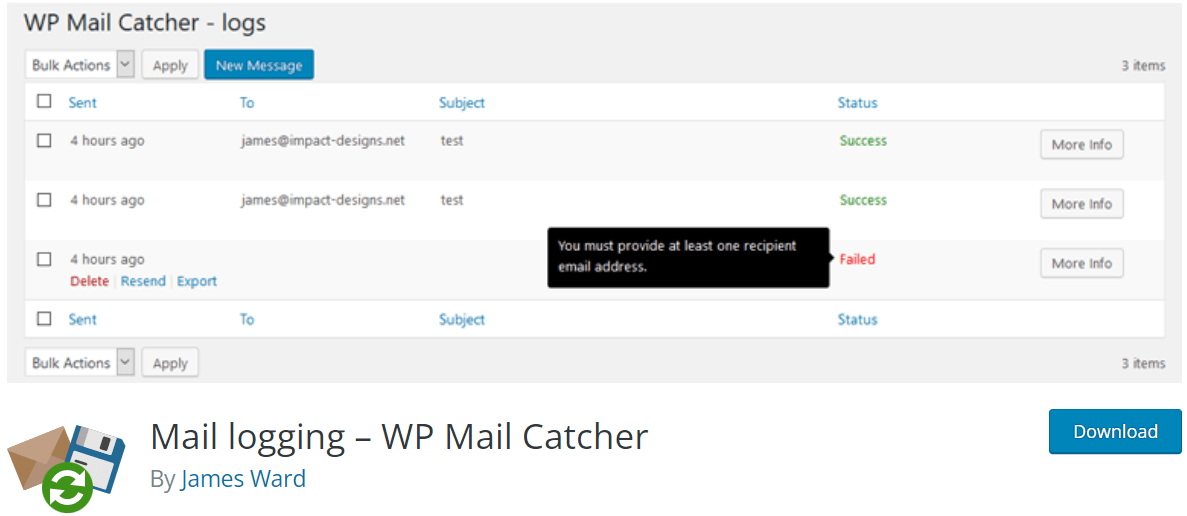 Mail Logging will stop your emails from being lost again. It is also useful for debugging and backing up your messages.
Your job is to install and activate the plugin. Then all of your contact form emails will be logged and saved to the WordPress database with no additional configuration required.
With the support of this plugin, you will be able to view and manage all your form submissions through the default WordPress interface. In case an email fails to be sent, you can resend the backed-up email with just a single click.
Key Features:
Immediately find out if the contact form submission was successfully sent.
Bulk export email logs as CSV files.
Control what user permissions can see the logs.
Resend emails in bulk.
Define which file and code line was responsible for sending the email, along with any errors encountered.
Clear email logs out at a specified time or keep them forever.
Create new emails with the WordPress controls.
Send emails out directly from the WordPress interface.
Support attachments.
Price: Completely 100% free, no premium add-ons.
Choose an Email Log Plugin That Best Suits Your Needs!
This article has analyzed 7 excellent WordPress email log plugins, along with their main functionalities and exclusive points. We hope that it helps you find your bestie.
Now that you've determined your email log plugin, why don't you pick a newsletter plugin to strengthen your email marketing campaigns?
Read our blog about the 7 best WordPress newsletter plugins.