Whether you're a travel blogger visiting places around the world, a business with multiple locations, or a real estate agent showing the essentials of a neighborhood, maps are a great way to enhance your website.
It always makes sense to include a map on your website for customers to find your event venue, to show where your business is located, and for other geographical purposes.
Interactive web maps allow you to utilize an online map to select points of interest, enter coordinates, or toggle layers on and off. On these maps, you can zoom in and out and navigate the area as you wish. The details shown on the map makes your maps accessible so everyone can interact with them.
In this article, you will find a lot of useful information, from the benefits of an interactive map to how to add one to your site with the help of a plugin. Want to learn more about an interactive map? Read on!
Why Add an Interactive Map to Your Site?
Adding an interactive map to your site can bring fruits. You will receive many benefits of site traffic and customer satisfaction. Let's list a few items:
A map helps customers or website visitors get directions to your business and saves them opening a new browser window, leaving your website, and groping directions.
Customers can use the map on your website directly.
It's possible for visitors to find your business contact information. The data provided by an embedded Google Map contains business address, phone number, website, directions, reviews, and review stars.
Visitors can refer to nearby areas if they're not entirely sure where your business is located.
The map can also keep visitors on your site longer.
If you want to gain all these pluses, let's see how you can insert an interactive map to your site.
How to Add an Interactive Map Using a Plugin
There are several ways to add interactive maps to your site. The most common one is creating interactive maps with Google Maps and adding them to your site. However, this road lacks certain features and is limited to Google Maps.
One of the easiest and fastest ways to have interactive maps is to use plugins. We choose the Maps Marker Pro plugin to illustrate the installation process. Let's take a look at this plugin first, then move on to the steps to add the map to your site.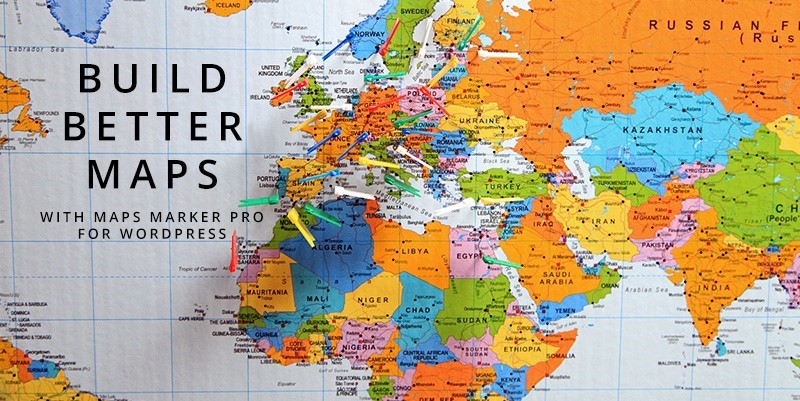 With the most basic function of Maps Marker Pro, you can make a marker for the geographical location you choose, use one of over a thousand symbols to represent that area, and establish a link for instructions. A pop-up window can be applied to display more text.
Features:
You can embed maps in pages, posts, templates and widgets using shortcodes.
Screen icons can be customized.
You can choose any map you want, including Google Maps, Open Street Map, Bing, Mapbox and custom WMTS maps.
You can generate QR codes of your maps, add to packaging etc.
Pricing: All of these features and more are available in the one-time license.
The standard price for one domain on the Personal plan is available for $49. Five domains are supported on the Plus plan for $149. And the Professional plan offers support for 25 domains at $164. Although each license costs you the one-time fee, updates and continued support are attached.
You can test out each plan by activating a 30-day trial before purchase.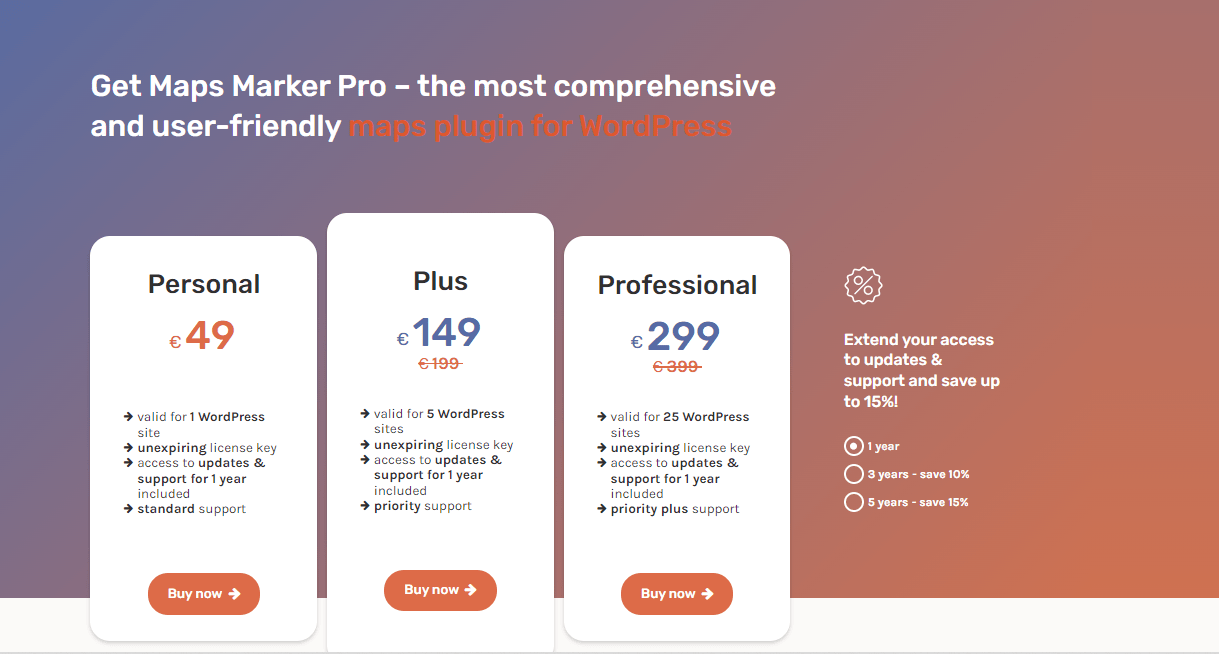 Instructions: The first thing you need to do is to install and activate the Maps Marker Pro plugin:
Simply go to the back-end of your WordPress website to install the plugin. Click on Plugins and then Add New.
On the search line, type "Maps Marker Pro". Here you will be able to see it on the first line. Click on Install, then Activate.
Done, now you have this plugin, and it is ready to be customized and used.
After activation, you can visit the Maps Marker Pro page and create your interactive map:
Click the Add New Layer button to get started.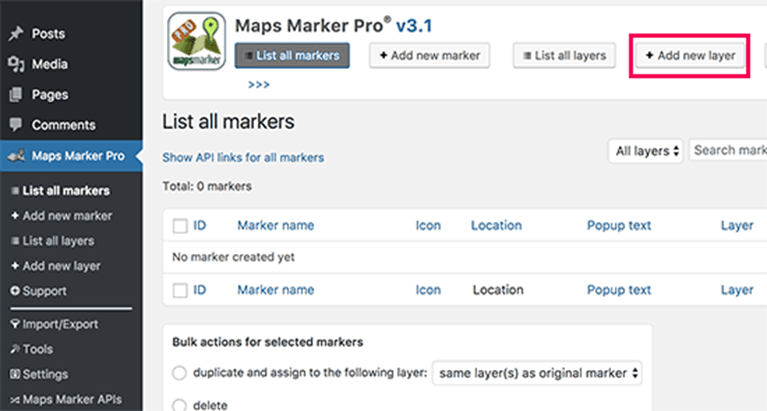 2. Give a name to your layer and click Publish.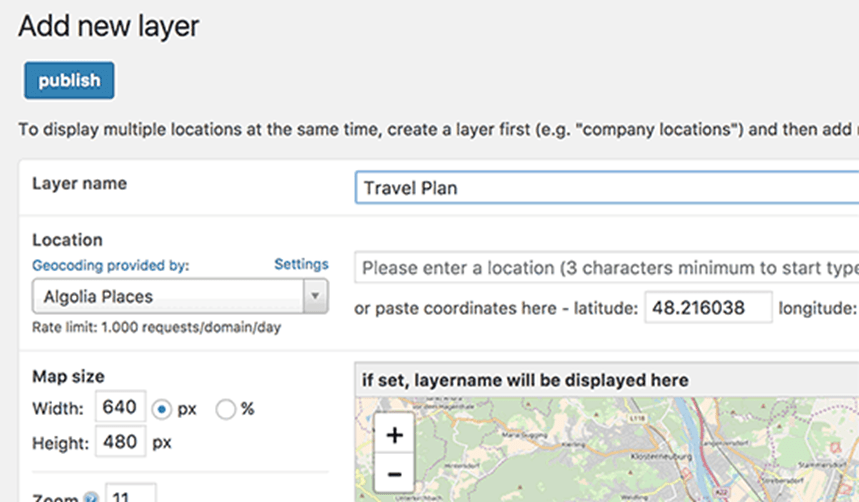 Now, you are ready to add map markers on top of the new layer:
To place your first marker, go to Maps Marker Pro > Add New Marker section.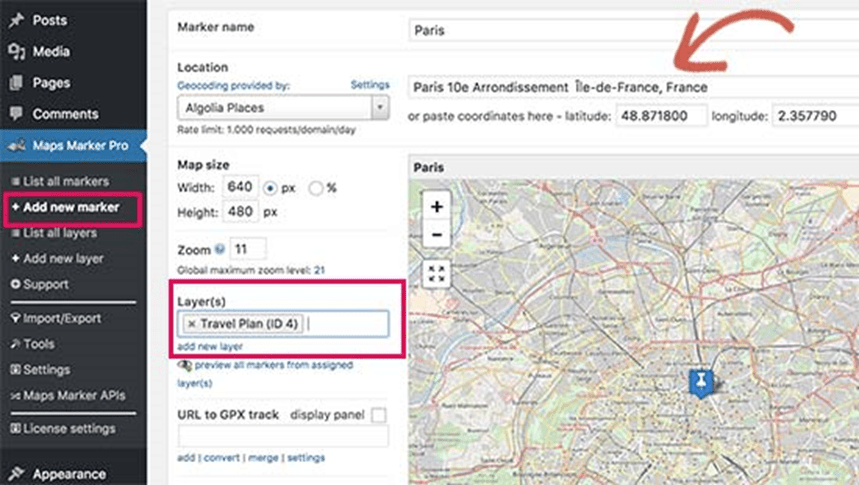 2. Enter a title for the marker you've added and then define the location to put the marker.
3. You should place your marker on the layer you created earlier. To do this, type the name of the layer in the layers field and select it.
4. Don't forget to click the Publish button to save your marker and repeat the process with other markers to the layer.
Once done, you can edit any WordPress post or page, where you want to add the map:
On the post edit screen, click the Add Map button. This will open a tab showing all the map markers and the layer you created.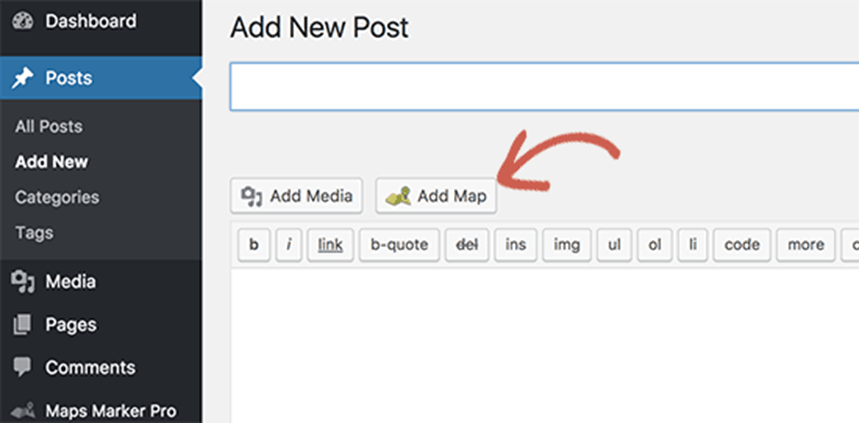 2. Select the layer and click on the Insert Map button.
3. Save or publish your post and preview your interactive map.
Your interactive map is ready. Remember that the main layer can be edited to adjust the map size and dimensions.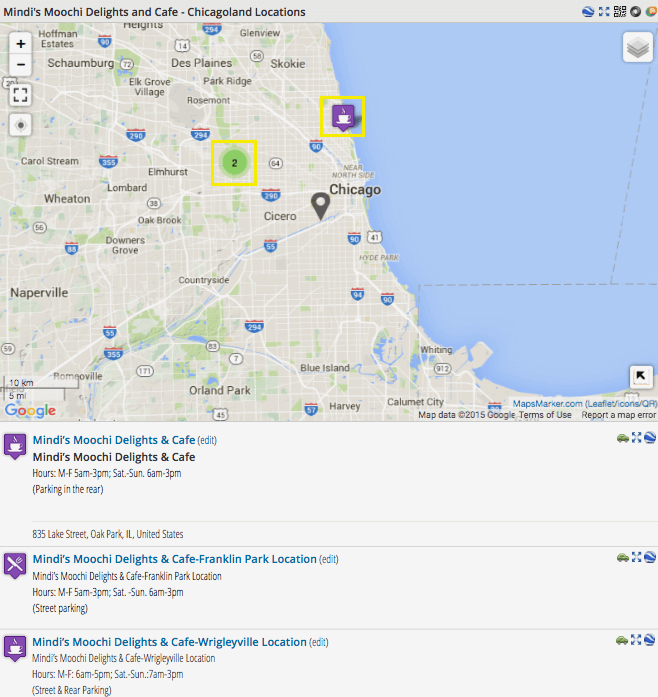 It's easy to present an interactive map using a plugin. Of course, this is not the only tool. You may wonder about other plugins with different features and prices. That's why we're going to recommend our detailed review of the top 10 WordPress interactive map plugins!
10 Other Best Interactive Map Plugins
The best solution will depend on your specific goals and demands, as well as your budget.
#1 MapSVG Interactive Vector, Google & Image Maps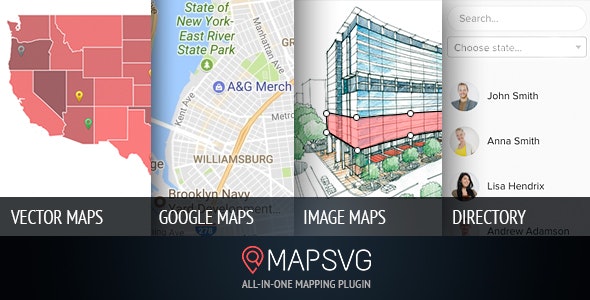 MapSVG, one of the most outstanding mapping WordPress plugins, makes it easy for you to create vector, Google, or image maps.
The plugin includes powerful features for markers, tooltips, latitude and longitude coordinates, form creation, custom CSS, and more. You can even add your own statistics using maps such as demographics and weather.
MapSVG gives a live preview built into its control panel, so you can tweak your map as you create it. The tool also offers lots of search options like text, and location.
You can upload a custom vector image and use it as a Google map overlay. It's able to add some extra information like contact images, statistical data, etc. to specific map locations and regions, and to use shortcodes from third-party plugins like contact forms.
Plus, over 100 country maps, thousands of customizable map styles, custom colors, region links, and more are accessible. A live demo is at hand to show what else it offers.
Pricing
MapSVG's 6-month regular license is $49. You have the option to extend it to 12 months for $65.50.
#2 Open User Map

Most of the maps on our list assist you to create maps and add locations to a site administrator. What if you want users to add details to your maps? Open User Map allows you to place a location submission form on your WordPress site.
With this plugin, you can generate an "Add Location" form with custom fields, file uploads (image or audio), beacon category, and location notices. When a user posts a new location, it's under your control, unless you have auto-publishing enabled. Here you can edit, approve, or reject the pin.
Besides, the plugin introduces map and marker styles, custom marker loading, thank you messages, multilingual presets, and top-notch support from the developer. It also grants users a free version to experience the features.
Pricing
Open User Map offers certain functions to its users for free. You can reach its Premium pack for $39 per year.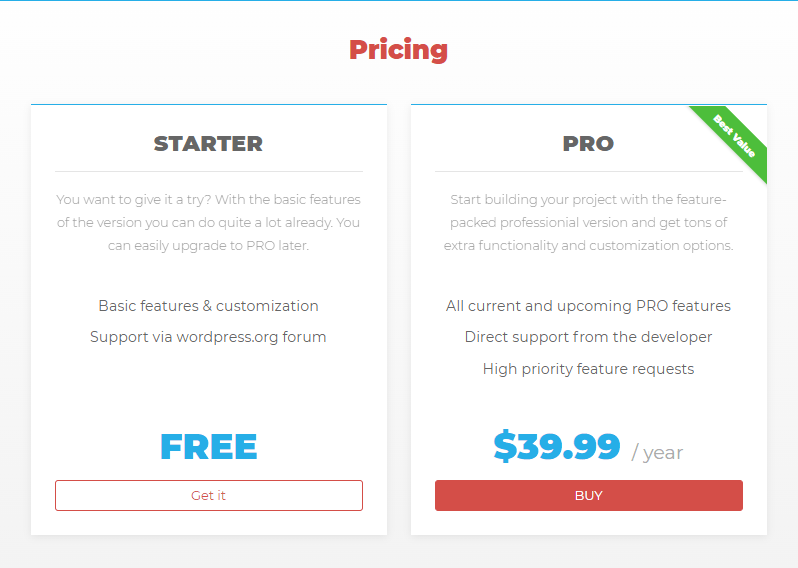 #3 Interactive Geo Maps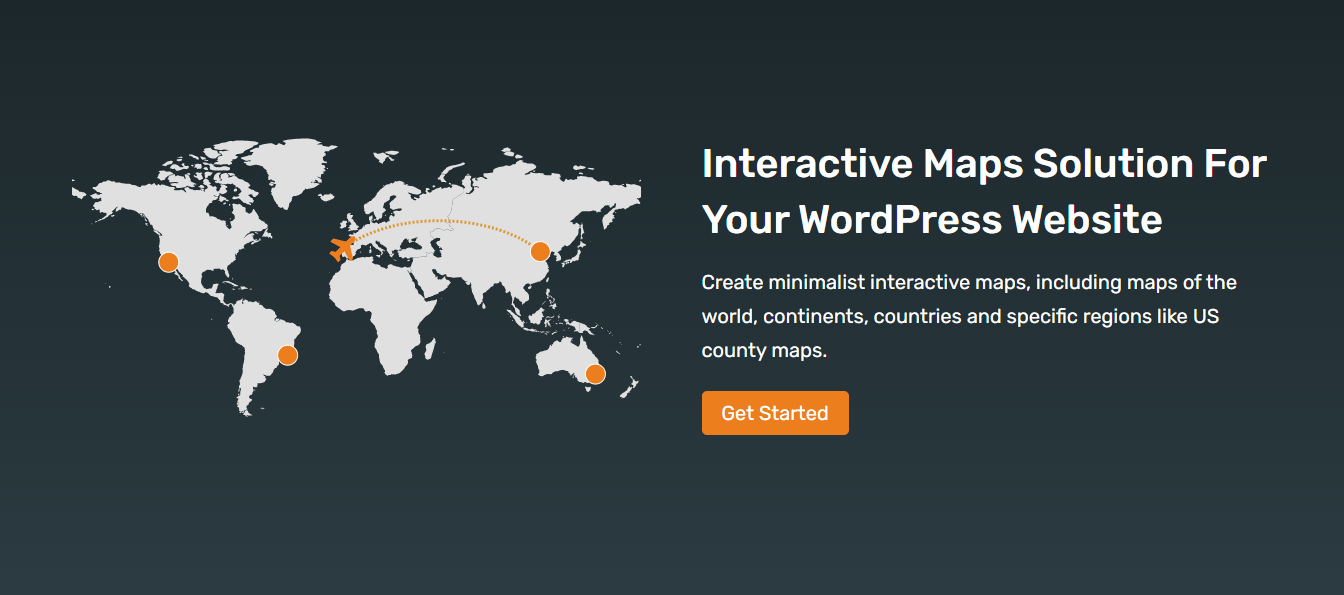 Interactive Geo Maps lets you exhibit stunning maps on your website with interactive features like zoom, heatmaps, tooltips, live filters and so on. This map plugin contains over 250 maps with advanced features to create custom maps for your site.
The professional version of this plugin serves you with customizable color zones, markets, tooltips, 10+ map projections, zoom options, marker anchor lines, text labels, etc.
Pricing
Interactive Geo Maps offers its users three plans. You can use premium features for $3.99 per month or $29.99 on an annual contracted plan. The lifetime plan costs $79.99. A free trial is available for every plan!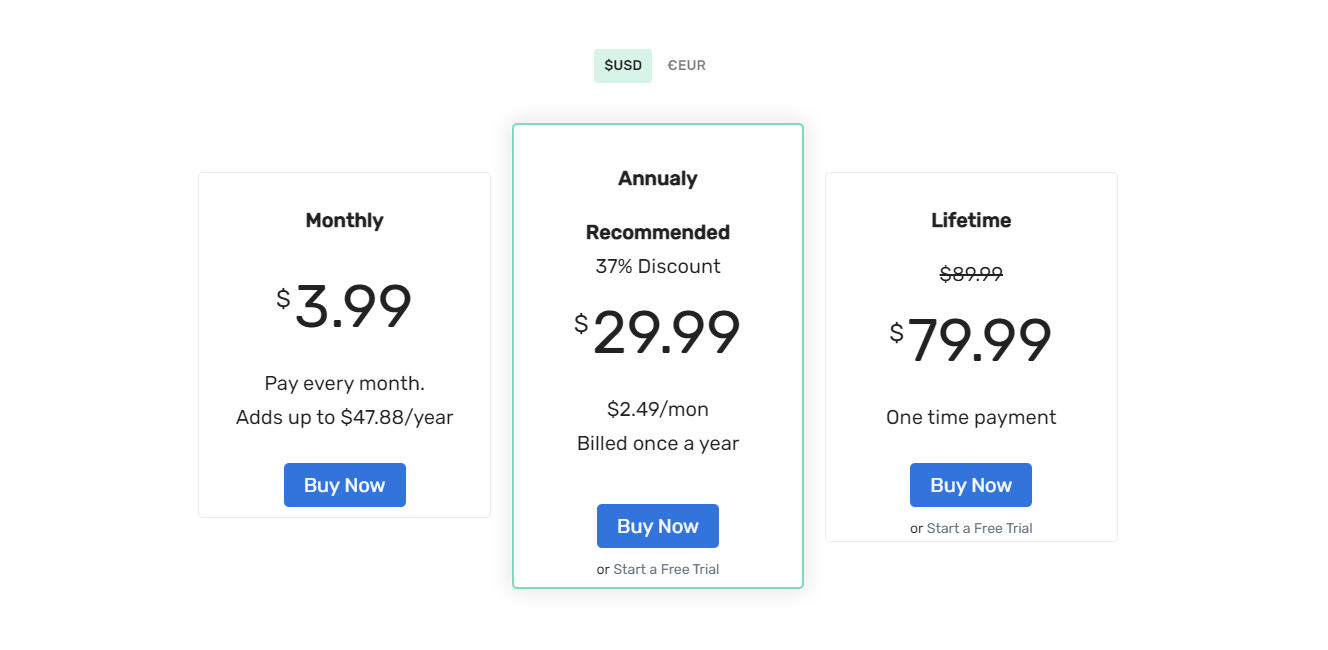 #4 Toolset Maps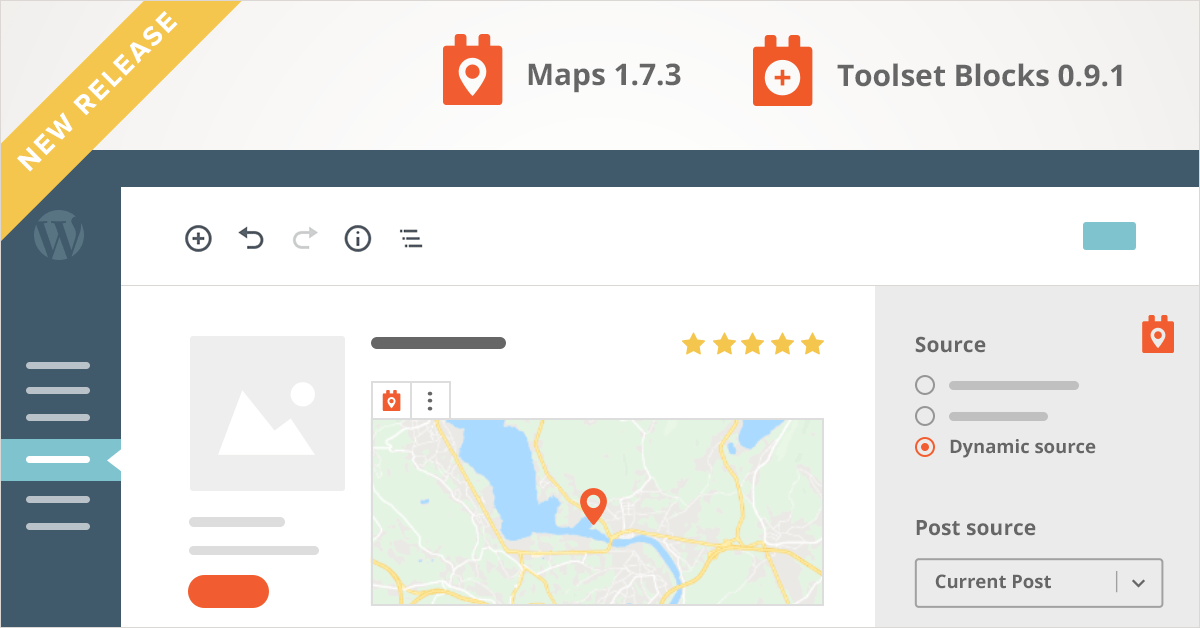 Next up on our list is Toolset Maps. The plugin lets you create unique website-specific maps without requiring PHP or coding knowledge. You can view maps and nearby results based on a specific type of content (such as property listings), add filters or geolocation, or browse the map in multiple languages.
Toolset Maps consists of many powerful features built-in to make map creation easy. It has custom fields, map marker design, zoom level, map type, street view, conditional filters, and advanced features to design your map. Toolkit Maps is compatible with Google and Azure.
Pricing
The annual plans of Toolset Maps cost $69 for 1 site and $149 for 3 sites. The plugin also has unlimited site options. You can take advantage of premium features for unlimited sites by paying $299.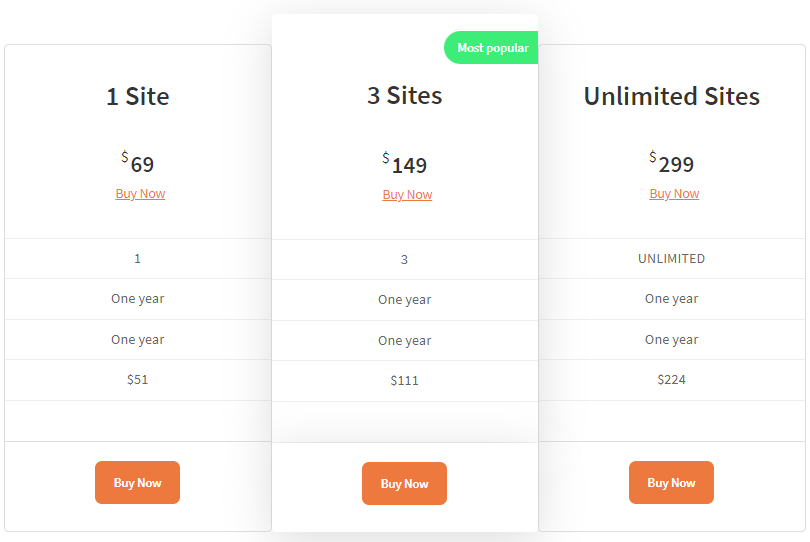 #5 Interactive World Map Free WordPress Plugin

Interactive World Map is a free map plugin to have a fun and clickable World map to your site. Links, images, and text can be added by hovering over the map. You are able to customize background color, inactive regions color, markers size of the map, and much more using the visual editor.
When you're done, you can use shortcode to live your maps to any post or page. All maps are responsive and can load fast, so your SEO should not be affected in any way. If you want a local map, you can check out the developer's premium customizable interactive maps for the US, Europe, Asia, and other areas.
Pricing
Although this plugin offers you many benefits for free, you can have additional map features for $89. After purchasing the plan, you can customize the map of certain countries individually.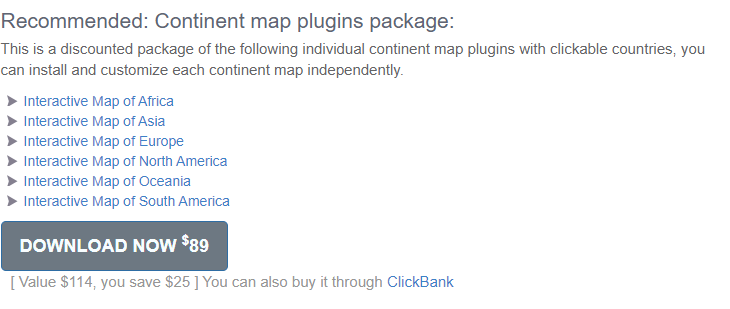 #6 WP Store Locator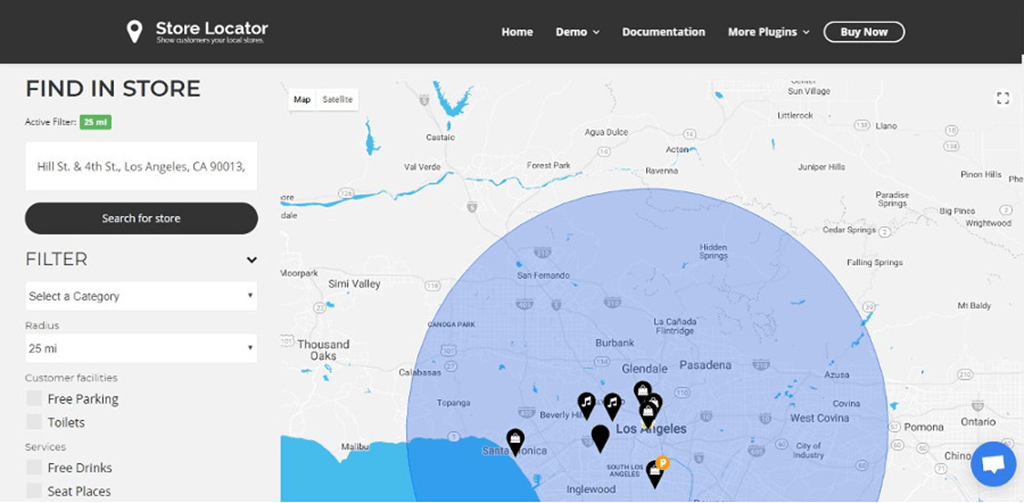 If your goal is to put a store locator section to your website without paying a penny, WP Store Locator is worth a look. This free plugin is just the ticket to showcase your real-world business location in a simple way.
While managing a large number of stores, it's necessary to provide information about stores such as business sectors, phone/fax number, email, site url, descriptions, and opening hours.
There are filters to add custom metadata. Showing driving distances in kilometers or miles is equipped. Not only can you use maps in different languages, but also change the language of directions.
#7 Mapplic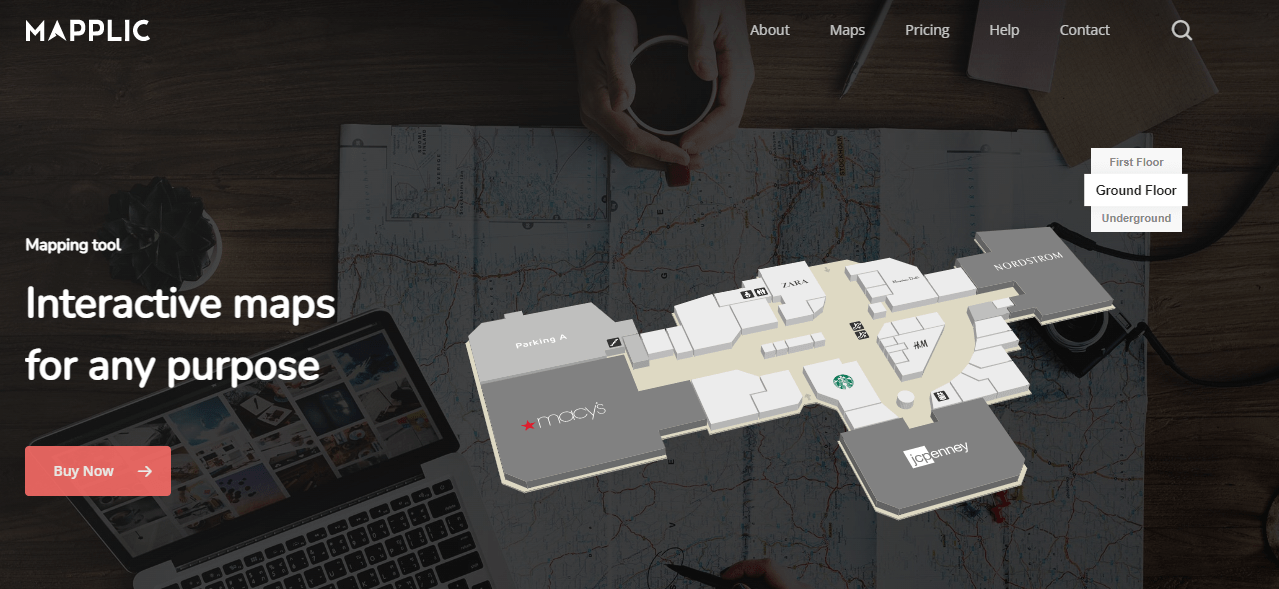 Mapplic is a premium interactive map plugin with advanced options to create a map for your business website. You will have bookmarks for locations with unlimited unique pins and various actions.
The tool has a responsive design, providing an optimal experience on a wide variety of devices. Touchscreen devices such as tablets and smartphones are also supported.
Pricing
Mapplic's premium pack costs $46. It comes with a number of pre-installed demo maps to help you get started. The license is a one-time plan, with 6 months of support, and lifetime updates. The support duration can be extended to 12 months that costs $15.38. You can start using the plugin immediately after purchase.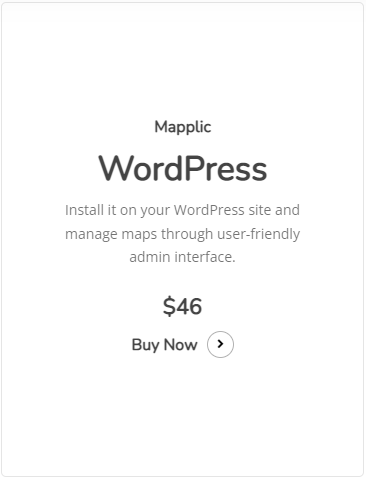 #8 Hero Maps Premium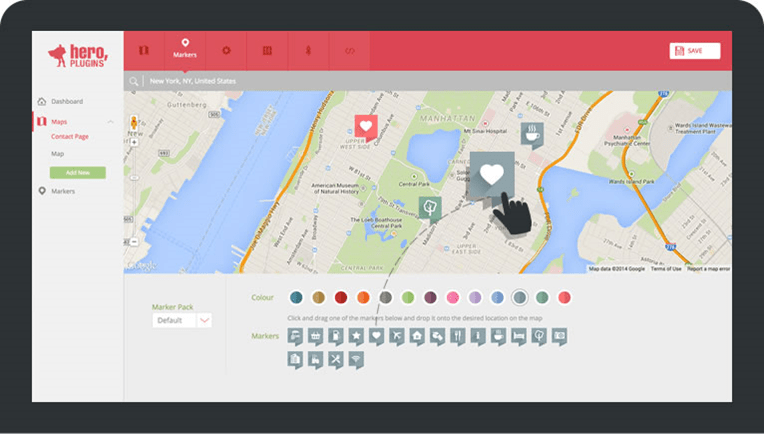 Wish to share impressive full-screen maps? Then Hero Premium Maps is perfect for you. This premium WordPress plugin features full-screen, hero maps, as well as easy drag-and-drop map creation, customizable map markers, map filters, color skins, and more.
This easy-to-use backend will enable you to switch between a full width or a fixed size, depending on your design preference. Lines and shapes can be drawn on any map.
Pricing
Hero Premium Maps offers its 6 months support of Regular License for $20. By paying $5.63, you can extend it to 12 months. If you want to test the tool before purchasing, a demo version is available.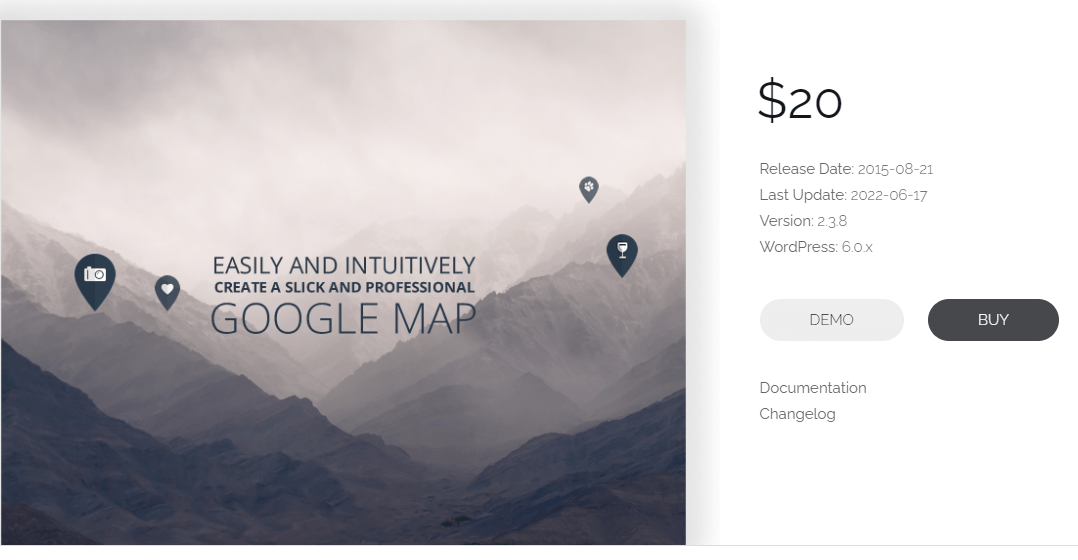 #9 MapPress Easy Google Maps

Map Press works great with custom post types and multisite setups, and also includes significant features like shortcodes, street view support, custom text, real-time traffic, etc.
The free version of the plugin supports unlimited maps, and encourages you to share multiple maps per post. To utilize more comprehensive features, activate its Pro version.
Basic features
More than 100 marker styles
Street view support
Direction displays to markers
List of clickable marked locations below the map
Sidebar map widgets
Option to generate maps from custom field contents
Pricing
MapPress has two premium plans for different purposes. The Regular plan that is suitable for individual users is $29 per year. The Developer plan best suits companies and costs $79 per year.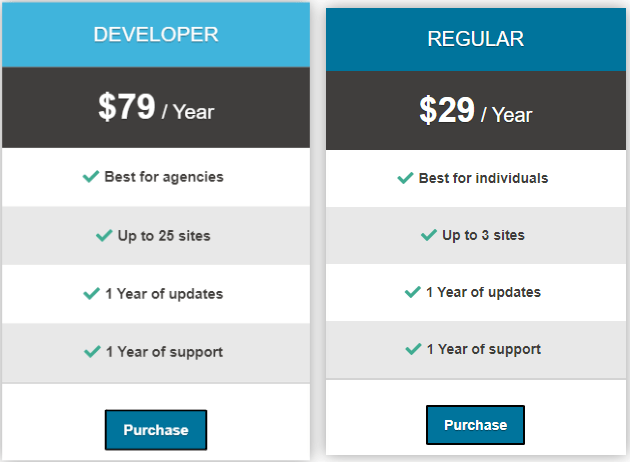 #10 Progress Map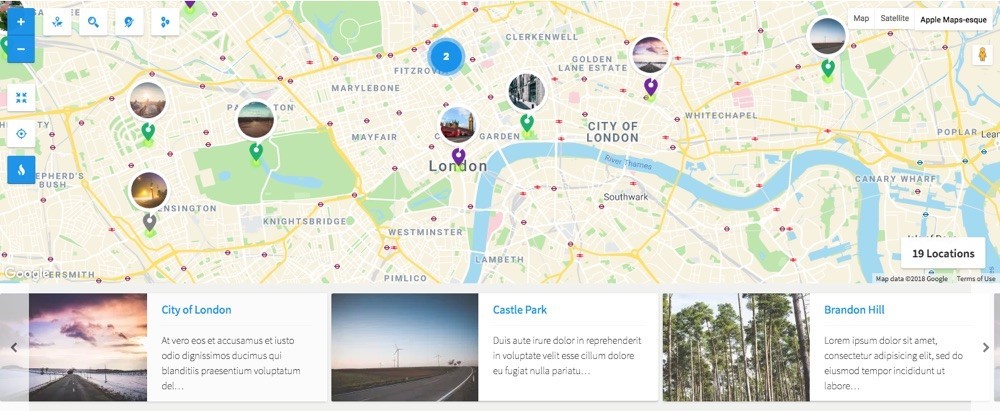 Progress Map is one of the plugins that allows you to add various locations to your website. This could be your favorite burger joint, your property listings, or a hotel you've booked for a vacation. Also, all these spots will be displayed on your Google map.
The plugin is pretty easy to install. It has multiple map layouts and supports custom markers. Progress Map provides a powerful admin panel where you can manage interaction directly. With endless customization options, Progress Map for WordPress is an innovative plugin covering everything you need for a map.
Pricing
Progress Map's regular license is $59 with 6-month support. The duration can be extended to 12 months which costs $20.25.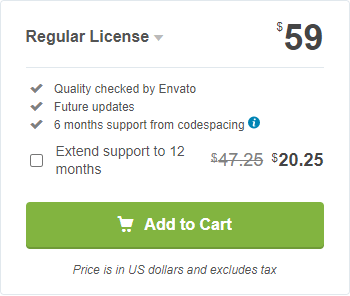 Pick Your Favorite WordPress Interactive Map Plugin Now!
Adding a map to your WordPress site can help you grow your business, make your site more engaging, and help your customers find your store effortlessly. The easiest way to have one or more maps on your site is to use a map plugin for WordPress.
As mentioned, there is a wide variety of WordPress map plugins for you to choose from, depending on your demands.
If you're looking for a feature-rich Google Maps plugin, WP Google Maps, and WP Google Maps Pro are worth checking out.
For interactive maps, Interactive Geographic Maps, Maps Marker Pro, and MapSVG are strong recommendations.
Consider Hero Maps Premium, MapPress, Google Maps Widget, MapifyPro, or WP Store Locator for customization options and store locator functionality.
Besides interactive maps, social sharing buttons are another powerful way to enhance user interaction. Check out how to add them to your WordPress site now!
Do you find it useful to apply interactive maps on your site? If you still have questions or any suggestions, share with us in the comments section below.