Accessibility, in general, is the design of products, devices, services, or environments for people with disabilities. Many web owners do not prioritize site accessibility, but there are many reasons to take it into account.
Having an accessibility site means supporting visitors with disabilities, which can facilitate their surfing experience.
Making your site accessible not only brings benefits to people with disabilities but also creates a good business image. Making your site convenient for all visitors helps those with physical ailments and increases their satisfaction level. As a result, they will recommend your website to others.
Want to see how to test the current accessibility of your site and how to improve it? Keep reading!
How to Test Your Site Accessibility
You can test your web pages for accessibility using several web-based accessibility assessment tools such as ACHECKS, FAE, or WAVE. We will briefly review some of them for you.
#1 ACHECKS

The ACHECKS AODA accessibility portal helps organizations manage accessibility across multiple websites. The ACHECKS tool facilitates automatic assessment by scanning your web pages and PDF documents. It allows you to understand the overall metrics of your websites and get a complete picture of their accessibility.
With the dashboard it provides, ACHECKS is one of the most powerful accessibility portals on the market.
#2 FAE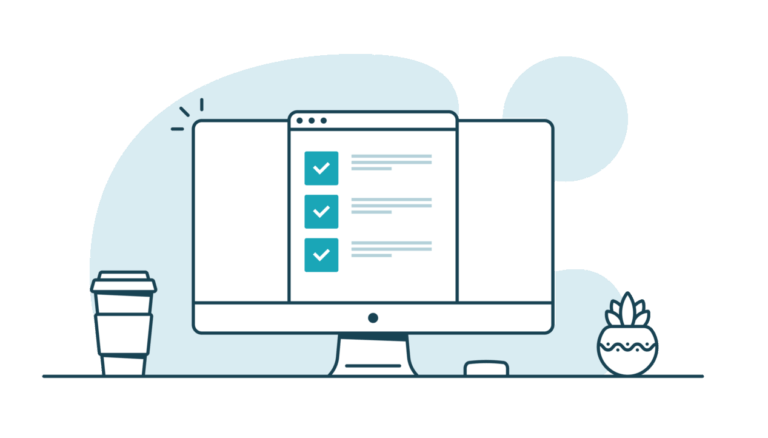 FAE is an open-source web application that analyzes the compliance of web pages with accessibility requirements defined by the World Wide Web Consortium and the correct use of its features.
It is designed to help site owners understand what accessibility issues they should consider when designing a website. Manual checks allow them to determine what they need to learn about accessibility to make sure web resources are accessible.
#3 WAVE

WAVE is a suite of assessment tools that helps authors make their web content more accessible to people with disabilities.
It provides visual feedback on the accessibility of your web content by adding icons and indicators to your page. While no automated tools can tell you if your page is accessible, it facilitates human evaluation and educates on accessibility issues.
If you don't find your site's accessibility adequate enough, we know how to upgrade it! We'll list and review the best accessibility plugins for you in the coming sections. Then let's continue.
How to Increase Your Site Accessibility Using Plugins
There are many ways to increase the accessibility of your site. You can add alt text, check for high color contrast, control text size, and use numbered and text-marked lists and so on to improve accessibility. In this article, we focus on the plugin method.
You can have several tools to increase the accessibility or to fix some of the common accessibility-related issues. In explaining how to install a tool on our site, we use WP Accessibility, potentially considered one of the best plugins.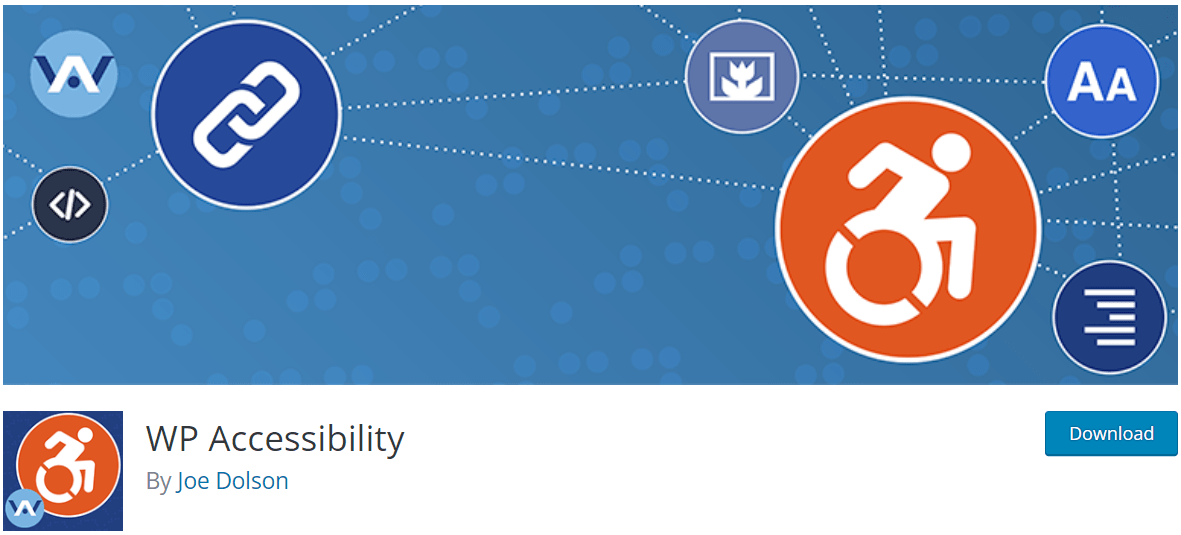 WP Accessibility plugin adds many accessibility developers without the need for administrators to write code and helps with various common accessibility issues in WordPress themes.
While most accessibility issues cannot be resolved without directly changing your theme, WP Accessibility adds a host of useful accessibility features with a minimal amount of setup and expert knowledge.
All features can be enabled or disabled from the settings according to your theme's needs. All functionality based on modifying style sheets can be customized using your own custom styles by placing the appropriate style sheet in your theme directory.
Key Features: Let's have a closer look at some of the features:
Add skip links to different regions of the page.
Specify the language of your page.
Add long image descriptions.
Add an outline around focusable elements, and customize the color of it to fit your site.
Add post titles to "read more" links.
So how do we increase accessibility with a plugin?
Instructions: After installing and activating the plugin, you need to configure WP Accessibility from the Plugins section and go to Accessibility Settings.
You can increase your accessibility by making changes to your site by adding jump links. Jump links allow readers to focus on the content instead of reading entire menus and header data first. It gives your users the option to skip unnecessary content and go straight to the heart of the matter.
Simply assign an ID attribute connected with where you want the link to take your visitors to.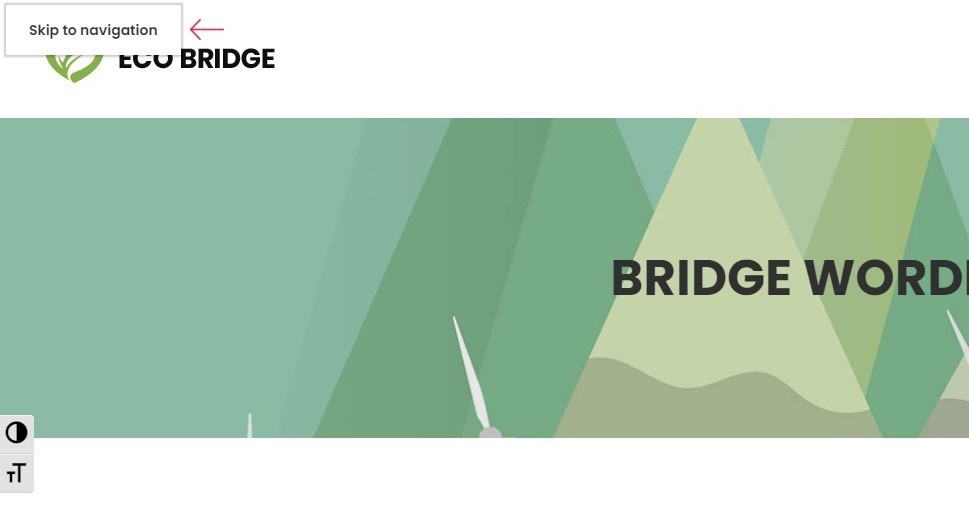 Then add the accessibility toolbar from Accessibility Toolbar Settings.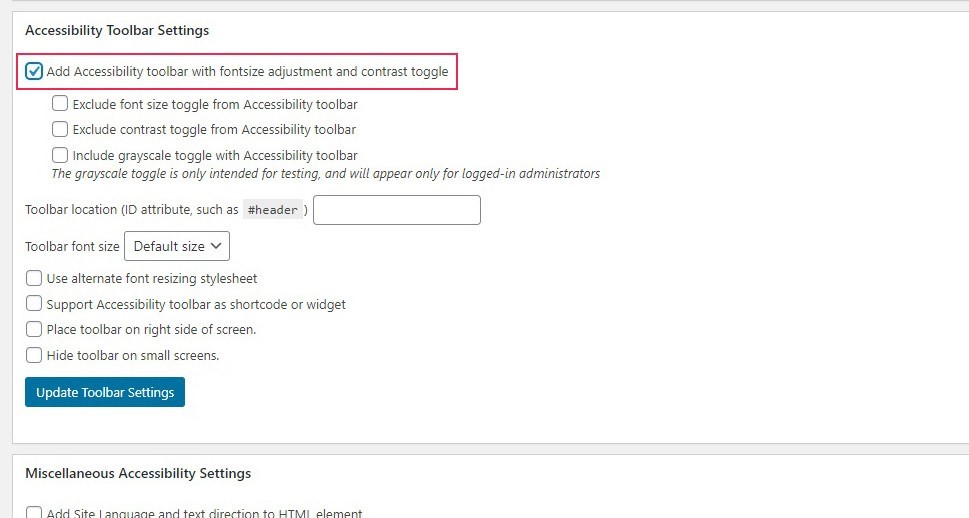 Here you can control the font size and contrast transition.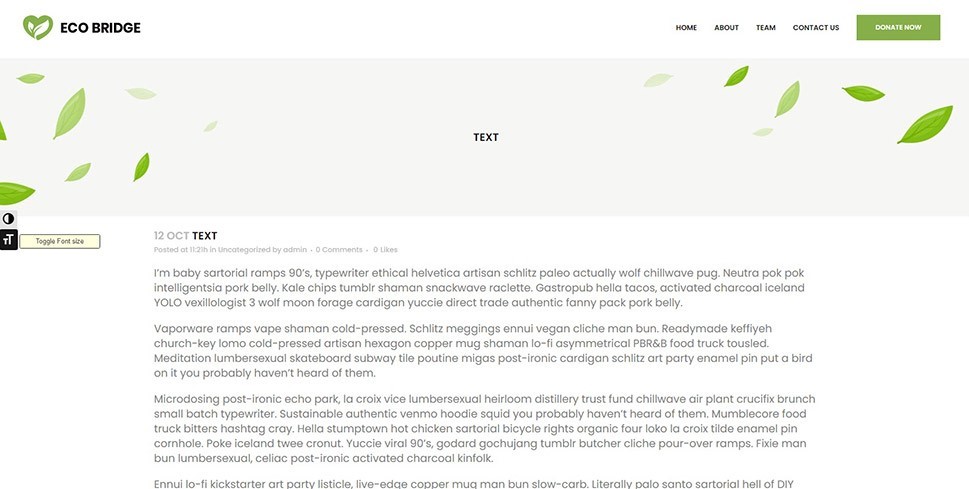 You will also see Miscellaneous Settings in the Accessibility Settings.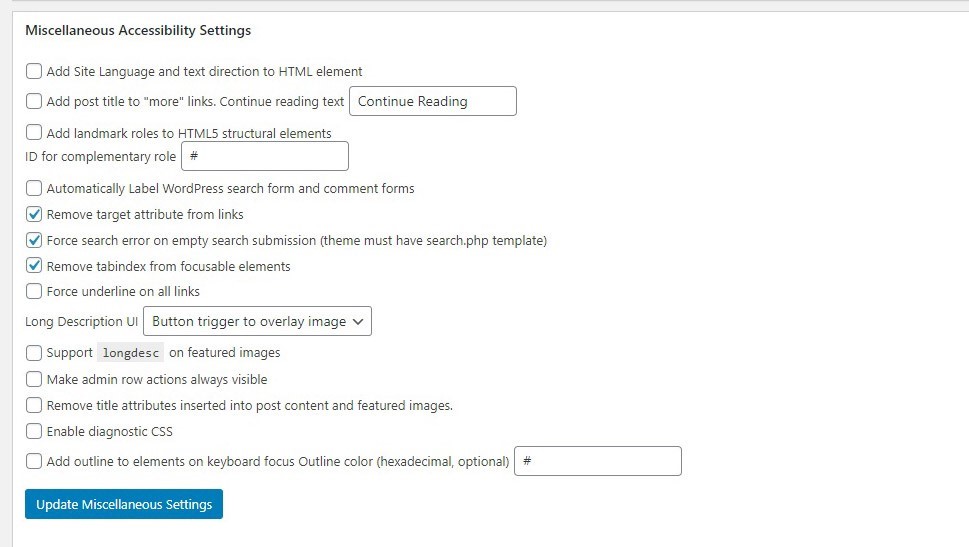 Here you can review each of these options individually and decide which ones work best for your website. For example, you can add site language and make your images have longer descriptions.
Three of these checkboxes are checked by default: remove target attribute from links, force search error on empty search submission, and remove tabindex from focusable elements.
As we have shown, there are many things you can do to make your website more accessible thanks to this plugin. However, you may want to give other potential plugins a chance. So we made a list of the 5 best plugins for you.
The 5 Best Accessible WordPress Plugins
#1 AccessiBe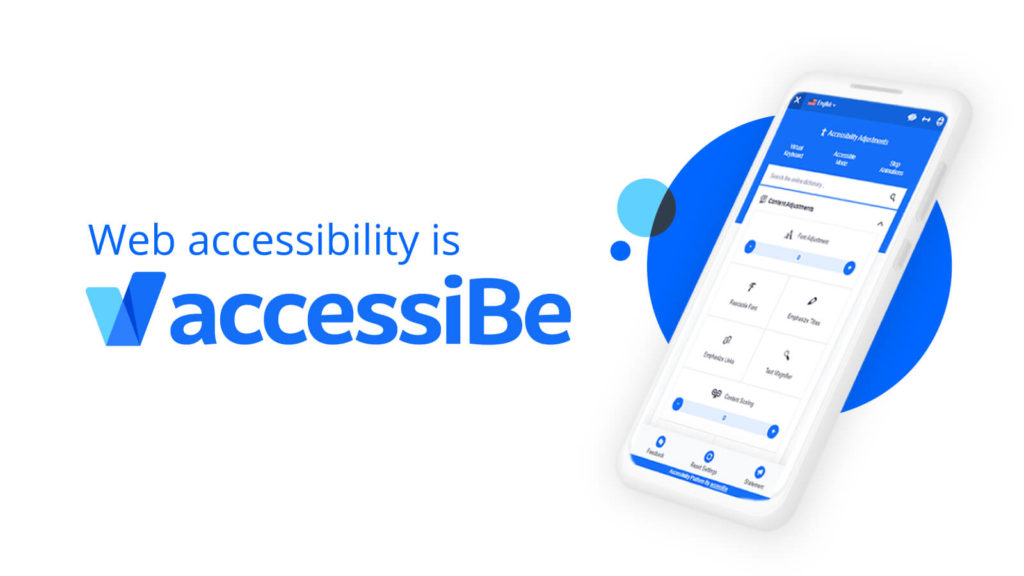 AccessiBe offers premium features that match industry standards when it comes to web accessibility. This way, you make sure that your content reaches the widest possible audience and that your web accessibility is increased.
AccessiBe provides AI-powered accessibility for better screen reading and keyboard navigation settings.
In other words, your site is automatically powered by tags and icons so that visually impaired users can recognize every single element on your site. These accessibility options take advantage of image recognition and machine learning algorithms.
Similarly, AccessiBe also features AI-powered background processes that use machine learning and computer vision for even surpassing content tuning.
Finally, AccessiBe also allows you to check how accessible your site is in 1 minute. What else? This service is free!
Pros
 It provides regular audits and daily monitoring to ensure your site is constantly matching accessibility requirements.
 It offers automatic AI-powered screen reader adjustments that take full advantage of contextual understanding and image recognition options.
It is fully customizable with a wide variety of options to provide further accessibility customization.
It is very easy to install and use.
Cons
 Premium plans are quite costly for small sites.
Pricing
The plugin has a free version and four different premium plans to suit different businesses and needs. Pricing starts at $490 per year. A 7-day free trial is offered for each plan.

#2 OneClick Accessibility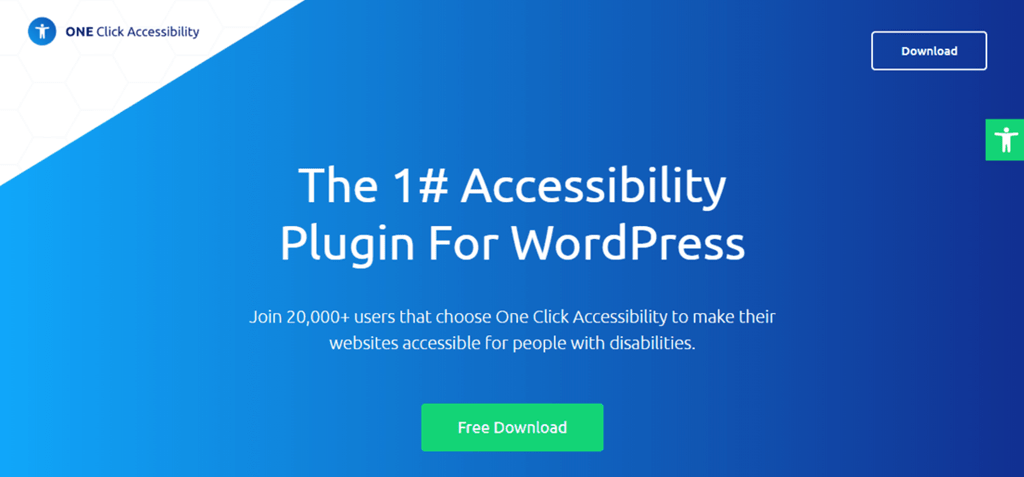 One Click Accessibility gives you options to allow maximum accessibility for your website without changing your content. There is no difficult or complicated installation process. Simply install the plugin and you can enable many accessibility options for your website.
Like AccessiBe, One Click Accessibility includes a nifty accessibility toolbar to equip your website. The toolbar comes with elements such as font resizing, contrast adjustment, linking to sitemaps/help pages, and even background options like setting a light one.
In addition, you can freely add features to improve the content accessibility of your websites, such as jumping to desired content, outlining focusable and interactive elements, removing target attributes from all website links, and much more. You can also customize all these items.
Pros
You can customize the Accessibility Toolbar with many accessibility options.
There are accessibility options that can be activated with one click.
It is easy to set up and use.
The tool is completely free.
Cons
 It lacks detailed ADA/WCAG standard features.
#3 WP Accessibility Helper

Our next recommendation is WP Accessibility Assistant. This user-friendly plugin comes with all the appropriate features to boost site visibility and navigation.
It has an admin panel that encourages you to enable/disable features designed to make your website as accessible as possible. This includes accessibility settings for contrast and color variations, font resizing and link highlighting.
A great feature of this plugin is that you can remove styles and animations from a page with one click. Zero confusing distractions, full readability. You can enjoy custom widgets by enabling various options such as grayscale and color inversion, clearing cookies, and removing styling and animations.
And of course, with the premium version, you can benefit from many additional features such as a logo customizer, additional custom mods/windows, and more.
Pros
It has simple and stylish widgets to enable/disable the accessibility option.
It's super simple to set up/customize
Tons of custom documentation and video tutorials are available.
Cons
It does not guarantee full web accessibility, not enough to meet WCAG and ADA standards.
Pricing
WP Accessibility Assistant has a free plan with basic features and several premium plans starting at $199 for a year.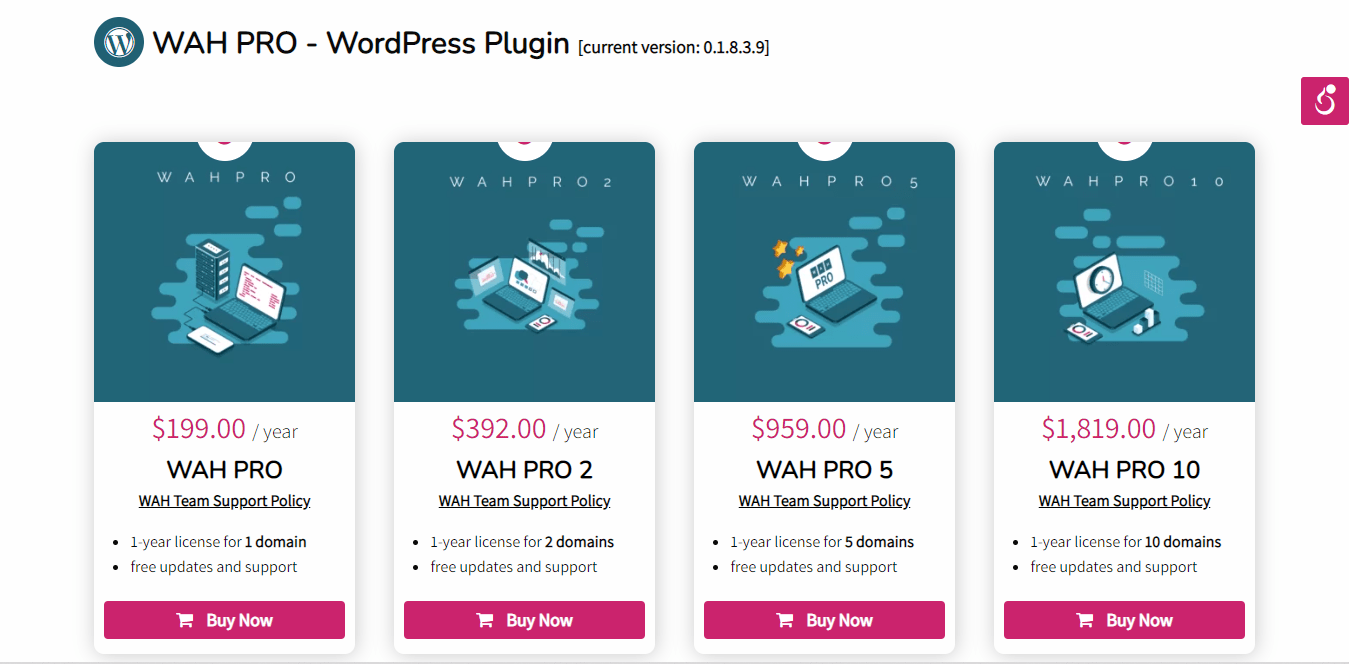 #4 Accessibility by UserWay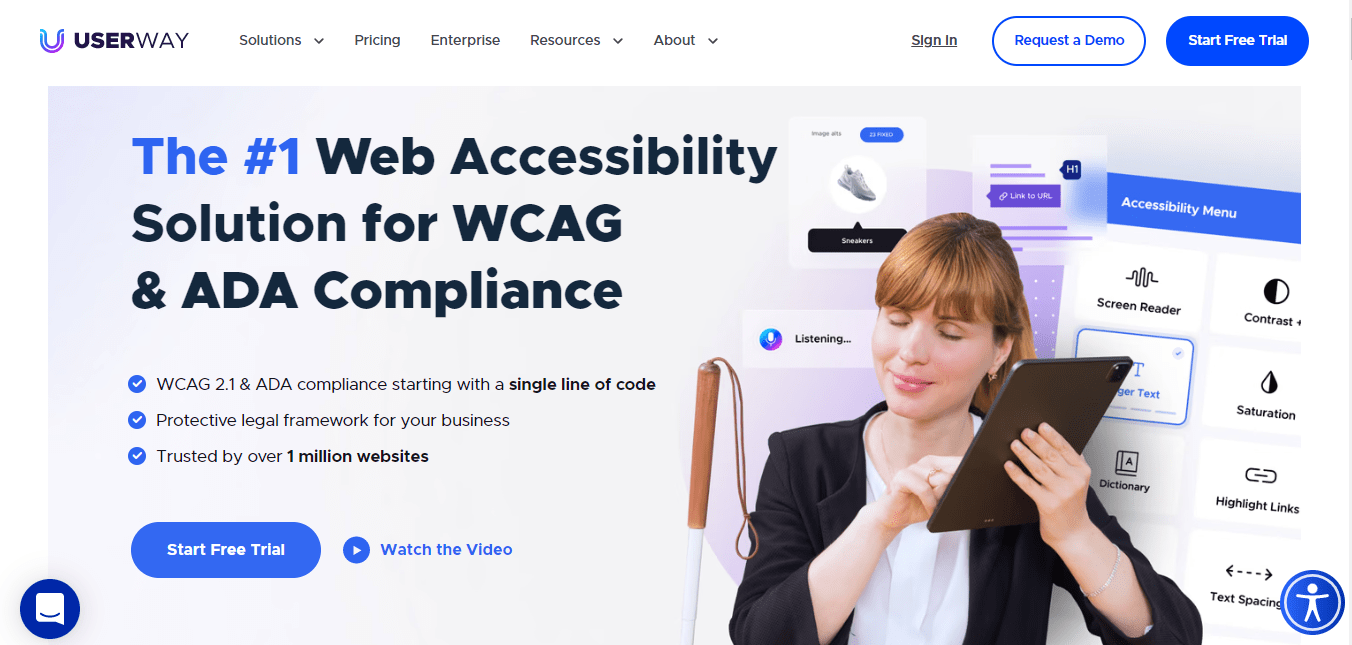 Accessibility with UserWay provides you with the necessary features making your website be more compliant with web accessibility standards. The plugin is developed to make the complex tasks of improving web accessibility much smoother.
Thanks to this plugin, your website becomes readable even for people with severe disabilities. On top of that, you can make your website fully navigable using just your keyboard.
You can activate a custom menu for your plugin that contains accessibility features like keyboard navigation, font resizing, link highlighting. It also brings a screen reader that works beautifully when it comes to improving site readability.
Pros
 It has a user-friendly setup.
 It comes with a hotkey-activated accessibility menu and a screen reader.
 It makes your website completely keyboard-only friendly with full text/font readability options.
Cons
It lacks options for content customization and tracking web accessibility issues.
Pricing
This plugin has a free version with limited features and three pro plans with advanced features. Pricing starts at $490 per year. You're offered 2 months free for an annual plan.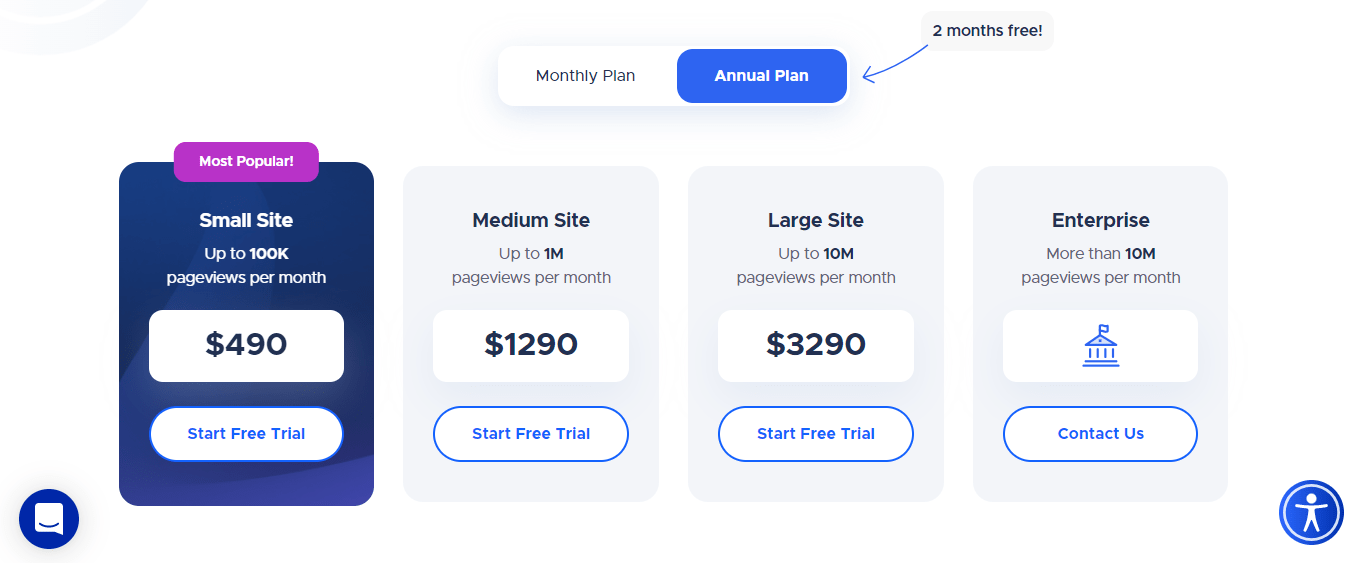 #5 AccessibleWP Toolbar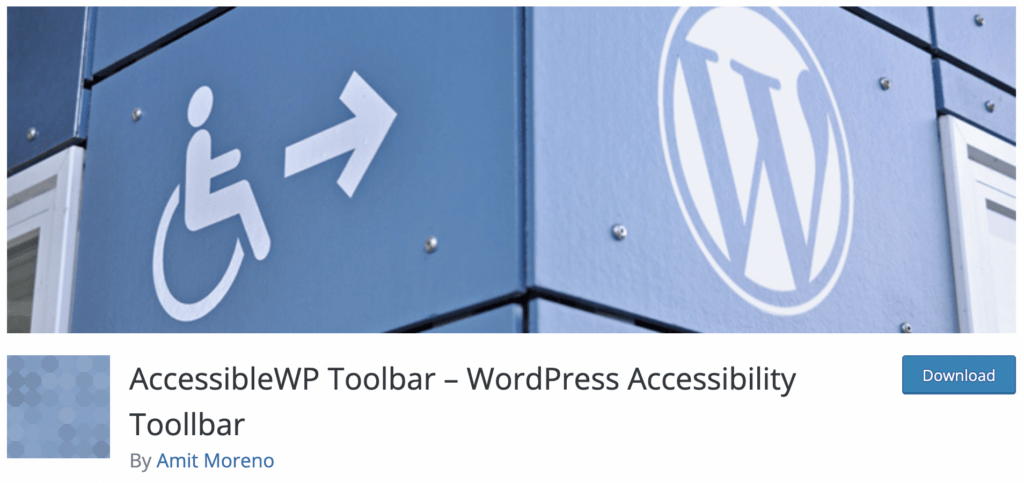 AccessibleWP Toolbar is a simple WordPress plugin that lets you add an accessibility toolbar to your website.
Through this plugin, users will have access to a host of accessibility options, including keyboard navigation (with enhanced keyboard functionality), disabling animations, resizing fonts, dark contrast, marking titles and links, and more.
Pros
It is basic but adds a helpful accessibility toolbar to your website.
The tool is completely free.
Cons
Settings do not persist between pages.
Accessibility is a Great Plus!
Obviously, accessibility has become an expected practice in recent years. Properly serving content to users with disabilities, who represent about 20% of the web browsing users, will bring many benefits to your site.
Not only the disabled community, but also the elderly and many less-talented groups will have opportunities to interact with your great website, which increases your website traffic and promotes it to more people.
It's also important to focus on accessibility to ensure your website complies with web accessibility standards and to protect your business from unnecessary risks or lawsuits.
Some of the plugins we mention have free versions, so you should definitely give them a try before deciding on the one that best suits your needs.
Leave us some words in the comment section below if you encounter any problems or confusion while searching for the perfect solution.
You may be interested in the 7 brilliant WordPress email log plugins.