Landing pages play a vital part in driving conversions and notching up sales for your sites.
With the assistance of thousand WordPress plugins, creating a landing page is a cakewalk. However, choosing a suitable landing page builder that meets your needs requires serious consideration.
The real matter here is, most WordPress landing page plugins look very similar to the naked eye. So how can you sort out the wheat from the chaff?
To help you save time and effort, we've narrowed the list down to the 7 best landing page creators for WordPress. This post will start with a brief WordPress landing page plugin 101, then continue unpacking their features in detail.
WordPress Landing Page Plugins 101
A landing page refers to the page customers landing on when they search for your sites on search engines or paid ad campaigns. It's in charge of assisting your marketing campaigns and converting your initiatives into sales.
Rather than playing with a bunch of code or hiring a developer for each marketing program, most WordPress site owners tend to put their hope on landing page plugins. The reasons are simple. They are flexible, cost-saving, and above all, code-free.
So what to look for when choosing an ideal WordPress landing page plugin for your site? We've listed some essential features you should keep an eye out for as below:
Ease of use: Choose the plugins that are beginner-friendly, which better have intuitive user interfaces and a simple drag and drop form builder.
Design customization: Not only plugins offer a wide range of design options, but they should also include sleek and customizable pre-built templates and layouts to match your main theme and design.
Flexibility: To capture leads, your landing page needs to connect with email marketing services and other apps. As such, it's essential to choose a WordPress landing page plugin that seamlessly integrates with many 3rd party tools and services.
Multiple content elements: Check if your desired plugin provides multiple content elements letting you structure your landing page or not. These elements include text, video, and photo modules, sign-up or lead capture forms, CTA buttons, content blocks, etc.
Mobile responsive: Make sure your landing page will look great on all devices and screen sizes.
Based on these criteria, we've handpicked the top 7 WordPress landing page plugins to take the conversion rate of your site up a notch.
#1. SeedProd
Reaching over 1 million active installations, SeedProd is no longer a strange name for landing page creators. With its intuitive drag and drop page builder, creating a landing page has never been easier.
SeedProd will wow you with its huge collection of lead-captured pages, including landing pages, 404 pages, sales pages, squeeze pages, etc. Along with that, this WordPress plugin also houses 100+ sleek pre-made landing page templates and layouts. This saves you time and effort from building landing pages from scratch. The good news is all of the templates are customizable and mobile-friendly.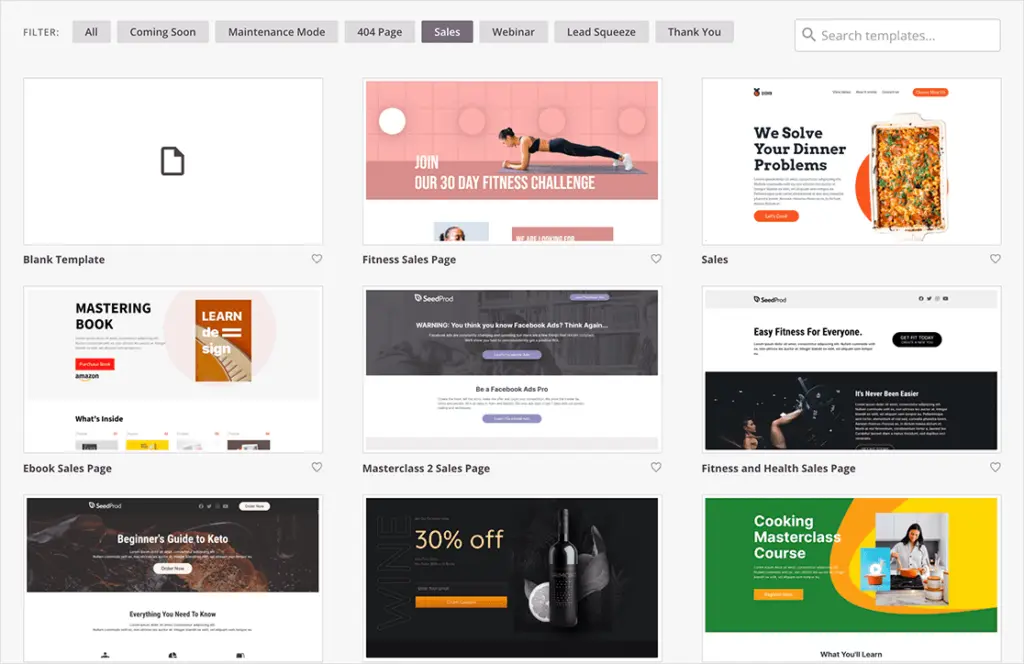 Plus, with multiple built-in block templates, you can freely tweak your landing page elements, e.g CTA buttons, headlines, spaces to suit your tastes even if you're non-design-savvy. What sets this plugin apart from the rest is that you can live-preview your pages before publishing them on desktop and mobile.
Wish to connect your landing pages with marketing tools to collect leads and subscribers, as well as boosting your email list? No worry, SeedProd has seamless integration with well-known marketing services nowadays, i.e. Drip, Constant Contact, Mailchimp, GetResponse, and more.
One advantage of SeedProd is that it's optimized for site speed and performance. This aids landing pages to load fast, which leads to higher conversions.
Price: Free. The premium version starts at $39 for 1 site with support and updates for a year.
#2. Elementor

Endorsed by more than 5 million users from pole to pole, Elementor is undoubtedly a wizard in the site builder niche. Owning an impressive set of features, it assists users in building any type of web page, including landing pages, as easy as pie.
The plugin comes with a live editor interface and dozens of well-crafted widgets. This allows you to easily form a landing page by just dragging and dropping elements. While your page area is divided into sections and columns, you can insert modules into your columns, such as headings, images, buttons, sliders, and so on.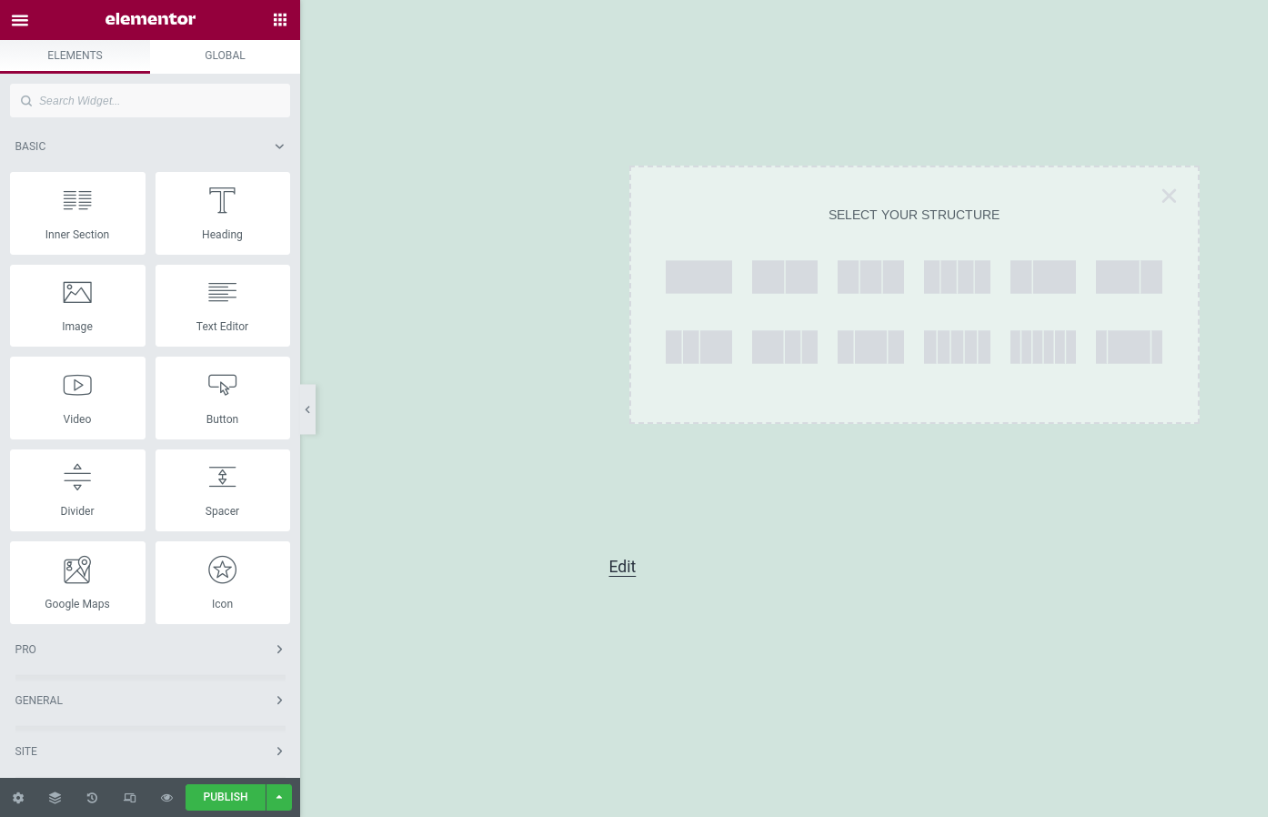 Plus, Elementor accommodates 100+ eye-pleasing customizable templates of any niche and 300+ blocks. Just pick a landing page template, fill it with your content, and hit "Publish." It takes even less than a heartbeat to get your professional landing page ready to collect leads.
On top of that, Elementor allows you to save your designs as templates and use them across your sites via the exporting feature. This WordPress landing page plugin ensures all of your landing pages will look great on any mobile device.
Price: Free, with a premium version starting at $49 per year.
#3. Beaver Builder

Though the number of active installations has reached a million, Beaver Builder is still one of the most favored page builders among the WordPress community.
Well known as a highly flexible tool for creating a wide variety of pages, Beaver Builder enables you to create landing pages, add opt-in forms, contact pages, and other conversion-focused elements without any fuss.
The plugin comes with plenty of ready-made templates, letting you get started without touching a single line of code. In addition, its drag and drop page builder makes editing your landing pages super easy and blazing fast.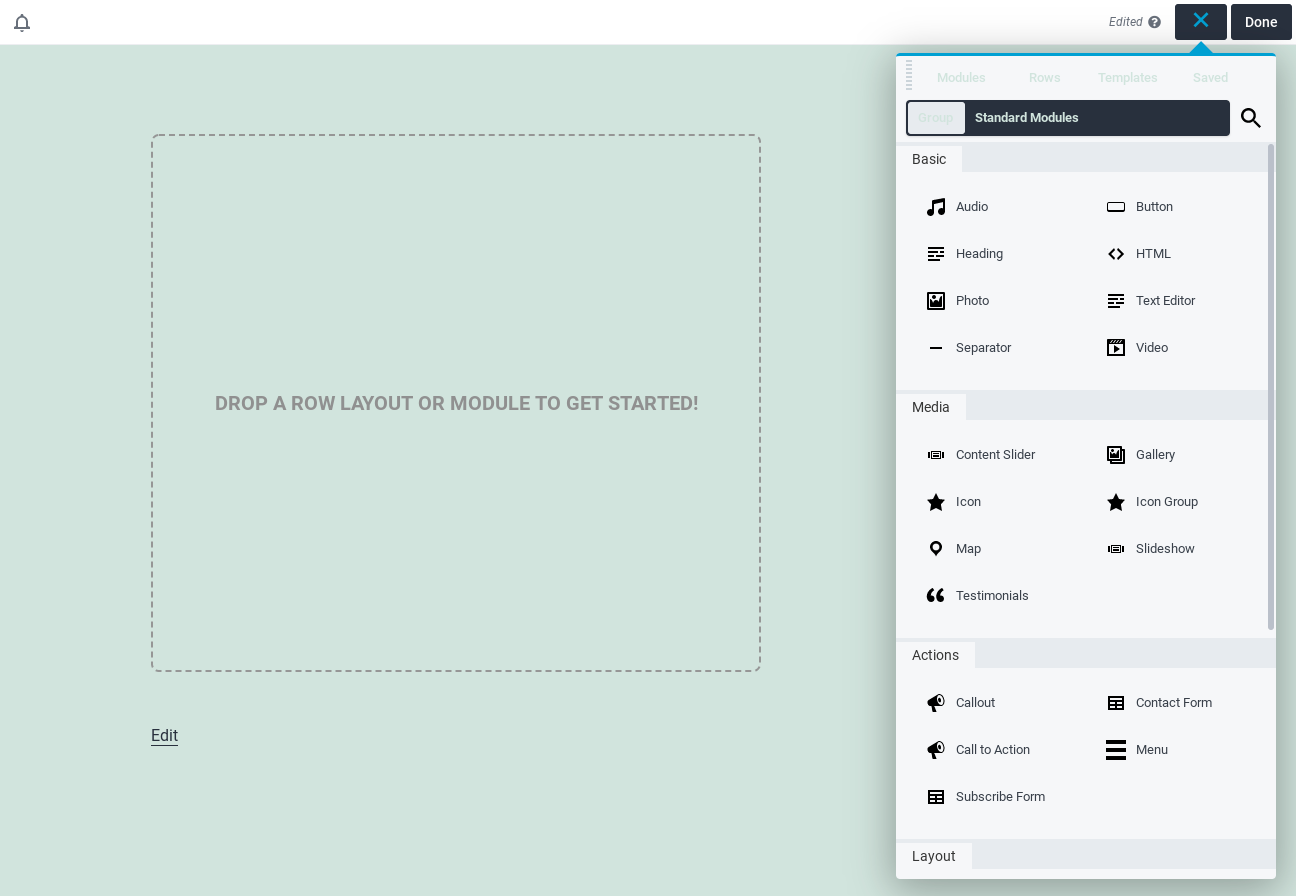 All you need to do is click any element on the page to customize and define the settings. You can move elements up or down on the page or add new modules with a single click.
However, Beaver Builder has been spotted with some drawbacks. Its visual interface takes users lots of time to get a hang of it, plus, compared to other WordPress landing page plugins, it has limited templates.
Price: Beaver Builder is available in free and paid versions. The free one is best-suited to create a simple landing page for one site, which doesn't need too many bells and whistles. Its paid plan starts from $99 for unlimited websites and 1 year of support.
#4. Leadpages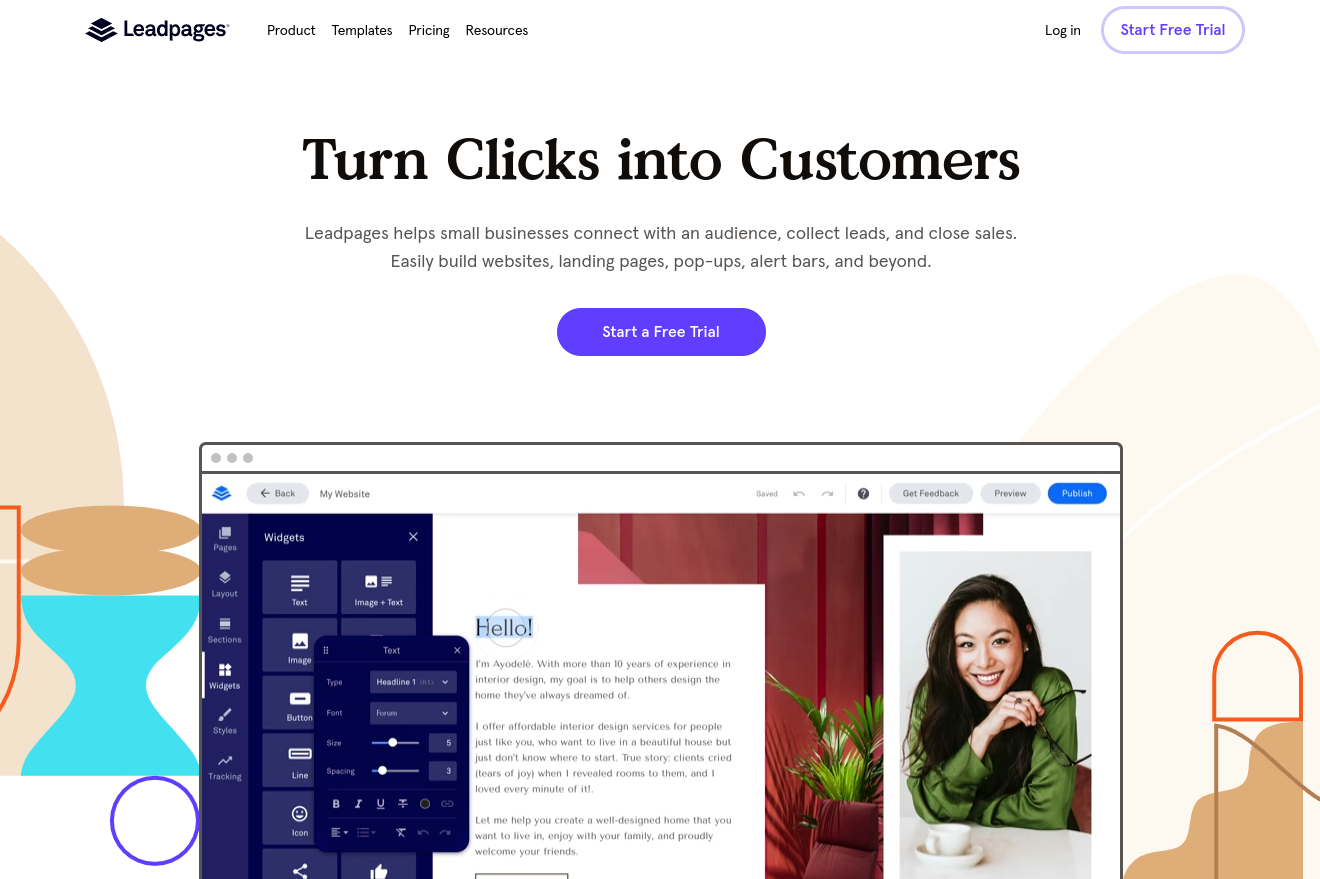 The next trustworthy candidates for WordPress landing page plugins refer to Leadpages. More than a standalone solution, Leadpages comes as a hosted, SaaS landing page builder tool that works beautifully with multiple platforms, including WordPress.
To start off, Leadpages owns dozens of trendy, conversion-focused pre-built templates and a visual drag-and-drop editor. You can freely customize your landing page per your needs, by adding numerous elements, e.g. CTA buttons, text, images, backgrounds, call to action buttons, signup forms, and many others.
Building a landing page on WordPress with Leadpages becomes quite simple. You need to create your own landing one in the Leadpages dashboard, then deploy it to your WordPress site via the Leadpages plugin.
Leadpages provides a huge list of optimization features and integrations, such as options for SEO, payment platforms, i.e. Stripe, marketing services like Mailchimp, etc.
The nice point about the SaaS approach is that you can handle all the landing pages for multiple sites from one spot. This comes in handy if you have a lot of different projects running. But still, the main downside is pricing. Since Leadpages follows recurring SaaS billing, it's definitely the priciest tool on this list.
Price: Leadpages starts at $27 per month (billed annually), but you may need to pay at least $48/ month to unlock A/B testing and built-in payments.
#5. Landing Page Builder

If you're looking for a full-package solution for landing pages, Landing Page Builder is just your ticket. This plugin gives you a full feature combo for building, optimizing, and testing your landing pages.
Install the plugin and you can access a library of hundred free pre-design landing page templates. It enables you to convert the template into your visually appealing landing page and SEO-optimize your content in mere minutes with its to-the-point visual builder.
Additionally, to make sure the landing page performs swiftly, Landing Page Builder's templates use very few scripts. Not only will this not drag down your site performance but also keep you hanging on whenever a page reloads.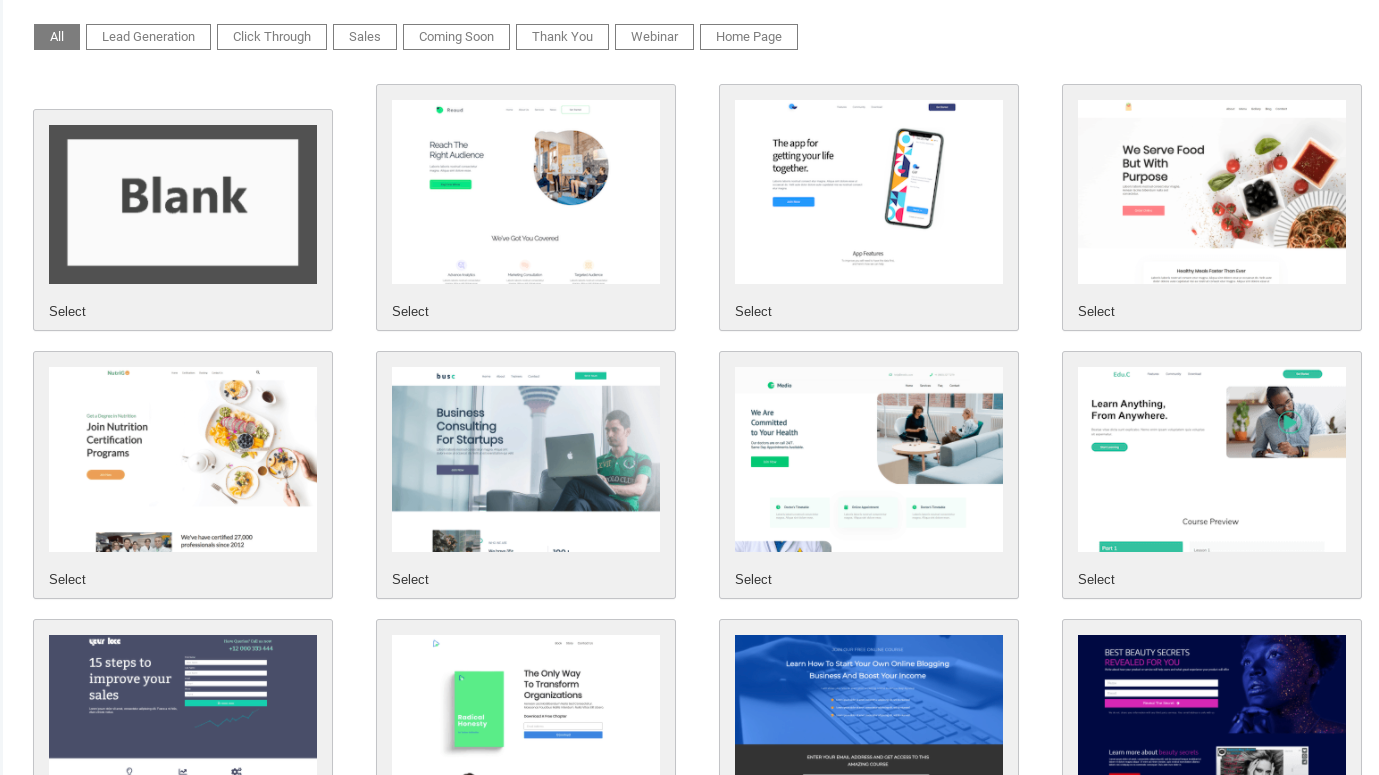 Apart from that, its built-in live form builder and subscribe forms also deserve a thumbs up. Thanks to this feature, you can gather and store form submissions, email addresses, and other data of subscribers with ease.
Plan to analyze your landing page performance? Landing Page Builder equipped analytics saying "yes" to track page views, clicks, and conversions on your landing pages. This WordPress landing page plugin also opens the way for you to edit your landing page on smartphones and tablets.
Price: Free. The premium version begins at $48 per year.
#6. OptimizePress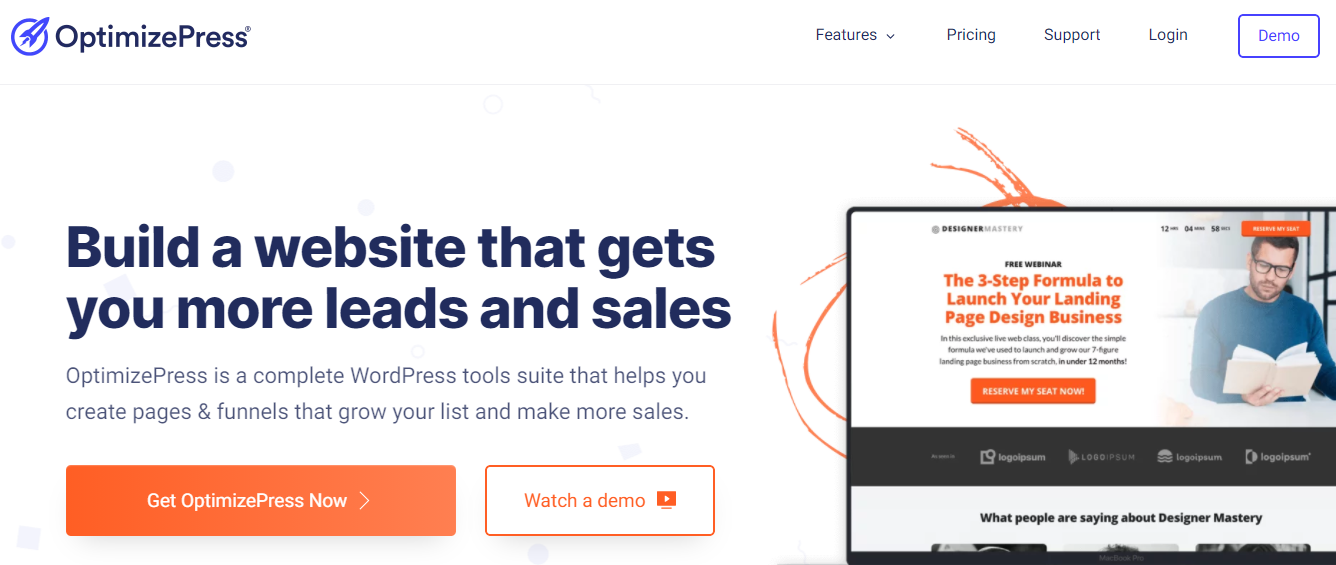 Another feature-rich WordPress landing page plugin that excels in creating attractive and responsive landing pages calls the name of OptimizePress. Coming with a bundle of advanced features, including opt-in forms, email marketing integration, etc., it claims to get your sale funnel off the ground.
OptimizePress possesses the most refined drag & drop editors called "The Lightning Builder." True to its name, you can edit and view changes in real-time with the live editor smooth as silk.
In case you need some design references, over 250+ pre-built templates with 40+ customizable elements, e.g. video and audio players, headlines, testimonial blocks, order boxes, progress bars, etc. will give you some ideas.
In terms of templates, OptimizePress boasts a host of landing page templates, such as video landing pages, webinar pages, lead capture pages, squeeze pages, long-form sales pages, video sales pages, course pages, and tons more.
What's more, the plugin has powerful integration with popular email marketing services, i.e. Drip. GetResponse, Zapier,… for quick and easy marketing campaigns. You can also dig into analytics and run A/B tests on your funnel pages to boost conversions.
Price: Starts from $99/year.
#7. Thrive Architect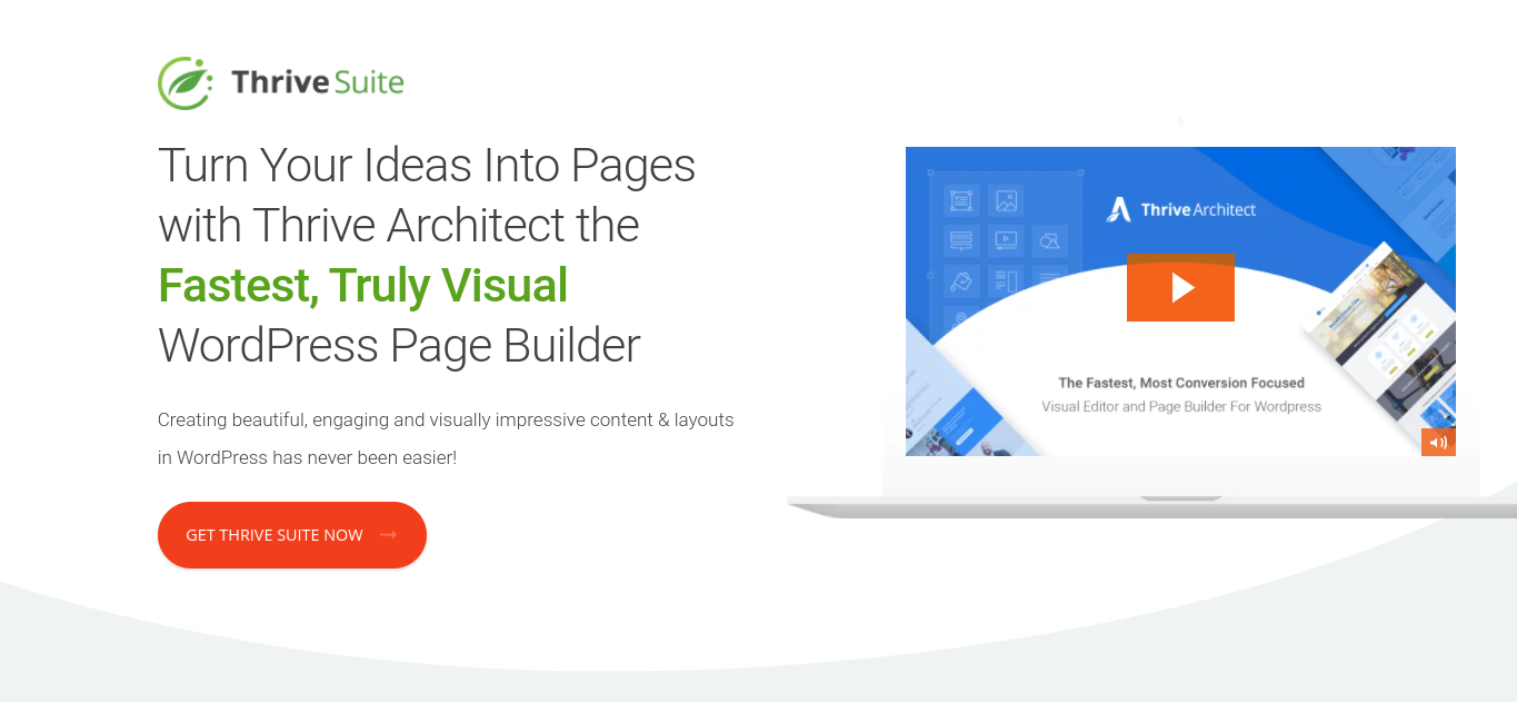 The last landing page builder in this list is Thrive Architect. This premium tool is a proud owner of a robust selection of 250+ templates, and a visual page builder that supports shaping aesthetically pleasing pages in no time.
In particular, Thrive Architect lets you freely tweak your landing pages to your liking via its drag-and-drop builder and a "click to edit" function. You can also get access to various page layouts, including sales pages, opt-in pages, webinars, just to name a few.
More than that, this WordPress landing page plugin also brings many essential conversion elements to the table, namely CTA buttons, content boxes, responsive video embed, a star rating system, responsive Google Maps, etc. This helps your landing page generate leads more easily.
Once you go for Thrive Architect, not only do you have the right to integrate your landing pages with 30 email marketing providers, but you also gain access to the whole Thrive Suite tools, plus A/B testing.
Price: $19/month (billed annually)
Boost Your Conversion with Custom Landing Pages!
This article has walked through the 7 best WordPress landing page plugins to power your sale funnel. All of them are the top-notch options for building landing pages, whose prices range diversely to suit everyone's budget.
There is no absolute definition for the best WordPress landing page plugins. It depends on your needs, business scales, and your budgets.
We hope this article helps you to find the up-to-par landing page plugins for your WordPress site.
Do we miss out on your favorite WordPress landing page plugins? Let us know in the comment section below!