A forum is a public meeting place for open discussion where users can ask and reply to questions and prompts, organized by topics.
Create a forum in WordPress is a great way to increase customers' engagement. Users can comment in the forum, discuss your products and services, or interact with each other. This makes customers feel part of your brand. As a result, you can maintain steady traffic and increase customers' trust in your brand.
In forums, you can answer customers' common questions about your products or services as well as resolve their problems. Forums also provide you with meaningful insights from the customers' data.
Furthermore, a forum supports you to attract a large traffic influx, improve SEO, and optimize digital marketing efforts. Users can help your brand's keywords rank higher by including them in their discussions. Therefore, new potential customers will have a higher chance of discovering your brand via search engines.
Let's see how you can create a forum in WordPress.
How to Create a Forum in WordPress Using Plugin
Step 1: Select Web Hosting and Domain Name
Firstly, you have to search for a forum hosting service. This will help you install your site builder and store all important files, as well as obtain your domain.
There are many WordPress hosting companies for you to choose from such as Bluehost, Hostinger, HostGator, DreamHost, and CloudWays.
Step 2: Choose a Theme
WordPress offers many pre-made website themes for users. You can easily customize text, photos, and other WordPress elements with these themes.
In your WordPress dashboard, choose Appearance > Themes.
Next, go through WordPress themes that are specifically made for forum sites. There are currently many WordPress forum themes available in the WordPress repository, such as BuddyBoss, Disputo, and ForumPress. When you find a suitable theme, just click Install > Activate.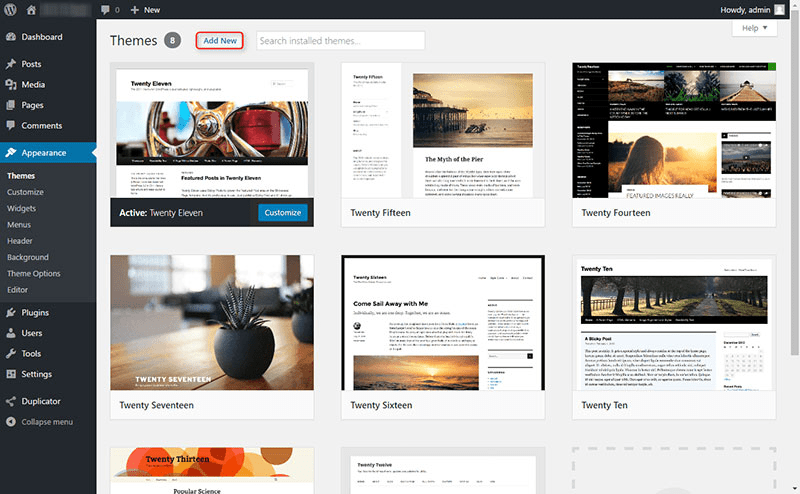 Step 3: Install a Forum Plugin
WordPress doesn't support building a forum by default. To create a forum, install and activate a forum plugin.
To get started, in the left-hand dashboard, navigate to Plugins > Add New. Next, search for the forum plugin you need and hit on the Install Now button next to the corresponding plugin. Finally, select Activate to finish setting up the plugin.
In this article, we'll show you how to build a forum using the bbPress plugin.

Step 4: Create a New Forum
After successfully activating your plugin, you will be redirected to a welcome page once you log in to the forum. The new items, including Forums, Topics, and Replies will be listed in your dashboard menu.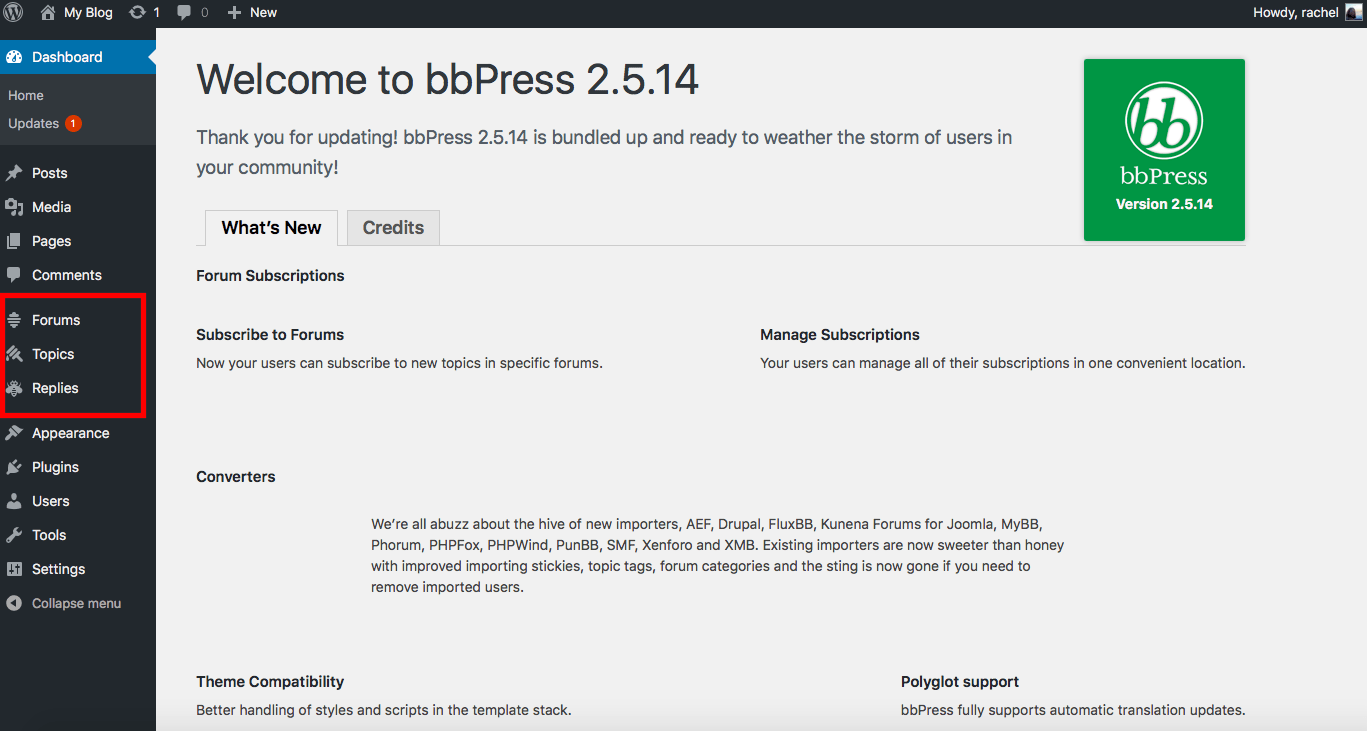 Head to Forums > New Forum. You'll be taken to a Create New Forum page where you can enter your forum title and description, and change some attributes including:
Type (Forum/Category) – Choose Forum here. In case you're setting up several forums, create a category and add additional forums to it.
Status (Open/Closed) – The Open option enables users to start new discussions, whereas the Closed option prevents new discussions or replies to current discussions.
Visibility (Public/Private/Hidden) – Public forums are accessible to all users. Private forums are only accessible to logged-in members. Only administrators and editors can access Hidden forums.
Finally, click the Publish button to create your first forum.
Step 5: Add Topics to Your Forum
A topic is a discussion thread. You can add new topics to your forum from the backend or the frontend. The content form for adding a new topic is located below the list of topics.
Step 6: Integrate the Forum into Your Site
The next step is to add the forum to your WordPress site. To allow people to register and post in your forum, go to Settings > General in your WordPress dashboard and tick the Anyone can register box under the Membership option.
You need to create a sign-up and lost password page. To do this, add the shortcodes to the Shortcode block after clicking on the Add Block button. You need to insert in the shortcode [bbp-register] to generate the sign-up page and [bbp-lost-pass] to build the lost password page. Then publish these pages under appropriate names.
Finally, navigate to Appearance > Menus. Now select Forum and click on Add to Menu:

Make sure to save your changes. Your forum is now fully ready to go!
We have guided you on how to build a forum using a plugin. In the next section, we will introduce some free forum plugins for you to compare and make your choice.
Top 5 Free Forum Plugins in 2022
#1 bbPress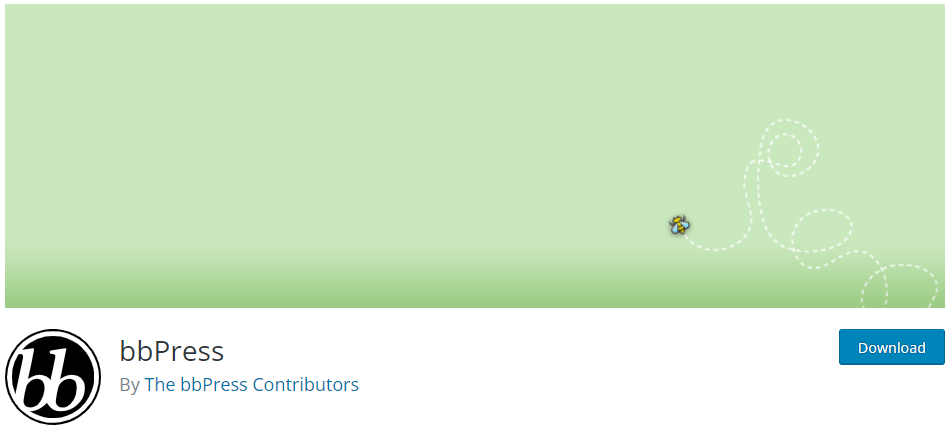 Plugin Stats:
Price: Free
Downloads: 200,000+
Ratings: 4/5
Are you looking for a streamlined WordPress forum plugin? bbPress would be a great choice that packs advanced management options for full customizability.
Easy to integrate: bbPress provides a detailed guide for plugin integration.
Easy to use: The dashboard is user-friendly and offers a wide range of customization options to control everything within the forum.
Compatible with other plugins: It works well with other third-party plugins.
bbPress is one of the best WordPress forum plugins.
Pros:
The plugin provides comprehensive documentation and tutorials.
It offers many extensions to improve site functionality.
Cons:
Support is not immediately available.
Features for large-scale forums are restricted.
#2 BuddyPress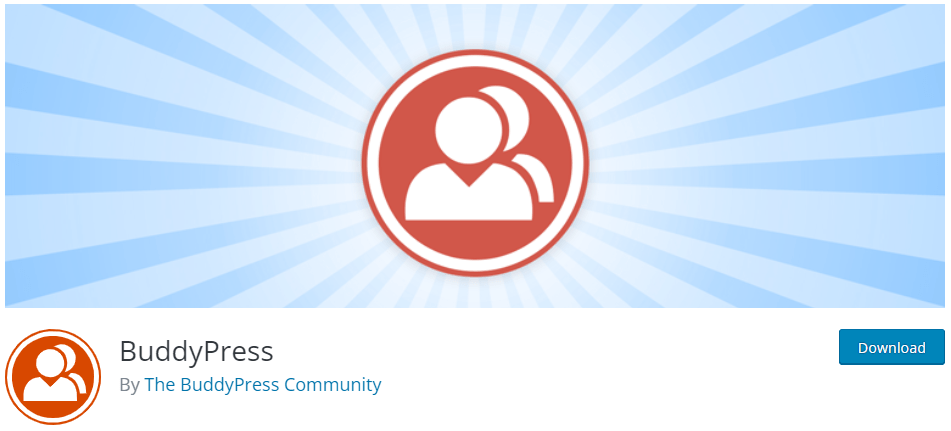 Plugin Stats:
Price: Free
Downloads: 200,000+
Ratings: 4.2/5
Are you looking for a modern, robust, and sophisticated forum plugin? BuddyPress would be an ideal plugin for creating a basic social network within your WordPress site.
Private conversations: Allows users to send private messages.
Customizable user profiles: Let users customize their profiles by adding their name, photo, and location.
Micro-communities: Create many small communities and discussions.
BuddyPress can easily be expanded with free extensions. You could build a strong sense of community on your website with this plugin!
Pros:
BuddyPress is compatible with LearnDash and other WordPress plugins.
It offers many helpful features and a user-friendly interface.
The customizable design allows users to enhance site appearance without coding.
Cons:
It's limited in technical support.
#3 wpForo Forum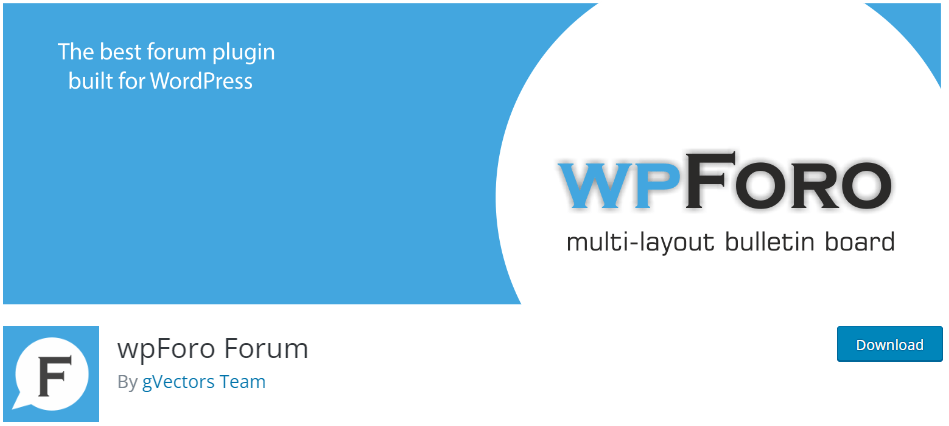 Plugin Stats:
Price: WP Foro Forum is available for free in the WordPress repository, but the extensions cost from $11 upwards each.
Downloads: 30,000+
Ratings: 4.8/5
wpForo Forum is the best WordPress forum plugin for creating highly-interactive and fully-responsive online forums.
Multi-layout options: This plugin comes with modern and responsive forum layouts and styles.
SEO-friendly tools: wpForo Forum is SEO-optimized to help increase online traffic and improve your website's rankings on search engines.
Social network share buttons: It allows users to share topics and invite others to join the discussions.
wpForo Forum brings everything you need to build an efficient and professional online community.
Pros:
Many forum features including admin features.
BuddyPress compatibility.
Different forum views.
Search and filter features.
Cons:
You have to pay for premium extensions.
#4 Asgaros Forum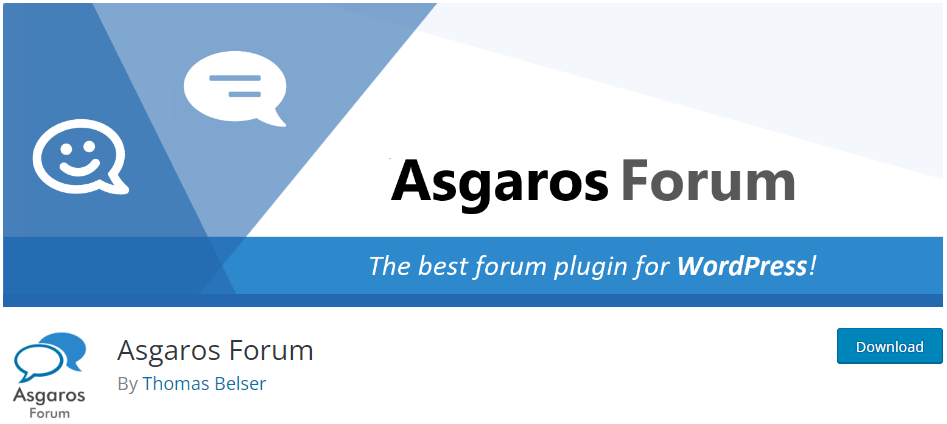 Plugin Stats:
Price: Free
Downloads: 10,000+
Ratings: 4.8/5
Asgaros Forum can extend your website with a lightweight and feature-rich discussion board. It is easy to set up and easy to use.
Simple content management: The plugin provides you with a powerful and easy-to-use interface.
Statistics display: It shows the number of views, posts, and active users.
Polls option: It offers a poll feature to collect people's opinions by letting them choose among pre-defined answers.
Customizable and responsive theme: You can customize color schemes and fonts while maintaining a consistent look and functionality across all devices.
Asgaros Forum is suitable for beginners with an intuitive design and a simple interface.
Pros:
It offers all the admin tools you'll need
It is SEO-friendly
Cons:
It's better for small forums than larger ones
#5 Discussion Board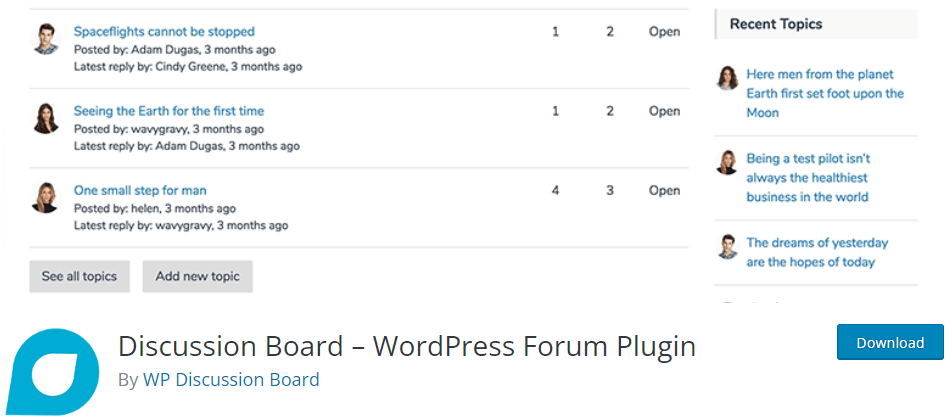 Plugin Stats:
Price: Discussion Board has a free version. It costs you from $49 to $89 per year for the premium version. It will be more economical if you install a lifetime license at $199.
Downloads: 2,000+
Ratings: 4.7/5
The Discussion Board is designed to be as user-friendly as possible. It has a one-click installation and is simple to set up.
It allows you to grant access to specific user roles. So you can control separately who can view your WordPress forum and who can post to it.
There are other options for you to manage topics, moderate content and users, and prevent spam.
Pros:
Offer all the basic forum features
Provide straightforward admin tools
Cons:
Some of the best features are premium only
Get the Discussion Started
To recap, you can build a forum in WordPress by taking these simple steps:
Select web hosting and domain name
Choose a theme
Install a forum plugin
Create a new forum
Add topics to your forum
Integrate the forum into your site
We've recommended the top 5 free forum plugins for you to choose from. By adding a forum to your WordPress site, you can significantly increase your website's engagement and boost your SEO rankings.
Do you have any questions about creating a forum in WordPress? Let us know in the comment section below!