As a Shopify store owner, you certainly want to optimize your stores to streamline user shopping experiences and boost sales.
Besides the best Shopify live chat app for instant customer support, you may need a Shopify currency converter to expand your target audiences and increase global sales.
This article today provides you with the top 7 currency converter apps for Shopify stores. They are handpicked based on their striking features, overall ratings, and customer endorsement.
#1. Multi Currency Converter by Hextom

Overall rating: 4.8/5
Price: Starts at $9.99/month. 7-day free trial.
Multi Currency Converter (MCC) assists Shopify store owners in flexibly converting the default currency into hundred currencies worldwide.
MCC's principle operation is simple. It first detects buyer's geolocations, then auto converts prices into their local currencies. This helps bring a localized experience to your online stores.
This Shopify currency converter app gives the green light to monetary forms used by 236 countries and regions. It's possible for store admins to display a currency drop-down menu to provide customers various currency options.
Plus, MCC is also fast to install and very simple to use, which helps it win lots of praise from users.
Key Features:
Automatically track down buyer's locations
Auto round converted prices
Instantly update the latest currency rates
Compatible with any devices such as desktop, mobile, and tablet
#2. SmartCS: Currency Switcher by Secomapp

Overall rating: 4.9/5
Price: Starts at $9.95/month. 14-day free trial.
Currency Switcher proves one of the most favored Shopify currency converter apps in the market. It claims to help Shopify site owners "extend business horizons to other countries."
You'll be amazed at how flexible the Currency Switcher is. This Shopify currency converter detects customers' location and then exactly switches to the local currency. This lets users easily check out using their local currencies, which enhances their shopping experiences.
Besides, the app includes live currency exchange rates from Shopify and many pre-built templates for Currency Selector. You can freely choose one that fits your site style.
The customer service of Currency Switcher deserves a thumb up. Any issues arising can be solved on the spot by the support team.
Key features:
Have an easy setup, fast loading, and intuitive UI
Automatically generate currencies based on customers' ID
Customize the number of countries in which one currency will be displayed
Freely edit currency format
Stay responsive on PC, tablet, and mobile
#3. BEST Currency Converter by Grizzly Apps

Overall rating: 4.8
Price: Free plan available. An elite plan with full features costs $9.95 monthly.
With over 6 thousand five-star reviews, BEST Currency Converter is undoubtedly a wizard in the Shopify currency converter niche.
The app says "yes" to 160+ currencies, even such special ones as Bitcoin. It also keeps close tabs on the exchange rates by updating them twice a day.
As a matter of fact, converting checkout currency is not supported on Shopify by default. The app tries its best to inform customers about this by displaying custom messages on the cart page. Alternatively, customers can hover over the converted prices to see the original prices.
Key features:
Automatically switch the currency to the customer's home currency
Remove price decimals to show beautifully converted prices
Provides several themes to match the store's look
Flexible show the currency box or hide the Currency Converter and have it run in the background only.
#4. Multi Currency Checkouts+
Overall rating: 4.7
Price: Free plan available. 3-day free trial.
Are you using Shopify Payments as your payment gateway and wish to enable multi-currency checkout? Multi Currency Checkouts+ will help you handle the task without hiring a developer or touching a bit of code.
The app detects the home country of visitors and automatically switches all prices to their local currency. This Shopify currency converter app currently gives the go-ahead to over 130+ currencies worldwide.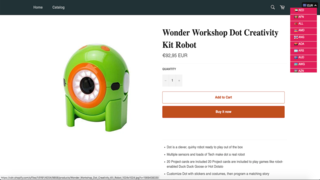 On top of that, as a store owner, you can set custom rules to handle unsupported currencies. Multi Currency Checkouts+ is compatible with Shopify payments manual exchange rate.
Key features:
Have an easy setup
Auto convert currency according to geolocation
Include Style Editor to tweak the currency switcher and banner to display prices
Offer country based automatic discount codes (Pro plan)
#5. MLV: Auto Currency Switcher

Overall rating: 4.8
Price: Free plan available. The premium plan costs $9.95 a month.
More than 4 thousand 5 star reviews are enough to prove how popular MLV: Auto Currency Switcher is. Using it and checking out in various currencies with Shopify's Multi Currency is just a piece of cake.
The app tracks down your locations via IP addresses, then automatically changes prices to the local currency. As soon as the page loads, customers will see their home currencies display.
More than that, the app includes User Readable Price Figures to round prices by removing the digits after the decimal points. For example, €75.89 is displayed as €76.00 or €76 based on your choice. This helps your customers easily read the price.
The great point here is you don't need to spend any dime to download and install this Shopify currency converter app. It's really easy to set up and fully customizable. Plus, it has top-notch customer services which provide 24×7 support.
Key features:
Detect user's IP addresses and switch into their country's currency
Provide instant customer support
Integrate with currency converter with Shopify themes
Include IP Based Country Detection and Country Flags design box (premium)
Increase sales by focusing on international customers
Update currency conversion rate twice a day
#6. Bold Multi‑Currency by BOLD

Overall rating: 4.5
Price: Starts at $10/month
Similar to other Shopify currency converters, Bold Multi‑Currency owns important features of a currency app i.e. geolocation detection or auto currency conversion.
Shopify users love this app as it says "yes" to ALL currencies, plus, syncs real-time currency rates. This provides an accurate price for any customer and reduces foreign exchange risk.
Along with that, the app gives you the power to set up a fixed exchange rate and a special payment gateway for any currency.  Bold Multi‑Currency supports multiple rounding rules and flexibly applies different rules to different currencies.
Key features:
Support all currencies and multiple rounding rules
Allow vanity pricing. All different currencies can still end in .99
Syncs real-time rates for all configured currencies and showcases the latest prices
Enable rate-padding to add a percentage or dollar amount to exchange rates
#7. Currency Converter Bear

Overall rating: 5.0
Price: Starts at $9.99/month. 14-day free trial.
Currency Converter Bear has emerged as a Shopify currency converter expert with more than 500 five-star ratings overall.
The app seamlessly integrates with Shopify Payments to support multi-currency in checkout. Its main duty refers to converting your prices to a home currency based on your customer locations.
The app accepts 160 currencies in the world, which exchange rates are updated several times per day.
With Currency Converter Bear, having complete control over currency is no longer a tricky task. The app allows you to switch prices without revealing them to your buyers.
Worry about a matching design? Currency Converter Bear will take that weight off your mind by offering multiple Layouts, flags, and diverse color schemes. You can even add custom CSS to style your desired layout.
Key features:
Automatically convert prices based on location
Supports 160+ currencies
Clear decimals and shows converted prices
Round prices to a fixed value
Offer code-free and easy 2-minute setup
Provide around the clock customer support
Which is the Best Shopify Currency Converter App?
We've highlighted the top 7 currency converter apps for your Shopify stores. Most of them offer a free plan and reasonably paid plans.
In general, all these Shopify currency converters share the same similarity in principle operation. They detect customers' locations and then automatically convert prices into their local currencies.
The mere differences lie in pricing plans, the number of supported currencies, and layout offers.
What are your favorite Shopify currency converter apps? Are there other currency converters that you recommend? Let's comment your picks below!