Leading the business trends recently, 3D printing products have taken the world by storm.
According to Grand View Research, "the global 3D printing market size was valued at USD 13.78 billion in 2020 and is expected to expand at a compound annual growth rate (CAGR) of 21.0% from 2021 to 2028."
Seeing this promising future of 3D business, as well as aiming to help eCommerce sites boost their sales with 3D products, in this article, we'll shed light on the top 5 free WooCommerce 3D printing plugins.
Besides, we'll give you a clear insight into the key features, pros and cons, and pricing of these plugins.
Let's get the ball rolling!
#1. Woo3D Viewer
#2. Verge3D Publishing and E-Commerce
#3. 3DPrint Lite
#4. canvasio3D Light
#5. Phanes 3DP Calculator
#1. Woo3D Viewer

Created to best serve 3D printing businesses, Woo 3D Viewer can add a 3D product viewer into WooCommerce stores in a snap.
This WooCommerce 3D printing plugin provides such an intuitive user interface to let you adjust their scene and model settings with ease. What's more, its visual shortcode builder allows you to modify the background color, shadows, shininess, and transparency of finished products.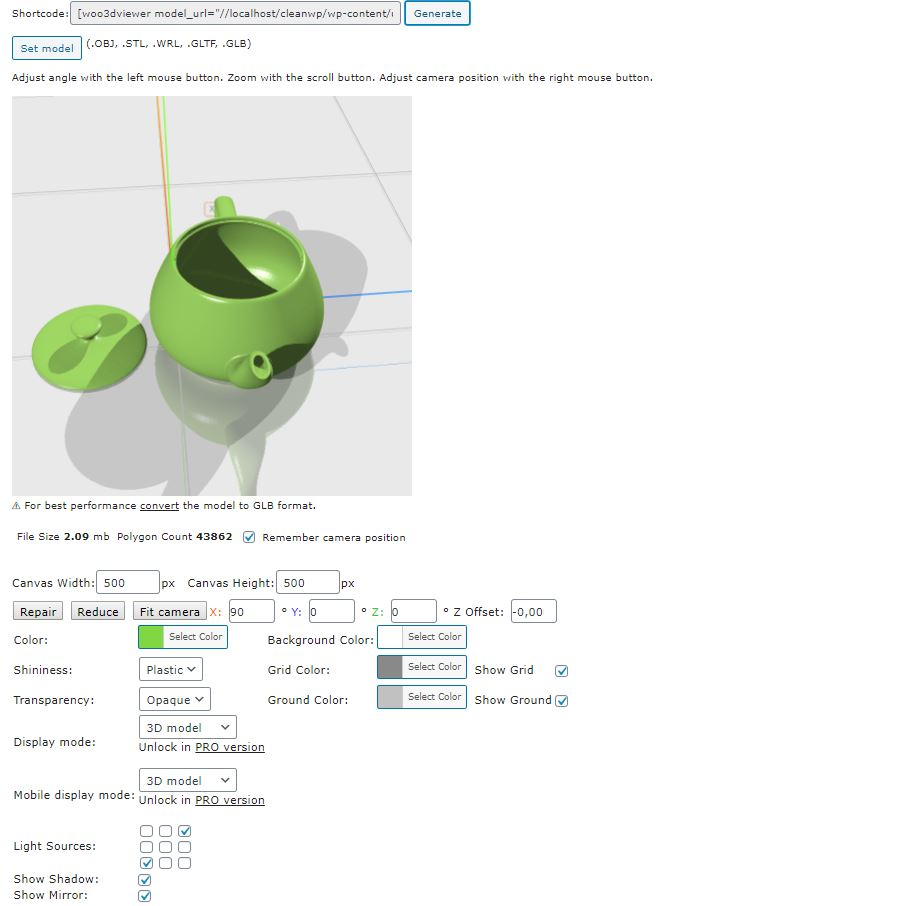 The shortcode can be inserted flexibly into any WordPress page and post. Once you add it to WooCommerce sites, it will create a "View 3D" button next to the original product image.
Woo3D Viewer comes with free and pro versions. Regarding file types, the free version supports several basic formats only, such as STL, OBJ/MTL, GLTF (including textures and animation), and ZIP.
Meanwhile, Woo3D Viewer Pro includes an advanced option to convert models to PNG, animated GIF, WEBM video format. This protects your models from unauthorized downloads. Besides a 3D model, it also gives the go-ahead to the WEBM or a GIF, along with model compression for faster loading on mobile devices.
Price: $29 for Woo3D Viewer Pro. You can try its demo here: http://woo3dviewer.wp3dprinting.com/shortcode-test/
#2. Verge3D Publishing and E-Commerce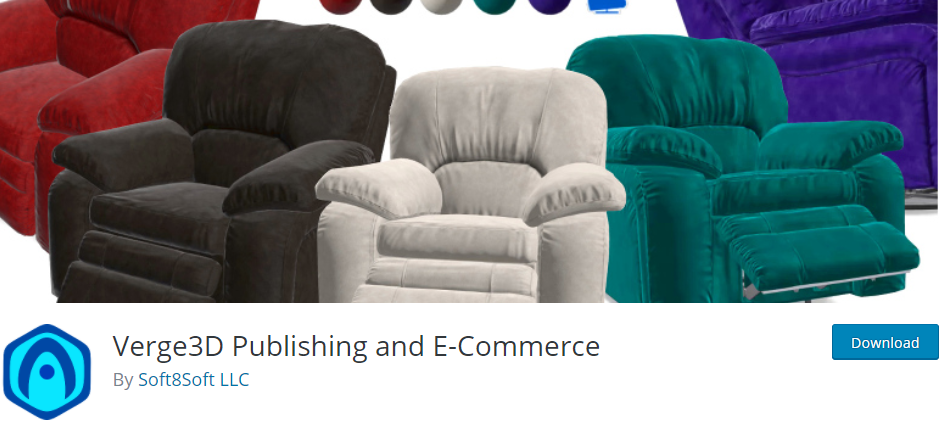 True to its name, Verge3D Publishing and E-Commerce is built to assist content creation and eCommerce stores. With its WordPress and WooCommerce integration, you can create an online store, browser games, 3D presentations, portfolios, product configuration, and even e-learning apps with 3D models.
What makes this WooCommerce 3D printing plugin stand out from the crowd is its ability to show impressive 360-degree views and zoom of models. This lets users carefully inspect the 3D models from multi-angles. That way, your content is taken to the next level, which helps arouse user interest and improve engagement.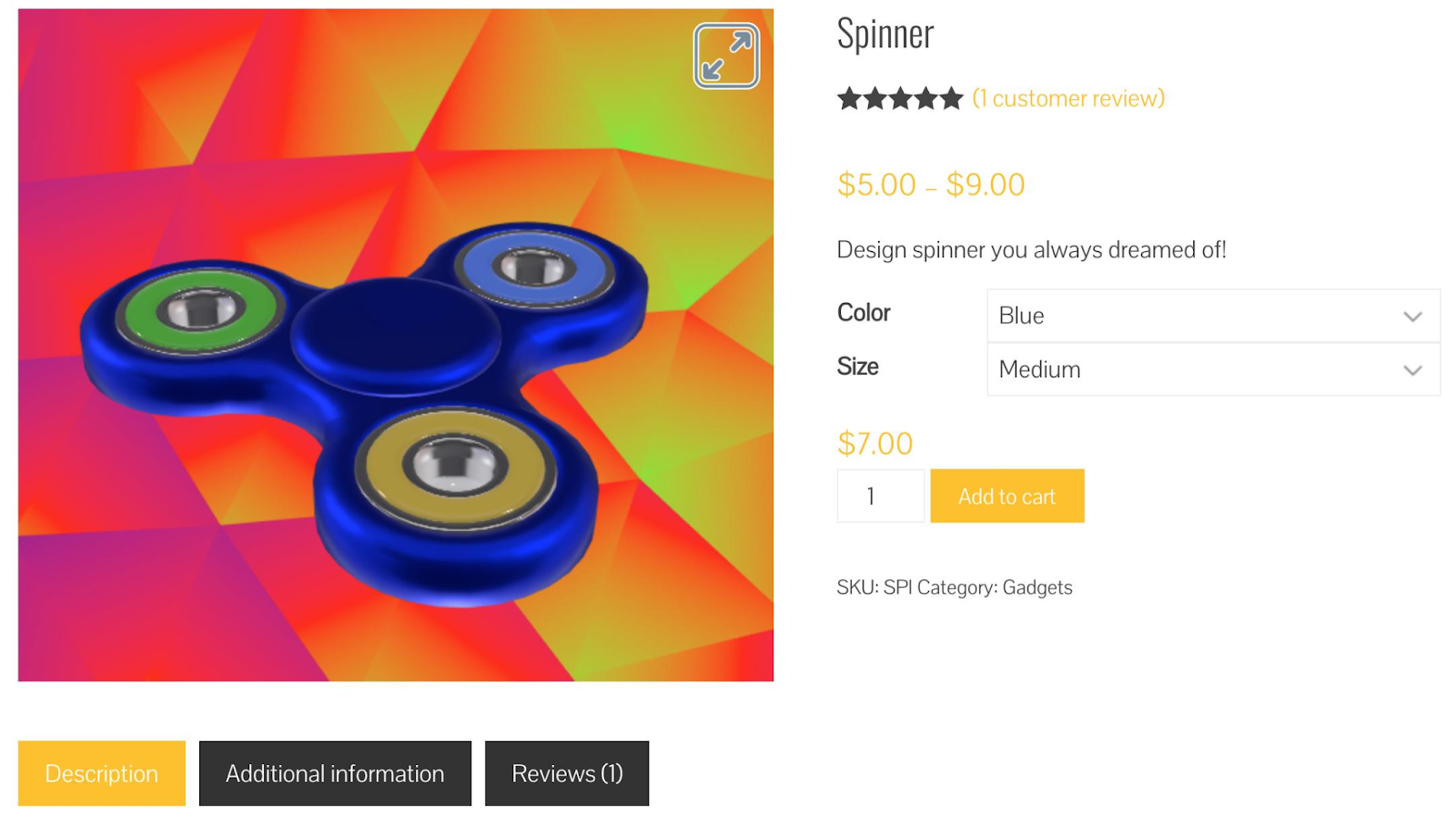 More than that, opting for Verge3D Publishing and E-Commerce and you're free from hiring a 3D specialist or graphic programmer. Its built-in Physically-Based Rendering (PBR) will clear a path for producing engaging 3D Web content, leading to a high level of 3D representation.
Along with that, the plugin works seamlessly on all devices, from desktops, smartphones, to TV.
As Verge3D elements are hosted on your own WordPress servers, you'll have full control over your works and data.  Whether keeping your 3D works private, showing them to your partners or the general public, the choice is yours!
Price: You can download this amazing WooCommerce 3D printing plugin without spending a dime on the WordPress plugin directory. All in all, Verge3D Publishing and E-Commerce is such a steal for any eCommerce business.
#3. 3DPrint Lite

Another wizard mastering WooCommerce 3D printing is 3DPrint Lite. This plugin simplifies the process of purchasing 3D products by encouraging customers to actively select their desired models.
Customers can order customized 3D models by uploading their own digital models to your WordPress site. 3DPrint Lite includes many printer and material options, which buyers can pick and see the estimated price. If the estimated cost fits their budget, they can enter their email addresses or special requests and request a quote.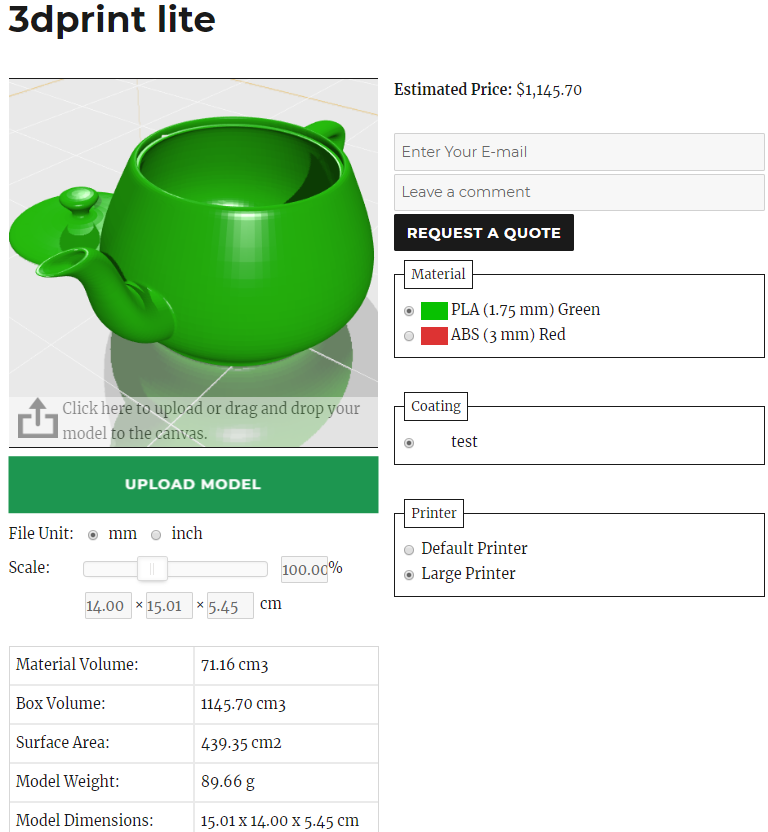 Basically, WordPress admins own the right to set up printers, materials, and pricing. Once they receive the request notification via email, they will send the quotes through the Price Request Manager or reject the quote requests.
3DPrint Lite free version supports WordPress only, with basic features such as large file upload support, model scaling, pricing and material adjustment, and responsive layout, etc.
Upgrade to the premium version and you can get WooCommerce integration for better usability in your eCommerce store. Along with that, you can get access to tons of striking features, namely discount system, STP and IGS file format support, material calculation, and more.
Price: Free. The premium version is offered at $39. You can try its demo here: http://www.wp3dprinting.com/3d-print-lite-demo/
#4. canvasio3D Light
With over 1,000 active installations, canvasio3D Light proves one of the most trustworthy picks in the WooCommerce 3D printing niche. It's widely endorsed by architects, engineers, 3D designers, and 3D art shop owners.
With the help of canvasio3D Light, WordPress site owners can freely show 3D models with 360-degree support for rotation and zooming. The plugin says "yes" to numerous 3D file formats, including .obj & .mtl, .stl, .glTF and .glb.
After uploading your 3D graphic as a Zip file to your WordPress site, canvasio3D Light permits you to edit your model via its to-the-point menu. Thanks to available shortcodes, you can display your models/products on any WordPress page and post even with your eye shut.
In addition, the plugin seamlessly integrates with WooCommerce, helping extend 3D shop functions a piece of cake. canvasio3D-Woo possesses ideal features that any 3D store owner can dream of, such as interactive 3D-items support, animation button, material customization, multiple lights-sets, panorama background, and tons more.
Price: While canvasio3D Light is free of charge, canvasio3D-Woo costs you nearly €87 with a regular license and unlimited support.
#5. Phanes 3DP Calculator

Phanes 3DP Calculator is brought to life to no other than fulfilling the duty of turning normal WooCommerce sites into 3D printing service sale specialists. Like many others, this play-and-plug plugin comes with both free and paid versions, which we will give them a closer look at below.
Starting with the free version, Phanes 3DP Calculator gives the green light to the STL files only. Shoppers can directly upload the file on WooCommerce stores to view the final 3D product.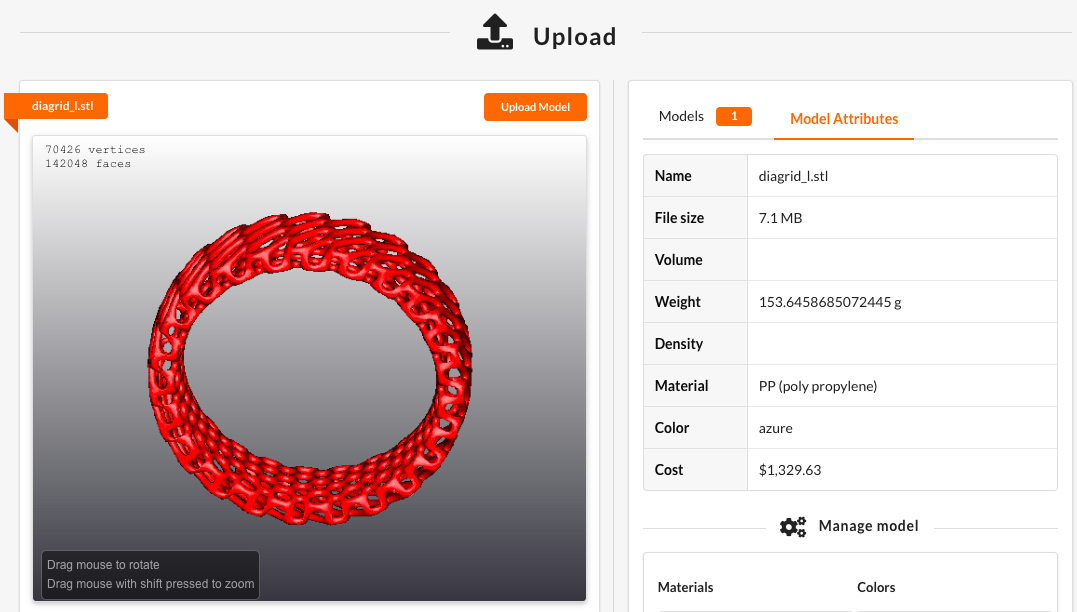 Plus, its ability to let users add unlimited filament material attributes and prices deserves a thumb up. However, the limitation on payment options forces users to update to the paid version.
Phanes 3DP Calculator Free accepts PayPal only, while the paid one supports both PayPal and Stripe, along with diverse currencies, i.e. USD, EUR, Yen, Hong Kong dollar, Thai Baht, etc.
Besides, the premium module also offers a wide range of features, i.e. bulk uploads, coupon code, delayed price code, density and volume calculations, … just to name a few.
Price: Though Phanes 3DP Calculator gains praise for its simplicity, this WooComemrce 3D printing plugin bowls users over with its price. It costs $179/ year, which to some small online store owners, a fortune!
Which WooCommerce 3D Printing Plugins Suite Your Business?
We've walked you through the 5 best WooCommerce 3D printing plugins for your 3D printing business. Each boasts different advanced features and prices.
Among them, Woo3D Viewer, Verge3D Publishing and E-Commerce, and 3DPrint Lite are best-suited for small-scale businesses. Installing them won't break your bank.
In case you wish to bring a streamlined checkout experience to users, learn how to create WooCommerce one-page checkout here!
Are you running WooCommerce stores selling 3D products? Which plugins above are your favorite? Share with us your experiences below!