Bundling or grouping products in WooCommerce stores prove an effective way to cross-sell.
By assembling similar products together, customers find it easier to buy related items. This strategy significantly helps improve order value and boost your sales.
But how to create WooCommerce grouped products? Is it possible to set up grouped products using WooCommerce itself?
Our post today will help you answer these questions. Keep reading to discover how WooCommerce grouped products differ from product bundles, as well as 3 simple steps to create grouped products in WooCommerce.
Why Need Grouped Products in WooCommerce Stores?
In a nutshell, a grouped product refers to a collection of many single products that relate to each other and can be sold separately.
Let's say your store offers school suppliers, including books, notebooks, pens, pencils, rulers, and many more. Instead of just selling them individually, you can group them into many study sets for different age ranges.
This idea can speed up the buying process as customers can buy all necessary stuff in one go rather than browsing many product pages.
Plus, by linking many relevant products together, you're building internal links on your site. This comes in handy in terms of SEO.
Good news for you! Besides letting you freely customize the WooCommerce checkout page, WooCommerce also gives you the power to create grouped products at its core.
You can easily group simple product types without needing the assistant of other plugins.
Grouped Products vs Product Bundles
Many people misunderstand WooCommerce grouped products with product bundles.
In fact, a product bundle is similar to "a combo." All relevant items are clustered in packages and offered with a lovely price tag. And of course, customers can't buy them separately.
Grouped products, on the other hand, allow customers to view all the single products together, and at the same time purchase each of them on one product page.
How to Create and Set up WooCommerce Grouped Products
Before we dive into the detailed tutorial, there are some WooCommerce grouped product 101 that you should pay attention to:
A grouped product can possess various simple products. Similarly, one simple product can be clustered into different grouped products.
By default, WooCommerce allows you to group simple products only. For grouping variable products, e.g clothes that have sizes, colors, and materials, you may need help from other group product plugins.
It's possible to create upsell product slider for grouped products. However,  you can't set up cross-sells on the cart page.
Now, let's discover how to create and set up grouped products on your WooCommerce store. The whole process just takes up 5-10 minutes and involves in 3 steps:
Step 1: Create multiple single products
Step 2: Create a grouped product page
Step 3: Assemble the WooCommerce grouped products
Create Multiple Single Products
In your WordPress dashboard, go to Products > Add New.
Fill in product details such as title, description, price, category, and product image
In Product data, choose Simple products as your product type from the dropdown.
Publish the product

Repeat the above process for other single products you want to add to your group. Alternatively, you can click on the Copy to a new draft option to duplicate your single product page.


Create a Grouped Product Page
Simply applying the process as you create single products above to this step, plus, changing the product type to "Group products."
Head to Products > Add New.
Enter product details such as title, description, price, category, and product image
In Product data, choose Grouped products as your product type

Assemble the WooCommerce Grouped Products
In the grouped page you've just created, click on the Linked Products option
In the Grouped products box, choose the single products you plan to include on this grouped product page

Drag and drop your products to rearrange their orders when displaying them on the frontend

Once done, click Publish to make your grouped product page live
Now customers should see the grouped product on your store page. They can either choose a certain number of every single product or purchase all with just one click.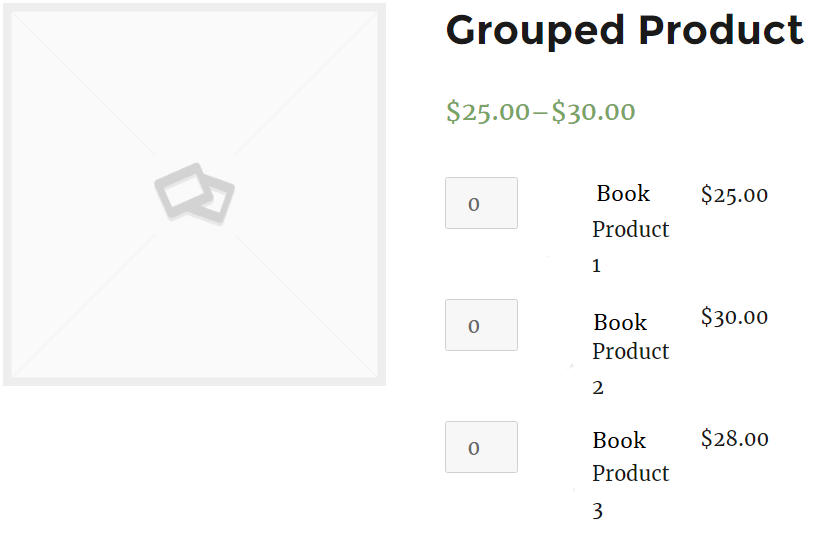 Remember that the grouped product doesn't have a fixed price. Besides, whenever you click on each individual product, you'll be taken to its single product page.
Ready to Create Grouped Products on Your WooCommerce Stores?
Including grouped products in your stores boasts many benefits. Not only does it make the buying process easier, but also improves your overall sales. Apart from that, creating grouped products is essential for SEO as well.
This article has guided you through 3 simple steps to create WooCommerce grouped products. Besides, what is a grouped product, and how it differs from a product bundle are also brought forward.
Remember that WooCommerce gives the go-ahead to group simple product types only. For variable or affiliate products, you may need to use other extra plugins.
Still having questions on WooCommerce grouped products? Ask us right in the comment section below!