The rise of the Internet has led to a huge spike in usage of social login among eCommerce websites.
It's no longer strange to see customers log into your online shops via Facebook, Gmail, Twitter, or other social accounts.
According to the research by WebHostingBuzz, over 77% of customers agreed that social login proves an ideal solution for registration to eCommerce sites. It should be offered by any website.
On top of that, 60% of consumers think that businesses adopting social login are "more up-to-date and innovative, leaving a positive impression compared with sites that don't."
The reason behind this is simple. Social login appears to be more advanced in ensuring security and data correctness.
While adding social login to your WooCommerce stores is such a cakewalk, choosing the right social login plugins can be a millstone around your neck.
Aware of your concern, in this article, we'll highlight the 7 best WooCommerce social login plugins along with their key features and prices.
Without further ado, let's get started!
WooCommerce Social Login

WooCommerce Social Login is one of the most feature-rich plugins to simplify the login and checkout process for your stores. It allows your customers to be able to log into your site via their social accounts.
This premium WooCommerce social login plugin supports dozens of social media platforms, such as Facebook, Twitter, Google, Amazon, LinkedIn, PayPal, Disqus, Yahoo, or VK.
Rather than creating new credentials, online shoppers can use existing ones from any of these platforms to log in. Plus, any new user accounts created with social login will automatically be linked to the appropriate networks.
Key Features:
Let customers log into your WooCommerce stores via social network accounts
Encourage returning customers to shop by enabling them to log in with one click
Compatible with WooCommerce product review plugins. Include login buttons in the "Product Reviews" login forms
Provide insight report to view and track the number of linked user accounts for each social network
Access the "My Account" page and customers can link or unlink social accounts from your sites
Price: $79
Nextend Social Login

Nextend Social Login is a free yet trustworthy option to integrate social login to your WordPress sites. It enables your users to register and log into your sites in a flash via social profiles, including Facebook, Google, Twitter.
However, this plugin doesn't include the WooCommerce social login capability at its core. You have to use its add-on to activate this feature. What's more, its pro version grants users access to a wide range of social platforms, i.e LinkedIn, Amazon, VKontakte, Yahoo, PayPal, Disqus, Apple, and tons more.
On top of that, this plug-and-play plugin possesses a super-intuitive user interface. Its simple setup saves you a huge amount of time from modifying the settings. Plus, its detailed documentation along with fast and helpful support deserve a round of big applause.
Key Features:
Offer one-click registration and login
Assign a custom redirect URL after the registration using any of the social accounts
Display Facebook, Google, Twitter profile picture as an avatar
Customize the appearance of the login buttons per your taste
Easily edit and translate login button text
Restrict specific user roles from using social logins (pro version only)
Provide many login layouts (pro version only)
Price: The plugin itself is free. WooCommerce Integration add-on for a single domain costs $50.
AccessPress Social Login Lite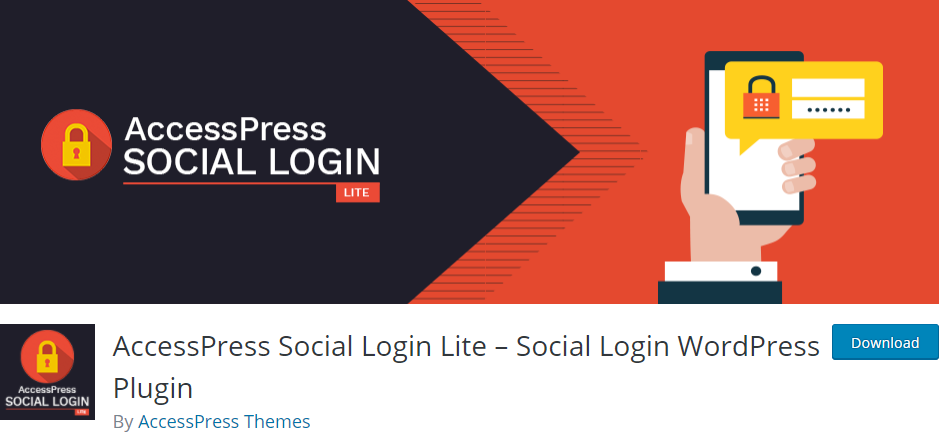 AccessPress Social Login Lite refers to another powerful WooCommerce social login plugin that you definitely won't leave on the table. With this plugin, customers can register and log in to your stores via over 10 different social media platforms, including Facebook, Twitter, or Google.
As a site owner, you get the right to decide which social account should be enabled/disabled for logging in.
Not only does the plugin provide a shortcode to add the social login button anywhere on your site, but it also allows you to pick a customizable template for your login buttons to match your site's design.
Key Features:
Modify which social accounts to be enabled/disabled in the login area
Add social logins to anywhere on your WooCommerce stores
Offer 4 pre-designed and eye-catching button templates
Send the login details to the user's email
Approve of 12 social networks (pro version only)
Integrate seamlessly with WooCommerce, EDD, BuddyPress (pro version only)
Come with a simple admin interface, which helps easily manage, configure the plugin.
Price: The Lite version is free. If you upgrade it to the pro version, the regular license will cost 10$.
WooCommerce Social Login – WordPress Plugin

WooCommerce Social Login – WordPress Plugin is a premium WordPress plugin to enable social login on your WooCommerce stores.
By allowing clients to log into your sites through dozens of social media platforms such as Facebook, Twitter, Google, Yahoo, LinkedIn, Foursquare, etc, the plugin saves users plenty of time from going through the lengthy registration process.
This WooCommerce social login plugin is well-known as "a cart abandonment killer." Besides giving the go-ahead to login and registration forms, it lets you insert social login in the checkout forms.
Thanks to this, customers can simply checkout with one click instead of creating a new user account credential. This significantly contributes to reducing cart abandonment and waiting time.
Key Features:
Accept famous social platforms like Facebook, Twitter, Google, Yahoo, LinkedIn, Foursquare, Windows Live, VKontakte (VK.com), PayPal, and Amazon
Provide visual statistics of registrations for each network
Compatible with other WordPress plugins, i.e WPML, YoastSEO, BuddyPress, bbPress, and more
Send newly created user's account to emails
Produce a shortcode to pace social login button to any pages
Set custom URL to redirect after login
Link accounts on the "My Accounts" page to the "Order Received" page for easy checkout in the future
Offer a clear and intuitive admin interface for hassle-free management
Price: $39
Super Socializer

Super Socializer is a free, easy-to-use, and multipurpose social login plugin for WooCommerce sites. Apart from giving full approval for many popular social media platforms, it offers social sharing and comment options as well.
What makes it ideal for WooCommerce is the capability to enable social login at customer login form and WooCommerce checkout page. Plus, buyers can also share your products using the "Sharing" button.
What's more, this WooCommerce social login plugin assists in reducing spam since all social accounts are verified. Once clients registered on your sites, their data will be stored in your database. You can make use of this data and interact with your potential leads to build long-term relationships in the future.
About login button styles, Super Socializer grants you numerous options to customize sharing/login icons, including sizes, colors, and shapes. You own the right to enable/disable these icons on any pages, posts, or custom post types.
Key Features:
Reorder sharing icon position
Provide mobile-friendly sharing interface
Automatically approve the comments made by customers who are logged in with their social media profiles
Display social sharing buttons for WooCommerce products
Add social login to WordPress Login, register pages, and comment form
Sync user's social profile data with WooCommerce profile
Offer widgets and shortcodes for social share, social login, social comments, and "Like" buttons
Compatible with multisite, BuddyPress, bbPress, Gutenberg editor, myCRED, and more
Come with reliable customer support
Price: Free
YITH WooCommerce Social Login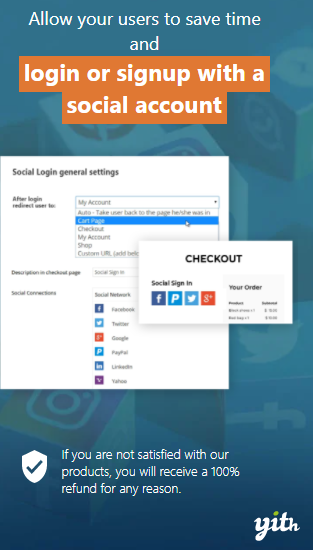 The next candidate in this list is a premium product from YITH – YITH WooCommerce Social Login. It's believed to be a wizard in speeding up the purchase and checkout process, as well as increasing conversions and recovering abandoned carts.
Once installed, this WooCommerce social login plugin will out of the box add login options to the checkout and "My Account" pages. It helps to link around 11 different social media platforms including Facebook, Twitter, LinkedIn, etc.
More than that, when customers' social accounts are linked to your stores, their data will be saved in your database. This comes in handy as you will be able to segment and target different customers more effectively with your marketing campaigns.
Key Features:
Say yes to up to 11 social platforms
Allow placing social buttons anywhere you want
Display login buttons on every shop page
Redirect users to a WooCommerce page or custom URL
Let users register and log in via their social accounts
Change the orders of login buttons
Allow users to manage links with multiple social media accounts from their respective My Account page.
Offer detailed reports of social media profiles
Compatible with dozens of WordPress plugins, including WPML
Price: A single site subscription costs $79.99 yearly.
UserPro – User Profiles with Social Login

Rather than a social login plugin for WooCommerce, UserPro – User Profiles with Social Login proves a fully WordPress user management solution. The plugin comes with customizable registration forms, user badges, and social integration options.
This premium WooCommerce social login plugin supports Facebook, Twitter, Google+, LinkedIn, and many others. It boasts a "community website" vibe thanks to the ability to create beautiful front-end profiles.
With its built-in social login feature, customers can log into your stores via their social profiles. It seamlessly integrates with WooCommerce fields, giving a helping hand in personalizing the user shopping experience.
Moreover, UserPro allows store managers to redirect customers to specific pages after they register or log in. Building multiple registration forms and displaying them selectively based on user roles is just a walk in the park.
Key Features:
Auto-sync WooCommerce fields
Allow social connect and instant profile sync via Facebook, Twitter, Google+, LinkedIn, and Instagram.
Embed fully customizable registration forms anywhere you want
Set up a community website with unique and eye-catching user profiles
Well-integrate with WooCommerce, BuddyPress, Mailchimp, etc.
Turn on "user role selection" on registration forms
Simple drag-and-drop administration panel
Price: a regular license costs $39.
Final Thought
Encouraging customers to log into your stores via their social profiles contributes to simplifying the login and register process. This proves useful in improving the shopping experiences and boosting sales.
More than that, integrate your WooCommerce sites with social login and you can keep your customers in the know anytime you update your online stores. This acts as an effective yet cost-saving promotion as well.
This article has taken you through the top 7 best WooCommerce social login plugins as well as pointing out their key features and pros and cons. Hope you find your up-to-scratch WooCommerce social login solution after checking out this post.
Do you know any other social login plugins for WooCommerce? Leave us a comment if you have any suggestions or queries.