It's not overstated to say social media is a huge blessing for today's generation. It significantly helps shorten the distance between humans measured by continents.
Major platforms like Facebook, Twitter, or Instagram hold out the promise of connection, as their cores. The idea behind no other than to let us communicate, stay connected, share ideas, update worldwide trends, build our own unique virtual profiles, and so on.
Social networks undeniably prove a rich source of news, entertainment, and global awareness. As such, adding social shares to your WordPress site allows your valuable content to be recognized over multiple platforms. This benefits you in numerous ways. Not only will your site get better exposure but also increase user engagement.
In this article, we'll shed detailed light on the top 5 WordPress social media plugins that assist you in reaching out to your audience and create eye-catching social share icons.
But first, let us dive deeper into the benefits of adding social shares to your WordPress sites.
Why Need to Add Social Shares to WordPress
According to Statista, there are 3.6 billion social media users all over the world.
Also, a striking finding of the American Press institute pointed out that 88% of millennials get news from Facebook, 83% from Youtube, and 53% from Instagram.
They also reported that though other platforms hold a lower percentage, i.e Pinterest (36%), Twitter (33%), Reddit (23%), they still prove their popularity as news provider tools.
The presented figures bring heaven-sent opportunities to every walk of life. Especially, this is definitely a potential gold mine from the marketing perspective.
Who can pay no heed to the power of social media while it strongly supports branching out to a much diverse audience? Plus, it appears to be an enormous traffic source for online sites.
In particular, including social share buttons on your sites gives a helping hand on:
Increase Post Exposure
With just one click, your content, your site, your business is introduced to a new group of audience. Keep sharing your site with the social media market will drive more new readers to your blogs and bring new prospects to your business or services.
Gain Backlinks
Aside from growing your traffic, adding social share icons to your site matters a lot in growing your link networks. When your blog post gets shared by a reader on social media, it means your site has gained one backlink. The more the number of social shares grows, the more backlinks you will get.
Get Free Advertising
When someone chooses to share your blog posts, they are concurrently promoting your products or services to their network. No one can deny the power of word of mouth or product recommendations when it comes to attracting new customers or clients.
Instead of spending tons on drumming up your business, all you need to do is concentrate on creating excellent and unique content, services, and products.
Since you know the advantages social media integration brings to your marketing effort and branding recognition, it's time to select the best WordPress social media plugins for your site.
Considering the process of sorting out the wheat from the chaff may beat your brains out, we've hand-picked and included the 5 outstanding candidates in this article.
#1 Social Media Feather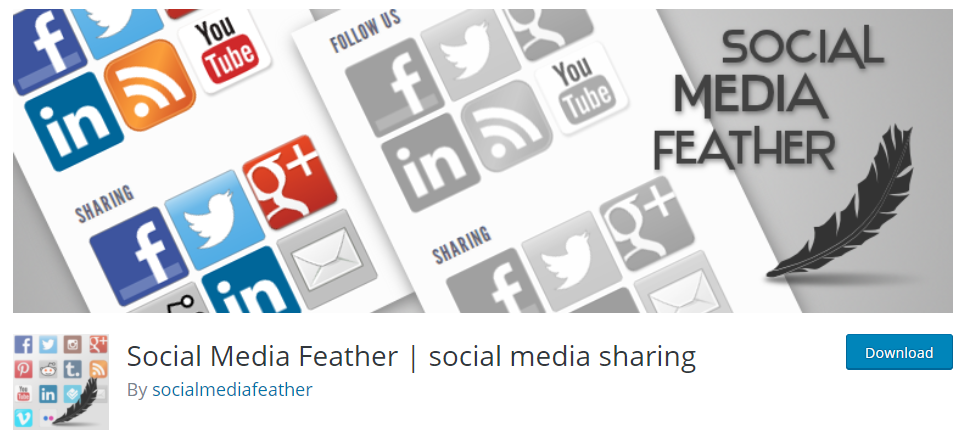 True to its name, Social Media Feather proves such a lightweight plugin that enables you to add social sharing to your WordPress site without hassle. You can freely add sharing or following buttons to your pages, posts, and custom post types.
This WordPress social media plugin offers/ a set of major social sharing buttons such as Facebook, Twitter, Whatsapp, Reddit, Google+, Linkedin, Pinterest, Instagram, RSS Feed, Tumblr, e-mail, and tons more.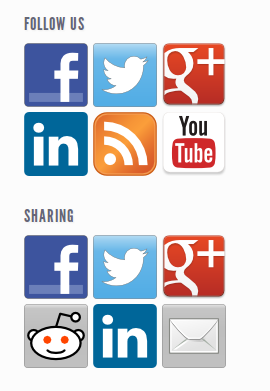 The plugin is designed with beginners in mind, which focuses on simplicity in both user interface and setup. What sets it apart from other competitors is its social sharing impact. Setting up social share buttons or links to your social accounts just takes a second thanks to its social widgets and auto display function.
Along with that, you can freely add some tweaks to your button appearance by using widget settings and parameters. Shortcodes are also provided to assist you in creating sharing buttons as well as customizing the social network order that appears on your sites.
On top of that, the plugin allows enabling and disabling each social provider. Plus, you own the right to fully customize their titles and URLs.
However, the plugin has got complained about the "Share This" feature, which may bring sites down.
Price: Free
#2 Social Media Share Button by UltimatelySocial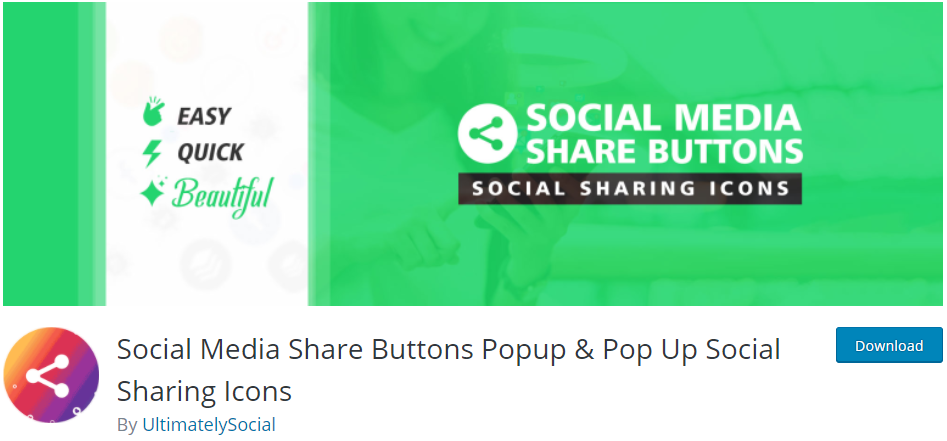 Gaining over 5 thousand generous 5-star reviews with 200,000+ installations, Social Media Share Button proves a hotshot in this field.
This WordPress social media plugin lets you add social share icons for Youtube, Instagram, Pinterest, Email, Facebook, Twitter, LinkedIn, and so on. It allows you to design your social share buttons as per your taste, with 16 available beautiful designs. By adding animation to your icons, you can spark visitor interest and increase the chance they follow your page.
What's more, the plugin also generates a popup on certain pages to invite users to follow and share your posts. You can decide your buttons to be floating or sticky, or build your own custom share icon. You're able to create a subscription form with this plugin too.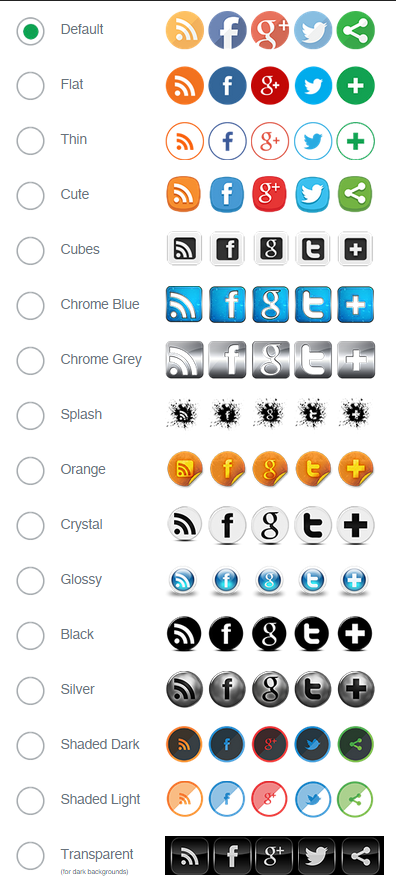 The plugin also offers a paid version, which supports many other major social networks, i.e Soundcloud, Skype, Snapchat, Telegram, Amazon, etc. Upgrade to the premium version and unlock more advanced features, such as:
Let users follow your Instagram or Facebook on the spot, without leaving your site.
Disable social buttons on specific pages.
Optimize your social share icons on mobile.
Come with top-notch support.
Access more design styles.
Everything has a trade-off and so does this plugin. It adds a credit link to your website and if you want to remove the link, you need to upgrade to the premium version. In addition to that, it doesn't come with any tracking support.
Price: free. The premium version starts from $29.98.
#3 WordPress Social Login

WordPress Social Plugin is a power-packed WordPress social media solution that supports a variety of providers and services, e.g social networks, media, blogging platforms, gamers, programmers networks, and more.
In terms of network providers, the plugin gives the green light on Google, Facebook, Twitter, Reddit, Instagram, Yahoo!, LinkedIn, Disqus, Tumblr, Stackoverflow, GitHub, 500px, Foursquare, etc.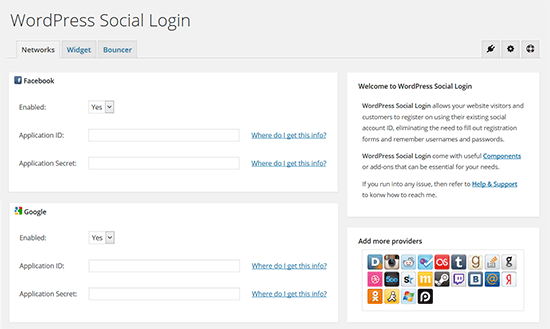 This WordPress social media plugin is endorsed by users across the planet thanks to its ability to allow registering directly from existing social account IDs. Customers are free from filling registration forms as well as saving login passwords.
Apart from that, it authorizes you to set rules and restrictions to control user access as well. Instead of messing with codes to configure the plugin, WordPress Social Login possesses tons of flexible and customizable widgets to work things out in a snap.
Plus, its to-the-point user interface also deserves a thumbs up, which helps shorten learning curves. As such, it doesn't knock you down with a feather that the plugin got more than 60,000 installations in the WordPress plugin directory.
The only downside of this plugin is its limited customer support.
Price: free.
#4 Sassy Social Share

Another favored WordPress social media plugin we'd love to add to this list is Sassy Social Share. Introduced as the "Simplest and Smoothest Social Sharing plugin," it boasts a straightforward user interface with dozens of impressive features.
The plugin enables your readers and customers to share your site content on over 100 social media networks, including Facebook, Linkedin, Twitter, Buffer, Reddit, and Pinterest, etc.
With the built-in share counter feature, it's also possible for you to add and customize share counts along with sharing icons. This serves as a strong social proof to invite other readers or customers to follow and share your social pages.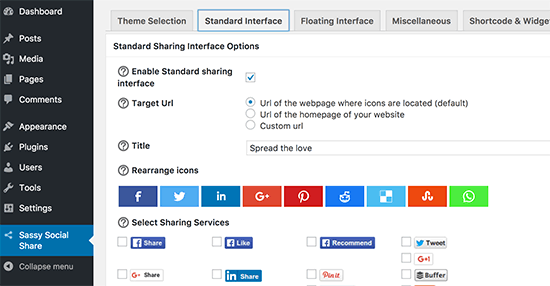 Aside from that, Sassy Social Share permits you to customize the position and appearance of sharing buttons. You can decide the icon shapes and sizes, rearrange their order, and enable/disable them on target pages or posts.
One of the unique features of this WordPress social media plugin is that it seamlessly integrates with myCRED. Thanks to it, you're permitted to reward your visitors for sharing your content.
Uniquely, this WordPress social media plugin doesn't activate any sorts of tracking cookies on your browsers. On top of that, WooCommerce store owners can make use of this plugin to encourage their buyers to share products, even on mobile.
The only drawback of this plugin is its limited tracking option. You might need to look for the help of a third-party service to view those stats.
Price: free
#5 Social Icons Widget by WPZoom

This simple yet powerful WordPress social media plugin will wow you with the ability to support 100+ social networks and house 400+ custom icons.
Regarding social networks, Social Icons Widget by WPZoom supports various big cheeses, such as Twitter, Facebook, Google+, Instagram, Pinterest, Snapchat, Skype, LinkedIn, SoundCloud, Spotify, YouTube, Vimeo, Flickr, Tumblr, Blogger, Reddit, Dribbble, Envato, GitHub, RSS, Stackoverflow, and many others.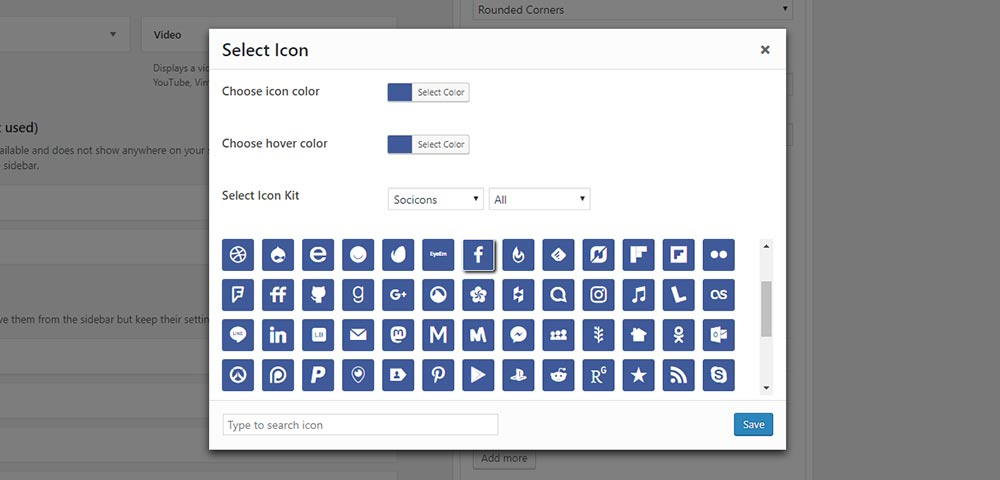 It enables you to add icons or quick links anywhere you want on your site, from pages, posts, custom post types to the sidebar or footer. In addition to that, rearranging and sorting icons is just a walk in the park thanks to its intuitive drag and drop interface. All the icons are retina-ready with high-resolution displays.
Additional features are:
Supports email addresses
Supports Telephone numbers
Supports Skype, Viber, WhatsApp
Well integrate with FontAwesome
Price: free
Ready to Go Viral with WordPress Social Media Plugins?
We can not deny the huge impact of social media on every aspect of life. As a site owner, adding social sharing buttons to your site assists you in staying connected and communicating with your users better. What more, you can generate more traffic and grow your backlink networks.
We have walked you through the top 5 WordPress social media plugins. Choosing a useful and lightweight social media plugin as your desire requires a lot of time. We recommend you carefully consider your needs and their features before making up your mind.
Have we missed out on your favorite WordPress social media plugins? In case you would like to recommend any other plugins, feel free to write back to us in the comment section.
Also, as we have been talking about sharing, please remember to share this post on your social media sites! Sharing is caring!