Do you know that a delay of a mere second can lower your store conversion rate by 7%?
Streamlining the checkout process and delivering the best shopping experience to customers are the primary goals that any online store owner tries to work toward.
Apart from customizing WooCommerce product pages and adding login popup to your stores, creating a one-page checkout also helps reduce cart abandonment and notch up sales.
In this article, we'll list out the top 5 WooCommerce one page checkout plugins that assist you in optimizing the default WooCommerce checkout process to get more revenue.
Along with that, some pro tips for using WooCommerce one page checkout effectively are also brought forward.
#1 PeachPay

Do you worry about how the checkout experience is impacting your sales? If not, you probably should, because WooCommerce's native checkout experience leaves a lot to be desired. Supercharge the checkout experience your WooCommerce store offers with PeachPay.
With PeachPay, you bring the checkout experience straight to product and cart pages as well as the mini/sidebar cart. The PeachPay plugin provides your WooCommerce store with the most conversion-optimized and configurable checkout experience out there, complete with one-click checkout functionality for returning users and plug-and-play payment orchestration. It supports Stripe, PayPal, Google Pay, Apple Pay, Klarna, AfterPay, and a growing list of payment options — all of which appear in the PeachPay checkout window.
Customizing the PeachPay button and window is as easy as using the no-code options available in the plugin settings, accessible straight through the WordPress dashboard. These options include a built-in checkout field editor, a built-in currency switcher, multilanguage settings, product recommendations, and more!
Price: Free. You can download the PeachPay plugin through the WordPress plugin directory or through the site.
Price: Free. You can download the PeachPay plugin on the WordPress plugin directory or its app on its website.
#2 WooCommerce One Page Checkout

Guaranteeing to reduce cart abandonment by up to 10%, the WooCommerce One Page Checkout plugin is able to squeeze the product selection and checkout form into a single page.
The plugin can convert any page into a checkout page with just one click. Clients can include/exclude products in their online carts and process the payment without leaving a page or waiting for a page to load.
Plus, WooCommerce One Page Checkout offers many premade templates, including a simple pricing table and a list of products. You can customize your templates to suit your needs as well.
Its intuitive user interface deserves a thumb up. Thanks to this, creating multiple custom landing pages for special deals, events or promotions is no longer rocket science. You get the right to decide which products can be showcased on each checkout page.
Prices: $79 per year with a 30-day money-back guarantee.
#3 One Page Checkout and Layouts for WooCommerce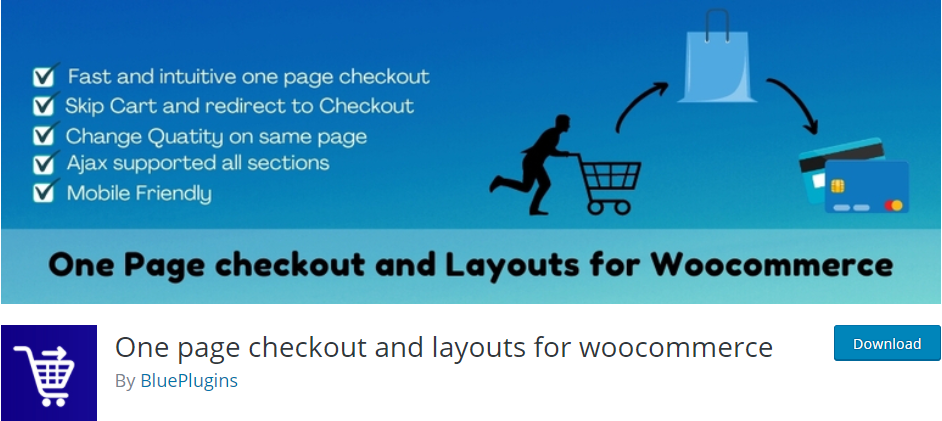 One Page Checkout and Layouts for WooCommerce has claimed to simplify the checkout process to the utmost. Similar to the WooCommerce One Page Checkout plugin, this one merges the cart and checkout page into one page.
Its built-in AJAX allows you to freely add or remove products from the same page. Customers don't need to move back and forth to change the number of chosen products.
Asides from that, this plugin assists you in adjusting the checkout page appearance by offering 6 in-built designs for checkout. You can even come up with your own design, including checkout header, section, and buttons using a simple drag-and-drop interface.
Unlocking its Pro version and you're able to utilize dozens of advanced features, e.g multi-step layout, show/hide billing and shipping fields, change labels, placeholders, and required sections for billing sections, etc.
Price: This plugin offers both paid and free versions. The paid version starts at $19.
#4 Direct Checkout for WooCommerce

Direct Checkout for WooCommerce proves a great assistant for store owners to shorten the checkout process and boost conversions.
You'll be amazed how feature-rich this plugin is! By including the cart form on the checkout page, customers can edit their carts and complete the payment on one single page.
In addition to that, Direct Checkout for WooCommerce enables you to remove checkout fields, add quick buy buttons, and the quick view function. Plus, you can redirect shoppers to the checkout page instead of the cart page.
With the Ajax add-to-cart option, single products, variable, grouped, and virtual products can be added to the cart on the spot without the entire site reload required.
Price: Direct Checkout is a freemium plugin. The premium plans with more advanced features cost you from 19 USD to 79 USD.
#5 WooCommerce One Page Checkout Suite

WooCommerce One Page Checkout Suite contributes to lift up your conversion rates by cutting short the number of checkout steps. Not only does it support both free and digital products, but it also stores information related to the orders. As a site owner, you can control and track what's happened on your checkout pages.
This plugin takes your WooCommerce default checkout page to the next level. Apart from improving sales, WooCommerce One Page Checkout Suite provides built-in integrations with multiple top payment gateways such as PayPal, Stripe, Square, and many others.
Especially, you can add PayPal Quick Pay buttons to your WooCommerce checkout page with ease. This helps your customers quickly check out with just the push of a button.
Along with that, you're able to choose the best checkout experience for screens of any size. Opting for WooCommerce Checkout Suite and you can select between one-page or multi-step checkout design which works great on desktop, tablet, and mobile devices.
Price: Free.
Pro Tips for Using WooCommerce One Page Checkout Plugins Effectively
Following are some pro tips you need to know to make the most of WooCommerce one page checkout plugins:
Deeply understand the difference between a one-page checkout and one-click checkout. The latter enables customers to place orders in one click if they already have accounts on your sites.
Keep track of your site performance regularly. Considering one-page checkout sometimes contains all fields and checkout steps, which can result in poor site performance.
Make sure to check one-page checkout plugin compatibility with your WordPress themes to avoid conflict between plugins and themes.
Ready to Deliver One Page Checkout Experiences?
In general, a one-page checkout will help online shoppers save time by cutting down steps in the checkout process.
Utilizing WooCommerce one-page checkout plugins allows your customers to manage everything within a page without changing pages or waiting for a page to reload. This contributes to boosting conversions of your WooCommerce stores.
We've presented you with the 5 best WooCommerce one page checkout plugins. Among them, we found that:
One-Page Checkout Suite and PeachPay can be a great choice for small-scaled stores with a few products.
Regarding value for money and features, Direct Checkout for WooCommerce proves an ideal option.
In terms of ease of use as well as powerful features, the WooCommerce One Page Checkout plugin, and One Page Checkout and Layout for WooCommerce are worth considering.
Do you use any other WooCommerce one page checkout plugins that we should include? Let us know in the comment section below!